Bryce Dallas Howard on the Emptiness of Postpartum Depression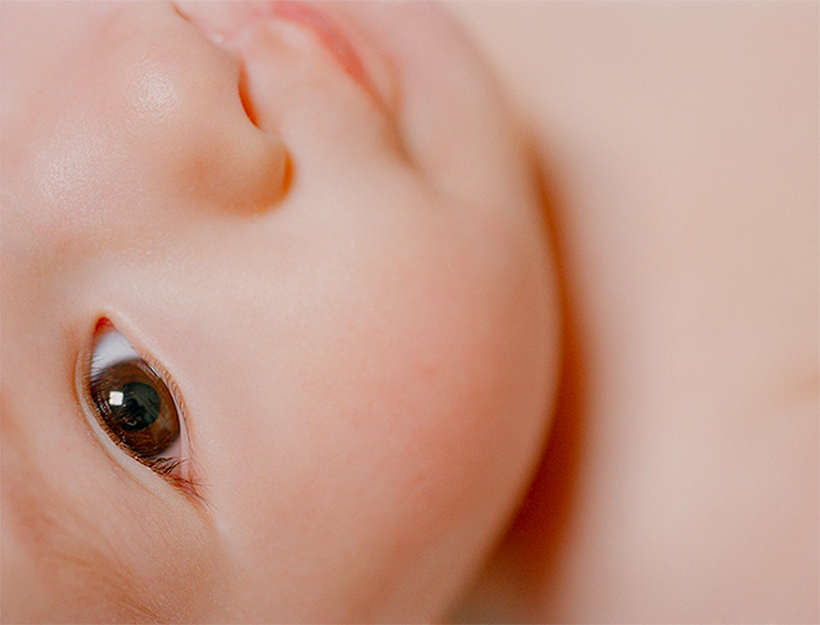 When my son, Moses, came into the world in 2006, I expected to have another period of euphoria following his birth, much the way I had when my daughter was born two years earlier. Instead I was confronted with one of the darkest and most painfully debilitating chapters of my life. For about five months I had, what I can see in hindsight as postnatal depression, and since that time, I have wanted to know more about it. Not only from a hormonal and scientific standpoint, and why so many of us experience it, but from the perspective of other women who have gone through it. Below is an indelibly beautiful piece by Bryce Dallas Howard chronicling her very personal experience.
Love, gp
Bryce Dallas Howard on
the Emptiness of Post-Partum Depression
I recently saw an interview I did on TV while promoting a film. In it, I was asked about my experience with postpartum depression and as I watched, I cringed. I said things like "It was a nightmare," or "I felt like I was in a black hole." But I couldn't even begin to express my true feelings. On screen, I had seemed so together, so okay, as if I had everything under control. As I watched, it dawned on me. If I had been able to truthfully convey my ordeal with postpartum depression under the glare of those lights, I most likely would have said no words at all. I simply would have stared at the interviewer with an expression of deep, deep loss.
I found out I was pregnant seven days after my wedding. I was on my honeymoon with my family. It's a long story—but yes, I shared my honeymoon with my entire family. I have a heroic husband! After taking the pregnancy test, I held the paper strip while waiting for the telltale sign to appear and thought, "I have to be pregnant! I will not be okay if I am not pregnant." It was an odd thought since I was 25, and my husband and I had no intention of starting a family until we were in our 30s, but as the slender strip turned blue, I leapt into the air with joy.
I loved being pregnant. Yes, I threw up every day for six months, and yes, the stretch marks were (and still are) obscene. But I treasured every moment I had with this new life growing inside me. My husband and I moved from our one-bedroom apartment into a "family" home we could barely afford. We watched the Dog Whisperer in order to acclimate our terrier for the baby-on-the-way. We peppered family and friends with endless questions about child rearing. I threw up, gained weight, and threw up some more, and tipping the scale at over 200 pounds; I entered the final month with nothing but confidence and blissful anticipation.
We had enthusiastically planned for a natural home birth. And, to be honest, I am glad we did. Natural labor was painful, but because I was home, my husband and parents were by my side every step of the way, and even when complications arose causing me to have to go to the hospital, my son was born with no medical interference.
Mostly I recall the moment someone handed my son to me, and I heard shouts of joy, and my father crying, "Bryce, you're an incredible mother!" And then…
Nothing. I felt nothing.
Memories of the following events are hazy. I remember that I suddenly stopped feeling pain, despite having been stitched without anesthesia. I handed my son to my husband who cradled him and whispered in his ear, "Welcome to the world. Here, anything is possible." Even as I write this, I'm moved to recall the gentleness of my 25-year old husband holding this new human being, his son, for the first time—and saying over and over, "anything is possible." He still says these words every night before our son drifts off to sleep.
And yet, in those moments after giving birth, I felt nothing. Someone encouraged me to sit up, and slowly, one by one, friends and family visited. Some were crying, others bursting with joy. Glassy-eyed, I politely listened to their impressions of our new son. I had no impression of my own.
Forty minutes after giving birth, I opted to return home. Walking was challenging and painful, especially because I stubbornly tossed the Motrin IB the doctor urged me to take for fear it would hinder my ability to be present with my son.
For me, breastfeeding was even more painful than giving birth. And despite a lactation consultant offering help, I felt incompetent. I refused to give up, forcing myself to do everything possible so that my son would consume only my breast milk with no supplementation. I forged on, barely sleeping, always either breast feeding or pumping and never getting the hang of it. Occasionally I drifted off for a few minutes, but that decision to "feed at all costs" left me no room for recovery, no space to explore my feelings, no time to rest.
Five days after our son was born, my husband had to leave for a film shoot, so my mom and best girlfriend rotated sleeping in the bed beside "Theo" and myself, whom at that point I mysteriously referred to as "it," even though we had named him. I should have taken that as a sign.
I distinctly remember the first night I was alone. It was less than a week after the birth, and I still refused to take even Alleve for fear of how it might affect my milk. Theo woke up next to me, and I knew I needed to begin breast-feeding. Because of the stitches, moving even an inch sent daggers of pain tearing through my body. I tried to sit, but finally gave up and lay still as my tiny son cried. I thought, "I'm going to die here, lying next to my newborn son. I am literally going to die tonight."
It was not the last time I felt that way.
It is strange for me to recall what I was like at that time. I seemed to be suffering emotional amnesia. I couldn't genuinely cry, or laugh, or be moved by anything. For the sake of those around me, including my son, I pretended, but when I began showering again in the second week, I let loose in the privacy of the bathroom, water flowing over me as I heaved uncontrollable sobs.
When I visited the midwife for a checkup, she gave me a questionnaire, rating things on a scale from 1-5 so that she could get a sense of my emotional state. I gave myself a perfect score. Despite my daily "shower breakdowns" months passed before I even began to acknowledge my true feelings.
Before Theo was born, I had been in good humor about my 80-pound weight gain, but I was now mortified by it. I felt I was failing at breast-feeding. My house was a mess. I believed I was a terrible dog owner. I was certain I was an awful actress; I dreaded a film I was scheduled to shoot only a few weeks after the birth because I could barely focus enough to read the script. And worst of all, I definitely felt I was a rotten mother—not a bad one, a rotten one. Because the truth was, every time I looked at my son, I wanted to disappear.
Although perceptive, intuitive, and sensitive individuals surrounded me, my numb performance of "delighted new mom" seemed to fool everyone. It wasn't until my "shower breakdowns" began to manifest out in the open that people began to worry.
One afternoon my best friend found me sobbing on the floor of my bedroom with Theo sleeping in a bassinet beside me. It was late afternoon, and I hadn't yet eaten because I was too overwhelmed to figure out how to walk downstairs to eat. "Bryce," my friend said, looking confused, "if you need help preparing food, just ask me."
"How can I take care of my son if I can't take care of myself?" I sobbed.
My husband began shooting a television series, and late evenings when he returned home, I would meet him at the door, shaking with fury, "I've hit the wall and gone through it, and I feel I am expected to go further."
He would ask what he could do to help, but knowing there was nothing he could do, I screamed expletives at him, behavior he had never experienced in the seven years we had been together.
Distraught and concerned, he told me he would figure everything out, tried to assure me I didn't need to worry. He created a plan, and with the support of my husband, my friends and my family, I returned to my midwife. I finally understood I needed to answer her questions honestly, and when I did, she suggested a homeopathic treatment plan, reconnected me with my doctor who oversaw my care, and sent me to a therapist who diagnosed me with severe postpartum depression.
Although challenges lay ahead, little by little I got better. As it happened, the independent film I shot chronicled a woman falling deeper and deeper into her own insane delusions. The experience was serendipitous, just the material I needed to work on to help me to reconnect to my true feelings. Also, because I was working 12 to 18 hours per day and shooting mostly at night, I had to rely on those around me to help care for Theo. In those weeks, a critical shift occurred.
A friend invited me to a "pow-wow" of mothers (in a tepee nonetheless); there we talked about the trials and tribulations of motherhood. The woman next to me coined the phrase "postpartum denial," and hearing her story helped me to understand my own. When I shared, somewhat disconnectedly and inarticulately some of my own disappointments, my feeling of not measuring up to what Theo deserved in a mother, one woman responded, "It takes a long time for them to grow up. You'll have time to discover the kind of mother you are." Another woman suggested I read Brooke Shields "Down Came the Rain." Her book was a revelation.
Then one day I was sitting in my home with my best friend and my sister, and out of nowhere I got this sudden feeling of summer. When I told them they looked at me curiously and chuckled a little. I searched for a better way to describe my feelings, "I dunno, I just got this feeling… like everything is going to be okay."
My depression was lifting. Later that day, I saw one of my closest friends; the person who had performed our wedding ceremony and had also videotaped Theo's birth. He looked at me and without skipping a beat he said, "My friend is back." I smiled. "It's like you've been abducted by 'The Borg" for a year and a half, and now you're back."
The Borg is an alien species in Star Trek that takes over the mind and spirit of the individual it invades. Victims were depicted as emotionless robots, completely unaware of their own demise. When my friend said that, I howled with laughter—something I hadn't done since before Theo's birth. It was the kind of laughter that bubbles up at the recognition of something deeply true.
Postpartum depression is hard to describe—the way the body and mind and spirit fracture and crumble in the wake of what most believe should be a celebratory time. I cringed when I watched my interview on television because of my inability to share authentically what I was going through, what so many women go through. I fear more often than not, for this reason alone, we choose silence. And the danger of being silent means only that others will suffer in silence and may never be able to feel whole because of it.
Do I wish I had never endured postpartum depression? Absolutely. But to deny the experience is to deny who I am. I still mourn the loss of what could have been, but I also feel deep gratitude for those who stood by me, for the lesson that we must never be afraid to ask for help, and for the feeling of summer that still remains.
P.S. As I write this, my little boy, now 3 and a half, is sleeping upstairs. Tonight as I put him to bed, he looked me straight in the eye and said, "Theo and Mama are two little peas in a pod!" I have no idea where he learned that phrase, but as I sat there giggling with him the miracle of the statement was not lost on me. It's true. In the face of everything, Theo and I are two little peas in a pod.
–Bryce Dallas Howard is an actress known most recently for her roles in Twilight: Eclipse, Spider-Man 3, and Terminator Salvation, and for her outstanding performance in As You Like It. She lives in Hollywood with her husband and son.