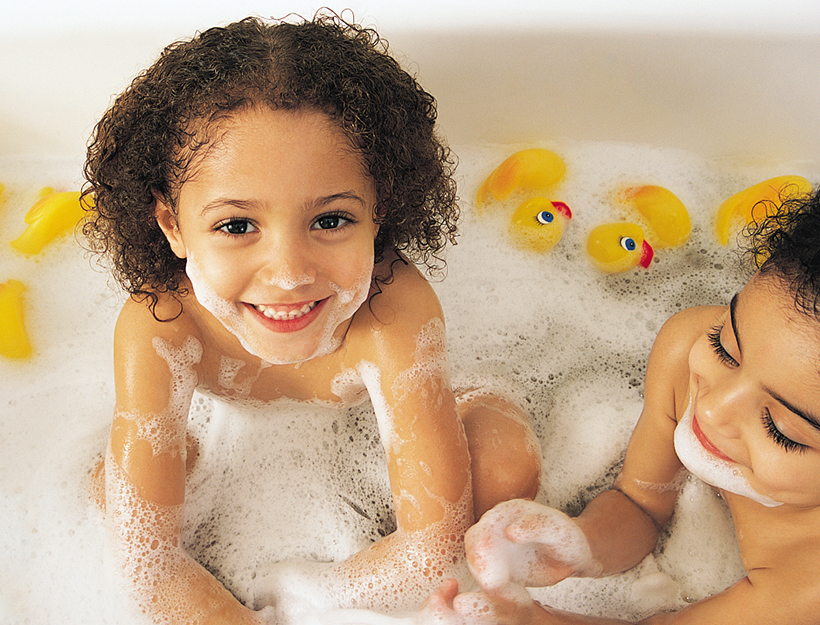 Bathtime Rituals to Put Kids to Bed
Dominique Browning once wrote a piece about a large sofa she had in her kitchen, one that turned out to be the spot where her children lounged—and talked, even through the traditionally tight-lipped teenaged years—as she cooked. The car—as you drive, even the most monosyllabic kid in either the passenger seat or the back seat will often start talking—is another such place where children typically let their guards down with parents.
Likewise, the bathtub is, for most families, an up-til-teen-years daily opportunity for fun, connection, and pure relaxation. An end-of-day soak (a cup of Epsom salts and a cup of regular old baking soda make for a deeply soothing detoxifying bath, or see our other options, below) is the ideal transition from day to night, activity to sleep; it teaches self-care, the importance of winding down, and is just a great moment for easy parent/child conversation. Keep the water on the cool side to avoid drying skin too much (though kids' skin is more resilient and moisture-retaining than adults'), and most importantly, be there: Never leave a child alone in the tub.
Beyond that obvious and overriding directive, though, relax and enjoy.
Bath Fizzes
Few things delight a small child more than a wildly fizzing, out-of-control bath bomb gone wild. Most conventional versions are made with (endocrine-disrupting, among other things) artificial fragrances, so they're a terrible idea for kids. But clean bath fizzes are brilliant; a great one incorporates some soothing and good-smelling plant extracts in the bargain.
Jane Inc. Effervescent Cubes (the Go to Sleep Bath and Less Stress Bath are great; the Muscle Ache Bath is amazing, too) are clean, easily packaged into single servings—and fun to open like a present, depending on your child.
Oils
Bath oils are controversial for several reasons: Most importantly, no matter what your age, they make the tub slippery—and given that the bathroom is far and away the number one spot for household accidents, that's a serious problem. If you use a bath oil, you've got to be beyond careful, and even then, accidents can happen.
Two, no one should put essential oils directly on skin, especially kids—they can cause serious irritation. Since the oil doesn't mix with water, whatever oil you use does at least in some part, end up directly on skin, so always use a bath or body oil, which are made with carrier oils like argan or sunflower, as opposed to pure essential oil.
Creams
You can also smooth oils on before the tub, or after, reducing the amount that ends up on the tub surface as opposed to the body. Post-tub, oil or lotion makes a nice ritual in and of itself; once the child is in bed, a foot or neck/back massage is especially soothing. You don't need to take a lot of time—it's more the moment of comfort and connection that makes the difference. The foot massage in particular is a ritual that you'll find lasts long past the time the bath ritual no longer appeals—even the the most disgruntled teen will allow a foot massage, and it helps maintain a parent-child connection through those years in an easy, natural, and deeply rewarding way. You don't need special foot cream, which often smells medicinal—a soft-smelling body cream like the ones below, or Weleda Skin Food from the drugstore is better for kids, who generally don't have the calluses foot creams are attempting to dispell. As with all kid-bath rituals, it's less about treatment, more about indulgence and fun.