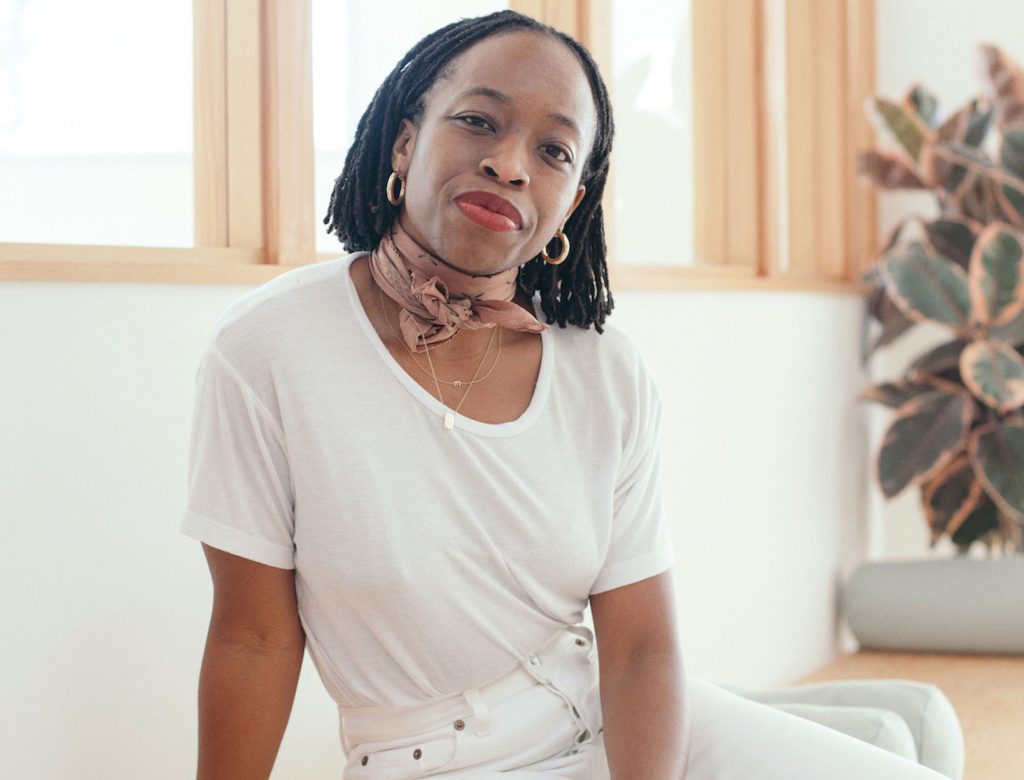 A Postpartum Doula on Navigating New Parenthood
Ask Erica Chidi Cohen to describe what a postpartum doula does, and she'll tell you: "We're like water. We come in and fill in the cracks."
Cohen is an expert on those cracks—the questions parents have in the first months after having a baby. She's a birthing and postpartum doula, the author of Nurture, and a cofounder and the CEO of LOOM, a reproductive, pregnancy, and parenting education center in Los Angeles. The postpartum phase, she says, is a time when the new parents are in "rapid absorption mode, trying to figure out how to go from moment to moment." It can be particularly hard these days because many parents lack a network of newborn guides. And too often it is riddled with expectation: "That you should know what to do," says Cohen. "And if you don't, you should be reading about it, and that's how you'll figure it out."
Cohen speaks with a measured clarity and kindness that make you feel comfortable, safe. You can't spend five minutes with her and not feel nurtured. She says this instinct is rooted in her upbringing: "My dad's a doctor; my mom's a nurse. I grew up in a home that was very care-orientated." Cohen started her career helping people in the pre- and postnatal periods as a volunteer doula for the San Francisco prison system, where she worked with pregnant inmates. From there, her private doula practice grew in Northern and Southern California, and in 2017, she opened LOOM with cofounder Quinn Lundberg.
A bright, light-filled space, LOOM is anchored in inclusivity. It gives parents a place to feel okay. It's a community devoid of judgment—an ethos that's paramount in all of Cohen's work. "I really connected, especially in the beginning of my doula career, with how important it is for people to have space to be seen and to be heard," she says.
Whether you're a new parent or considering becoming one, Cohen's insight on how a postpartum doula can help is a good place to start. Part of a doula's work, she says, is being a foundation so parents can find their own feet and decide what works for them.
"I feel like most of the time, people aren't being told that they've got it. When we are able to be that for people and to be that space where they can find themselves and find their own confidence, it's inspiring," she says. "It's such a simple gift to give someone, but it's just so powerful."
A Q&A with Erica Chidi Cohen
Q
What is a postpartum doula?
A
Postpartum doulas are individuals who provide emotional and physical support to new mothers and families, focusing primarily on the first eight weeks after delivery. Postpartum doulas tune in to the specific needs of the mother and help her thrive. They are there not in the clinical sense but in more of a psychoeducational sense. A postpartum doula is basically that missing experiential guide during a time when most people find themselves at a loss for information and need hands-on support.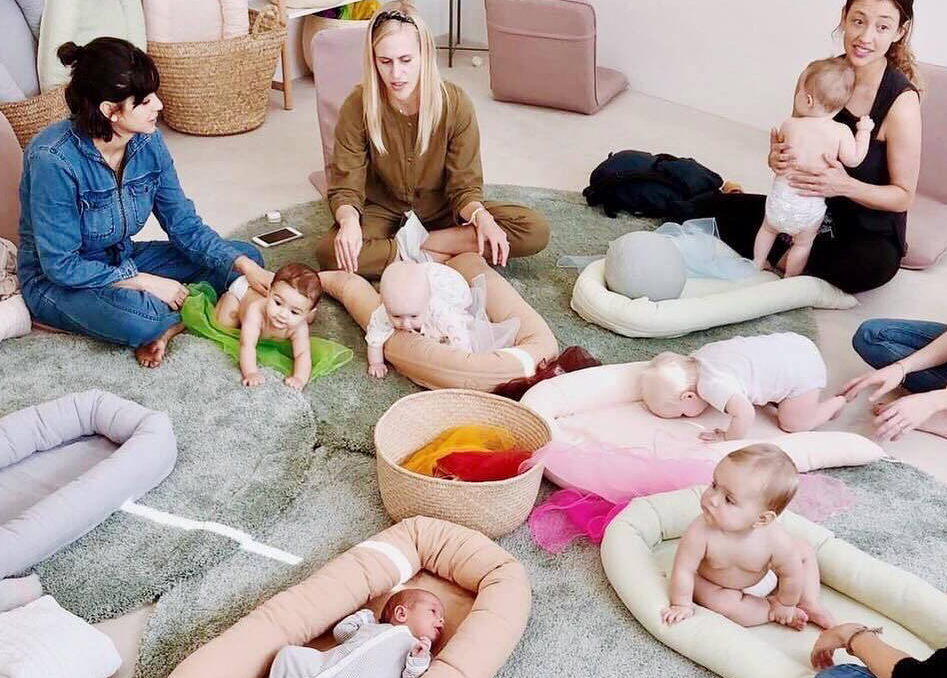 ---
Q
What does a postpartum doula typically do? How might a new mom benefit from having one?
A
A postpartum doula comes into the home and helps the mother—and the partner, if they're present—to get oriented with their new roles. Most new parents have a lot of questions. These are not necessarily emergent or acute questions, but they're trying to figure out if their baby's pattern of sleep is normal or if the feeding is going well. Postpartum doulas have a dual focus: They can model how to bathe, soothe, and swaddle your baby, and they are also there to provide positive reinforcement and encouragement.
Postpartum doulas also help with:
Feeding and breastfeeding: Most postpartum doulas have general knowledge about feeding and can help with basic breastfeeding support, if you choose to breastfeed. They can also signal when a lactation consultant referral is needed. If you're not breastfeeding they can help show you how to bottle-feed and figure out what formula might be best.

The mother's physical healing process: There are normal physiological events that happen to women after they give birth, which can be disorienting. One example is postpartum bleeding, also known as lochia, which is a shedding of the rest of the endometrial lining after delivery. That bleeding has some variability and can be a good indicator of how the mother's overall healing is going. The postpartum doula will help a new mother keep track of that and other common issues, including pelvic pain or hemorrhoids. It's important to note that doulas typically don't have medical degrees, but a good one will know when to call the doctor. A doula can also provide over-the-counter or natural remedies to help expedite the healing process or make the mother more comfortable in the interim.

Emotional containment: Postpartum doulas help to create a safe and non-judgmental environment for new parents to comfortably move through their emotions (and unpack things like the birth story or anxieties about mothering). We're there to help normalize, reframe, and reassure.

Nutrition: Postpartum doulas focus on making sure the mother is eating well. Some have a culinary background and are happy to make nourishing food that help promote healing in the body.
Having a postpartum doula can help bridge the gap in our health care system, which is needed because most people who deliver with an ob-gyn are typically going to be discharged from the hospital after just two days if they had a vaginal delivery, and after around four days if they had a Cesarean delivery. (Up until recently, when the American Academy of Obstetrics and Gynecology ratified its postpartum care protocols, a new mother typically wouldn't see their primary or obstetric care provider for about six weeks. The new protocol encourages providers to see their patients at three weeks and again at before twelve weeks.)
A postpartum doula creates a temporary village, which is needed because many new families live far away from their extended families. The cultural notion that you and your partner are meant to take care of a newborn without any additional help is out of alignment with how babies have been cared for for thousands of years. Prior to industrialization, we had more communal and intergenerational living environments, which meant there would be someone who would be living with you or nearby to help with the baby. Postpartum doulas help fill that gap. They can help to help you feel more comfortable with what is in the range of normal, build your confidence, and help you get some rest and self-care in the process.
---
Q
How does a postpartum doula differ from a night nurse?
A
It's actually a misnomer. A night nurse or a baby nurse may or may not be a registered nurse or a licensed nurse. That's one thing to keep in mind. Some practitioners use that term or that nomenclature because it's become ubiquitous, and people seem to have some opaque understanding of what it is. Always make sure to clarify their credentials in order to determine their skill set and scope.
The focus of a night nurse is typically the baby, so they're not going to be as focused on the needs of the mother. They'll be there to swaddle, feed, and nurture the baby's development, putting special focus on the nighttime experience of the baby. Most night nurses come to the home somewhere between 7 p.m. and 10 p.m. and leave around 7 a.m. the following day.
Postpartum doulas work during the day or night. And some will do overnight support. However, postpartum doulas that do night support tend to be more focused on the emotional and holistic needs of the mother.
---
Q
What's the training and criteria for becoming a postpartum doula?
A
There isn't an overarching licensure or board that governs doulas, so there is a lot of variability among practitioners. There are some institutions that can expound on accreditation. Doula Trainings International or the Doula Organization of North America (DONA) can give you a modicum of reassurance of their qualifications.
The best way to look for a postpartum doula is through referrals. This will give you a key understanding of whether or not they'll be a good fit. Send out a mass email or social media post to your community or to people who have experience with postpartum doulas. (Many doulas utilize Instagram to engage with the community about their work.) Your pediatrician's office is also a great place to ask for doula support or information. Some doctors do have providers, postpartum doulas, or motherhood centers that they've worked with that have a lot of efficacy.
And there are agencies and communities. In Los Angeles, we have doulas at LOOM. In New York City, Carriage House Birth, Birdsong Brooklyn, and Baby Caravan all have a great stable of postpartum doulas. If you're in an area where there aren't reputable agencies, try gathering recommendations from your network or looking through DONA.
---
Q
Are there things to consider during the interview process? How can you ensure you're hiring the right person as your postpartum doula?
A
There are several things to consider: The first is to understand that this person is going to be what I like to call an intimate stranger. This person's going to come into your home and be in very close quarters with you. So it's important to listen to your body when you meet them for the first time. How do you feel? Is there just a general sense of relaxation, or do you feel any tension? You should have an almost immediate rapport with this person. You should be able to share in a way that feels fairly effortless. This person is going to see you in a very vulnerable state.
Another thing is to decide what kind of energy or presence you want in your home. By that I mean: Are you looking for more of a motherly figure? Are you looking for more of a sister or friend, or are you looking for someone to be more didactic and instructive? Depending on your family of origin, it might be triggering to have someone who's motherly, so you might want more of a friend.
It's beneficial to consider your budget and timeline. How long would you like support for? Maybe it's one session a week for a month, or every day for two months.
Also, if you have a partner, have them present for the interviews as well, because it's really important that you're both fairly simpatico with whomever you're choosing. Because postpartum doulas come into the home usually within the first eight weeks of life, this is typically a time when partners tend to still be in the home during maternity/paternity leave.
Lastly, consider other needs you may have. Some postpartum doulas have complementary qualifications, such as backgrounds in yoga instruction, massage therapy, or cooking. Hiring a doula with a wider skill set can allow you to have multiple layers of care built into your sessions, which can be wonderful for your recovery and potentially save you money if they offer a package deal.
---
Q
Any tips for preparing for a postpartum doula prebirth?
A
It is key to identify a doula and get that person contracted prior to having your baby. I would suggest doing this up to five months before delivery.
---
Q
How much does a postpartum doula typically cost?
A
Every doula works a little differently. Typically, most doulas will do an hourly rate, and it can vary from $15 to $20 an hour up to $65 to $100 an hour. It depends on their skill set and what they'll be doing in your home.
Postpartum doulas will work anywhere from four- to eight-hour shifts. If they're doing a shorter shift, those tend to be more psychoeducational: They come in, answer all your questions, and give you some hands-on support with the baby. If they're doing a longer shift, the postpartum doula can come in, give some psychoeducational support, and also be with the baby for a few hours while you do something on your own, such as take a nap or shower, or go meet a friend. They can also help with errands, such as grocery shopping.
Some postpartum doulas offer packages—for instance, they'll offer ten sessions and you can schedule those in within the first eight weeks—or you can buy more sessions and you can map them out accordingly. Most doulas are negotiable, especially if you want to have someone for a longer period of time.
---
Q
What if a doula isn't an option for new parents? Do you have any tips or alternatives?
A
Most people's family and friends are usually very excited to help and support during this transitional time. But sometimes it can feel overwhelming to have so much help and everyone saying, "Tell me what I can do!" So it can be helpful to be specific about the help you need—and to get everyone reading the same helpful content. For example, my friend Heng Ou wrote a book called The First Forty Days that has some great recipes it in that are all very appropriate for the postpartum time. It's great to let a family member or friend know about that cookbook, and that if they'd like to make meals for you, it's a great place to start.
There are some really excellent books about the postpartum period. I love Eat, Sleep, Poop by Dr. Scott Cohen. It's really bare-bones but covers exactly what you need to know about that first year in terms of what's going on with babies physiologically. Dr. Harvey Karp's The Happiest Baby on the Block and the corresponding video are very helpful, as is The Nourishing Traditions Book of Baby & Child Care by Sally Fallon. And I write about the postpartum shift in my book, Nurture, and unpack all of the normal physiological events that happen to new mothers in the first eight weeks after baby, while offering advice to help make those events more manageable. That can be very helpful for in-laws, immediate family members, or anyone who wants to help. It tells them what a new mother's body is going through.
If a person is in a partnership, it's beneficial to equip their partner with that same information, so that they can step in from a stronger knowledge base. Often partners don't know how to help. This is a way to arm them with more information. It's kind of like putting your family and friends through a postpartum doula boot camp—giving them the books and the information to soak up—so that they're not coming over asking a ton of questions about what needs to happen. And it makes them feel much more adequate when they know what you want them to do.
Going back to the wider community, meal trains can be a great thing to have set up so that people are coming by and dropping off food. Mealbaby is a great website that lets you create a meal calendar complete with favorite foods, allergy needs, gift card options, contact info, map, and directions. It's great to have a family member or friend set that up for you, and you can sometimes have meals for weeks.
---
Q
In addition to LOOM, are there other like-minded communities that you think are great for parents?
A
The Motherhood Center in New York is amazing; so are Carriage House Birth, Birdsong Brooklyn, and Baby Caravan, just in terms of being able to create that community. In LA, there's a place in the valley called Bini Birth that's really helpful, and also The Mother Nurture Center in the South Bay. And there is DayOne and Natural Resources in San Francisco. I've heard a lot of good things about the Peanut app and Bumble's new BFF app feature, where you can meet other moms.
Unfortunately, there isn't an abundance of resources in this arena. It's slowly starting to change. I always recommend that my pregnant clients begin shifting their focus to beyond the birth once they hit their second trimester. I encourage them to put half of their energy into contemplating and creating their support plan after the baby arrives. It's the best investment you can make, because once you're in the postpartum phase, there's often too much going on to make space and rally the help you need. Spending time doing an inventory of places and spaces to meet other parents or get support is key because community is vital.
---
Erica Chidi Cohen is a doula, a health educator, an author, and a cofounder and the CEO of LOOM. LOOM provides modern education for reproductive empowerment, pregnancy, and parenting. 

Cohen began her work in San Francisco, volunteering as a doula within the prison system, working with pregnant inmates. She went on to build a successful doula and health-coaching practice in Los Angeles. She is passionate about helping people cultivate body literacy and the tools to advocate for their reproductive health and well-being. She has guided thousands of people in their transition from pregnancy to parenthood in her practice and through her book, Nurture: A Modern Guide to Pregnancy, Birth and Early Motherhood. Cohen teaches and sees clients at LOOM, focusing on menstrual wellness, sex positivity, fertility, and pregnancy.

---
The views expressed in this article intend to highlight alternative studies. They are the views of the expert and do not necessarily represent the views of goop. This article is for informational purposes only, even if and to the extent that it features the advice of physicians and medical practitioners. This article is not, nor is it intended to be, a substitute for professional medical advice, diagnosis, or treatment and should never be relied upon for specific medical advice.