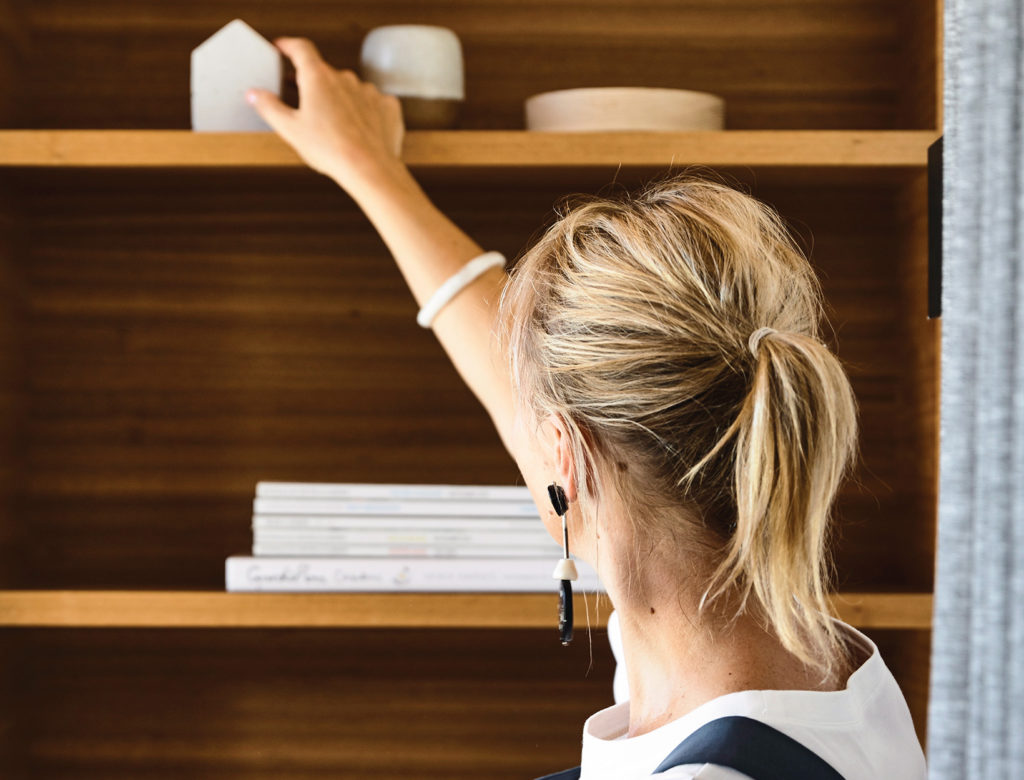 What Can the KonMari Method Teach Us about Impulse Buying, Decluttering, and Finding Joy at Home?
At best, home is where the heart is—and it's also where we're spending an inordinate amount of time right now. Where we live means something different to everyone, and how we fill that space is as intensely personal as our overall reaction to being homebound. There's the prepared-for-anything palace, with Costco-size rations of toilet paper and wine. There's the minimalist haven, the home that's been in the family for generations, the barely-lived-in studio apartment. KonMari consultant Amy Chinitz has seen them all, and plenty in between. She's an expert in Marie Kondo's art of tidying, yes—but Chinitz's clinical experience in social work gives her a nuanced understanding of the emotional work involved in letting go of what no longer serves us.
"It's my mission to help folks cultivate a peaceful environment where they can home in on what's most important," Chinitz says of her work. (She runs Spark Joy New York, and she's also the at-home support team for her husband, a cardiologist currently caring for COVID-19 patients in a busy Long Island hospital.) Every denim-folding, closet-liberating move The KonMari Method teaches is, at its core, about helping people create a home that reflects the lifestyle they want to lead. We spoke with Chinitz about the urge to impulse-buy, the therapeutic side of the KonMari process, and the mindset shift that comes from thoughtfully letting go of what isn't sparking joy for you.
A Q&A with Amy Chinitz, LCSW
Q
In times of crisis, what drives the grab-the-last-roll-before-someone-else-does urge to stock up beyond what's necessary for ourselves and our families?
A
So many people can relate to the hoarding mentality and are expressing their fear that way. It's very American, because we're in this consumer culture where buying things is a way people express their freedom in daily life. But right now, while we're restricted and it feels like the world is spiraling out of control, people are giving in to the impulse to buy things like toilet paper because it's an aspect of their house, life, or environment that they have control over.
---
Q
How can we shift our mindset and temper the drive to impulse-buy?
A
Anxiety is a huge issue that's coming up right now, so little things can tip people over the edge. Even people who don't have issues with depression and anxiety at baseline are experiencing those feelings, because we're lacking the stimulation to be able to experience a full range of emotions. It's very limiting to be stuck at home, so you have to find ways to empower yourself and use your mindset to really gain some control over your environment.
Some impulse buying is not negative, because it's a product of something happening that's environmental or situational. Say you weren't planning to buy clothes, but you get an email from a brand you like, you realize you've been living in sweatpants, and you get inspired to buy yourself something new. In that case, deciding to buy something that will spark joy and make you feel good is an acceptance of your current situation. Because we're all staying home right now, many people are downgrading their clothes and slacking on self-care, which can contribute to depression. It can be uplifting to consider carefully and thoughtfully what you want to own.
---
Q
How does The KonMari Method teach a mindful approach to making purchases?
A
KonMari is pretty countercultural in that we always urge people not to buy things. When I'm preparing for a first meeting with a client, sometimes they'll ask, "What can I do to get ready? Should I go to the Container Store and buy all these organizing products?" That's the opposite of what we want you to do. You can achieve the same sense of control and comfort in your environment by going through this therapeutic method of clearing out, as opposed to adding things to it. You arrive at the same point but in a peaceful and natural way.
---
Q
How can a methodic journey through our homes and possessions help create and maintain a sense of calm and acceptance during periods of transition?
A
Now is a wonderful time to think about tidying, not only because you may have time on your hands but also because living through this present moment is a way for what's important to you to come more fully into focus. This is a good time for making decisions about the life you ultimately want to lead, and on a micro level, the KonMari practice guides you through that and toward your ideal lifestyle.
Aside from being a positive distraction with visible, tangible benefits, it can be an emotional and even a spiritual journey to help you get in touch with what really matters and shift perspective to one that fosters gratitude and helps you view things through a lens of abundance rather than scarcity.
---
Q
How does the process begin?
A
The first step is making the commitment to tidying. Cleaning is not the most important thing in the world right now—if you aren't ready to do it, you shouldn't. But if you've self-assessed and you're ready to commit, we always start with a visioning exercise. Start by envisioning the life you want to enjoy at home. Envision your ideal lifestyle in the space where you presently live. What kinds of activities would you like to enjoy there? What feelings do you want to have as you move through the space? These are the questions to ask yourself, rather than thinking about your design aesthetic. You start by getting to the root of how you want to feel at home.
The visioning exercise is so empowering because KonMari is not just a technical method of opening your closets and drawers and making decisions about what stays and what gets tossed. All of those tiny decisions are made based on what you learned in your visioning exercise. So everything goes back to: Does this item contribute to the lifestyle that I imagined for myself?
---
Q
So it's about asking the big questions first?
A
Yes. Of course, you have to look at everything through the lens of "Does it spark joy?" But also: Does it contribute to the future that you envision for yourself or the present time that you want to enjoy right now? From there, the questions vary as you go through different categories. For example, when considering clothing (the first category), you want to ask yourself questions like "Do I feel confident in this outfit?" or "Am I looking forward to wearing this again when the weather is hot?" My own collection is quite curated, so it's easy to see what my favorites are. I find it's even easier to answer those types of questions right now, because staying at home makes it clearer what I'm not looking forward to wearing in the future. When I realize that, it's a simple decision: Those things don't belong here anymore, because they're not sparking joy.
---
Q
What about keeping threadbare pieces you still love or holding onto something even though you don't wear it?
A
Anything that sparks joy stays. It's not about how it looks; it's about how it feels. If you look at it and you enjoy it—say you enjoy the fabric, but you just won't wear the style again—absolutely keep it. Cut it up and figure out something to do with it. Even if the softest pants in the world have a hole, if you love them, then asking the right questions won't lead you to part with them. It can be confusing, and that's why it's sometimes helpful to have a guide to bounce questions off of, just to make sure there aren't any KonMari casualties.
---
Q
Your background is in social work, and for many people, cleaning up and decluttering can be a therapeutic process. What does that look like?
A
It's incredible—so much comes up for people as they do this review of their possessions. You have to answer those big questions: What do you want your life to look like? What purpose do you have to serve in the world? But you also have to ask yourself other questions: What is the clutter covering up? Why did you hold onto this?
I've had moments when clients discover or rediscover something that just floors me. Suddenly, it's like, "Oh, that's where my mother's ashes are." At that point, we have to stop and talk, because every object in your home and your life serves some kind of purpose. You've had some kind of attachment to everything you've decided to bring home, and maybe that purpose has been fulfilled. Maybe that season has passed.
When a person has accumulated clutter, they find things they weren't ready to say goodbye to at the moment they pushed them aside. That rediscovery and decision is an emotionally charged process. You have to use that decision-making muscle, which is strengthened through the order of the five categories: We start with clothing, then move on to books, papers, komono (miscellany), and finally items with sentimental value. The KonMari Method progresses in a way where we don't have to go deep and make those more difficult decisions until we're experts at deciding what stays and what we can let go of. That's why sentimental items are at the end. If you find something sentimental early on, while you're working through clothing, for example, you have to put it aside, because you're probably not ready to explore the memories, stories, and emotions it carries.
---
Q
Is there a common turning point for people that makes them ready to start the process of letting go?
A
There's something that strikes people when they're ready. As in all therapy, you can't make a change if you're not open and willing to make that change. If you accept where you are, begin with a nonjudgmental awareness of your starting point, and just focus on the goal and resolve to follow the path of the method, then you can get there. KonMari has steps—it's a measurable process. You won't rebound if you complete the entire tidying festival, because the result is a mindset shift. From that point forward, you have a different relationship with what you accumulate.
---
Q
What are some of the long-term effects of letting go of belongings that no longer reflect your ideal lifestyle?
A
I keep in touch with clients after they complete the full tidying festival—meaning they've gone through their entire home using The KonMari Method—and I'm so lucky to get to see how it impacts their lives. I have some really magical stories. One client wanted to go through the KonMari process to ready her apartment for a baby. She's a single woman and was going through fertility treatments while we were working together. I encouraged her to keep that dream of having a baby in mind with each decision. She chose to keep clothes that she could imagine wearing while she was pregnant, and discarded wardrobe pieces that didn't fit into that new life that she was designing. As the tidying festival culminated with the sentimental category, she received the wonderful news that her treatments were successful, and she was pregnant! I think we both believe that our work together helped manifest her new reality, and now she has a beautiful baby boy who was born this month.
I also worked with an older couple whose goal for tidying was to get their home ready for foster children. They lived in a two-family home and had never had their own kids. The first time I visited, they had to clear a path just so I could walk through. They were dealing with pathological hoarding issues, but their motivation to get certified as foster parents led them to sign up for the course. This is where the process has the potential to go beyond traditional home organizing. It becomes this hands-on, active therapeutic process for making sure your home is a reflection of the life you want to lead. To get to help people and witness those transformations is such a joy for me.
---
Q
What's the key to keeping things in check once you've done the hard work?
A
You're not going to end up with a cluttered household once you've experienced the joy of clearing away the things that you feel burdened by. You have to make every purchase decision by asking, "Does this really bring me joy from the depths of my soul? Or is this something that I don't need?"
Viewing everything you have already through the lens of gratitude can also free you up and turn your attention to more important things. When you communicate thanks to your space and to your possessions, you create a really powerful and uplifting energy that will transcend your walls and your neighborhood, and I think it really is contagious. We hear that right now from the health care workers: When they leave those shifts in tears and they come out and they see the people cheering, it's a poignant example of the impact of positivity. It's a unique time to be able to focus your attention on making micro-level changes that can have a huge, far-reaching impact.
---
Amy Chinitz is a licensed clinical social worker and a certified KonMari consultant. She is currently available to support clients virtually, both for home-tidying consultations and to discuss setting up work from home spaces, prompted by Marie Kondo's new book, Spark Joy at Work. In addition to her KonMari work, Chinitz performs as a stand-up comedian in the genre of mom-comedy.