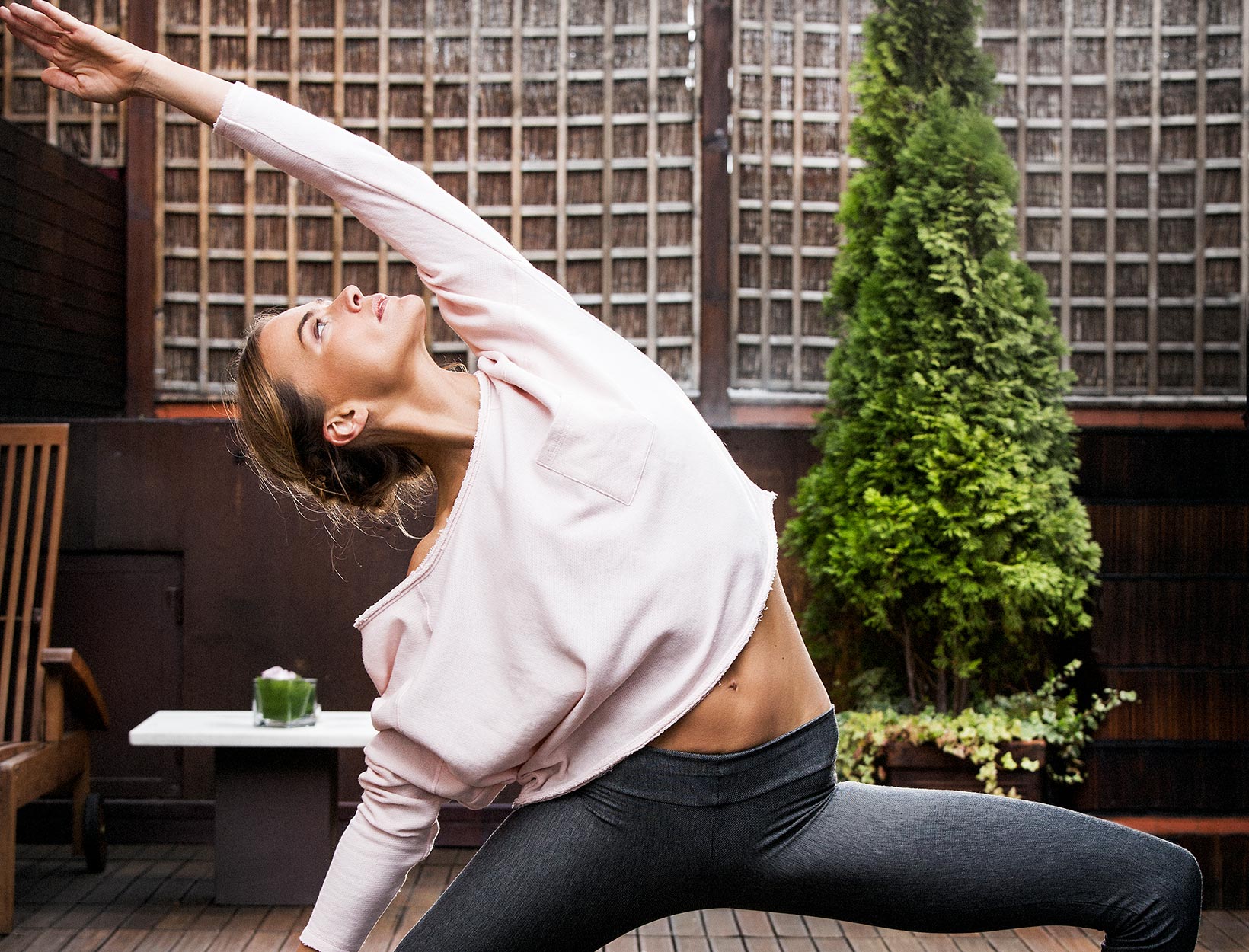 The Newfound Wellness-ish Obsessions Bringing Us Immense Satisfaction
Prepandemic, we flossed and speckled our pillows with lavender oil. Our kitchen cabinets were bursting with herbal tinctures and canisters of matcha we never quite got around to trying. Bedroom nooks held stacks of books we promised ourselves we would read, incense we would (someday, maybe) burn, and vibrators we felt meh about. Cut to now: The world has changed, and we're newly dedicated to practices that induce calm. We've traded our old sex toys for new sex toys that do more and do it better. We Cocofloss, twice a day, every day. We read, listen, and livestream.
What is it about these micro fixations that brings such intense satisfaction? Honestly, who knows, and actually, it doesn't matter. What does matter is the quiet zen that descends when you spike the daily grind with moments of self-care and little luxuries. And because we can't bear keeping solid recommendations to ourselves, three of our most discerning colleagues divulge on the wellness-ish obsessions getting them through right now.
Kiki Koroshetz

wellness director

"One of my coworkers said they thought of me the other day and figured I was probably enjoying being able to floss whenever I wanted to at home. I thought that was a little dark, but also true. I am so obsessed with flossing that I should probably talk to my therapist about it, and given the amount of time I've spent doing it, I can confidently say that Cocofloss is the best option on the market. How could one floss be better than all the others? How long do you have? Cocofloss is thicker than regular floss but glides easily between teeth. It approximates the feeling you have after a cleaning at the dentist's, and the peppermint flavor is insanely fresh."

"I can be a little…intense about making sure the products I'm using are goop-approved-clean. And you already know I'm certifiable about oral care. But it took me a while to fall for a goopy toothpaste. Davids tastes great—peppermint, spearmint, and wintergreen. And it leaves your teeth feeling clean, which sounds stupid, but some of those crunchy granola toothpastes don't. And of course, I appreciate that Davids comes with a chic metal key to roll the tube as I use it. Because, again, I'm obsessed with getting every last bit of paste onto my toothbrush, and finishing a personal-care product is extremely satisfying."

"Because I don't spend enough time on oral care, I've decided to try these whitening strips. They use plant-derived ingredients to whiten teeth instead of hydrogen peroxide or other irritating chemicals typically found in mainstream whitening strips. That sounds nice. And Gerda Endemann, our senior director of science and research, said the Lumineux strips were 'amazing.'"

"I told my friend Ivy, our beauty and wellness buyer, that I would write about this vibrator if she picked it up to carry in the goop shop. And here we are. Another editor on our team wrote a whole guide to vibrators, which is one of my favorite stories we have ever published on the site. But it predates the Ballerina, which is the Cocofloss of vibrators, if you ask me. It's incredibly smooth and soft to the touch. It fits comfortably in the palm of your hand. The buttons are right where you want them to be, at your fingertips. It pretty much covers the whole vulva—the narrow end goes to your clitoris tip and the wider end toward your vagina. You can use it yourself or put your partner in charge. The vibrator is waterproof and has a rechargeable battery, four speeds, three pulsation modes, yadda yadda. All that matters: It feels extraordinary."

"Please know that I do other things besides floss and use a vibrator. I also read books and loved this debut novel by Shubhangi Swarup. The plot is experimental, sweeping, epic. It's made up of four linked novellas, spans several generations, and cuts back and forth in time and across India and surrounding regions. It's driven by love stories of various natures, and you keep reading in part to see what will happen to the characters and how all their stories fit together. Will they always struggle? Will they find intimacy and joy? Will they find the answers they are looking for? All of the characters live around a tectonically active fault line and have different, significant relationships to science, the natural world, and mysticism. A central question of the book: Why did the universe begin—and what's our purpose in it? Where do our stories begin and end? To read along with us, join our book club."
---
Noora Raj Brown

SVP of communications

"Like much of the rest of the world, I'm oscillating between feelings of deep gratitude and crippling anxiety, which results in a lot of tossing and turning at night. My clean sleep prescription is loading my vitruvi with a mix of lavender and eucalyptus oil, hiding my cell phone, and popping two goop Knock Me Out chews. It's foolproof, almost."

"I was in Japan last year for the opening of our goop pop-up, and my trip coincided with Tom Sachs's live tea ceremony exhibition at the Tokyo Opera City Gallery. I quickly became enamored with Japanese tea rituals, and I returned home with an array of fragrant loose-leaf teas, which sat idly in my cabinet until quarantine started. This Tom Dixon tea strainer is the cornerstone of my new morning routine, and I feel like I'm paying homage to Tokyo's impeccably high design standards when I use it."

"Whenever I'm in New York, I stop into the WTHN acupuncture studio to soothe and reset. While nothing beats an in-person session with Shari, their supplements—specially formulated cocktails of the same Chinese herbs they use for treatments—are crucial for keeping me in balance on off days."

"Every night, the Met Opera livestreams one of its famous operas, like Le Nozze di Figaro and La Bohème—and it's then available free on demand for twenty-four hours. The music is so chilling and transportive that it instantly takes me out of my head. I still haven't adopted a daily meditation practice, but listening to this nightly while cooking dinner comes pretty close."
---
Ivy Benavente

senior buyer, beauty & wellness

"What better time than during a quarantine to finally get around to those Kegel exercises I've been putting off for years! I recommend the Elvie Trainer to anyone interested in strengthening their pelvic floor—which has a whole host of benefits, like a stronger core, better sex, and improved bladder control. The device pairs with an incredibly well-designed app that makes it super easy to follow along and track your progress."

"It's important to me that I continue to support the local businesses I love to make sure they're still here once we make it to the other side of quarantine. Kinship is a beautiful studio in Highland Park, and I've been tuning in to their livestream practice a couple of times a week. There are classes throughout the day, so I have no excuse not to log in and support these amazing teachers and community."

"I've been cooking and baking a lot more, which has been fun. But I have to admit my digestion has taken a bit of a hit with all the extra pizza and desserts. I've started taking Triphala daily to help my overall digestive health."

"The goop staff was fortunate to have the opportunity to learn TM from the David Lynch Foundation. I have to admit that I've fallen off the wagon with my practice more times than not, but since being at home, I've started bringing this back into my daily routine. I love that I can do it from anywhere, and I find that it really does help shift my mood and focus during the day."

"I've been following Daphne Javitch for a couple of years now and have always loved her back-to-basics approach to health and wellness. Especially during this time, I'm finding a lot of comfort in her approachable and digestible suggestions for staying well and feeling good."
---