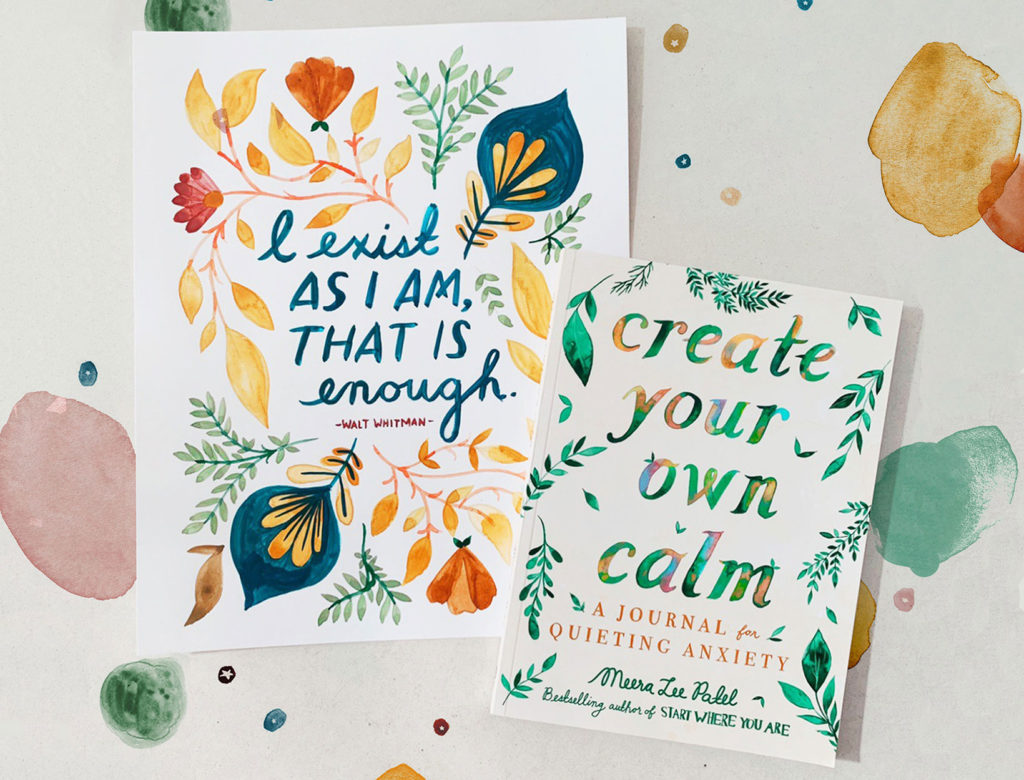 Journaling Exercises for Everyday Anxieties
Journaling Exercises for Everyday Anxieties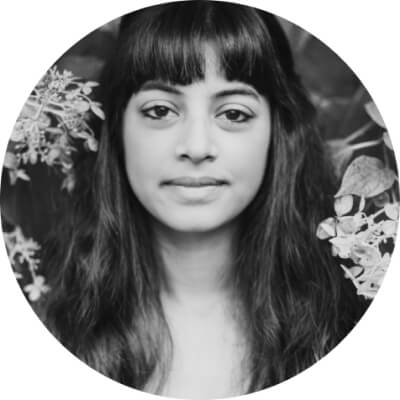 Meera Lee Patel is a self-taught artist and writer who found some solace from stress in the simple: drawing and journaling. She's published four beautiful books and journals, including her latest, Create Your Own Calm, which is filled with prompts that help you get out of your head.
We caught up with Patel to learn a little more about her process, how she moves through a creative block, and her tips for first-timers. She also shared an exercise for journaling about the future from her new book—download it and give it a try.
A Q&A with Meera Lee Patel
Q
When did you first turn to your creativity as a way to manage stress?
A
I turned to creativity and art as a way of finding myself again. I had become very disconnected from myself, and I began drawing and painting to reignite that relationship. And it was then that I began noticing the therapeutic and meditative qualities of writing and drawing.
---
Q
Did drawing come naturally to you? Or were there bumps along the way where you felt like you weren't good enough?
A
A little bit of both, because I have tons of self-doubt and suffer from imposter syndrome, the way many creatives and artists do. But the desire to create is always there, and it's a tenacious desire. And so even in moments where I feel completely insecure, that flame of wanting to make something and wanting to connect with other people through my work never fades. That's what allows me to push through the self-doubt.
---
Q
Are you regimented about how much time you spend each day journaling or drawing?
A
I am with journaling. I journal either in the morning or at night as a way to decompress and get the cyclical thoughts out of my head. I'll go to a blank page and write for twenty or thirty minutes, then shut it and leave those things behind. And with my art, it's kind of the opposite. I could be in my studio all day. I could never leave and be happy.
---
Q
Do you consider journaling your meditation practice or do you meditate separately?
A
I meditate separately, but I do consider journaling to be a meditation practice. Just a more conscious, active practice.
---
Q
Do you go back to your journal entries and read what you wrote?
A
Very rarely. I think it depends on what you're working through, though. If you find that you're working through trauma and it's triggering, then I think it might be more helpful to leave those words in your pages and not revisit them. But at the same time, there's something to be said for confronting what is hurting you and seeing how far you've come. I think that paying attention to your progress—for example, in August, looking at a page from February—and being able to see that you've moved past something, or that you feel differently about it, or that your heart is softer when you think about it: That builds confidence. And that reinforces the idea that you are capable of change and are always getting stronger.
---
Q
What would you say to someone who feels self-conscious while they're journaling, thinking that someone may read their private thoughts?
A
I would ask if it's really a fear that someone else is going to find it or if they feel uncomfortable being that vulnerable with themselves. That's what brings me discomfort: If there's something in my head, it feels like it has less power in there—even though the opposite is true—and once I put it into words on paper, it's very real. I do have the occasional thought, What if my husband reads this? How would he feel? Or: What if this journal got into the wrong hands? But I think that those thoughts are rooted in my own shame and vulnerability.
---
Q
Do you have any practices that you do when you feel blocked?
A
What's helped me the most is to move physically. I take walks. I do find that when I'm out of the studio, away from the computer, and I'm allowing my mind to relax, that's when the ideas come. And in the past, if I had writer's block, I'd try to book a trip, which we sadly can't do now. But I think part of what's invigorating about travel is that you're out of your routine and environment. And you can re-create that a little in daily life: Take another route on your morning jog or pick up lunch from a place you've never been. If you can put yourself in a different and maybe even slightly uncomfortable situation, I think that kick-starts creativity.
---
Q
What would you say to someone who's picking up art or journaling for the first time?
A
I would say be honest with yourself: Be in your body, be in your heart, be in your mind, and let it come out the way it's going to come out. If you censor yourself in this part of your life, it's quicksand—you'll be censoring yourself in every part of your life. When you're honest with yourself in your work, it becomes much easier to be honest with the people in your life. It's all practice. We're creatures of habit. If you make the habit of being honest and genuine in your art, that habit will follow you in everything that you do.
---
Meera Lee Patel is a self-taught artist and the author of Start Where You Are, Made Out of Stars, My Friend Fear, and the recently published journal Create Your Own Calm. She creates work to inspire and encourage others to connect with themselves, one another, and the world around them.
---
We hope you enjoy the books recommended here. Our goal is to suggest only things we love and think you might, as well. We also like transparency, so, full disclosure: We may collect a share of sales or other compensation if you purchase through the external links on this page.