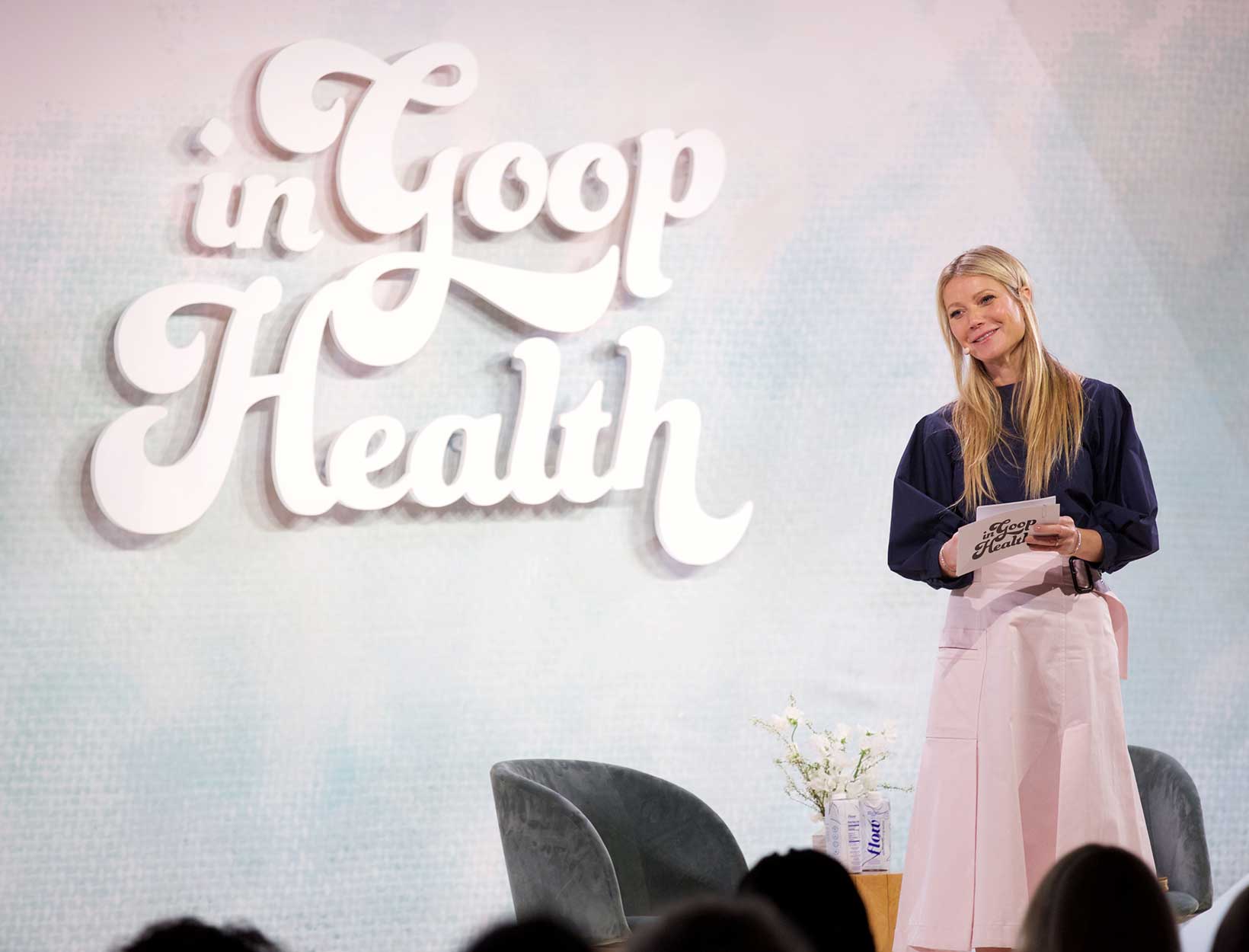 What We Learned, Ate, and Pierced at Our
Latest Wellness Summit
On Saturday, March 9, In goop Health was the club that had everything.* Ear seeds. Vitamin B12 shots. Psychedelic chats. Lypo-Spheric Glutathione served with organic watermelon juice.
It was a day devoted to wellness—which to us, includes a hall filled with cafés by our favorite healthy restaurants in New York, as well as a stacked schedule of classes, workshops, and talks.
In the Mind Studio, we learned how to maximize the joy in our lives with Ingrid Fetell Lee and let Amy Whitaker expand our creative horizons. We sharpened our intuitive skills with the best of the best—Laura Day, Laura Lynne Jackson, and Dana Childs. Financial experts Farnoosh Torabi and Georgia Lee Hussey helped us delve into our relationships with money. We took yoga classes with Faith Hunter and Chelsea Jackson Roberts, who got us out of our heads and into our bodies. Our food editors led classes throughout the day with psychiatrist Uma Naidoo and nutritionist Keri Glassman. In our Energy Studio: aura sessions with Deganit Nuur and Reiki with Caitlin Marino. And in the Spirit Studio: lots of (cathartic) tears with mediums Kim Russo and Joe Perreta. Anastasia Achilleos and Christy Coleman ran beauty master classes with a backdrop—Pier 17 at Seaport District NYC, you've got the best views of New York Harbor that we've seen.
Then there was the Chat Room. GP kicked off the day with the inimitable Caroline Myss. Our chief content officer Elise Loehnen took the stage for seven consecutive conversations. (We wanted to see if our Nerd Alert chews work—they do.) And after GP's evening fireside: cocktails.
We'll be back on the West Coast on May 18 for our next In goop Health—and we'd love to see you there.
JOIN US IN LA

SPECIAL THANKS GOES OUT TO OUR PARTNERS:

Avocado Mattress, Beautycounter, Buffy, Burrow, Burt's Bees, Christophe Robin, Flamingo, Flow, Glamsquad, Keds, Ketel One Botanical, lululemon, Lunya, On Gossamer, Privy, Purely Elizabeth, P.volve, Simon G., Sunlighten, Tumi, and WelleCo

SHOUT OUT TO OUR FRIENDS:

AGENC, Amy and Sarah Blessing, Ariel Gordon Jewelry, the blond, Erin Condren, Event Farm, Hessney & Co., Julie Skarratt, Lyft, MyIntent, Park Hyatt New York, Seaport District NYC, Seaport Catering & Events, Special Projects, The Hydration Room, The Yinova Center, 212 Fifth Avenue, and W&P

MUCH APPRECIATION TO OUR FOOD AND BEVERAGE VENDORS:

Bonberi, Clean Market, Dr Smood, Dream Pops, Health-Ade, Honeybrains, Hu Kitchen, Juice Press, MatchaBar, Smile to Go, Stumptown Cold Brew, Two Hands, Village Den, and West~bourne.

AND TO OUR TALENT:

Victoria Albina, Alex Belser, Gabrielle Bernstien, Robin Berzin, Elizabeth Boham, Dana Childs, Will Cole, Christy Coleman, Laura Day, Jennifer Freed, Keri Glassman, Arianna Huffington, Faith Hunter, Georgia Lee Hussey, Laura Lynne Jackson, Bonnie St. John, Sally Kohn, Ingrid Fetell Lee, Elle Macpherson, Caitlin Marino, Demi Moore, Caroline Myss, Emily Nagoski, Uma Naidoo, Deganit Nuur, Laura Pensiero, Joe Perreta, Gregg Renfrew, Chelsea Jackson Roberts, Kim Russo, Eric Schneider, Will Siu, Farnoosh Torabi, Ellen Vora, Gucci Westman, and Amy Whitaker.

*And to SNL for the jokes that never get old.

Photographs by Julie Skarratt