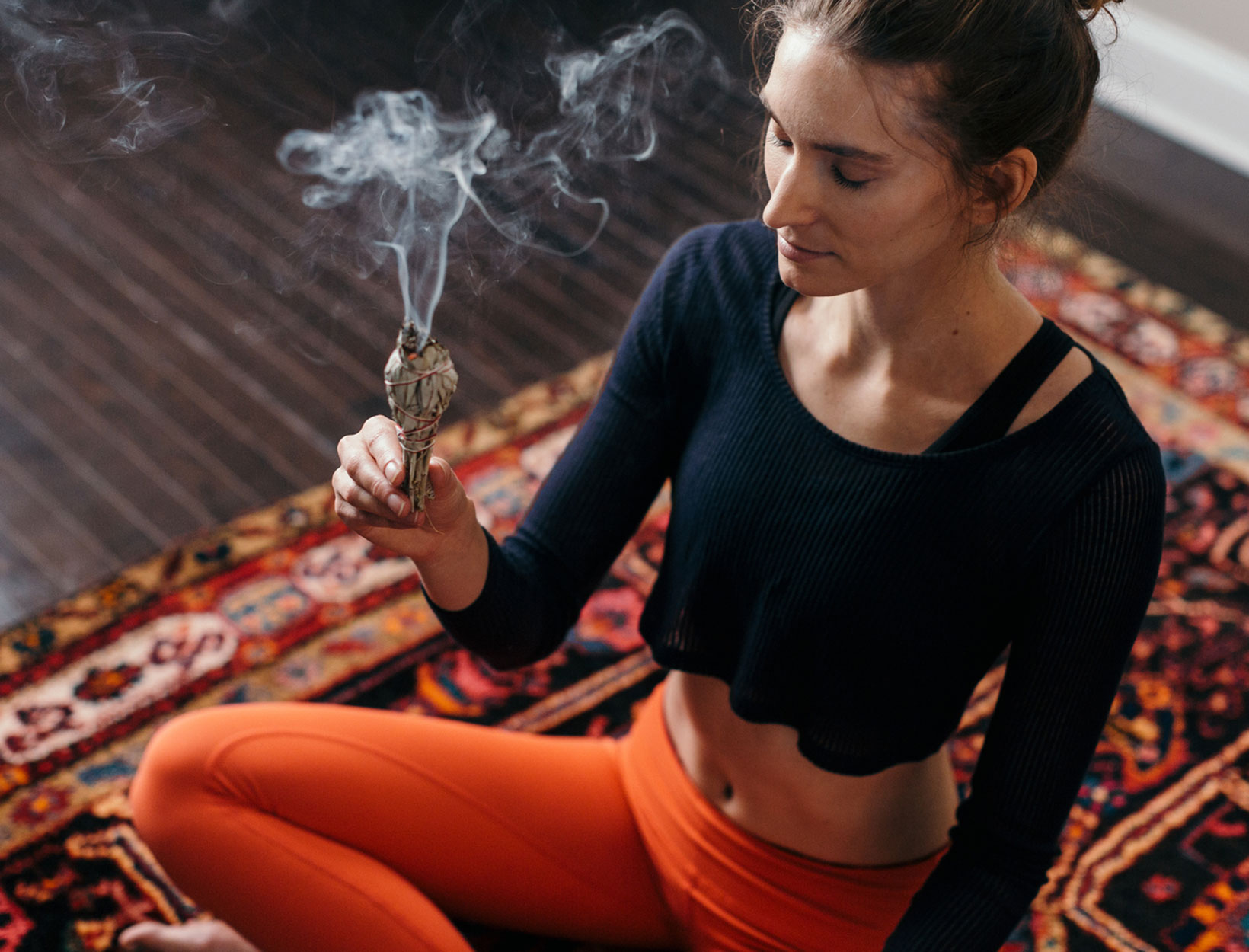 Photo courtesy of Emily VanWagenen
A Toolbox to Keep Sunday Scaries at Bay
Sometimes you need a robust approach to defeat the Sunday scaries. We've taken stock of the tools that help us carve out some time—and connect to that much-needed feeling of stillness and calm—before the start of a new week.
Set the Mood

Soak It Up
Use the dropper to dab a few drops of Pure Calm onto your fingers and massage it into your temples—or take it with you into a bath for an aromatic soak. This luxurious oil smells of chamomile, lavender, and jasmine, and your skin will soak up the hydrating jojoba oil.

Find Direction
To set an intention for the week ahead, shuffle the Inner Compass cards while asking yourself, "What energy do I need for this week?" Whatever card you pull, use it to focus on the theme or direction that resonates most.
Calm the Body

Bundle Up
A good sweat session in HigherDOSE's infrared sauna blanket can help warm up the body before stretching—or simply function as a deeply relaxing main event. Just turn it on to preheat, tuck yourself in, and let infrared heat (plus layers of amethyst, tourmaline, and charcoal) do its magic. We like to set the mood with a soothing playlist or podcast.

How We Roll
To release tension in the legs, back, and hips, we grab the LoRox foam roller. It's great for self-massage and loosening up tight spots.

Support System
Manduka's bolster is a soft yet supportive cushion to assist with deep stretches and restorative yoga postures. Our favorite way to use it: Bring your knees wide, toes to touch, and push back into child's pose. Place the bolster underneath your chest and melt in, elongating the spine and gradually relaxing every muscle in the body.

Glo Flow
We love Glo's online yoga classes because they're customizable for any mood, focus, or time commitment—like an hour-long soothing yin yoga session before bed or a stretchy twenty-minute yoga flow to open up the body.

Home Stretch
The strap has eight feet of stretch assist—so you can finally reach your toes in forward fold or make your way into dancer's pose. For a serious hamstring stretch, lie down on your back, hold the ends of the strap in one hand and loop the middle of the strap around the arch of one of your feet. Gently pull the strap toward your body to stretch into the back of your elevated leg.
Settle the Mind

Peace of Mind
Headspace is a useful app whether you're new to mindfulness or not. It has hundreds of guided meditations for different moods, times of day, and even physical symptoms you might be facing. Cofounder Andy Puddicombe is a former Buddhist monk whose voice is exceptionally calming as he leads you through customizable meditations between three and thirty minutes long. (And the app is free for a year for the unemployed.)
Headspace app, Headspace, free for two weeks (or a year if you are unemployed), then from $5.63 a month

Breathe Easy
A racing mind is often coupled with quick, shallow breaths. The Komusō Shift was designed to settle a busy mind by helping create deeper, more mindful breaths that are naturally elongated as you breathe in and out of the mouthpiece. You can wear it around your neck like a piece of jewelry, take it on the go, or use it throughout the workday.

Sit Pretty
Meditation is a habit worth developing. A regular practice can reduce stress and reactivity and help you ground into the present moment throughout your daily life. This velvet-covered zafu and zabuton are filled with buckwheat, millet, and dried lavender. They support your spine and keep your knees comfortable while you sit, and they make a gorgeous set.
Nurture the Spirit

Attitude of Gratitude
To reflect on your day and the week to come, the Five-Minute Journal poses a few simple prompts, such as "I am grateful for," as well as daily affirmations. It's a small way to shift your mentality into gratitude and optimism. If you're not a journal person, try Brené Brown's simple gratitude practice instead.

Good Vibrations
An orgasm is an excellent addition to any day of self-care. Orgasms help you relax, they improve your mood, and they might put you right to sleep. The Arc is designed with Dame's strongest motor yet to get you there with less effort—just turn it on and use the bulb-shaped head externally or internally as you cycle through the five speeds and vibration patterns.