Summer at Home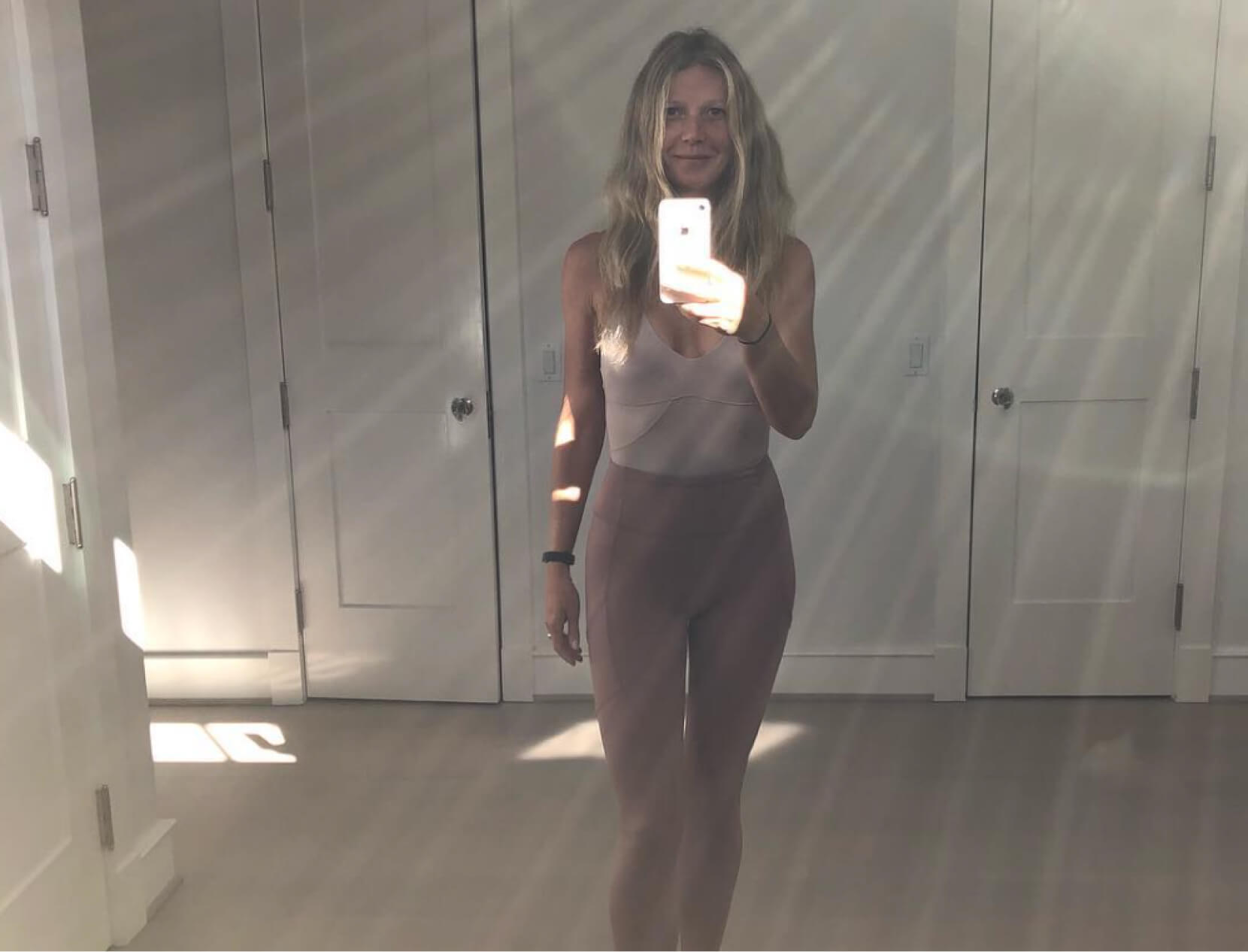 Home is where the heart is. Right now, it's also where the work, dates, entertainment, and summer vacation are. I've reset my course a bit to embrace this new normal, and after three and a half months, I've found hacks that make WFH a little less taxing, tips for combating recipe fatigue, ways to move my body and quiet my mind and make sheltering in place feel like a holiday without ever stepping foot on a plane.
Love,
GP
BACK TO THE KITCHEN
I'm cooking somewhere between one and three meals a day. On Sunday or Monday, I'll make a great salad dressing (blue cheese, miso, or a French dressing) and a batch of sweet potatoes and roasted beets to use throughout the week. Brad eats the sweet potatoes as a snack every day, and we put them into a smoothie or make a hash.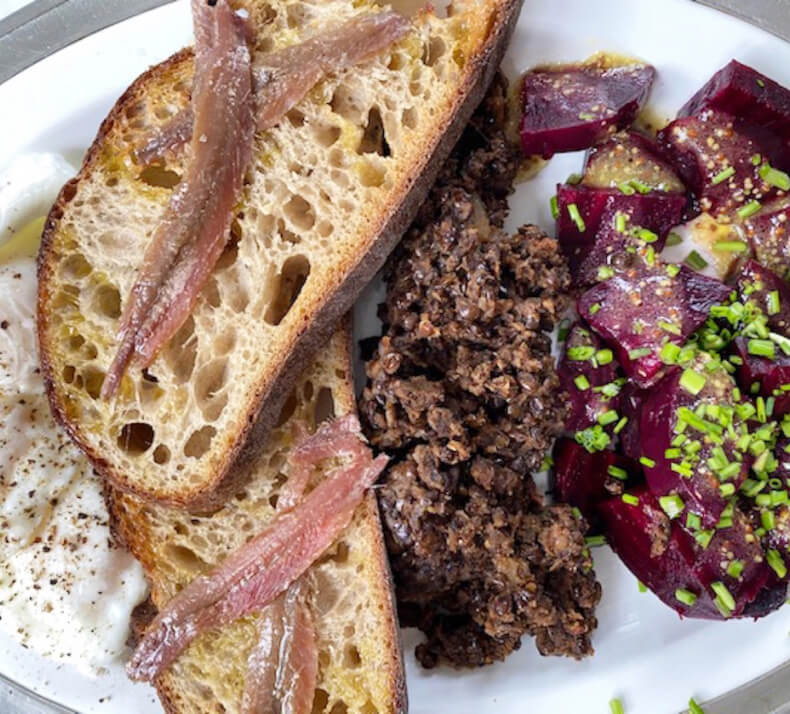 There's a fantastic recipe that I've been making that I found on Cooking Light. It's a perfect pot of lentils you can stick in the fridge and reach for when you need a quick, plant-based protein. I scoop a spoonful onto a plate with frisée and a poached egg, or on top of mashed potatoes with butter in a ramekin, almost like a vegetarian riff on shepherd's pie. As long as I have good produce stocked in my fridge and my premade dressings ready to go, meals and snacks are as simple as throwing a few simple ingredients together. Case in point: this beet avocado salad with scallions from It's All Good. Salads are an easy way to use up whatever produce you have—just douse it in a great dressing.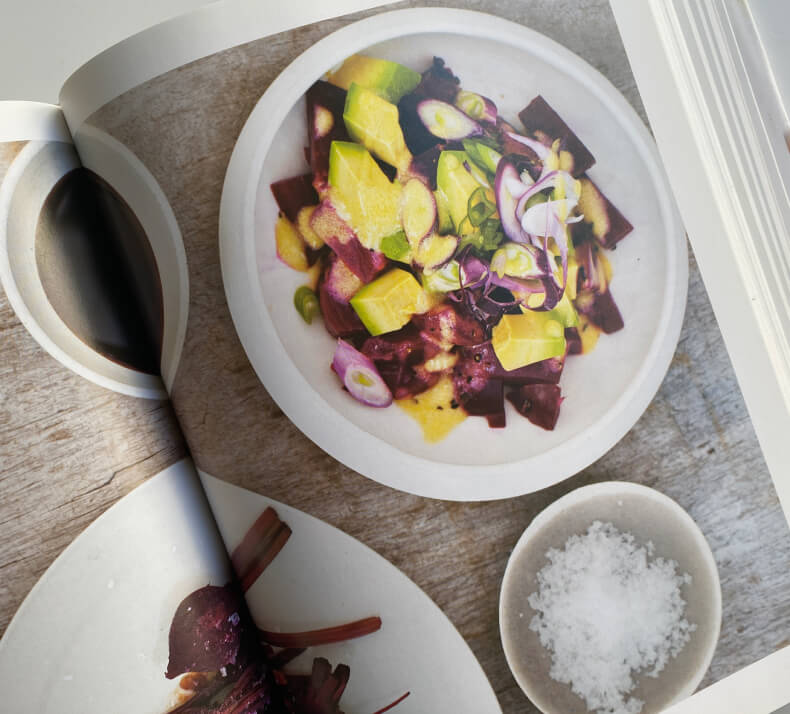 When the need for inspiration strikes, I've been going to Ina Garten, Chef Ludo, and NYT Cooking for ideas. The meat subscription boxes from Cream Co. are so good, as is my local butcher, Belcampo. My friend Christopher Kronner started a company called May Day Seafood that we love.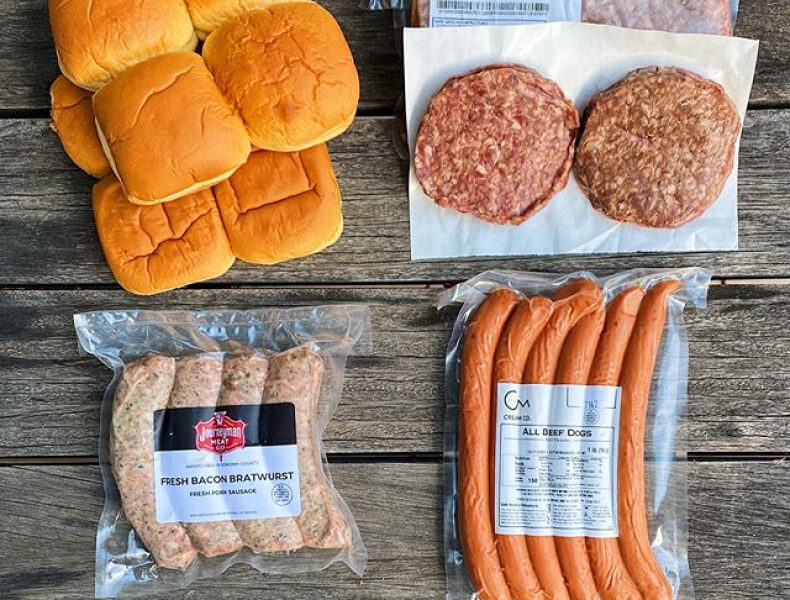 We've been trying to support local LA restaurants as much as possible. We picked up takeout from Bavel last weekend—it was a complete meal, which was such a treat. They create family-size menus every week. Tonight we ordered KBBQ from The Korean BBQ Kit, which has everything you need to make it at home. Trois Mec's Big Mec burger kit is also a favorite. Dear John's is doing these cool TV dinners that you can pick up from Röckenwagner Bakery & Market, and the takeout from Giorgio Baldi and Broad Street Oyster Company is a mainstay. We've been frequenting Felix for pasta kits and The Window at American Beauty for perfect burgers.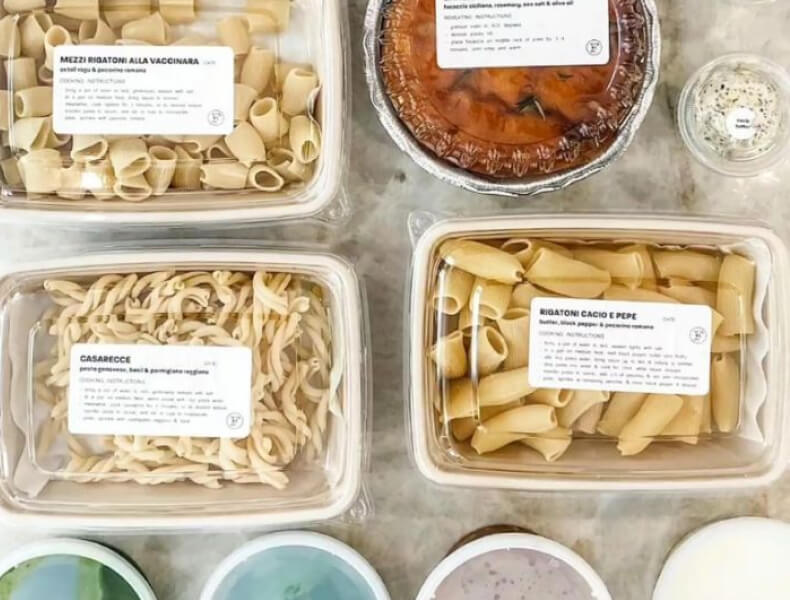 While it's hard to capture the feeling of going out for a nice dinner when you're stuck at home, Social Studies has a two-person quarantine kit that is so sweet—and for every kit purchased, they're donating to hospitality workers in New York. It makes having date night at home feel special.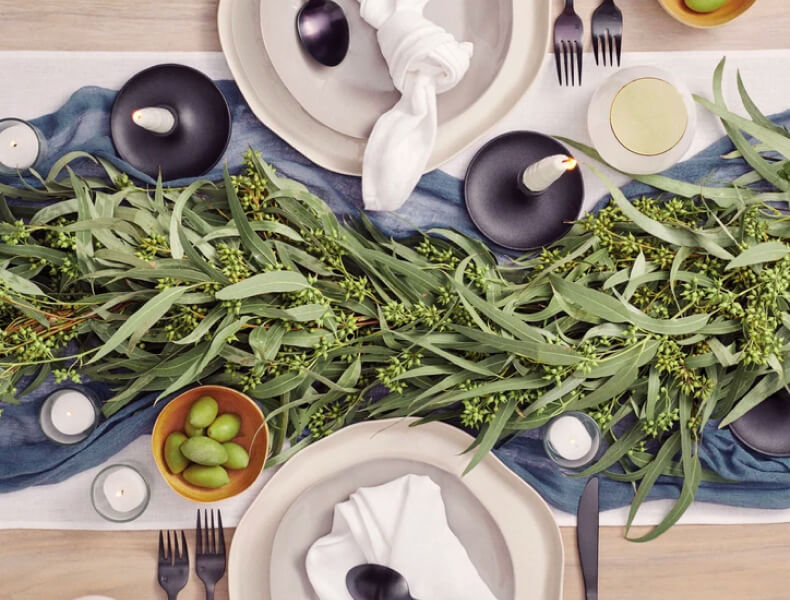 New-to-Me Grocery Picks
One of the benefits of having to wait in line before entering a grocery store is that you don't rush through the experience anymore. Apple and I have been discovering new-to-us products and are finding simple pleasure in seasonal fruit, like cherries and peaches.
We've been really into Bambucha's Hibiscus Rose Kombucha. Califia Farms almond milk creamer with coconut milk is a morning game changer.
These Smart Sweets Swedish Fish are sugar-free and still taste like the originals. I normally eat the Fuego Siete chips, but honestly, everything they make is great—Lime and Chipotle BBQ are our new favorites.
STAYING IN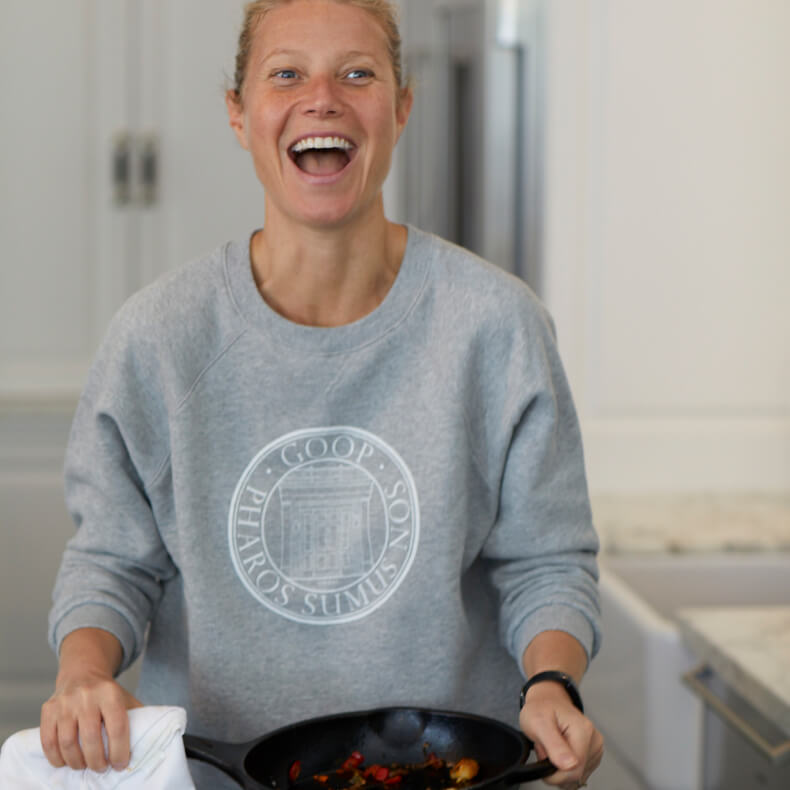 I've been living in this very soft G. Label sweatshirt (it's having a moment right now) and gravitating toward anything that goes from morning video conference meetings to my midday walks. Here's what's in steady rotation: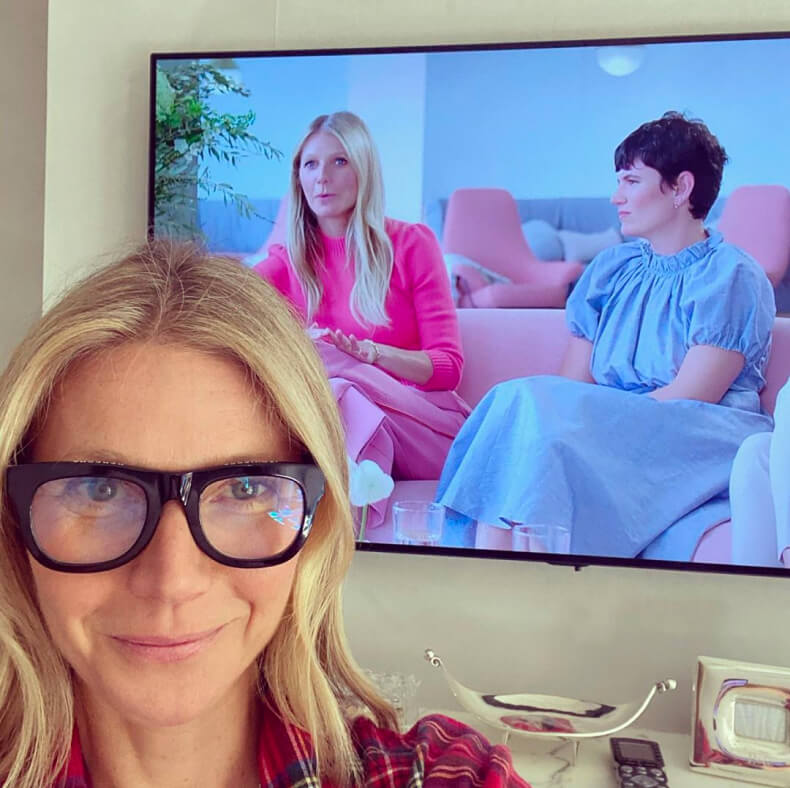 My eyes are shot from staring at screens all day, so these Caddis reading glasses are necessary.
There's been a lot of Trivial Pursuit happening at the house. And I got Moses the boob puzzle just for fun.
Reading List
I just finished Lost in Ghost Town by Carder Stout and How Much of These Hills Is Gold by C Pam Zhang for goop Book Club. Next up on my list are The Glass Hotel and In the Land of Men (both have been hailed as some of the best books of the year).
WELLNESS KIT
For body: Province Apothecary makes a luxurious intimate oil, and the Lover's Oil is the key to an at-home massage. The CBD cream from Prima feels fantastic, too.
Our team formulated a daily shot of nutrients and botanical extracts to support the liver detox system and skin health. And the Perfect Attendance chews are made with elderberry extract and fermented yeast for behind-the-scenes immune support—I'll take all the help I can get.
---
We hope you enjoy the products recommended here. Our goal is to suggest only things we love and think you might, as well. We also like transparency, so, full disclosure: We may collect a share of sales or other compensation if you purchase through the external links on this page.