Gwyneth Reflects on goop's 15th Anniversary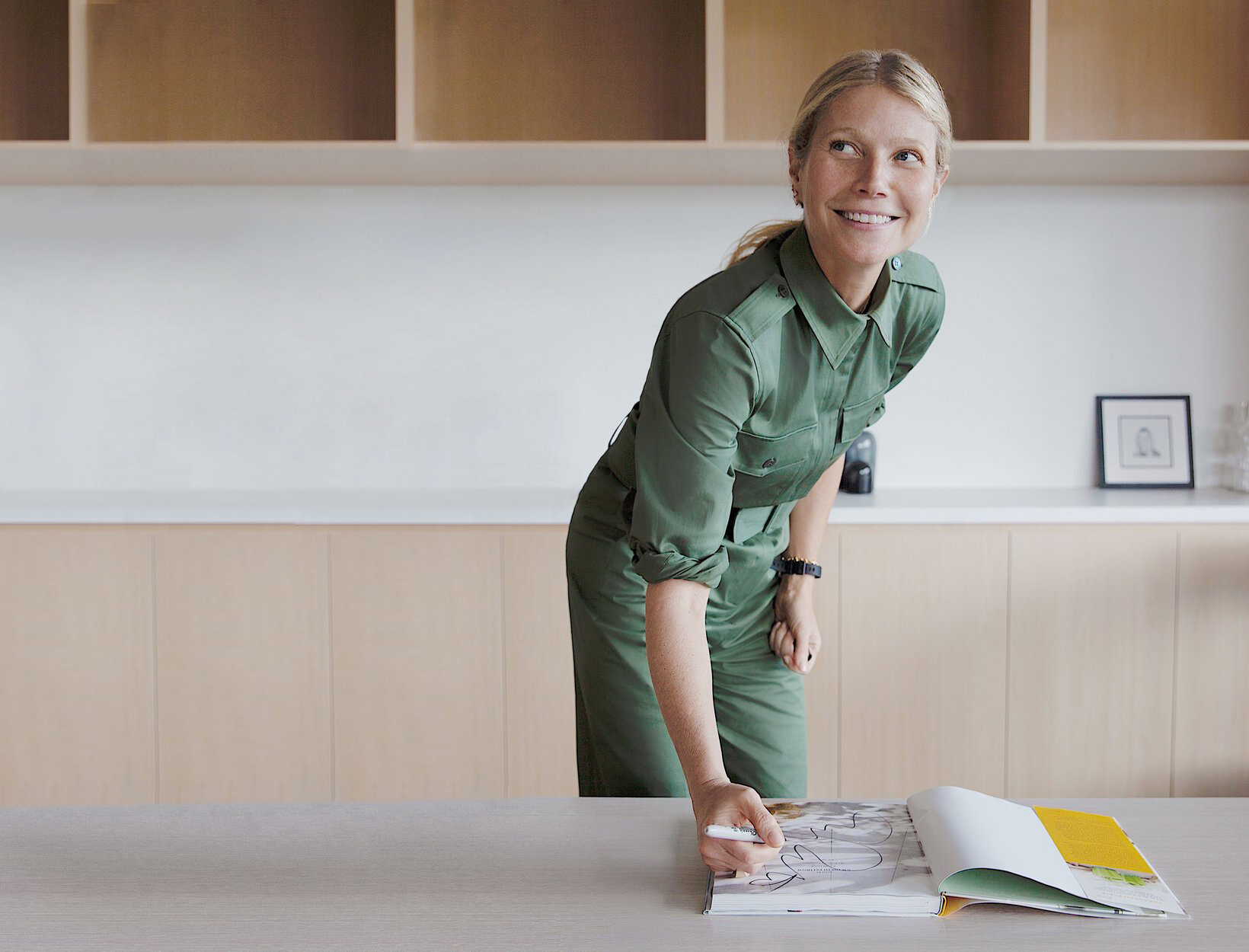 Above: GP in 2019, in our new office, wearing G. Label and signing a copy of The Clean Plate.
In these 15 years since I sent out the first goop newsletter from my kitchen in London, I feel as though I have lived a thousand lifetimes. I've raised two kids, moved countries, gotten divorced, gotten married. I look back at the day I sent that first newsletter and wonder what I was thinking, what was going through my head, what I was hoping to achieve. I remember feeling like I was brimming over with excitement about wanting to create something unique on the internet and also petrified by the idea that I was putting myself out there, exposing a very true part of myself, and not knowing what the response would be. I had such a strong, grandiose vision of what I wanted goop to be: a place where one could go to discover the best of the best the world had to offer. But I had no idea what steps I would take next, and certainly no idea how goop would make any money. For half of that first decade, I went mostly blindly into this digital space, with no inkling of any of the business models we would go on to create. But from the beginning, it had a lot of heart.
It stuns me to think about how much we have traversed as a company since 2008. Some days I cannot believe we are still here. Almost from the outset, the world at large seemed poised to disbelieve that I was taking on this endeavor and often voiced doubt (in not highly constructive ways). But we kept going. We weathered criticism when we talked about gut health and acupuncture and how the body holds trauma and female sexuality and divorcing nicely. And we observed as the culture shifted on various concepts—from disbelief (okay, disbelief on a good day) to curiosity to mainstream acceptance.
Sometimes I do think about how things would have been different if I were a man. Or if I hadn't come to it with the public profile of an actress. People would misunderstand us less, sure. People would probably give us credit less begrudgingly. I don't rail against it, though. It has all been part of the process, and part of what's gotten goop to today. It has helped me to learn one of my most profound lessons as a founder: to give up against-ness. It is easier to react to something than to think deeply about it. We've tried, however, to resist the urge to react or correct or push back. We have recognized that that is not our place nor our purpose. We have seen how much more important it is to internally know and articulate our brand values—and to never stray far from this framework that upholds everything we work on. When you stay true to yourself and your mission and you operate authentically from your value set, that is simply your path, and it is the one you stay on, come what may.
And so much joy has come. We have been trusted by our readers who have come to us to discover restaurants in Paris and Nashville, functional MDs taking new patients, their first clean lip balm, or how to get the most out of a tightly curated closet. Who have met us for adventures of all kinds, on land and at sea, with the bravest and most open hearts. We have had the honor of interviewing some of the most esteemed, credentialed, and influential scientists, authors, and teachers in the world. We have pursued vibrancy, bent toward the light, laughed, listened to mentors who have expanded our minds. We have searched for and found resonance in unexpected places. We have had moments of feeling fully in our bodies. We have recipe-tested until completely sated and overcome with pleasure by the perfect meal.
Some years our growth has been exponential; other years, not so much. We have made every mistake in the book, and a bunch that are not in any book that I've read yet. But when I look back, I realize our trajectory has been what it was supposed to be. The cadence and ebbs and flows and learnings are all there. I thank goodness we didn't have a crazy meteoric rise that turned out to be a firework. Every single stumble has been a blessing.
I have learned so much. About everything. Things I never could have imagined I would need to know. Not just about drop-ship platforms and ERPs and P&Ls and LTVs and credit facilities and board decks and Excel. I have learned what kind of leader I want to be and how to continue to grow into that. I have learned how to have difficult conversations. I am not, by nature, a very patient person. I have learned patience and deep acceptance. I have learned what it means to truly be on a team. And I have learned how much I love, and will always love, everyone who has spent their time and energy helping to build this company into what it is today.
And today, here we are, 15 years later, with a luxurious clean beauty line that really works, a fashion brand that I'm so excited to wear every day, a gorgeously curated experience across many verticals, a thoughtful podcast, the best-tasting food-delivery business, and so many other expressions of goop. I am so proud of all we have achieved, and so excited about all there is to come.