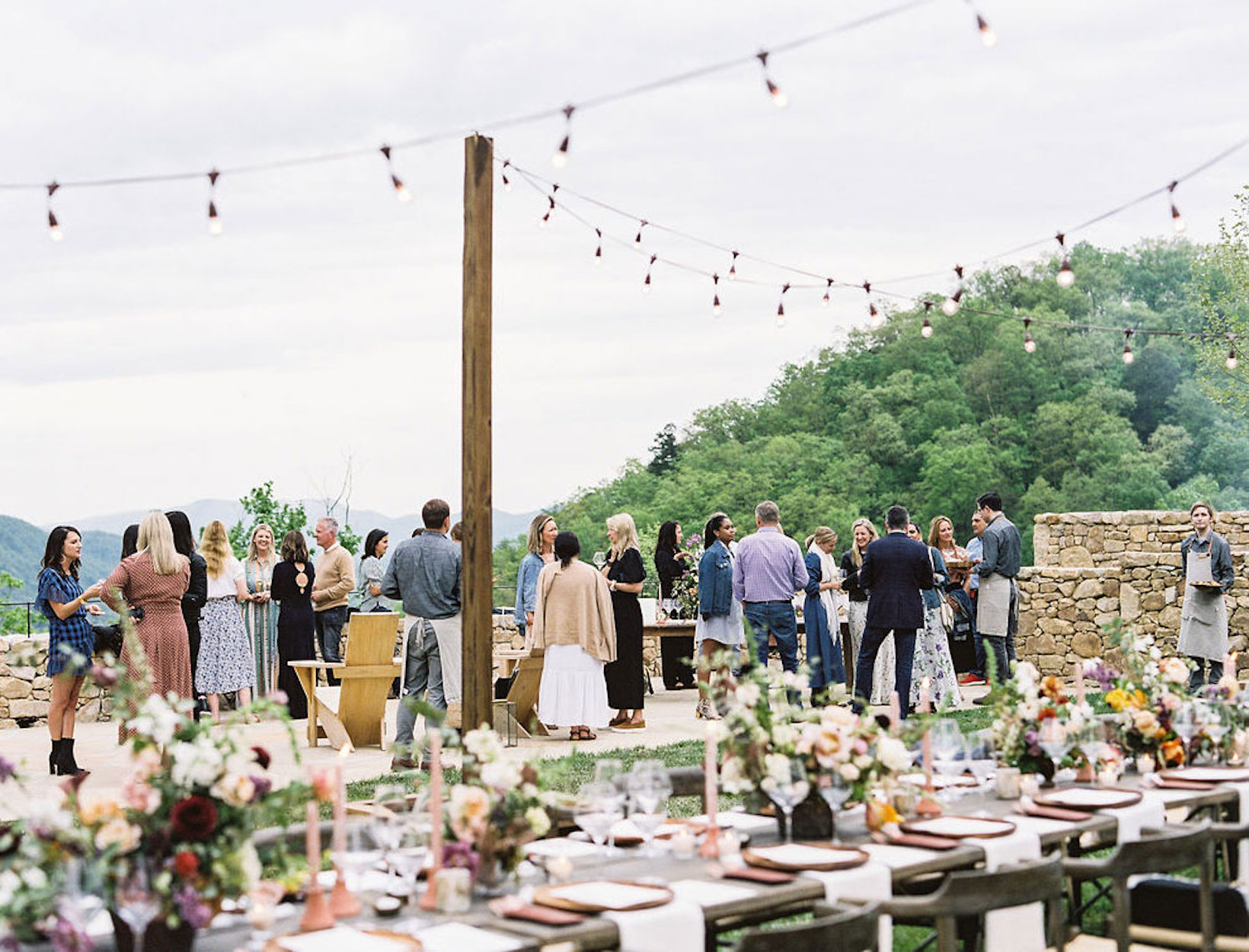 Photos courtesy of Natalie Watson
Inside goop Escapes: Hiking, Candlelit Dinners, Facials, and Energy Healing
in the Smoky Mountains
We're new to the retreat game. While our wellness summit, In goop Health, brings the goop universe under one roof, we were in search of something where guests could dig deep and get closer together. In other words, fewer B12 shots, more earthing. Our destination for goop Escapes: the Great Smoky Mountains of Tennessee. For accommodation, Blackberry Mountain provided the breathtaking forest views, the roomy cabins, and the restaurant nestled at the top of a mountain. We stocked the rooms with the weekend's essentials (find some of the shoppable ones down below).
GP kicked off dinner with a toast, alongside Blackberry Mountain owner and our cohost for the weekend, Mary Celeste Beall. Jessie Baylin and the Watson Twins serenaded everyone. The weekend had begun.
As for wellness practitioners, you know we're loyal: Lauren Roxburgh provided our daily wake-up call on her body sphere and foam roller. And Peter Crone sat down with GP for an intimate talk on leaning into life's challenges and rewards. Afterward, guests checked in with our experts one-on-one. For some, this took the form of a consultation with mind architect Crone himself. For others, it was a conversation with their spirit guides courtesy of intuitive Dana Childs. Transformative spa-slash-energy treatments were led by renowned facialist Anastasia Achilleos and acupuncturist and aromatherapist Annee de Mamiel. Blackberry Mountain's talented naturopathic doctor Jill Beasley was on hand for acupuncture relief.
In between sips of matcha and wine, there was time for adventures: hiking, rock climbing, mountain biking, fly-fishing, clay shooting. And time to restore: Blackberry Mountain spa, we miss you already. Chef Richard Blais flew in to feed us oysters topped with pearls of horseradish crème.
To everyone who joined us: Thank you. This won't be the last of the goop Escapes, but of course we'll always remember our first time.
P.S. We are keeping Peter Crone busy: Catch him and more of our favorites at our next In goop Health, which is right around the corner—in downtown Los Angeles on May 18. There are just a few tickets left.
SPECIAL THANKS GOES TO:
Shop the Story