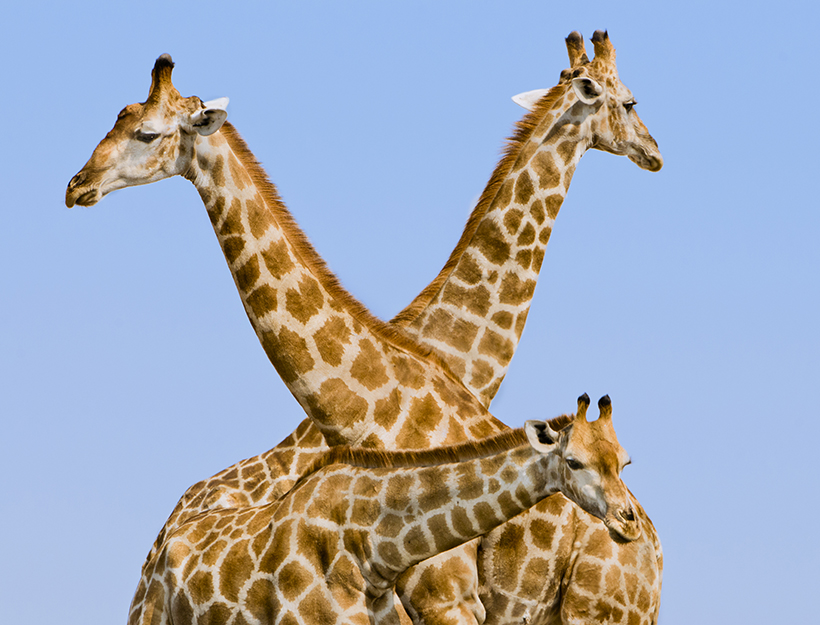 Getting Good at Body Language
That our bodies affect our minds and the way we feel is proven; and research shows, just as convincingly, that the way we carry ourselves affects the way other people view us. But advice that revolves around striking power poses or having a firm handshake often rings false. How do we show our power (and feel powerful) in a way that is authentic to us? This question is at the heart of Presence: Bringing Your Boldest Self to Your Biggest Challenges, the first book by social psychologist and Harvard Business School professor, Amy Cuddy. (If her name sounds familiar, her TED talk on body language is the second-most popular TED talk of all time; see it here.)
Below, she shares her ideas—which apply equally to kids and adults—on what it means to be present, how to achieve presence, and the ways in which we all can benefit from the science behind body language.
A Q&A with Amy Cuddy
Q
How do you define presence?
A
Presence, as I mean it, is the state of being attuned to and able to comfortably express our true thoughts, feelings, values, and potential. That's it. It is not a permanent, transcendent mode of being. It comes and goes. It is a moment-to-moment phenomenon. It should not be daunting. All of us have experienced moments of presence; the trick is to figure out how to get there more easily, particularly when we're in very high-stress situations like job interviews and first dates.
Q
When we're present, what effect does it have on ourselves and others?
A
Presence manifests in several ways that make us dramatically more compelling:
When we are present, we display grounded enthusiasm—a combination of confidence, comfort level, and passion. This quality comes through mostly in nonverbal ways—vocal qualities, gestures, facial expressions, and so on. Many studies have shown that when people express these qualities, they experience much better outcomes—in job interviews, venture capital pitches, public speeches, and so on. And this makes sense: Grounded enthusiasm is compelling and persuasive because it's almost impossible to fake. When we do try to fake confidence or enthusiasm, other people can tell something is off, even if they can't precisely articulate what that thing is. In fact, when job applicants try too hard to make a good impression through nonverbal tactics such as forced smiles, it can backfire—interviewers dismiss them as phony and manipulative.

We also express confidence without arrogance. Sadly, confidence is often confused with cockiness. A truly confident person is never arrogant; arrogance is nothing more than a smokescreen for insecurity. A confident person—knowing and believing in her core identity—carries tools, not weapons. A confident person does not need to one-up anyone else. A confident person can be present to others, hear their perspectives, and integrate those views in ways that create value for everyone. True belief in oneself, and in one's ideas, is grounding; it defuses threat.

When we are present, we believe our story. We buy what we're selling. Maybe there was a time you had to sell a product you didn't like, or convince somebody of an idea you didn't believe in. It feels desperate, discouraging, hard to hide. It feels dishonest because it is dishonest. Similarly, you can't sell a skill you don't have. Sometimes people mistakenly think I'm suggesting that we can learn to fake competence. Presence isn't about pretending to be competent; it's about believing in and revealing the abilities you truly have. It's about shedding whatever is blocking you from expressing who you are. Sometimes it's about tricking yourself into accepting that you are indeed capable. Sometimes you have to get out of the way of yourself so you can be yourself.
Q
What's the science behind presence and posture? In other words, why/how does it work?
A
Presence and power are related psychological constructs. When we feel powerful, confident, and agentic, our psychological approach system is activated—something that's been studied for decades by social psychologists. This means that we act, rather than avoid. We see challenges as opportunities instead of threats. We feel optimistic about our ability to get things done. We feel optimistic about others. Rather than walking into stressful, high-stakes situations feeling like frightened animals—shutdown, avoidant, threatened—we walk in with the comfort and courage to share our authentic best selves. And that is what presence is about.
Scientists have known for more than a hundred years that when animals, including humans, feel powerful, they expand. They take up space. They stretch out. Imagine what happens when people cross a finish line in first place: They throw their arms up in the air in the victory pose. Just watch images from these Olympics—when people win, they feel powerful, proud, and confident, and they display that so obviously through their body language. They are happy, comfortable, unthreatened. When people lose, they do the exact opposite—wrap up, shrink, hide, make themselves small and invisible.
Here's the interesting twist: Feeling powerful cause us to expand, and expanding also causes us to feel powerful. Dozens of studies have now shown that by adopting expansive, open postures (think Wonder Woman) in privacy before stressful situations, we trick our minds into feeling more confident, powerful, and capable—therefore less anxious and threatened. Adopting a powerful posture makes us feel more powerful, and feeling more powerful allows us to be present and to perform better.
Q
What poses should we have in our repertoire, and when are they best used (i.e. in an interview, during a negotiation, with an intimate partner, etc.)?
A
You know, it's not really about specific poses. It's really about expanding in a way that feels comfortable to you. Of course you have the victory pose and the superhero pose and others like that, but you could also adopt any of scores of poses from yoga—for example, warrior and cobra. They key is that you must open your chest, stop hunching your shoulders, stand or sit up straight, breathe deeply. Stretch out your arms. Don't wrap them around your body or your neck. Stop playing with your hair and jewelry. Take longer strides when you walk. Take up your fair share of space—and do it in a way that feels comfortable to you. (And when you practice in privacy, you don't have to worry about how you look to others.)
Q
What's the downside of overly dominant body language?
A
That's a very important question. As helpful as it may be to adopt bold poses before challenging situations, it's just as important to maintain less bold but still strong, upright, and open postures during challenging situations. Power posing is great when you're preparing by yourself for a challenging encounter, but it's not so great in the middle of a meeting. Adopting exaggerated high-power poses—picture a gorilla's posture, or someone "manspreading" on the subway, a too-firm handshake, someone staring you in the eye for uncomfortably long—in actual interactions is very likely to backfire, by violating norms, causing others to shrink, feeling intimidated, or put off. It comes across as cocky, not as confident. Our own research shows that people will not make eye contact with people who are sitting or standing in very dominant, alpha postures, and that makes it very difficult to make a strong connection. (Side note: It's also not easy to maintain a pose while working at your computer all day.)
Q
What research exists on nonverbal signs of weakness/fear/inauthenticity—and what do we need to watch out for?
A
When we feel weak, fearful, insecure, and powerless, we shrink. We try to hide. We actually display nonverbal shame. We cover up, slouch our shoulders, look down, and wrap our arms around ourselves. We touch our necks and our faces. Twist our ankles—all of the postures that oppose powerful postures. Not only do we signal lack of confidence, powerlessness, and even inability to engage to others—we also signal those things to ourselves. Just as expansive, open postures make us feel powerful, so do contractive, closed postures make us feel powerless.
Start paying attention to your body language, so you can identify the circumstances that cause you to contract and collapse. When you notice that you're slouching, wrapping yourself up, closing yourself off—what's happening? What's causing you to feel fearful and threatened? Stressed? Powerless? Next time you're in that situation, make a conscious, concerted effort to hold your shoulders back and down, lift your chin, prevent yourself from wrapping up. You don't have to adopt big, expansive postures; you have to stop yourself from adopting small, contractive ones. And it will help you get through that moment, which will make it easier and easier to get through those situations in the future. It's amazing how much you will learn from self-awareness of your own body language. I personally now have developed a much better understanding of what idiosyncratic things make me feel threatened and powerless—so I know that those are the situations I need to prepare for. Those are the moments when I need to work on my presence.
Q
At what age do boys and girls diverge in their typical body language and when do children form notions of what a "girl pose" looks like versus what a "boy pose" looks like?
A
This is heartbreaking, but I have observed that girls begin to collapse when they hit middle school, around age eleven or twelve. Boys, on the other hand, seem much less likely to do that. I noticed it with my son's female friends: When they got to sixth grade, he started using more dominant posture, while his female friends seemed to be trying to disappear. But when you watch younger, little kids, you don't see those differences between girls and boys. Both girls and boys throw their arms in the air, do cartwheels, run around freely and openly. What we've found in our research, sadly, is that these associations between expansive posture and masculinity, and contractive posture and femininity are learned. By age four, kids think that dolls posed in contractive poses are girls, while dolls posed in expansive postures are boys. That association becomes significantly stronger by age six. And they really start externalizing those stereotypes at middle school age.
Q
What can we do to encourage girls to use more open, expressive, powerful body language?
A
We need to untether expansiveness from masculinity. We need to show our daughters that they are allowed to take up space in the world, to share their ideas, to carry themselves with pride. Girls do not need to be taught to "sit like a lady." Who says that to boys? No one. And we need to show all of our kids images of both men AND women who are carrying themselves with power, pride, and poise.
Q
How can parents help their kids to use the power of presence?
A
Teach kids that our bodies shape our minds—that the mind and body are not separate. I think we do that very poorly in our schools. Kids spend most of their time in classes that are focused on the mind. Then they have a very short amount of time in gym class, at lunch, and at recess. And we completely separate those parts of the day from the traditional classroom parts of the day. We don't help them understand that by taking care of our bodies, by being strong and healthy, we make our minds and self-esteem strong and healthy. I don't know how we lost the plot on this one. I think many East Asian countries do a better job making this connection than do Western countries.
Q
Beyond body language, what else (speech, gait, technology-related, etc.) can we do to achieve presence?
A
Our research shows that how we walk is associated with feeling powerful and happy. When people take longer strides, swing their arms more, bounce a bit more, take up more space while walking, they are seen as happier and more powerful—and they feel happier and more powerful. Similarly, others have shown the same with speech: When we take up more time speaking—speaking slowly, taking natural pauses, and so on—we are seen as more powerful, and we feel more powerful, too.
Perhaps most pressing is the effect our phones are having on our posture and minds. We call this iPosture; others call it text-neck or the iHunch. But we are spending an enormous amount of time hunched over our phones in very powerless positions, and our research shows that this definitely makes people feel less assertive. Not only is it hurting our bodies, it's hurting our minds.