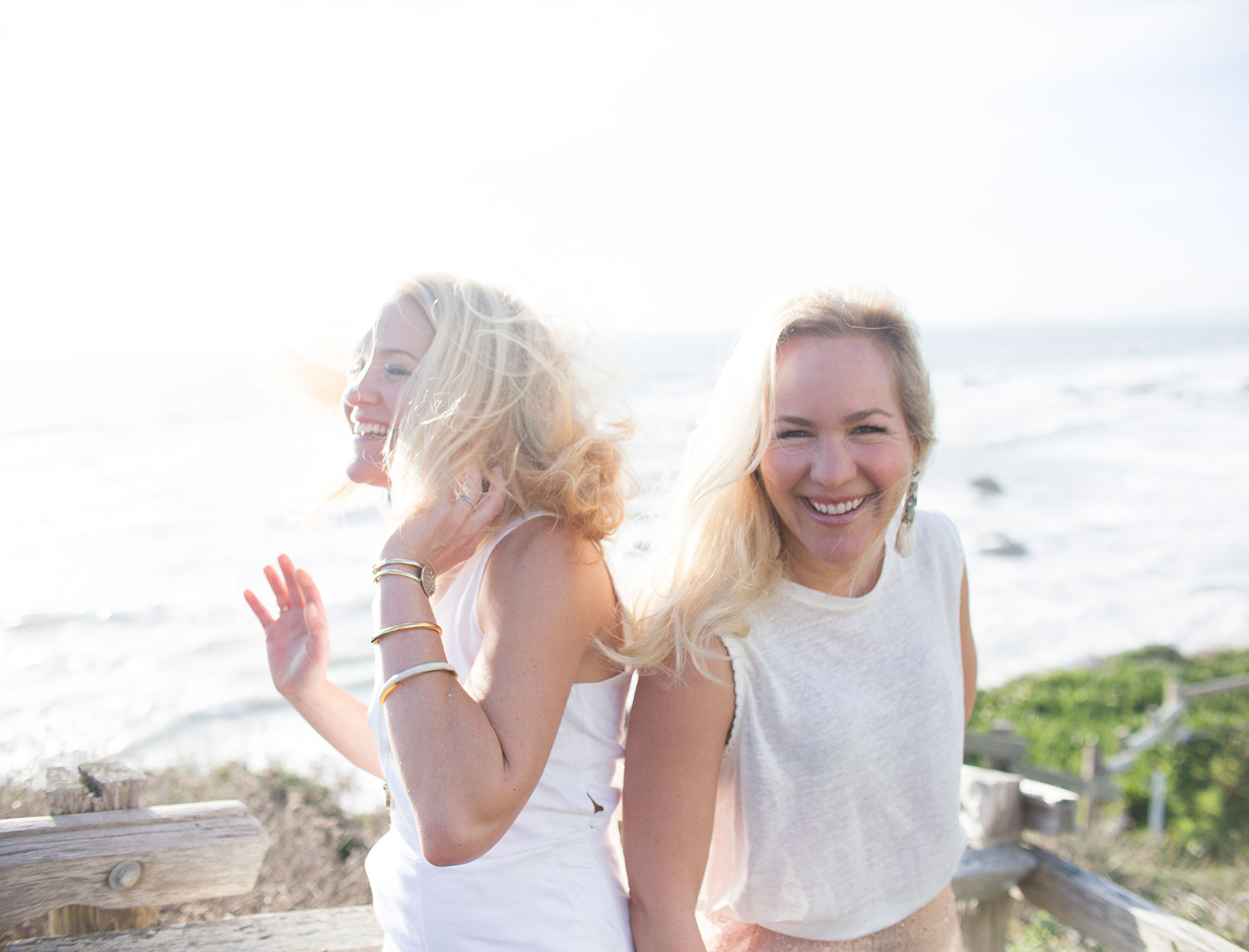 Weekends Spent
Manifesting,

Sauna-ing, and
Drinking with

Our Favorite
Sister Duo
Their careers in television were not what sisters Lucy and Mary Firestone had hoped they would be. The whole thing was supposed to be a grand adventure: Move to California, work in Hollywood, live the dream. The pressure was higher than expected; the rewards were fewer.
Both sisters went into traditional talk therapy. As expected, it helped each of them bounce back toward baseline. And then they started dunking in the wellness lake: sound therapy, Reiki, guided visualization, intuitive readings, astrological analysis, theta healing. (That's only a sample; it's a long list.)
They'll tell you that they worked to find happiness, fulfillment, and meaning. And if you meet them, you'll believe it. And you'll want to know everything they do. "You have to meet Gianna," Lucy tells one of our editors about an acupuncturist-intuitive in Los Angeles. Mary confirms: "She changed our lives."
This is what they think of as their calling: sharing. It started with recommendations to their friends. And then to friends of friends. Then they quit their jobs. Mary got her master's in psychology. Lucy became a life coach. And in 2013, the sisters organized their first wellness retreat (Wild Precious Life). They hoped their guests would walk away with the same pervasive sense of gratitude they felt.
We certainly did after attending their tenth retreat, this past April. (But we'll get back to that.)
Every Firestone retreat brings together about twenty guests with two experts, who host a series of workshops over a two-day period. The non-hokey themes change every time, but the overarching one is always the concept of care: "We take our groups to find some catharsis from day-to-day concerns," says Mary. Guests are well-fed, pampered a bit, and given space—and cocktails. The morning itinerary doesn't rush them out of their hotel beds, and afternoons give them enough time for a bath. It's part of the Firestones' approach: It should be a fluffy experience, they say. The point is to create "a cocoon, of sorts," says Lucy. And then, the Firestones say, once guests' unending to-do lists have been stripped away, they give themselves permission—to change, to heal, to grow.
There's a lot of planning and attention to detail, but "the biggest component," Mary clarifies, "is the people." At each retreat, the Firestones say they've experienced a distinct synergy. "Coming together as a group—even one of people who are originally strangers, and maybe especially so—amplifies the energy for each individual person," says Lucy. Mary adds: "The exact right people show up every time." Often, guests who are working through similar issues in their lives meet at a Firestone retreat: Once, in Denver, three women who had just broken up with partners struggling with addiction found support in one another. (The Firestone sisters don't plan or control who signs up.)
Back to the recent Firestone retreat we crashed: a weekend focused on manifesting at the Ritz-Carlton in Half Moon Bay, California. Overlooking a foggy coastline of flat-faced cliffs, we rolled through fascia-release classes with fan-favorite body whisperer Lauren Roxburgh. We dug into the meaning of Venus and Mars (which apparently rule how you attract things and get shit done) with psychological astrologer Jennifer Freed. And then there were sandalwood-oil massages, a circuit of three different saunas, and impromptu heart-to-hearts over glasses of wine. On Sunday morning, each woman departed with a sense of renewal and inspiration. And a rad swag bag. And twenty new friends.
Which was convincing enough evidence for us that the Firestone sisters know exactly what they're doing. So…see you at the next Wild Precious Life?