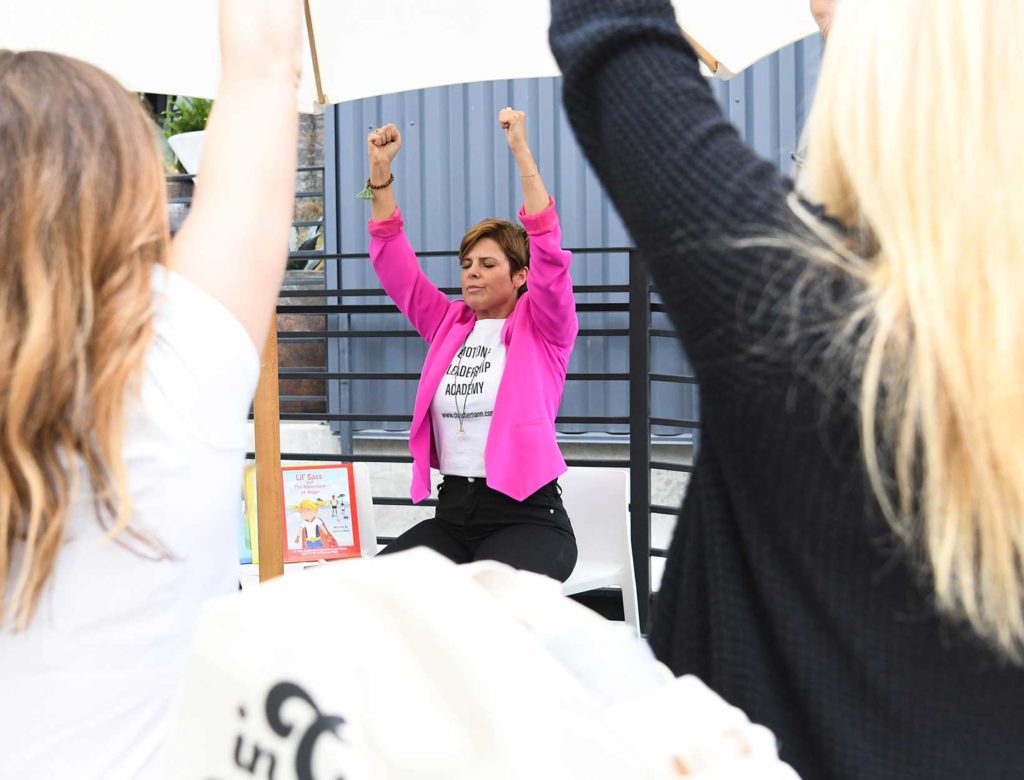 A Course for Becoming an Emotional Adult
A Course for Becoming an Emotional Adult
"I want to create a culture where people feel safe showing their grief if they're grieving. If they're angry, showing the anger responsibly. And if they're joyful, how to express that joy and not dim it down," says leadership coach Christie Mann.
Mann's philosophy is one we also subscribe to. It's why we've had her teach workshops at In goop Health—twice—sharing tools to help us better integrate our emotions into our working and personal relationships. In the fall, she'll be leading a six-week online class that will bring those same tools to anyone interested in becoming someone who can embrace their emotions but move through them, too.
Here, she shares a little bit about what emotional leadership means, how to become an emotional leader, and what you can expect from her course.
A Q&A with Christie Mann
Q
What is emotional leadership?
A
Everyone is a leader. And we're also all emotional beings. Emotional leadership is the ability to take ownership for our emotions and to give ourselves permission to have them. It's knowing how to process emotions in a healthy and responsible way.
What I have noticed in our culture—especially with my work with leaders of organizations and in leadership development training rooms for the past thirteen years—is that for a lot of us, it's still really hard to connect to our emotions. If, say, sadness comes up in front of other people, we feel shame. We think, Oh, I'm not being strong. There are a lot of judgments around showing any kind of emotion and sharing it in front of others.
People who are comfortable with their emotions are more integrated people. What that often looks like from the outside is that they have less conflict in their lives. They have relationships that are more aligned to their core values. They have work that's meaningful and still pays the bills. They are able to take care of themselves and be present; they're not caught up in the emotions of being overwhelmed or stressed.
---
Q
Where do you start with people who have trouble naming and integrating their emotions?
A
The first place to start for all of us is awareness. If I have the awareness that I'm uncomfortable with my emotions or that I don't have a healthy relationship with them, that's huge. Step two is having the courage to explore resources to allow ourselves to have a healthier relationship to them. There are so many ways that people can do this: They can work with a therapist. They can do embodiment work. They can have a physical practice, like yoga. They can work with a coach. They can sing and create sound and music.
---
Q
Is there a place for emotion in decision-making?
A
We can often be very reactive in our decision-making. We can let our emotions take control if something happened that triggered us or made us uncomfortable. Say you're in a meeting and the project that you wanted to be on was given to somebody else. You might reactively think, I'm getting pushed out, or I'm not safe. That thought can then lead to a reactive emotion, like anger, which could come out in a meeting with colleagues. That's what we don't want to happen.
I want to encourage people to experience the anger in the moment, because this is natural. But if we know how to regulate our emotions and be with them when things like that happen, we can roll with it much more effectively and not make a knee-jerk decision in the moment that we'll regret.
---
Q
How do you navigate a workplace where the people around you may not have the same emotional leadership that you would like to cultivate in yourself?
A
That's tough. It's a situation that a lot of us have been in, or are in, or will be in.
It starts with us. We need to take responsibility for our reactions and for the world that we create around ourselves. I use Kundalini yoga and meditation as tools for moving emotions through our energetic and our physical bodies. Having some sort of practice like that is really, really critical.
If we're surrounded by people who aren't emotionally aware and who don't have a high level of emotional leadership, another place to look is actually communicating with our emotions. It doesn't always have to be to other people. If you're feeling a lot of sadness or anger about a boss or a coworker, you can journal about it and give the emotion a voice. Let the anger speak. Let the sadness speak. That's another way to cultivate a stronger relationship with the emotion and not take it out on another person but process it instead.
An embodiment practice can be really useful, too. Say you're in a meeting and this boss or colleague does something that triggers you. After the meeting, go into another room, close the door, and for two minutes, shake it off. Literally shake it off. Move your body. You let that anger or that disappointment, whatever it is, move through you.
You can't change that person, but you can really work with yourself. You will show up differently because you're calmer and you're processing the emotion. You're not letting it just sit and simmer to the point where you blurt out something or eventually say something that's so reactive that you can't recover from it.
---
Q
What happens in your six-week course?
A
It's a virtual experience, and there will be twenty-five people in each group. We'll begin by setting the stage and creating an environment where people feel safe, where they feel like they can have this discussion and explore these tools.
We'll talk about our culture's relationship to emotions and what the impact of that is on us. We'll talk about each individual's relationship to emotions. I suspect in the course there'll be a wide range: There'll be some people who feel like they have a very strong relationship with their emotions, and there'll be others who are kind of just starting out on this journey. They're realizing they need to create a better relationship and get more tools, so that's why they showed up. And then we'll talk about what each person's vision is for their own emotional health.
In the first week, I'll also introduce Kundalini yoga and meditation. I am a teacher and a practitioner of this body of yoga technology, and I'll help everyone understand this type of breathwork so that people understand how it helps create emotional regularity.
Week two, we'll dive into the emotion of sadness. Week three, we'll take on the emotion of anger. Week four will be dedicated to the emotion of joy. Why, as a human, do I experience sadness or anger or joy? There is an actual primal reason. What I've learned is that if people know the emotion is there to serve them in some way—versus get in their way—that allows them to have a healthier relationship with the emotion. We're going to talk about that, and then I'll introduce a tool to work with that specific emotion. There'll be a demonstration of how to use that tool. And there is a learning guide that goes with each week, with prompts to help guide the process.
Week five, we'll have a colleague of mine who's a somatic and embodiment expert come in to teach us about the mind-body connection and different ways that we can move to create flow and allow our emotion to move through us.
The final week we'll wrap it up by building individualized plans so that each participant walks away with something that they're going to really be held accountable to, to practice with and keep moving forward. Some people might commit to a more consistent meditation practice or a yoga practice. Others might start taking a dance class. Somebody might choose to start coloring or painting their emotions. Maybe someone's going to set up some conversations they need to have with people in their life, where things have been not going too well, and they now feel they have the tools to regulate their own emotions in those conversations.
---
Christie Mann is a bestselling author, spiritual psychologist, leadership coach, learning consultant and trainer for CTI, speaker, and Kundalini yoga and meditation teacher. She is the creator of the Emotional Leadership Academy, a six-week virtual course. She is the author of The Adventures of Lil' Sass, a series of emotional wellness books for young people.