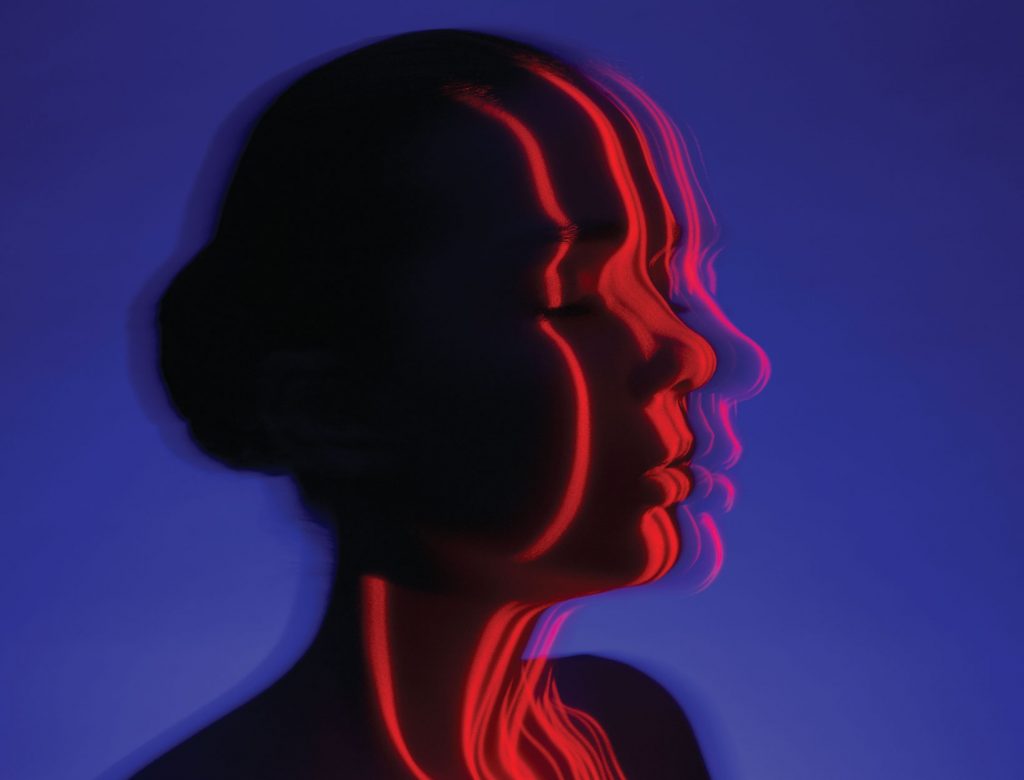 Effortless Meditation for Restless Minds
When you find silence daunting, all the known benefits of meditation are moot. With our minds trained to respond to an onslaught of news alerts, emails, and notifications, it's almost disorienting to be truly undisturbed. And so, even when we know it feels good, we duck the responsibility of our own peace and quiet, like a child evading a time-out.
That's where binaural beats therapy comes in. It's sound meditation that falls under the category of brainwave entrainment, a method of training the brain's electrical circuit through a series of discrete sound pulses. Put it this way: Your biggest responsibility is getting a pair of headphones.
Karen Newell introduced us to binaural beats at January's In goop Health, where she played a sound meditation session from her company Sacred Acoustics. Newell coauthored the book Living in a Mindful Universe with Dr. Eben Alexander; she studies ancient schools of spirituality in search of cultivating a deeper state of inner awareness. For her, binaural beats are a key toward building a higher state of consciousness.
(For more, listen to our new podcast episode on consciousness and connection with Newell and Alexander and see our special issue on the other side.)
A Q&A with Karen Newell
Q
How do you think about consciousness? Do you sense a shift in consciousness happening?
A
In modern society, we are taught that science is the pathway to truth. And to that end, we have been conditioned to believe that our brains control everything in our bodies and that anything abnormal is due to an imbalance in hormones or neurons. This concept fundamentally casts individuals as victims of circumstance. Anomalies of miraculous healing are ignored, debunked, or marginalized. But the tide is turning. As Dr. Eben Alexander and I discuss in our book, Living in a Mindful Universe, more and more physicians, scientists, and researchers are finding evidence that we, as individuals and collectively, have tremendous ability to affect our unfolding reality. Solid matter itself is made up of vibrating strings of energy, and consciousness is the key to all of it.
Consciousness has been a challenge to study experimentally because it can't be easily measured in a laboratory setting and certain phenomena seem impossible to reliably reproduce. Perhaps this is what confounds some scientists. What if the real truth is that consciousness is fundamental in our universe and each of us is a part of the whole? Experimental evidence points to this conclusion, but materialist scientists are reluctant to make this leap.
Fortunately, it's not necessary to wait for conventional science to catch up—more and more individuals are discovering firsthand that they can take an active role in influencing their lives. It starts by cultivating a relationship with consciousness itself. Establishing a practice of going within beneficially affects our immune system, stress level, and ability to focus; it allows us to become more aware of the part of ourselves that is typically ignored. Deliberately tuning in to this internal consciousness provides a broader view of reality from a neutral perspective, allowing us to make more meaningful choices.
---
Q
What is brainwave entrainment sound technology and what are its potential benefits?
A
Brainwave entrainment refers to an audio technology that contains binaural beats, isochronic tones, and other sound effects that help quiet the racing thoughts in our minds. Our brains are quite useful when analyzing data or recalling facts, but forcing that constant stream of thought to stop at will is not so simple. When beginning a meditative practice, the ongoing chatter in our heads can be frustrating, and brainwave entrainment can help. It may seem counterintuitive to use sound to calm the mind, but the monotonous sounds entrain an active brain to a slower rhythm—which eventually become less prominent—effectively providing a time-out.
With repeated use, listeners have reported an increase in intuition, improved health, reduced stress, greater focus and creative inspiration, better sleep, and increased access to personal guidance. As we quiet the mind, we become more aware of the neutral observer—this is the most interesting part of us, the one behind our thoughts. Getting in touch with this observer from within is how we connect to our true essence and begin to access the source of our power.
---
Q
How do binaural beats work?
A
Sound is a wave or vibration that travels through the air into the ear. Likewise, the brain produces an electric wave pattern that can be measured with an electroencephalography (EEG) device. Both waves are measured in cycles per second, or hertz. When we are in deep, dreamless sleep, our brain slows down to the delta (0 to 4 hertz) state. In our typical walking-around state, our brain waves are in the beta (12 to 25 hertz) range. Alpha (8 to 12 hertz) reflects a relaxed, calm, and focused mind and is associated with dream sleep. Theta (4 to 8 hertz) corresponds to meditation, intuition, and creativity, or the hypnagogic state.
We can hear only sounds between 20 and 20,000 hertz, so the lower frequencies associated with these brain wave states are inaudible to us. At the most basic level, binaural beats are created by feeding audio at two different frequencies to the right and left ear, respectively. For example, a 100 hertz carrier frequency in the left ear combined with a 104 hertz carrier frequency in the right ear results in a 4 hertz signal to the brain. The effect is a monotonous wavering sound that potentially neutralizes the information processing activity of the brain. It is thought to do so by affecting a primitive circuit in the lower brain stem, whose origin predates the rise of mammals on earth. Inducing a hypnagogic state using binaural beats separates our awareness from more mundane brain activity and frees up access to expanded consciousness.
---
Q
How are the sounds developed?
A
Binaural beats are digitally created frequency patterns. Sound effects such as rain or pink noise are often integrated with the beats to offer additional entraining affects and mask the binaural beats. Not all producers of binaural beats use the same techniques. Neural-Helix, the method designed by Sacred Acoustics, includes combinations of binaural beats, monaural beats (sound played in just one ear), and other sound effects, enabling the delivery of simple or complex brain wave tones with varying levels of power. The chosen carrier frequencies are inspired from numbers found in nature, such as the golden ratio or cycles of planets. These are combined into complex formulas using precise harmonic principles. We do not follow typical music theory, which has been developed over centuries, but strive to achieve the ideal resonance for particular effects using principles of pure resonance found in the ratios of Pythagorean and diatonic tuning. Our test listeners help us fine-tune the desired effects. Our combinations of frequencies vary widely but generally include delta, theta, and alpha in various overlapping patterns.
---
Q
What's a typical experience like? How can a beginner try it?
A
Because we are all unique and all of our brain waves are unique, everyone responds differently, but there are common patterns. Many report increased focus and fewer distracting thoughts; others notice vibrations and tingling over their body or increased colors and other visual imagery in their mind's eye. A common response is to become profoundly relaxed. Some notice time passes much more quickly, while others note the opposite, that time slows way down. After repeated listening, people have reported relief from pain, out-of-body experiences, enhanced dreaming, interaction with departed loved ones, and more. Some wish to escape from their daily routine while passively listening, but others develop the ability to address specific goals by applying active intention.
Again, not everyone responds the same way. Some find the tones to be familiar and comforting, but others are surprised when they don't hear more tuneful, soothing music. It can take time to become accustomed to the unique audio qualities. The tones themselves often fade from the listener's awareness as they access expanded realms.
To discover the possibilities, listen firsthand. Sacred Acoustics offers a free twenty-minute download, available here.
---
Q
How is your work with heart consciousness related to this?
A
We're used to living from our heads, from the brain or the rational mind, but this is precisely the part of us that gets in the way when we're trying to establish a practice of going within. Moving our awareness to the heart can help us bypass the brain's language center. The electromagnetic field of the heart expands and contracts based on our emotional state and actually has an influence on others around us. Our heart fields are truly connected, but most of us don't realize this is taking place. Tuning in to the heart can help us become more compassionate, intuitive, and aware. When we generate beneficial emotions, such as gratitude, they radiate out into the world and positively affect those around us without our having to say a word.
---
Q
You've also studied ancient cultures and sacred sites. How has this shaped your understanding of our purpose today?
A
From the pyramids of Giza to Stonehenge, countless mega structures on our planet date to ancient times: Archaeologists have made educated guesses and developed theories about the purpose of these monuments, but what's fascinating is trying to explain how these structures were built with the tools available at the time. Such anomalies suggest lost knowledge from our past, and this has always inspired me to find what else we may have lost. Many of the sacred structures around the world include unusual sound features that appear to be intentional and man-made. It seems sound may have been used for millennia for healing and to induce expanded states of awareness to explore the unseen realms, much as we do using Sacred Acoustics audio recordings.
[Editor's note: For another theory on the origins of civilization, see this piece with Boston University geologist and geophysicist Robert M. Schoch.]
---
Q
What do you think the next breakthrough will be?
A
As more individuals begin to align with their underlying spiritual nature, our world will change. We are all connected through conscious awareness. A false sense of separation has been engendered through political, religious, cultural, and societal beliefs—by their nature, they are limiting and have all been influenced by the prevailing materialist science that claims everything can be reduced to separate objects. In Living in a Mindful Universe, we offer an alternative view, one that reflects a sharing of a collective mind that is experienced by each of us through the neutral observer. It is imperative that each of us comes to know our true nature as an eternal soul, connected by the force of love. Imagine a world where every child, every parent, every CEO, every politician, every doctor and nurse, every person on earth, starts their day by checking in to their heart space and knowing that love exists within and can be spread throughout the world by each of us.
A simple practice each day can help all of us reach that space. Learn more by joining our free email course, where we share bite-size nuggets of thirty-three concepts over thirty-three days, including Sacred Acoustics recordings and other practical tools to get you started on your own journey into consciousness.
---
Karen Newell has spent a lifetime seeking wisdom through esoteric teachings and firsthand experience exploring realms of consciousness. She empowers others by demonstrating how to connect to inner guidance, achieve inspiration, improve wellness and develop intuition. She is a cofounder of Sacred Acoustics, and she coauthored Living in a Mindful Universe (Rodale, 2017) with Dr. Eben Alexander.
---
The views expressed in this article intend to highlight alternative studies. They are the views of the expert and do not necessarily represent the views of goop. This article is for informational purposes only, even if and to the extent that it features the advice of physicians and medical practitioners. This article is not, nor is it intended to be, a substitute for professional medical advice, diagnosis, or treatment and should never be relied upon for specific medical advice.