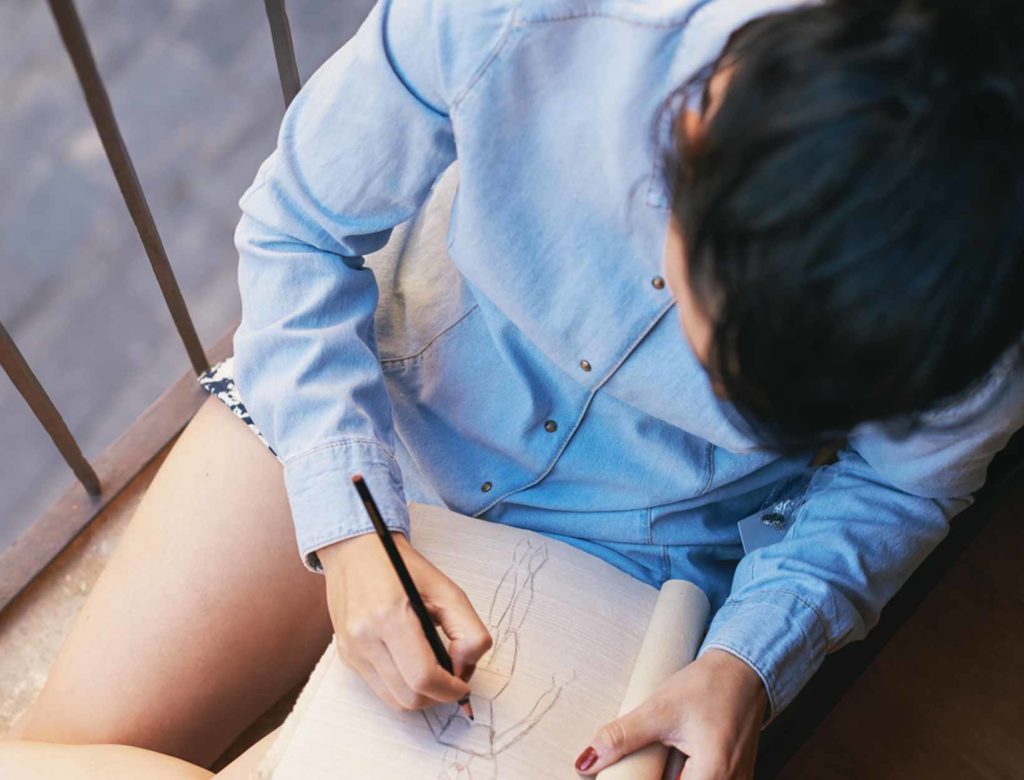 Coloring Books—Plus a Printout—for Meditation
Coloring Books—Plus a Printout—for Meditation
There are times when we sit down to meditate and hit that feeling of absolute tranquility and lightness. Yes, it's great. But it's not the only way to access meditation. Sometimes we get that same feeling in the middle of a run, or doing a puzzle, or folding a heap of flour over itself in pursuit of the perfect sourdough. That's great, too. Therein lies the answer to meditation hesitancy: It's not always about sitting on a cushion with your eyes closed. When we expand our practice out into our active lives—and also understand that our active lives are an act of meditation—we allow ourselves the opportunity to meditate more.
Karenina Murillo and Rune Degett, the founders of The Coloring Method, have found a way to bring the worlds of sitting meditation and active meditation together. Each of their books is dedicated to a particular method or mantra. You read about the traditional techniques and learn how to apply them through breathwork and a series of repeated statements. And then you apply them to an active practice: a super streamlined, minimalist coloring book. In addition to being a solid analog alternative to meditation apps, The Coloring Method is simple, chic, and easy.
A Q&A with Karenina Murillo and Rune Degett
Q
Why did you create a coloring book for meditation?
A
Murillo: When I was a potter in New York, I was always thinking about how pottery was this very zen practice. It is very process-oriented: You're present with your material (the clay), the moment, and the space, and you become very in tune with the play between your hands and your spirit. From then on, I started thinking about how beautiful it could be just to drink a cup of tea, make a loaf of bread, or make art as a monotask—a form of meditation in itself.
As I started to introduce the subject of meditation to friends and family, I realized that for them it felt distant or intimidating—something monks in monasteries do. But knowing my own experience with pottery, I knew we could engage with meditation through our own sensory activities. It's a bridge between activity and stillness. I wanted to create a method for active meditation that would be easy, visual, and practical. And that became The Coloring Method.
Degett: I know that my attention improves when I'm actively doing something. Sometimes I'll be in a meeting, and I'll start drawing in order to focus better on what people are saying. From my perspective, that's why this method of coloring for meditation is so powerful. It makes me so much more aware of what I'm taking in.
---
Q
What's the advantage of something like a coloring book versus an app or other tech?
A
Murillo: The advantage of something analog is that you have to engage with it. You can turn on a guided meditation app and zone out and forget about it. Or you could be interrupted by a text. But the form of pencil and paper requires a different type of attention. It opens up this space to put the phone down and just be with yourself.
It's also a way to fit meditation into your day without looking as if you're meditating. Not everyone wants to close their eyes on a park bench or at their desk at work. For me, it's nice have this space for myself without having to explain to everyone what I'm doing, and it's there for me at any time.
---
Q
How does The Coloring Method work? What are the traditions behind the books?
A
Murillo: The key aspect is to use simple visuals as aids for introspection, reflection, and self-compassion. We translated traditional meditative practices—such as Metta meditation from Buddhism, mantras from Vedic meditation, and pranayama and other breathwork—into visual exercises that are interactive. (We talk about these traditions in further detail in the introduction to each coloring book.) In the books, you're guided through present-moment awareness through mindful breathing, focus through coloring, and embodying positive messages through affirmations.
Degett: In order to do that, these couldn't look like regular coloring books. When you look at a coloring book, they're full of beautiful visuals, but they're often overwhelming. We needed the illustrations in these books to be as simple as possible. They look almost too simple—but that's exactly why it works. You can focus on the current moment rather than what pencil you pick up next.
---
Q
How can coloring help us access loving-kindness meditation?
A
Murillo: Our book Daily Self-Blessings is founded in Buddhist Metta meditation—also called loving-kindness. It's focused on feeling self-benevolence. The research behind Metta shows that the relationship that we have with ourselves expands outward and impacts the relationships we have with others. And the way we see our relationships within our own inner worlds greatly affects our well-being. Using loving-kindness, we can transform our way of relating to the world and move toward connection—in both belief and behavior.
As I began to practice Metta myself, visuals really helped. We translated what worked best into the book: a human image to represent oneself. It feels like looking at yourself in the mirror. So as you repeat the statements "May I be happy," "May I be healthy," "May I be safe," and "May I live with ease," you're directing those statements at this reflection, which you're coloring in. It's a very intimate experience.
A Coloring Prompt to Print and Try
Murillo and Degett have developed a single-page version of a loving-kindness exercise, which you can print out and try at home. It's an introduction to what The Coloring Method is all about. For this exercise, start with attention to your breath. How does it feel in your body when you inhale? Can you feel your abdomen rising as your lungs fill with air? What's your exhale like? Then bring that breath into active practice: As you color the shapes of each human body and the circle around it, inhale slowly and exhale slowly, matching the pace of your breath with your movement. As you do so, repeat the blessing below the image to yourself. Repeat this practice as many times as you need to, then move on to the next image.
The books go into further detail on the meditation techniques they use, include space for journaling, and build upon your practice as you gain experience.
Q
How can coloring meditations amplify the effect of a mantra?
A
Murillo: I took a yoga teacher training about two years ago, during which I developed a great love for mantras. I had a little mala necklace, which you use similarly to prayer beads except that you're repeating mantras to yourself. It's about exploring a certain positive message, knowing what that message means, and embodying it within yourself. It's not about manifesting, but rather it's a way of opening the door for inner dialogue.
For example, with I Am Safe, you repeat a mantra of safety as you color. And as you do so, you naturally focus on what that message means: What does it mean to be safe? What draws me to this message? Why is this important to me? What has been my relationship to feeling safe? The book guides you to feel through the message itself through sensorial questions, journaling, and coloring. Like: If I feel safe at this moment, how would I speak? How would I think? How would I listen? What would safety taste like? What would it sound like?
---
Karenina Murillo and Rune Degett are the founders and creative team behind The Coloring Method, including the books Daily Self-Blessings and I Am Safe.