3 At-Home Wellness Routines Featuring Infrared Heat
Written by: Kelly Martin
|
Published on: September 28, 2021
|
Updated on: July 26, 2022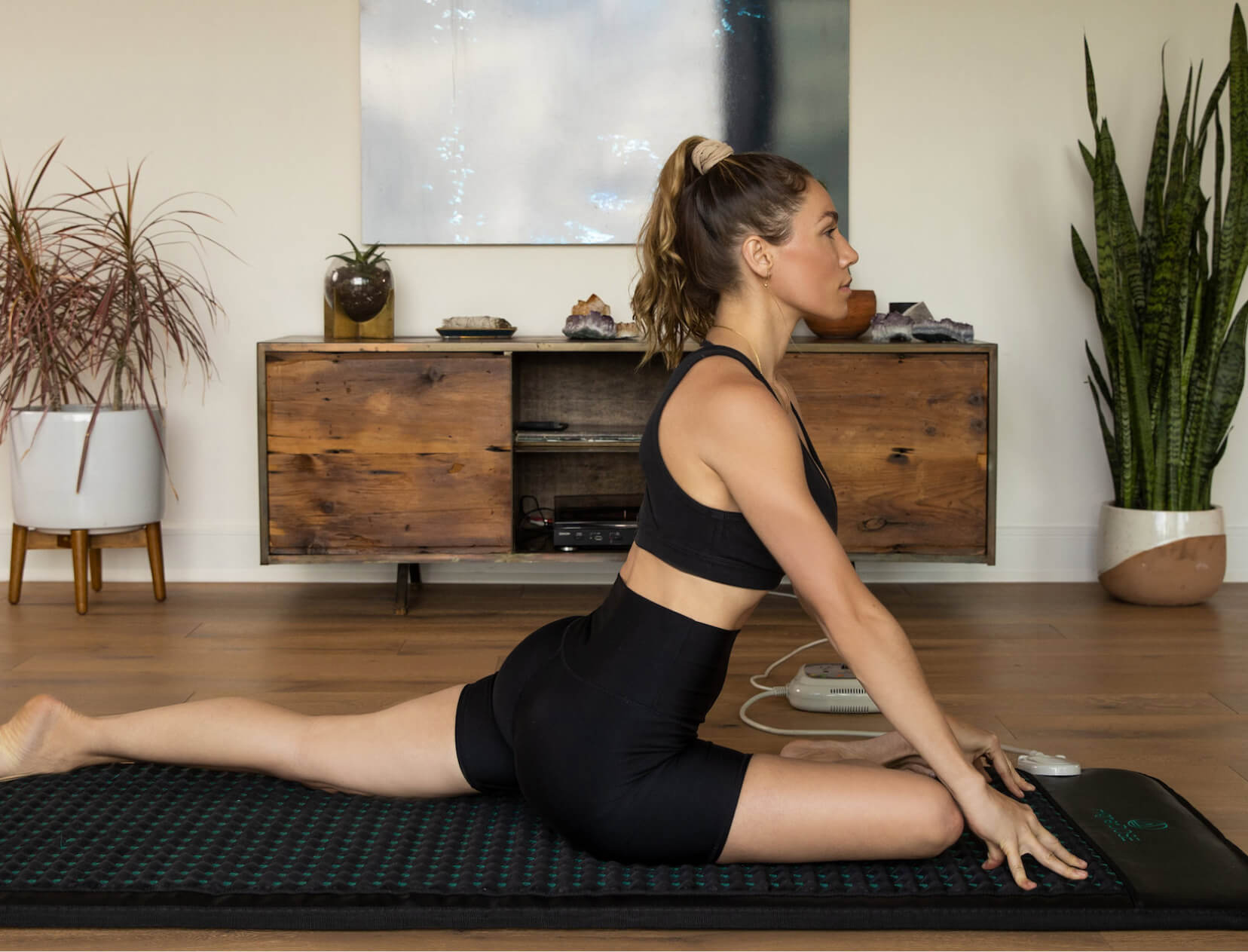 Infrared heat is one of those magic things that opens everything up—your muscles and joints, your mind, and somehow, your emotional core. Which makes an at-home way to access infrared one of those wellness investments that's totally worth it: You can design a routine around your everyday activities, a physical release, or forty-five minutes of uninterrupted sweat.
1
The Sweat Session
THE INFRARED HEAT SOURCE:
The HigherDOSE Infrared Sauna Blanket V3. It's all the magic of infrared sauna, except instead of making an appointment to step into a hot little room, you just fold yourself into this giant heating pad at home. It feels even better than we thought it would. And it's easy: Just get dressed (more on that below), preheat the blanket, and tuck yourself in. There are eight heat levels; start low and adjust as you go. Then melt away in the power of the infrared heat—plus the blanket's internal layers of tourmaline, amethyst, and charcoal—for up to forty-five minutes.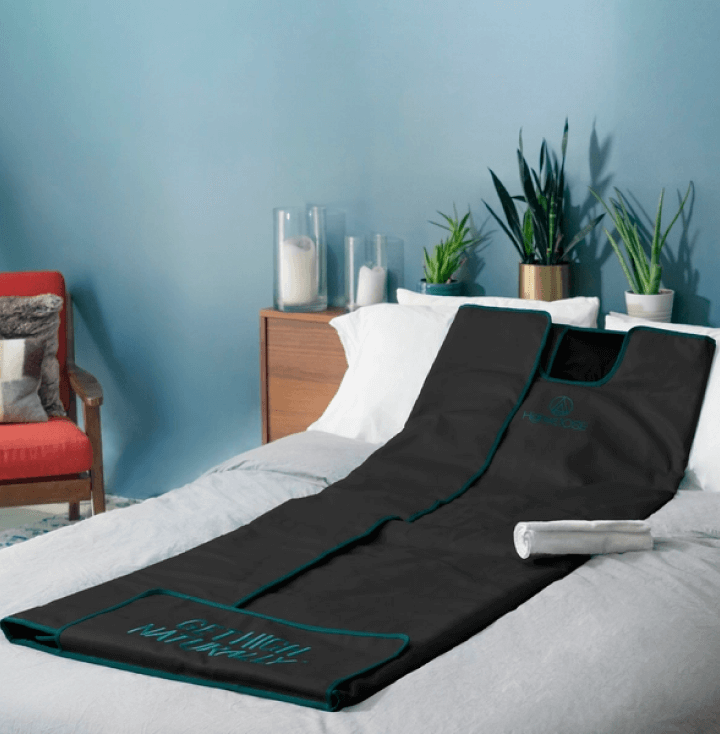 WHAT TO WEAR:
Full-length pants, a long-sleeve shirt, and nice thick calf socks. Covering up serves two purposes: First, it'll protect you. While the sauna blanket does use infrared heat, which warms up the body from the inside, it still gets hot to the touch, especially around the lower legs and feet. Second, the clothing will help absorb your sweat so it doesn't start to puddle around you. Opt for loose-fitting, breathable fabrics like cotton, modal, or merino when possible. Avoid fully synthetic options, like polyester, nylon, and spandex.
WHAT TO HAVE ON HAND:
Water. Things are going to get toasty, and you're going to be losing fluids through sweat, so be sure to drink lots of water before, during, and after your sauna. You'll appreciate having refills on hand: We recommend filling up a water pitcher and placing it within reach before you tuck yourself in. And if you fill your glass with citrusy, nutrient-packed GOOPGLOW? Bonus points.
Wipes will come in handy for postsauna cleanup. Chuck your clothes in the hamper, give the interior of the blanket a quick wipe-down, and let the thing air-dry while you rinse off.
HOW TO PASS THE TIME:
Ears-only activities. What we've learned about simultaneously sauna-ing and fumbling around with a laptop or trying to turn the pages of a book: It's better not to try. Go for a podcast, music, or a few chapters of your favorite audiobook.
2
The Physical Release
THE INFRARED HEAT SOURCE:
The HigherDOSE Infrared Mat. Made by the same people who created the sauna blanket, the infrared mat is a more flexible way to access infrared. Rather than tucking yourself into a big pocket, you simply get on top of the mat however you're most comfortable and the mat does the whole-body heating. You have the freedom to move around and stretch out. You can also wear whatever you like: Because there's more airflow, the experience doesn't get as hot or as sweaty. The mat is built with layers of amethyst and tourmaline. If you're up for it, you can also crank up the settings for pulsed electromagnetic fields—waves of magnetic energy produced by electric currents and directed toward the body—which can be adjusted separately from the infrared heat.
HOW TO PASS THE TIME:
Think of the infrared mat as a personal platform for anything you might couple with infrared heat: You can sit there and sweat, sure, but you can also stretch, foam roll, or do some gentle yoga or strength training. We've found that the heat allows for extra looseness in your muscles and joints so you can sink deeper into pigeon pose and disappear into happy baby. And if anything is feeling stiff or tight, now's a good time to warm it up and work it out.
If movement isn't your game today, you can still reap the benefits of infrared while you go about your regular wellness routines. Light some incense and read your tarot cards. Recruit a partner to rub your back. Or practice some gentle breathwork, which pairs well with the physical loosening-up infrared can provide. As the muscles of your chest, belly, and back relax into the heat, try slowing the pace of your breath by deepening your inhales and extending your exhales.
REHYDRATE WITH:
An electrolyte mix with whole-food ingredients. Cure Hydration powders are made to replenish electrolytes lost during sweating or exercise. And they're formulated with organic coconut water powder, pink Himalayan salt, and natural flavors. (Here, that's berry, pomegranate, beet root, and lemon juice.)*
3
The Spiritual Reset
THE INFRARED HEAT SOURCE:
The HigherDOSE Infrared PEMF Go Mat. This one has a lot in common with the full-size infrared mat above. There's the infrared heat, the amethyst and tourmaline stones, the pulsed electromagnetic fields…it's just been reconfigured to be compact and foldable. It takes up less space and tucks into an accompanying tote bag so you can take it with you. Lay it out on the floor to use it as you would the larger mat, or—this is what we're most stoked about—set it up in your favorite chair.
HOW TO PASS THE TIME:
What's wonderful about this mat is that you can fit it into your desk chair and leave it there—it's unobtrusive—to come back to daily. Take advantage by doing whatever it was you were already doing today. Catching up on this month's goop Book Club pick? Love it. Tending to a web of spreadsheets? Take our advice and crank up the PEMF (pulsed electromagnetic frequency).
While you're at it, how about something warm to sip on deskside? Here's what's new in our pantries:
There's something romantic about preparing loose-leaf tea. This Equitea one hits a perfect balance between the delicate flavors of green tea and the smell of jasmine nectar.
Feeling like you want a break from caffeine? Pick up this little jar of herbal coffee instead. The blend of roasted chicory root, dandelion root, maca root, burdock root, mesquite pod, and cinnamon bark mixes well into your favorite alt milk (a frother helps things along).
If you fancy something more cocktail party than coffee shop: Shake up this collagen elixir—it tastes like wild berries and hibiscus—with sparkling water and a squeeze of lemon.
THE VIBE:
Light a candle, set up an incense situation, or stream some essential oils through a diffuser. We're partial to vitruvi's portable diffuser, which sits on corded base to charge and detaches so you can move it around—whether you're toting it to the kitchen to refill your favorite mug or shuffling it around your desk to accommodate whatever accumulates there. Add a few drops of your favorite essential oils—try mixing and matching lavender, eucalyptus, spruce, and grapefruit—and click the diffuser on: It runs for four hours on a charge.
*These statements have not been evaluated by the Food and Drug Administration. These products are not intended to diagnose, treat, cure, or prevent any disease.
---
We hope you enjoy the products recommended here. Our goal is to suggest only things we love and think you might, as well. We also like transparency, so, full disclosure: We may collect a share of sales or other compensation if you purchase through the external links on this page.