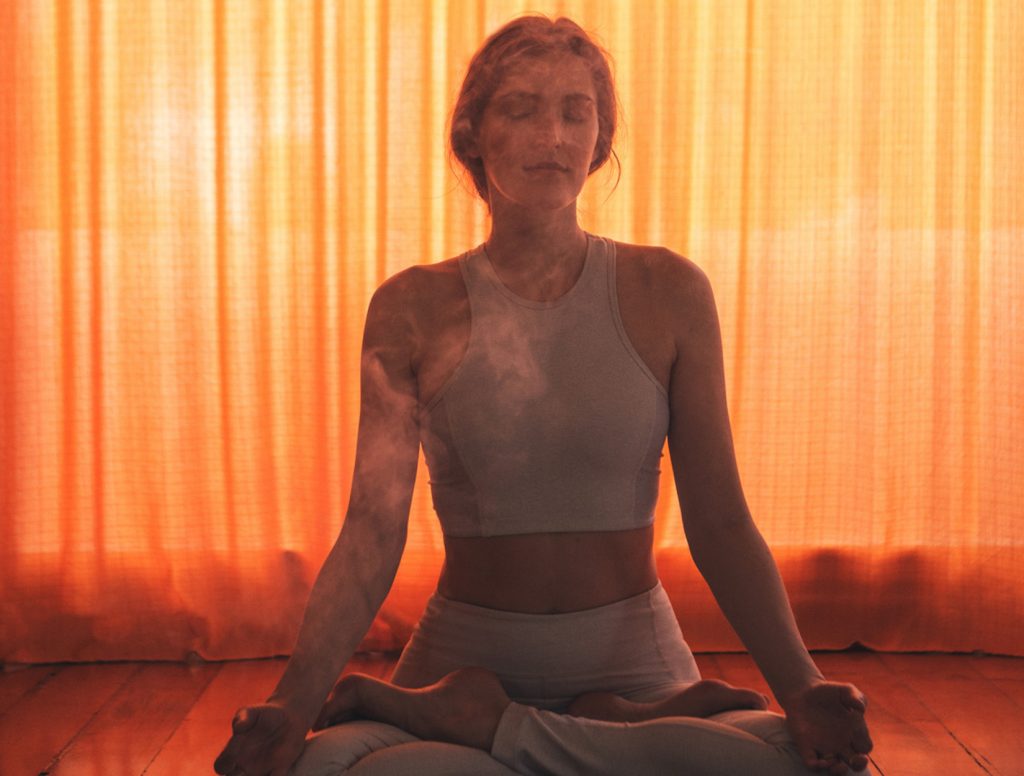 A 90-Second Breathwork Tool to Reduce Stress
Ashley Neese, a holistic practitioner in California, describes breathwork as a deeper kind of self-care, one that can "help you move through blocks you can't see." Slow, intentioned, mindful breathing is a tool that can be used "any time, any place," she says. For Neese's clients, it helps ground the nervous system, lower stress and anxiety—and ultimately they report feeling a stronger connection to their bodies.
Neese became curious about breathwork during her early years as a yoga instructor. "I found in those segments, I was most interested in teaching the breath, which is the foundation of yoga and so many mindfulness practices." With expanding research backing her practice, Neese's work today takes the form of breathwork sessions in various settings, from individual coaching to corporate offices (she recently came to goop HQ and left several of us rapt at how quickly we were transformed to a calm, grounded state without rolling out the mat). "It's the accessibility of breathwork that I find most intriguing." Here, Neese explains more about breathwork–and offers a 90-second session that anyone can practice anywhere.
A Q&A with Ashley Neese
Q
What is breathwork all about?
A
Breathwork is a general term for a range of methods that–when practiced with awareness–have a host of potential emotional, mental, physical, and spiritual benefits. In essence, it's breathing practiced with mindfulness. Like yoga or meditation, there are many forms of breathwork and they all have their own approaches for using the breath as a catalyst for change.
The breath is the foundation of every mindfulness practice. It's a tool that's always with us; we can access it any time for calm, balance, and presence of mind. Developing a relationship with the breath is all about learning to inhabit your body, establish new pathways in your brain, and cultivate emotional and relational intelligence.
Q
Who is it for, and what does a typical session look like?
A
Anybody—regardless of age, ability, location—can utilize breathwork. The practices are effective tools for navigating the ups and downs of everyday life. Breathwork is also for anyone with a desire to integrate their body and mind, attain deeper self-awareness, elevate their innate capacity to heal, or increase their overall health and spiritual well-being.
My typical session includes a signature blend of breathwork, somatic counseling, and energetic medicine. I begin each one with a brief check-in with the client: For new clients, this involves asking about their intentions and hopes for the session; for recurring clients, I'll recap our work from the last session and ask if anything specific has happened or changed since. Then we move into the work.
During sessions, clients feel their nervous system slowing down and gain a tangible sense of dropping into their bodies (often in the first moments). They learn to distinguish the somatic markers of when their nervous system is activated and when it is regulated. They also learn to discharge energy in a safe way, experience awakenings in their intuition, and clarity on their next steps. I serve as a guide, holding witness space for their process and transformation. At the end of the session I give individualized practice recommendations based on what we explored during our time together.
Q
What are the benefits of breathwork?
A
There are a multitude of benefits that can be experienced quickly and over longer periods of time with consistent practice. From getting a better night's sleep, to reducing anxiety, to recovering from loss, to upgrading emotional intelligence, people report that breathwork supports them in a range of wellness goals, depending on which techniques they practice. The breathwork practices that I teach are effective for everyday situations, such as grounding your energy at work and lowering anxiety, as well as more long-term practices that focus on healing past trauma, cultivating resilience, or strengthening intimacy.
Q
For some people, focusing on breathing can have the opposite effect, and actually create anxiety—is there a workaround?
A
If bringing awareness to the breath creates anxiety, it's often connected to a dysregulated nervous system, which, in turn, has a major impact on the breath. When I work with clients who have this experience, we begin by exploring their nervous system and creating the container for it to come into a more regulated state. To do this, I'll start with the outer edges of the body, such as bringing awareness to the feet, and slowly work inward to allow for an easier way for clients to ground themselves. As regulation takes shape, their breath tends to naturally, and without effort, becomes less anxious. In this more relaxed state, it is then safe to move into targeted breathwork practices.
I suggest breathwork that isn't as activating to your nervous system if you experience anxiety practicing at home or in classes. If you become more anxious with certain breathwork practices, it's a great opportunity to slow down and investigate what's coming up for you. It's also important for you to assess if that breathwork practice is serving you in that moment, and not push your body past its limit.
Q
How can anyone DIY breathwork?
A
There are many breathwork practices that can be done in the comfort of your home or out in the world. It's so versatile. If you're new to breathwork, I suggest keeping it simple and beginning with five minutes each day. It's beneficial if you can practice around the same time each day to get your body into a rhythm, If that feels challenging, just practice when you can. Consistency is key and with regular practice, you can increase the benefits and grow your capacity to self-regulate, be present, and feel integrated.
One of the most accessible and effective breathwork practices used for grounding energy, reducing anxiety, and improving sleep is an extended exhale practice. Extending the exhale is a quick way to switch on the parasympathetic nervous system, which is our rest and digest mode. This is an efficient way to slow down, reduce scattered thinking, and align with the present moment.
Q
You've mentioned that you have clients working through trauma—how might breathwork help?
A
The experience of being overwhelmed by thoughts and emotions is often a marker of trauma. Trauma is anything that we experience as a threat to our survival or overall well-being. These threats register in our nervous system, and if the natural restoration process is interrupted, coping mechanisms are put in to place to survive the experiences. If left unprocessed, those coping mechanisms may lead to belief and behavioral changes that create patterns that are difficult to heal without addressing the body, the nervous system, and the breath.
Breathwork is incredibly powerful because, with proper pacing and guidance, it can be an entry point into the nervous system which has the potential, along with body-focused counseling, to help restore the nervous system's natural rhythm. When this system is re-established, the client is no longer in a trauma response cycle and the root of the trauma can be healed.
When I started teaching breathwork, I often taught very activating practices in big groups. As the size of my classes increased, I began noticing there was always a handful of students who got flooded with memories and stored emotions they couldn't cope with because their nervous system didn't have the capacity to handle their experiences. I started working with those students privately and learned that the activating breathwork practices opened them up too fast, which is why their systems went into overload. These clients needed a different approach to working with their breath.
Knowing that the breath can be a key component in trauma healing, I set out to deepen my personal practice and studies; I researched cutting edge psychology, somatic therapies, and neuroscience, which shifted my approach to the breath as it relates to developmental and relational trauma. While working with clients privately and in groups, I developed my own set of practices and methodology that continues to support my clients, allowing them to shift the root of their trauma.
Ashley Neese is a breathwork expert with private practices in L.A. and the Bay Area. She holds yearly retreats in California and is currently working on her first book.