Calculating Your Biological Age
Written by: Kelly Martin
|
Published on: January 16, 2020
|
Updated on: August 2, 2022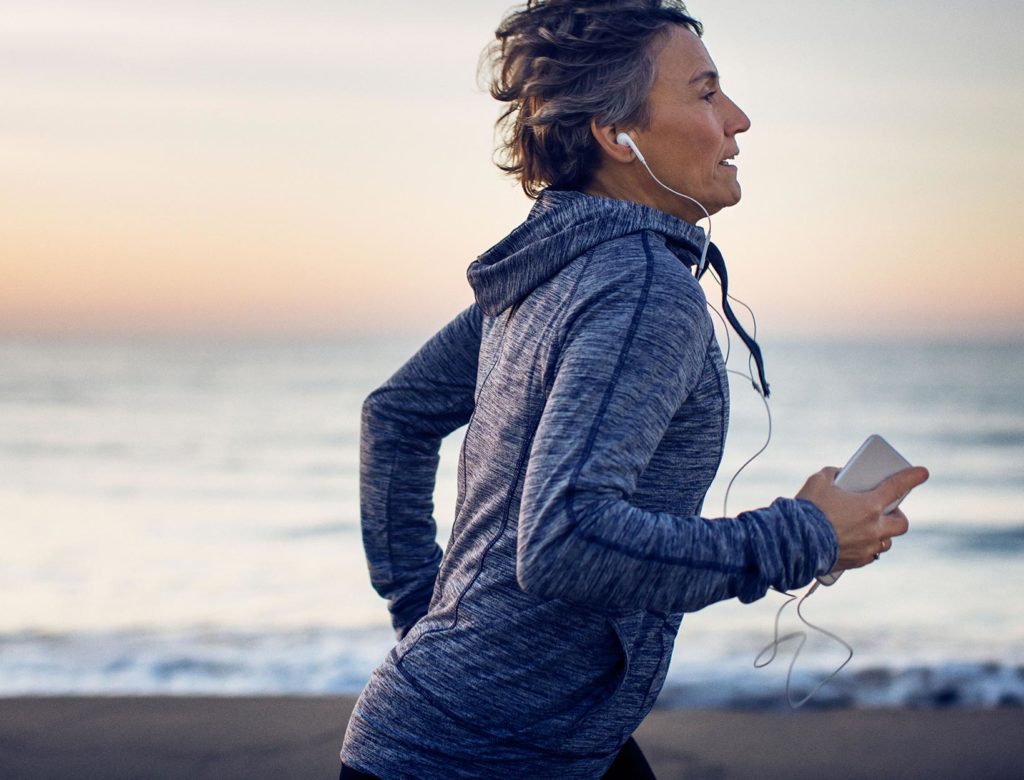 We all know that one person who is running marathons well into their sixties. Which, anecdotally, helps us believe in the optimistic adage that age is just a number. And that the age we feel matters far more than what's printed on our driver's license.
But what if there was a number that could tell you the status of your aging from a biological standpoint? Morgan Levine, PhD, an assistant professor in the Department of Pathology at Yale who studies aging, has developed just that: an algorithm that uses a DNA sample to calculate what she calls biological age. We had her break down how the test works, the implications of biological age, and what lifestyle factors can affect it. You can also watch Levine measure the biological age of some lucky goop staffers on our Netflix show, The goop Lab, on January 24.
A Q&A with Morgan Levine, PhD
Q
What is biological age and how was it developed?
A
We think of chronological age as the amount of time since you were born—whatever your driver's license says—whereas biological age is the age your body resembles or functions at. Even though two people may both be thirty years old chronologically, one of them could have a biological profile that is closer to twenty-five, whereas the other might have a biological profile of thirty-five. The oldest biological age we've seen in our lab is around 120 years old.
---
Q
How do you measure someone's biological age?
A
To calculate biological age, we use epigenetic data, specifically DNA methylation, from a blood sample or another source (more on that in a minute). DNA methylation is basically a chemical modification to your DNA—it doesn't change the sequence of your DNA, but it does regulate which genes get turned on and which get turned off. And there are specific areas of the genome where there's increased methylation with age and other areas where there's decreased methylation with age.
We see very specific patterns of DNA methylation when we look across the entire genome and how it changes with age: We look at those patterns and predict what someone's biological age is based on hundreds of thousands of these sites that are a reflection of your overall health and functioning.
Companies that offer at-home testing measure biological age in saliva as an indicator of a person's overall biological age while most scientific studies use blood for this measure. Your biological age in your blood is often similar to that in your saliva because they have many of the same cell types. The exciting thing about using DNA methylation to measure biological age, though, is that we can calculate different biological ages for different parts of the body. This allows for a more nuanced understanding of a person's biological age across different organs to give a more comprehensive understanding of their overall health and aging. We can take a blood sample from someone and find the biological age of their blood. And then take a skin sample or a saliva sample or a cheek swab and get a different biological age based on those cells. Right now, we're not taking biopsies from different organs, but you could have a different biological age for your heart than you might have for your liver or even your brain, and that might have more implications for the future health of these specific organs.
---
Q
In the Netflix show, how do you calculate GP's and goop staffers' biological age?
A
We use ten clinical measures that capture health and functioning in multiple systems (immune, metabolic, cardiovascular, kidney, and liver). The clinical biomarkers include c-reactive protein (CRP), total cholesterol, albumin, creatinine, hba1c (your average blood sugar), alkaline phosphatase, and urea nitrogen. We have developed algorithms for combining these to produce estimates of biological age that have been shown to be better indicators of disease and mortality risk than chronological age. The epigenetic test I previously mentioned was developed to mimic the clinical test, so they are extremely similar. The advantage of the epigenetic test is that it doesn't require blood; it can be done using almost any cell or tissue type. They both robustly relate to current and future health.
---
Q
What are the medical implications of biological age?
A
What we've seen so far in our lab is that biological age is associated with a risk of developing different diseases and even early mortality. There's pretty good evidence that aging is the number one risk factor for most of the diseases that people suffer from: Alzheimer's disease, heart disease, diabetes, and cancer. If we can see not just someone's chronological age but also their biological age, we think that this holds more insight into their future risk of developing diseases overall or organ-specific diseases.
"If we can see not just someone's chronological age but also their biological age, we think that this holds more insight into their future risk of developing diseases overall or organ-specific diseases."
In our lab, we have samples from individuals' brains where we have found that biological age is associated with Alzheimer's disease and samples from the liver that are associated with fatty liver disease. We have a project right now where we have taken breast tissue samples from women who have a history of cancer and women who don't. We can see that the women who have had breast cancer have older biological ages in their breast tissue than the women who haven't. None of these samples are from the actual cancer cells; they're from the normal breast tissue itself. This has helped our lab better understand the factors that impact biological age.
---
Q
What sort of lifestyle factors affect biological age?
A
We haven't done clinical trials trying to change biological age, but we can look at people who tend to have younger biological ages than other people their age to draw conclusions. In general, it's all the things you would think: not smoking, not drinking heavily, eating a lot more plant-based food, exercising regularly, having a higher socioeconomic status, having lower stress, and not having disturbed sleep.
---
Q
Are there differences in biological age based on demographics like gender, race, and age?
A
So far, the outcomes associated with biological age seems to be consistent across different demographic groups. However, average biological age does differ by race and ethnicity in a manner consistent with differences in median life expectancy. We don't think these are inherent differences; rather, we think they are due to socioeconomic factors that underlie most health disparities.
We do see that women on average are a little younger biologically than men. This fits pretty well with life expectancy because on average women live longer than men. This is an evolutionarily conserved phenomenon that we even see in animals. People have speculated that it might have to do with having an additional X chromosome or estrogen, but right now that's an open-ended question in science.
"In women, menopause is associated with accelerating biological age"
One interesting thing we've found is that in women, menopause is associated with accelerating biological age to some extent. And there are other periods in life that also have different rates of biological age. It might be counterintuitive, but in early life, during fetal development or childhood, you get the biggest acceleration in biological age. It starts to slow down at maturation, around age fifteen or twenty, and then it begins to increase at a very constant rate. In the later stages of life, even though we don't have much data, there are some hints that biological age decelerates. So even though individuals are much older, they seem to be aging at a slower rate after around age eighty or ninety.
---
Q
In what ways do you think biological age will be used in health care in the future?
A
I work with a company called Elysium that launched an at-home test a few months ago where all you need is a saliva sample and you can get your biological age. It's similar to a genetic testing kit, but the biggest difference is your genetics are pretty set in stone. You should have to take a genetic test only once, and there's not much you can do about it. Whereas epigenetics are modifiable. With epigenetics, we can see not just your predisposition based on genetics but also how you're responding to things. Your body changes based on all of your experiences and all your health habits throughout your whole life.
Right now, the recommendations based on biological age are pretty straightforward: Get enough sleep and eat fruits and vegetables. But in the future, people will be able to use this information to track their habits. You could use the test to make decisions about health behaviors, and the results of these behaviors would be reflected in the test. For example, it's sometimes unclear how much exercise you should be getting or if you should you do more high-intensity interval training (HIIT) or running workouts. You could take this test and then adjust your lifestyle to see whether there's any improvement when you take the test again. Having this feedback would give people insight into their own biology, and the more people that eventually do this, the better we will be able to track and learn from the results to hopefully predict what might work best for one person versus another.
Another exciting part of this field is mimetics. Mimetics is the idea that different behaviors (like regular exercise) may have beneficial effects on longevity. And if we can figure out biologically what those things are doing and why they're beneficial, then maybe we can develop therapeutics that mimic that response. This way, if you're, say, a person who has a disability and can't regularly exercise, we could develop ways to tap into those same biological pathways that exercise activates and create that same beneficial effect with a medication or another method.
---
Q
What are evidence-based ways to improve longevity?
A
The longevity and aging field is still fairly new, so we don't know specifically what things are the most ideal, and these things may also differ from person to person. In animals, we know that things like caloric restriction, fasting, certain drugs, and genetic manipulations can increase longevity.
What I do is eat a plant-based vegan diet exclusively. I intermittently fast, eating only during six to eight hours of the day. I don't smoke. I drink only socially on occasion. I try to get more and better sleep. And I try to exercise as much as I can—at least five days a week. I used to be a runner, but I switched to doing more HIIT because I believe it probably has a bigger impact. I've also tried three cycles of the fasting-mimicking diet. I tracked my lab results for basic things, like blood glucose and inflammation markers, and saw improvement.
---
Morgan Levine, PhD, is an assistant professor of pathology at Yale School of Medicine who studies aging. Her work focuses on biological factors that affect aging, and she has developed various measures to calculate biological age.
---
This article is for informational purposes only, even if and regardless of whether it features the advice of physicians and medical practitioners. This article is not, nor is it intended to be, a substitute for professional medical advice, diagnosis, or treatment and should never be relied upon for specific medical advice. The views expressed in this article are the views of the expert and do not necessarily represent the views of goop.