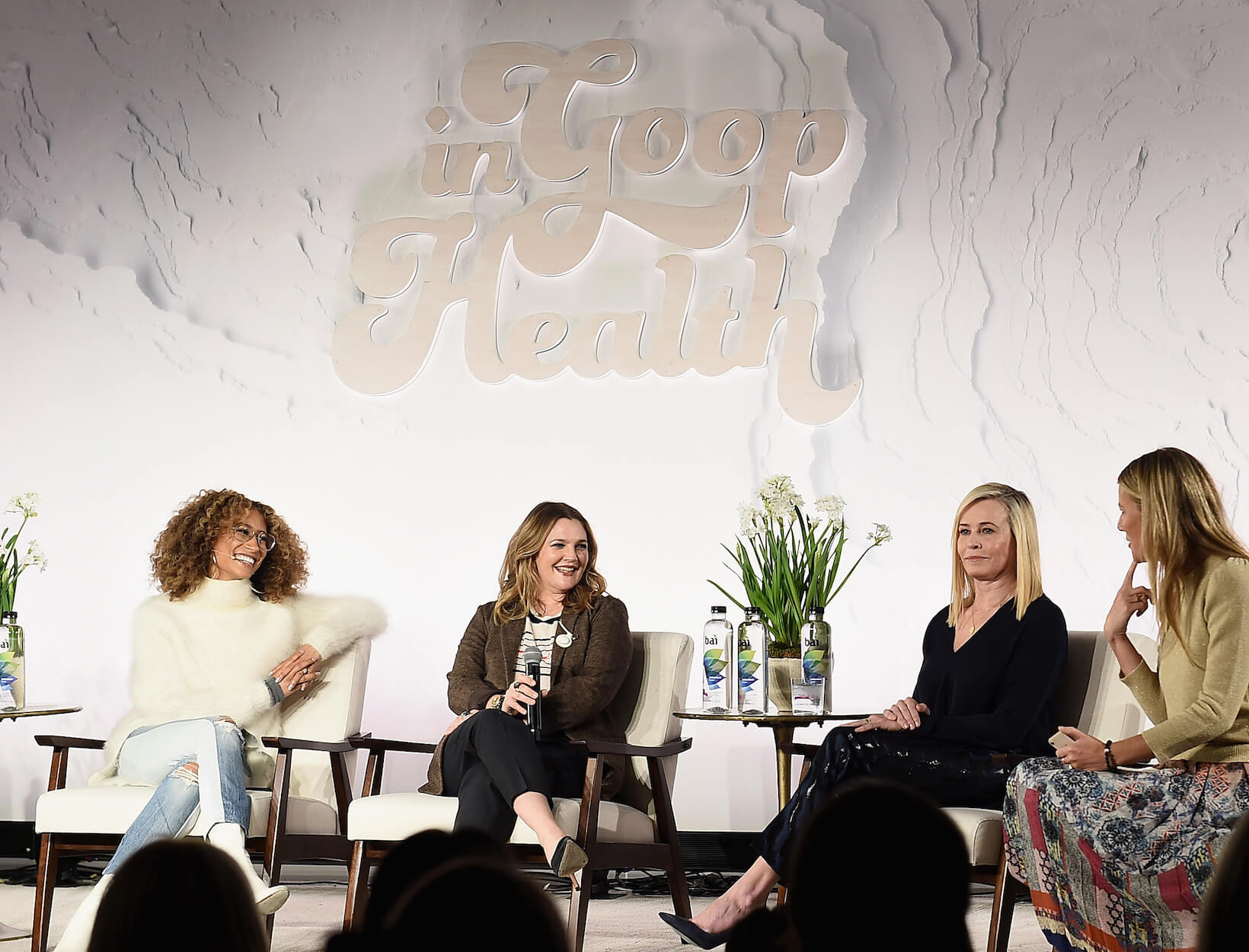 What Do Facial Cupping, a Psychic Medium,
and Chelsea Handler Have in Common?
The correct answer is In goop Health, our semi-annual wellness summit, which packs in a day's worth of mind/body/spirit panels, this time at the Seaport District in New York City. The talent lineup reads like a real-life roster of goop.com Q&A authors, plus some special friends like Drew Barrymore, Chelsea Handler, and more health-and-beauty activations (magnetic acupressure, self-hypnosis, facial cupping…), and countless good-for-you edibles: matcha, grain bowls, and of course, several riffs on avo toast. Attendees were encouraged to change into plush slippers and take part of a sound meditation session from the get-go, setting the self-care tone for the rest of the day, snippets of which you can see below:
Welcome cocktails at 1 Hotels Brooklyn Bridge with GP and our Wellness Weekenders.

G. Label (and GP) in the wild.

Feeling right at Om on Manduka mats.

Faces need love, too.

Dragon Bowls for the win. (Thanks, De Maria.)

Registered dietician Shira Lenchewski on our relationship to food.

GP gets magnetic acupressure with Nuurvana's Deganit Nuur.

LED powered eye masks courtesy of eyelove.

We gooped the mini bar.

Beats by Sacred Acoustics, buds by Urbanears.

Susan Miller in action.

Therapist Terry Real drops some knowledge.

Tumi hard case = swag bag gold.

Chelsea Handler, Drew Barrymore, Elaine Welteroth, GP, Gillian Flynn, and Laura Linney after their panel. #squad.

It wouldn't be a goop event without a granola station.

Cue the 8 a.m. beeline to La Colombe station.

Hello, from the Other Side panel: Left to right, Eben Alexander, M.D., Jay Lombard, D.O., Laura Lynne Jackson, and Bryce Dallas Howard.

Charcoal ice cream, anyone?

Bai, Bai, Bai.

Anita Moorjani with goop chief content officer Elise Loehnen.

We outfitted Glamsquad's "no makeup makeup station" with our clean beauty MVPs.

Ancolie does grab and go.

Tastes like Tang.

Backpacks for the day powered by STATE Bags.

Goop there it is.
SPECIAL THANKS TO OUR PARTNERS…
1 Hotels Brooklyn Bridge, Bai, Cascadian Farm, Casper, Daily Harvest, EasyKicks, eyelove, Joseph Phelps Vineyards, LOLA, Lunya, Lyft, MZ Wallace, Nutritious Life, RXBAR, Som, STATE Bags, Tru Niagen, Tumi
SPECIAL THANKS TO OUR VENDORS…
Anastasia Achilleos, Ancolie, côte, De Maria, Delta Air Lines, Glamsquad, Imperfect Produce, La Colombe, Linen Tales, Lingua Franca, Manduka, Minnetonka, Moon Juice, Morgenstern's, MZ Skin, Maria Papapetros, Peter Callahan Catering, Poppin, Sacred Acoustics, Seaport District NYC, Surya Spa, Susan Miller, Urbanears, UMA Oils, VDKA 6100
ENVIRONMENT AND DECOR…
Annie Selke, Blessing Sisters, Calico, Hessney & Co, Sub Rosa