How a Wellness Editor Spends a Day Off in LA
Created with Vuori
We cover things we're into and think you might be, too. If you purchase through an external link here, goop may earn a commission.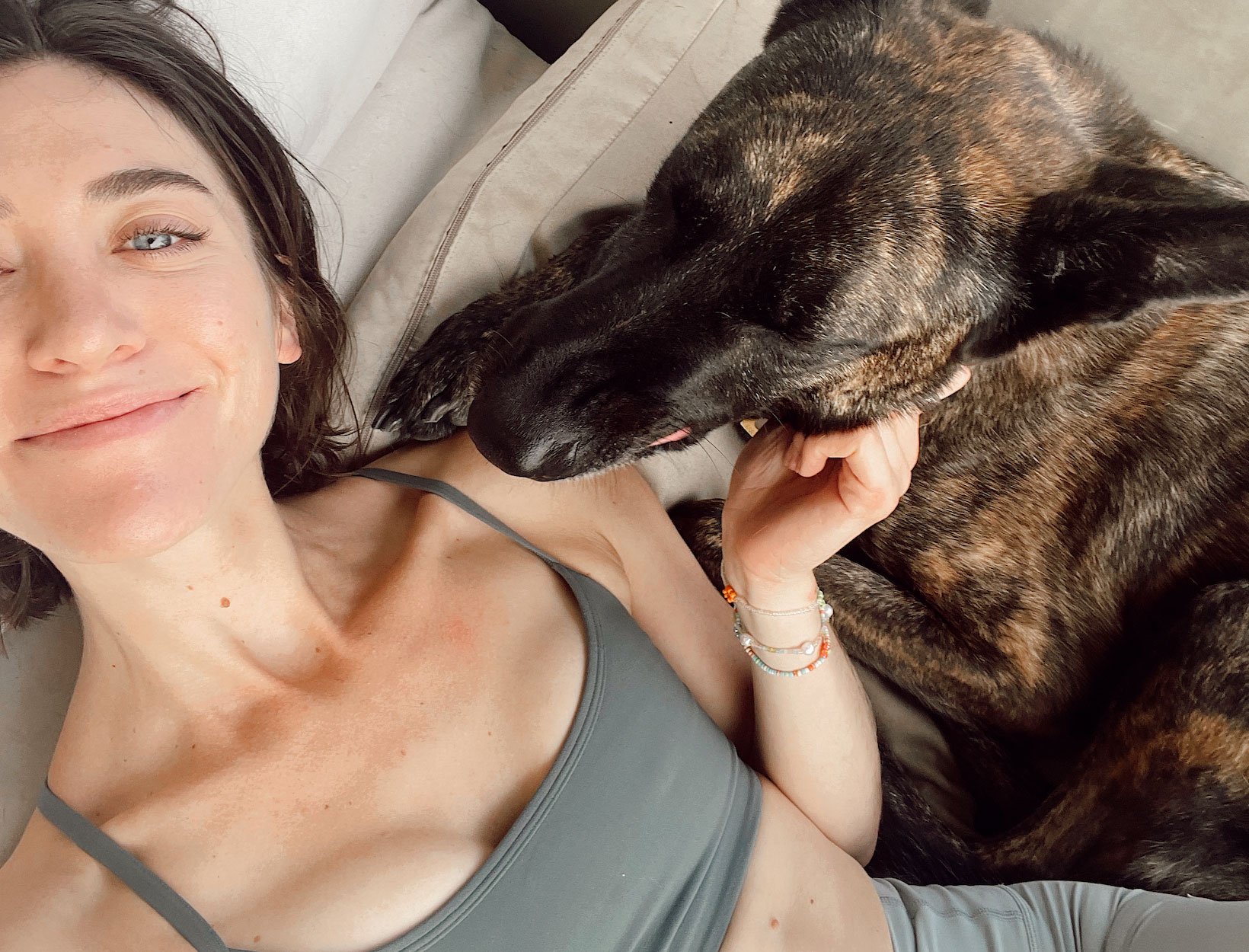 Every so often, I indulge in my favorite treat—a weekday off to do weekend things. Here's how I do it: hanging out with my dog, coffee, yoga, a session at the ceramics studio, and chilling allll day in comfy clothes.
6:45 a.m.
---
I wake up before my alarm (boo), but I actually do get up—the anticipation of a full day off (yay) makes early rising a pleasure.
The world's tidiest person I am not. But I've gotten really good about making my bed in the mornings ever since I got into linen bedding. Linen always looks a little rumpled, which takes the pressure off. I feel like I've hacked bed-making. My softest, most-loved set came from Wilet, and I just got this pretty blush set from the European brand April Notes.
Only because you asked, I have a new favorite leggings set, which is made with Vuori's new ultrasoft, super stretchy, featherweight fabric. It also looks really good and comes in very cute colors.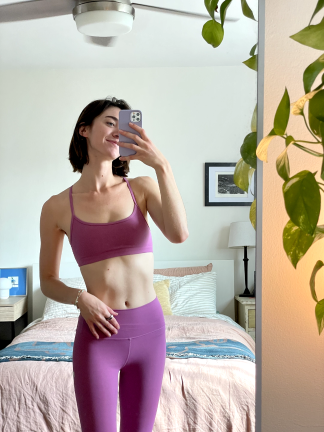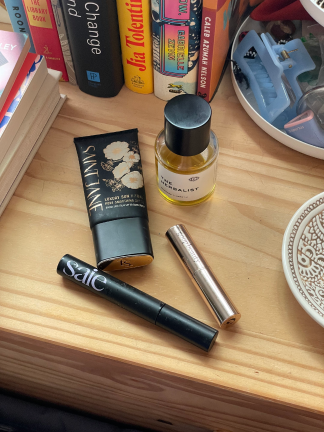 7:15 a.m.
---
I'm out the door for our morning walk. My dog is really on one today. He jumps around with his neighborhood dog friends and I hold on for dear life.
8 a.m.
---
I hoover last night's leftovers (Joshua McFadden's kale pesto pasta, IYKYK) over the kitchen sink and get ready for the day. My makeup routine is pretty simple: tinted sunscreen; a few teensy, strategic dabs of concealer; a swipe of tinted balm on my lips and cheeks; mascara. And my holy grail perfume, which gets its earthy herbiness from hemp.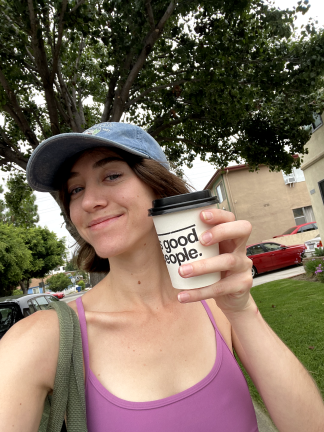 9:30 a.m.
---
My favorite coffee shop is GoodPeople in West LA. They really know what they're doing with espresso. I feel like I'm moving on from my latte era. We're doing flat whites now.
10:30 a.m.
---
The Vuori set sees some action. I could lounge around in these leggings all day, but they're specifically made for studio settings like yoga and Pilates. I'm at my hot yoga studio more days than not, and I've tried a lot of fabrics from a lot of brands. And can I just say: Vuori's new BlissBlend fabric is a revelation. It's so featherweight that even as it wicks sweat—and look, I'm producing a body of water that could be detected from space here—it feels light and airy on my skin.
11:20 a.m.
---
Melting into savasana at the end of class, I feel so thankful for my yoga practice. I've dabbled for a decade, but it's only in the last couple years that I've gotten serious and consistent about it. Yoga forces you to learn to breathe through difficult positions. It's been really good for me.
The secret weapons that helped me develop a deeper practice: my B Yoga mat (it's the grippiest, best mat ever) and my membership at Sweat Yoga here in LA. The room is dark, mirrorless, and hot as hell. It's a catharsis.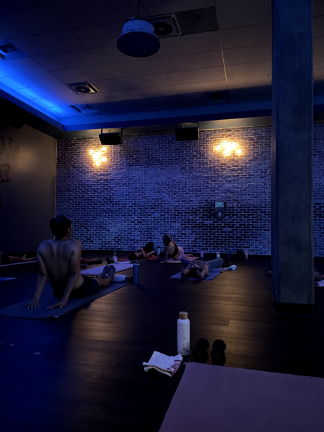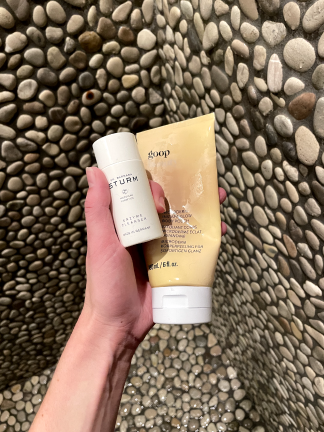 In My Gym Bag
Did I mention how hot this studio gets? The postworkout shower is essential and immediate. I'm not a Wim Hof girlie by any means, but I run the shower as cold as possible to bring my body back to a normal temperature.
Dr. Barbara Sturm

Enzyme Cleanser

goop, $75SHOP NOW

goop Beauty

Microderm Instant Glow Body Polish

goop, $48SHOP NOW
1 p.m.
---
Kevin So is the best sports chiropractor in LA, and I see him every two weeks about a years-old running injury that still causes me some discomfort. He mostly focuses on soft tissue mobilization and corrective exercise, but sometimes I get a spinal adjustment, too, and it's a treat to get the crunchies out.
2 p.m.
---
On my way to my ceramics studio, I drop into Lady & Larder for my current sandwich obsession. It's Cowgirl Creamery triple crème, habanero-apricot jam, nectarines, and arugula on a Clark Street baguette.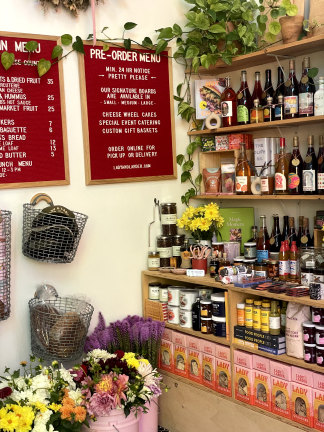 2:15 p.m.
---
There's this concept that comes from Zen Buddhism: the beginner's mind. You ditch expectations and approach even the most routine parts of your life with openness and eagerness, as if they're new to you. I try to approach life that way when I remember to. But I haven't been a true beginner at something in a while. It's a mindfulness practice all its own: I had this idea I'd start this wheel ceramics class and discover that I'm a natural talent at pottery. Which is not the case. But I'm settling into the learning curve, and it feels good to be just okay at something.
3:30 p.m.
---
An hour later, I've given birth to a little vase! I'm actually pretty proud of this one. I get clay all over my clothes. Between this and hot yoga, I've been producing a lot of laundry. Legend says these Vuori leggings get even softer the more you wash them.
Ottessa Moshfegh

Death in Her Hands

Bookshop, $15.81SHOP NOW
4:30 p.m.
---
I'm now on my third pair of leggings of the day (even when I was a kid, I had this habit of changing four or five times a day—if that makes me a maniac, I'm not sorry). The pup and I get out for our evening walk, and then we spend some time cuddling on our daybed. I read, and he rests his big ole head on my chest. This is my favorite part of the day.
5:30 p.m.
---
I'm meeting up with a couple girls from goop for after-work mochi. Mochidoki just opened on Montana in Santa Monica, and it's fabulous—I tried a bunch of flavors, and while they're making a very impressive sweet-cream mochi topped with blini and caviar, mango was my favorite.
7 p.m.
---
I touch denim for the first time today—I've been living in the Annina jeans from Citizens, which are perfectly low-rise and baggy when you size up twice—for dinner at Ghisallo. Margherita pizza, a lil salad, and a glass of chilled, sparkling pinot noir.
9:30 p.m.
---
Sleep Milk is my desert island skin care product. It's magic for evening skin tone.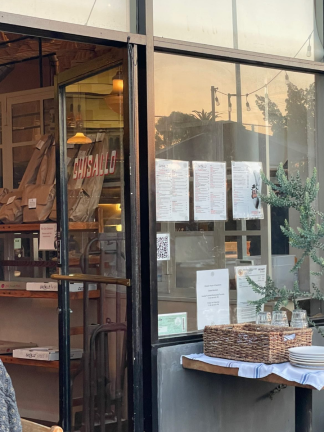 My Nighttime Skin-Care Routine
Tata Harper

Refining Cleanser

goop, $88SHOP NOW

True Botanicals

Chebula Extreme Cream

goop, $110SHOP NOW

goop Beauty

Dark Spot Exfoliating Sleep Milk

goop, $98SHOP NOW
10:15 p.m.
---
I am dead serious about my eight hours of sleep. I've had an Oura ring about six months now and it's reawakened my competitive side—what can I do to fall asleep faster? Get more REM? Lower my resting heart rate and hike up my HRV?