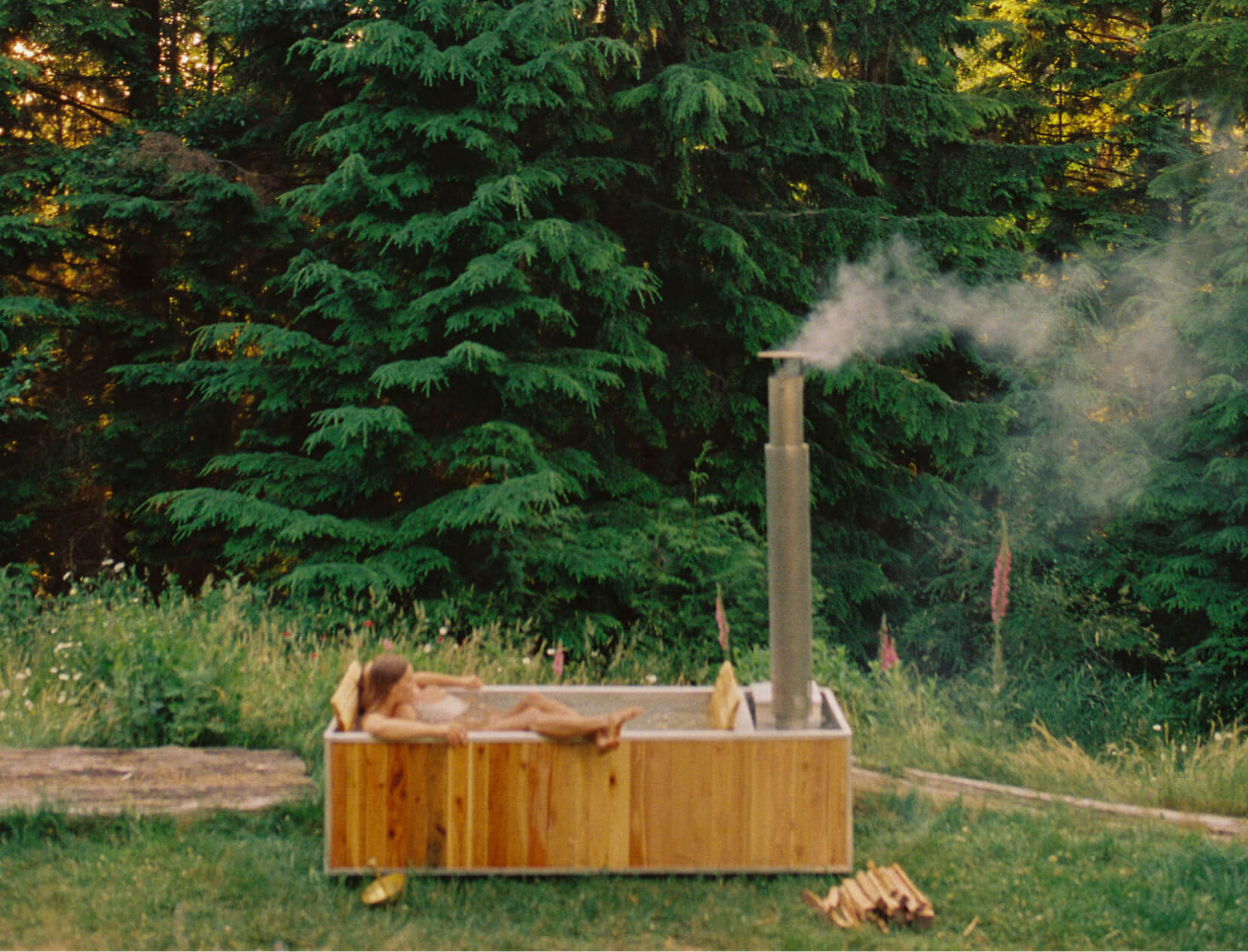 Photo courtesy of Britney Gill for GOODLAND Hot Tubs & Outdoors
The Therapeutic
Benefits of Heat,
Delivered 3 Ways
When you step into a hot tub or lie down on a heated mat, you're more likely thinking about how wonderful it feels than about the therapeutic value—which is also significant. Heat treatment has benefits for our skin, core, muscles, pelvic floor, and sexual health. And you can get them at home.
There's a spiritual side to warmth as well. Saunas have long been a part of purification rituals for the body and soul, and sweat lodges are used for spiritual ceremonies by Indigenous people throughout North, South, and Central America.
Deep Heat
The increase in core body temperature from using a sauna or hot tub comes with physiological benefits. More than twenty years ago, The New England Journal of Medicine published an article on the benefits of hot tubs for metabolism. Since then, research studies have found that regular hot-tubbing supports healthy arteries and circulation, in addition to metabolism. And the use of a dry sauna has been shown to have similar benefits.
One theory about how heat therapy works is that heat causes the body to ramp up its production of protective molecules called heat-shock proteins. Heat-shock proteins help repair components of cells that are damaged. As we age, damaged components accumulate inside cells. By increasing heat-shock proteins, heat could help keep everything functioning smoothly, including the mitochondria, the little fireplaces in our cells where fuels are burned and energy is captured.
There's a way to bring a sauna experience into the smallest apartment: the Infrared Sauna Blanket. Fold yourself into the blanket, turn up the heat, breathe a sigh of relief and pleasure, and sweat. If this intrigues you, there's lots more info about the sauna blanket here.
To stay hydrated and replenish the sodium and potassium lost in sweat, we suggest sipping on a lemony electrolyte mix made with organic coconut water and pink Himalayan salt.
Muscle Therapy
The heat from heating pads and hot-water bottles permeates about a half an inch (one centimeter) into the body, which is deep enough to relax muscles and increase the flow of blood, bringing nutrients and oxygen and carrying away waste.
As many people who've experienced cramps with their period know, applying heat locally can offer relief. (A review of six randomized controlled trials came to the same conclusion.) It's thought to work by relaxing painful spasmed muscles and increasing blood flow to the pelvic region. Circulating blood can help carry away fluid and reduce swelling and painful nerve compression.
There's no cord for the Heated Neck Wrap from Ostrichpillow. Pop it in the microwave, then enjoy the oh-so-comforting heat on your shoulders—or wherever. Alternatively, lie on the Gemstone Heat Therapy Mat and let red light, infrared light, pulsed electromagnetic fields, and thirteen pounds of jade, tourmaline, and amethyst warm you, promote circulation, and ease muscle tension.
And we don't want to forget about the healing powers of warm hands. Because cold oil does not promote muscle relaxation, Pulse has designed a dispenser that automatically senses your hand and dispenses a dollop of warm massage oil.
Pelvic Floor and Sexual Health
Physiological changes to the vulva, vagina, and pelvic floor happen with childbirth and menopause. One way to care for these tissues is to stimulate blood flow to the pelvic region. Increasing blood circulation supports healthy vaginal and pelvic floor tissues, and the vFit Gold is a brilliant way to promote this. vFit uses heat, vibration, and red and infrared light to boost circulation and cellular health.
Also designed for internal use, the Ultraplush Self-Heating G-Spot Vibrator skillfully incorporates gentle heat for comfort and to increase circulation, which contributes to tissue engorgement, arousal, and pleasure.
Regular vulval and vaginal stimulation can help maintain sexual wellness. The Kit from Tabu includes a slim, smooth, heating vibrator designed for internal and external play, plus a luxurious water-based lubricant containing nurturing hyaluronic acid and organic plant extracts.
---
This article is for informational purposes only. It is not, nor is it intended to be, a substitute for professional medical advice, diagnosis, or treatment and should never be relied upon for specific medical advice. To the extent that this article features the advice of physicians or medical practitioners, the views expressed are the views of the cited expert and do not necessarily represent the views of goop.