The IV Bar Guide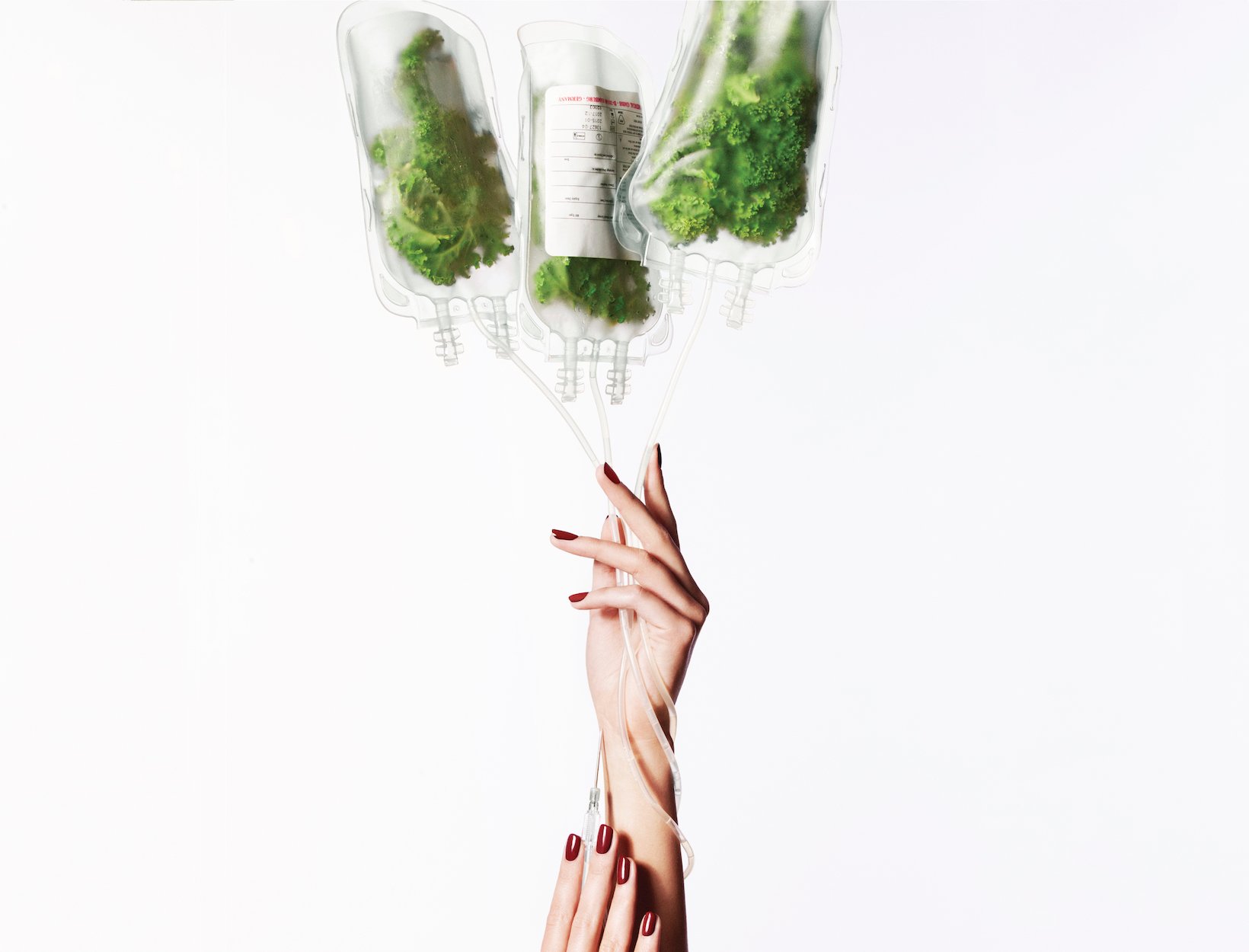 Update: There is currently a saline and IV bag shortage because one of the US's largest suppliers—whose manufacturing facilities are located in Puerto Rico—was crippled by Hurricane Maria. The limited supplies are vital for hospitals and patients undergoing chemo; we will update this story as the supply chain opens up again. Puerto Rico still desperately needs our help, thoughts on where to donate to relief organizations here.
We're pretty into exploring different approaches to hangover cures—or, more realistically, figuring out the best ways to alleviate side effects—which is why IV hydration services first piqued our interest as a super-charged way to hydrate the morning after. As they've grown more popular (and readily available) in recent years, they're also becoming known for a broader spectrum of benefits. "IV hydration is known as a quick hangover treatment, but now clinics are marketing a range of indications, from migraines and altitude sickness to skin health to IV nutrition to infusions of anti-aging molecules," says functional medicine physician Robin Berzin, M.D., who helms the holistic medicine practice Parsley Health, with locations in LA, SF, and NYC. "Nutritional IVs usually focus on vitamins and compounds that are poorly bioavailable when ingested orally (like glutathione and Vitamin C)."
For a bit of guidance in choosing whether or not hitting the IV bar is right for you, and what to consider if you do, we asked Dr. Berzin for a few pointers. Below, her helpful tips, along with our picks for options in major cities.
Dr. Berzin's Advice
WHAT TO LOOK FOR: "The main things to look for are experience and credentials, in both the medical director of the service and the individual administering the IV. Even with something as simple as an IV, practices can vary significantly from provider to provider based on experience—for example, do they let a metal needle sit in your arm for the duration of the drip or use a soft plastic catheter? Do they use local anesthesia at the IV site? Do they use inexpensive supplies or spring for nicer ones?"
"Another thing to consider is the provider's ability to handle emergency situations. IVs are certainly low-risk, but they aren't risk-free. Adding any compound to a sterile drip carries some (very little, but some) risk of severe allergic reaction, and just because a provider is experienced in placing IVs doesn't mean they have experience troubleshooting side effects or bad outcomes."
WHAT TO ASK YOUR DOCTOR: "Before you go, ask about side effects that may take effect in the next day and how to contact them if you feel there is anything wrong (like an infection or clot at the site of the IV). Be aware of signs of dehydration as not all providers are careful about calculating how to dilute or how concentrated the IV solution may be."
WHAT YOU'RE PAYING FOR: "Usually the cost of IVs depends on the price of the additives going into the IV and the cost of the particular provider's time. It's worth it to pay a bit more for providers who know how to handle bad situations, from emergencies to suboptimal side effects."
Get Your Fix
The views expressed in this article intend to highlight alternative studies and induce conversation. They are the views of the author and do not necessarily represent the views of goop, and are for informational purposes only, even if and to the extent that this article features the advice of physicians and medical practitioners. This article is not, nor is it intended to be, a substitute for professional medical advice, diagnosis, or treatment, and should never be relied upon for specific medical advice.