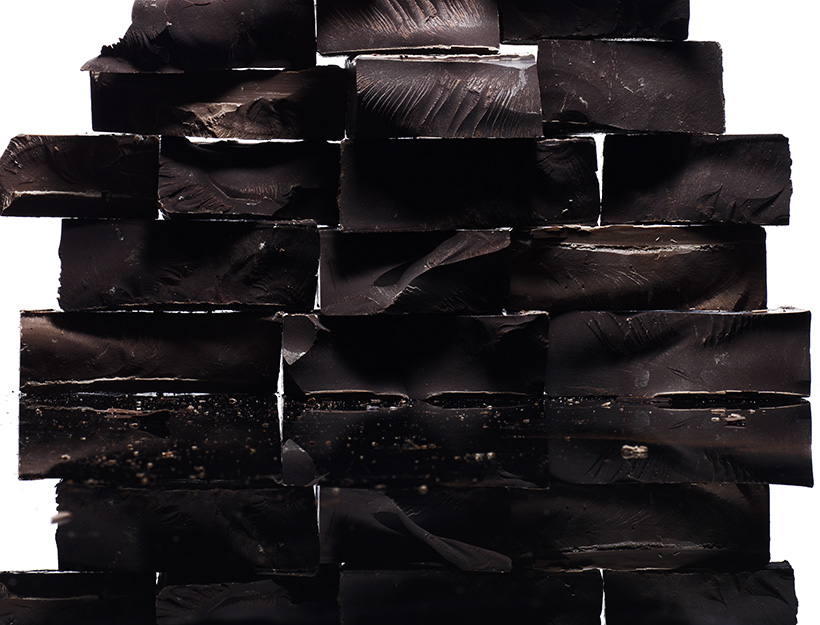 The Good-for-You Chocolate Guide
Some headlines are too good to be true. But as SF Bay-based weight loss, hormone, and women's health expert Dr. Sara Gottfried (her new book, Younger, is out this month) verifies: Chocolate is good for you. The health benefits of dark chocolate are widely varied and impressive; it's loaded with an extremely high concentration of free-radical-fighting antioxidants, plus B vitamins, minerals like magnesium and calcium, and more. Dark chocolate (the higher the cacao percentage the better) has been shown to lower levels of the stress hormone cortisol, raise serotonin levels, improve cardiovascular health and brain function, lower inflammation…the list goes on.
What's the caveat? As with any food, quality matters when it comes to health benefits: Where you get your chocolate from, how it was made, what other ingredients (if any) were added to it—all of it matters. Which is why, here, we've rounded up not just the best but the healthiest chocolate (much of it part of a growing bean-to-bar movement); caught up on the newest research with Gottfried; talked with top-notch, SF-based indie chocolate maker, Dandelion Chocolate; and added our favorite at-home chocolate making kit. In essence, it's all good news: Chocolate bars and beans that taste incredible while being incredibly good for you, too.
A Q&A with Dr. Sara Gottfried
Q
What are the health benefits of chocolate?
A
I love chocolate not only because of the taste, but because it's a superfood. It's functional medicine for your DNA. Cacao (raw cacao powder is made by cold-pressing unroasted cocoa beans) has nearly twice the antioxidants found in red wine and almost triple the antioxidants of green tea. Most people know that dark chocolate contains magnesium, which most of us don't get enough of. But there are many other nutrients in cacao, including: vitamins A, B1, B2, B3, B5, C, D, E; and minerals like calcium, iron, zinc, copper, potassium, and phosphorus.
To best extract the health benefits, I recommend dark chocolate. Dark chocolate falls into the category of healthy monounsaturated fat—along with avocados, nuts, and seeds. Milk chocolate contains milk, which binds to the antioxidants in chocolate, rendering them unavailable. This counters the benefit of the flavanols, a type of flavonoid (phytonutrient) in cacao. (For example, one flavanol in chocolate is epicatechin, which acts like an antioxidant and supports insulin sensitivity.) So also avoid drinking milk with your chocolate.
What's more: Dark chocolate made with at least 70 percent cacao has been proven to lower cortisol, the body's main stress hormone. Another molecule in chocolate called phenyl ethylamine acts like a gentle antidepressant. Dark chocolate raises serotonin, the feel-good brain chemical in charge of mood, sleep, and appetite.
Q
What research exists on the benefits of chocolate?
A
Q
What should we look for—or avoid—on a chocolate label?
A
Extra-dark chocolate—at least 80 percent cacao or higher—is ideal. When chocolate has higher cacao content, it has more health benefits, in part because there are more flavanols and in part because there is less sugar. I recommend organic, soy-free, dairy-free, gluten-free chocolate. If you want to cut out cane sugar altogether, there are some good options sweetened with stevia and coconut sugar [see below]. When portioning out your chocolate, aim to stay under 5 grams of sugar. (As an example, 40 grams, or four squares, of 90 percent chocolate from Lindt contains 3 grams of sugar.)
Aim for purveyors that use single-origin cacao. Sadly, mold toxins are common in chocolate (and in coffee)—Europe has more stringent standards than the US—so this is one reason to study up on the brands you are buying from. It's debatable, though, whether the level of mycotoxins in chocolate are enough to harm you. You'll be more vulnerable to them if you're part of the 25 percent of the population (like me) with genetic mold sensitivity.
I'm also careful to avoid chocolate mixed with inflammatory oils (like cheap vegetable oils, partially hydrogenated oils or trans fat, palm kernel oil)—I eat chocolate made with raw cacao mixed with organic cacao butter. [Note: More coming soon from Dr. Gottfried on inflammation—and its connection to accelerated aging.]
Now that many people avoid soy lecithin, the question is whether sunflower lecithin is better. It's added to chocolate for emulsification, or to make the chocolate more creamy and smooth. Sunflower lecithin is derived from the gum of sunflower seeds by cold pressing. Compared with soy lecithin, sunflower lecithin is not chemically processed (as long as cold pressing is used), not allergenic, and not genetically modified. If your chocolate contains sunflower lecithin, just be sure it's organic.
Q
How much should we be consuming, and how often?
A
I recommend eating one small square (about 1 to 1.5 ounces) of dark chocolate per day. Note: 1 ounce of dark chocolate contains about 12 milligrams of caffeine (about half the amount in a cup of green tea), so be careful not to overindulge, particularly if you're like me and slowly metabolize caffeine due to your CYP1A2 gene. [You can read about this gene, and how to tell if you have it, in Gottfried's book Younger.] If you think chocolate might be an avalanche food—you eat one bite and won't stop until the bar is gone—I'd avoid it altogether.
Q
Is chocolate best eaten on its own, or is it better mixed with certain ingredients or used in cooking?
A
I prefer to eat extra dark chocolate on its own. I let it melt in my mouth slowly, so I can savor every bit. I like 85 to 99 percent cacao, which takes some getting used to. It tastes somewhat bitter until your palate adjusts. If your palate prefers the less dark variety, consider pairing your chocolate with nuts or seeds to lower the glycemic impact (raising your blood sugar may age you).
Drinking chocolate is another way to get your health benefits. Find a good organic chocolate herbal tea, or mix up a delicious green shake with a chocolate-flavored protein powder. Every morning, I start my day with a chocolate protein shake with plenty of greens to get myself energized for my day—the strong chocolate flavor balances out the taste of the greens.) It's delicious, fills me up, and stabilizes my blood sugar.
goop Talks with a Chocolate Maker
The Good-for-You Chocolate Round-Up
Masonis and Dandelion and co. believe there is no substitute for doing your homework on chocolate, checking your chocolate maker's sourcing practices, ingredient quality, and so on. Since it might take some practice before you're genuinely enjoying 99% bars, we've done our homework: Here, a list of our favorite healthy options for every type of palate, complete with all-star recs from Masonis and Gottfried.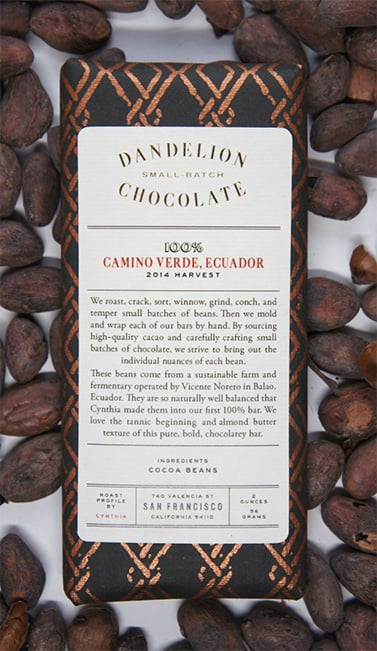 HARDCORE CACAO
The purest and healthiest way to experience chocolate is by eating the cacao bean straight, with zero added sweeteners or extra processing. Pure cacao beans taste complex and fruity, but have an acidic bite and intensely bitter flavor that can take some getting used to.
ROASTED COCOA BEANS, Dandelion: Dandelion gets these beans from a farm in Madagascar known for their strong, fruity flavors—they carry slightly new notes each season (not unlike a fine wine). Eaten right out of the shell (squeeze lightly and the shell rolls off in your hand), they make the perfect healthy snack for serious cacao fans.
CACAO NIBS, Ritual: These cacao nibs are the roasted, cracked, and winnowed cacao bean (they take the work of shelling and cracking out of the equation). Great sprinkled over desserts for added crunch or blended into smoothies, these little nibs are an easy way to add texture and antioxidants to almost any sweet dish.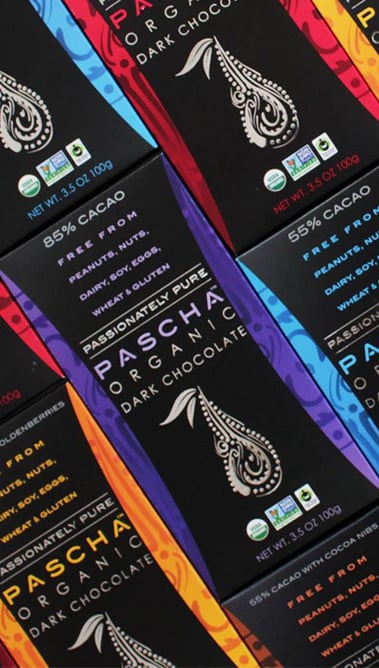 SERIOUS DARK CHOCOLATE (80-100% cacao)
The higher the percentage of cacao, the more vitamins and antioxidants you're getting, so for those who are into a seriously dark chocolate bar (and ready to reap the benefits), here are a few of the best:
85% CACAO, Pascha: Dr. Gottfried loves this brand, which makes up to 85 percent cacao bars.
CAMINO VERDE, ECUADOR, Pascha: Dandelion makes a 100 percent ground cacao chocolate bar—using only beans from the Camino Verde farm in Balao, Ecuador that they fell for after a 2014 visit. There's also an 85 percent version.
81% DARK CHOCOLATE BAR, Coracao: Coracao's 81 percent dark chocolate bar is not only packed with cacao, but is also made with organic coconut sugar instead of cane sugar, which means a lower glycemic index.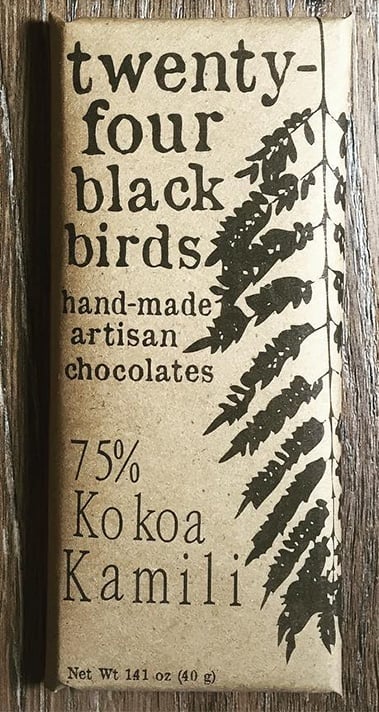 IF 80% STILL TASTES A LITTLE INTENSE
For some of us, an immediate jump to a 99 percent bar feels a little extreme and that's okay. These bars, all in the 70-80 percent range, are all still full of antioxidants and effective at lowering cortisol levels. There's even an option for milk chocolate lovers.
75% KOKOA KAMILI, Twenty-Four Blackbirds: Twenty-four Blackbirds is a small, Santa Barbara-based company with excellent sourcing practices and equally excellent packaging. They have lots of bars between 70 and 80 percent cacao, but this one, made with beans from Tanzania, is particularly good.
77% DAVAO, PHILIPPINES, Askinosie: Started by an ex-lawyer in Springfield, Missouri back in 2005, Askinosie is one of the original US bean-to-bar companies. This 77 percent bar, made with beans from the Phillipines, is fantastic.
MARANON CANYON DARK 76%, Fruition: The Marañón Canyon bar is at the top of Masonis's list: "These are very interesting beans from Peru, and the flavors meld together to make a bar with the nostalgic feeling of a classic milk chocolate."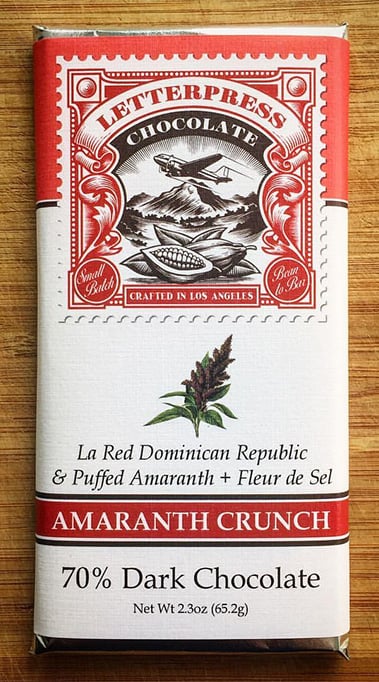 GOOD-FOR-YOU DRINKING CHOCOLATE & CONFECTIONS
Because healthy chocolate doesn't have to mean only bars, we found a few fun options—from mix-ins (also called "inclusions" in the chocolate world) to drinking chocolate, to decadent raw truffles—for those who like a little something extra.
CHOCOLATE MAKING KIT, Benchic: Making your own delicious, rich drinking-chocolate is incredibly easy—and a good time—with this kit (you can also use it to make gift-worthy truffles). It's stocked with wild California honey, organic Peruvian cocoa butter, organic Dominican Republic cocoa powder, organic Peruvian lucuma powder (a fruit packed with antioxidants, fiber, carbohydrates, vitamins, and minerals), raw, crushed California almonds, and organic shredded coconut—plus simple instructions and brilliant recipes.
TRUFFLES & ROCKS, Hnina: Gottfried buys the truffle "rocks" and "boulders" from Hnina as hostess gifts (and as a personal treat). See the macadamia-pistachio creation made with organic unrefined maple syrup and raw unpasteurized honey.
AMARANTH CRUNCH, Letterpress: This 70 percent cacao crunch bar is made with organic amaranth and a sprinkling of fleur de sel. Or, as Masonis says, "not to miss."
SHIVA ROSE x Zenbunni: ZenBunni's organic, biodynamic chocolate is paired with goop-friend Shiva Rose's Organic Bulgarian Rose Oil in this heavenly (and mood-elevating) bar.
Sara Gottfried, M.D. is the New York Times bestselling author of Younger, The Hormone Reset Diet, and The Hormone Cure. She's a graduate of Harvard Medical School and MIT. Dr. Gottfried's online health programs can be accessed here.
The views expressed in this article intend to highlight alternative studies and induce conversation. They are the views of the author and do not necessarily represent the views of goop, and are for informational purposes only, even if and to the extent that this article features the advice of physicians and medical practitioners. This article is not, nor is it intended to be, a substitute for professional medical advice, diagnosis, or treatment, and should never be relied upon for specific medical advice.