The Dirty on Getting Clean
Seeing as the United States is a country that knows how to regulate everything, we were pretty shocked—actually, floored—to learn how few laws the federal government passed to regulate the personal-care industry. It seems ironic that in a country where it's so difficult to get a new drug to market, the products we use in our homes and on our bodies every single day can skip right onto supermarket shelves. Something about this didn't sit right with Gregg Renfrew, who found that the more she learned, the more she realized what she didn't know—and the more scared, and angry, she became.
And so Renfrew decided to do something about it: She launched a gorgeous skincare and cosmetics company called Beautycounter, almost exactly a year ago, where they're "setting a new health and safety standard, because if our government won't protect us from toxic chemicals in the products we use everyday, then we will." While the E.U. has banned or regulated more than 1,300 ingredients in personal care products, the U.S. has only banned 11, a fact that left our jaws on the floor. In response, Beautycounter has identified more than 1,500 chemicals and counting that they won't use, either because the chemical is known to be harmful, or in their eyes, what might be even worse: The chemical and its long-term effects on health are completely unknown.
While the FDA theoretically governs personal care products, and the EPA oversees chemicals in general (including those used in household cleaners), according to Renfrew, "neither agency is resourced or empowered to demand safety data or require studies around long-term health impacts—ultimately, it's completely legal for companies to use known carcinogens."
Effects on Long-Term Health
According to Renfrew, the incidence of cancer, ADHD, allergies, and autism is on the rise. "One in two men, and one in three women will be diagnosed with cancer," Renfrew explains, "while one in three kids will be diagnosed with ADHD, asthma, autism, or allergies." She goes on to add: "What's happening in our genes, physical environment, food supply chain, and cosmetics is a complicated dance. But our skin is our largest organ—it's silly to assume that toxic chemicals we already know are linked to health problems, or chemicals that are understudied, aren't having profound effect on our health, especially when so many illnesses are on the rise." In a recent study, common cosmetic preservatives called parabens were found in biopsies of breast cancer tumors at levels that are similar to their concentrations use in personal care products. "We can't control everything," Renfrew adds, "but the products that we bring into our homes and put on our bodies every single day is a good place to start."
As Renfrew has learned more over the years, she's kicked an ever-growing list of unhealthy products out of her own house, from her non-stick pans, to her fragranced laundry detergent, to her kids' mattresses, which (like the vast majority) contained chemical flame retardants. And while she counts herself on the extreme end of the spectrum ("My kids want to kill me because I don't let them eat blue M&Ms anymore, though keep in mind that this is about progress and not perfection"), we thought she'd be the perfect steward to lead us on an audit of our own kitchens, bathrooms, and laundry rooms. "The most essential step is to flip that bottle around and check the ingredient label." And perhaps more importantly, Renfrew advises to look behind the marketing: "Terms like natural, pure, hypoallergenic, botanical, and green are unregulated and sadly don't mean anything," she explains, "and even if a product includes some organic ingredients, there's certainly no guarantee that they're not packaged with a toxic preservative or surfactant." She also pointed us to the Environmental Working Group's Skin Deep Database for skincare and beauty products (they just launched a handy, barcode-scanning app, and rank products on a numerical scale with 1s and 2s being the cleanest), and the EWG's Guide to Healthy Cleaning for everything else, which uses a standard alphabetical grading system. "These are the best working tools out there right now for general home detox," she adds, "and you'll see that many companies score all over map, so it's really important to take a product-by-product view." And it's not all bad news, either: "If enough of us vote with our wallets, there will soon be a day when our kids won't have to check the labels on the products they use everyday—we can absolutely change the market."
---
Our Room-By-Room Detox
We took Renfrew's marching orders and looked through our own cabinets, cross-checking with the EWG's Guide to Healthy Cleaning as we went. It was time-intensive and laborious, and pretty disappointing: While we thought we were making good-to-decent choices, most of the products in our homes missed the mark, at least according to the EWG.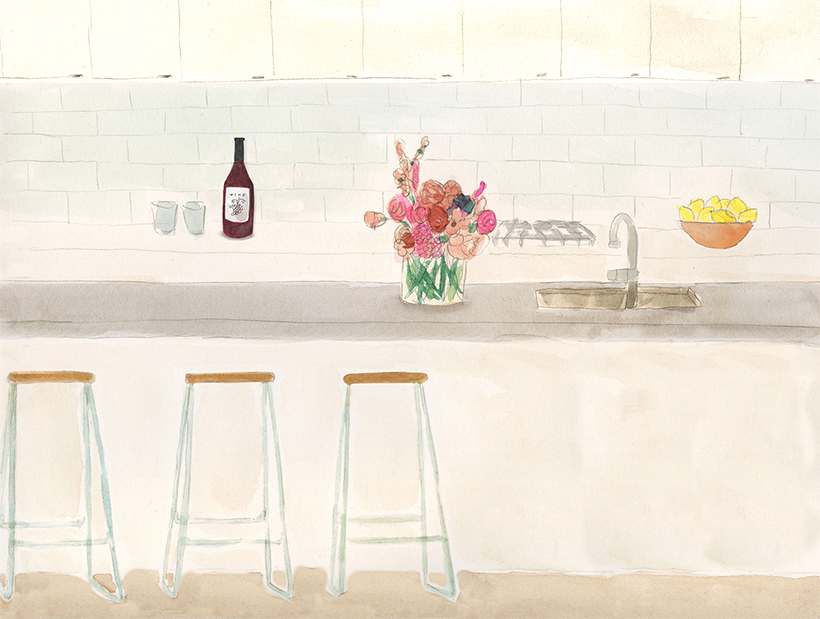 Kitchen
"One of the biggest concerns in the kitchen is anything antimicrobial," explains Renfrew. "While it makes sense that people want to destroy germs, it also makes sense that things that kill mold and bacteria are potentially harmful to larger life forms as well—antibacterials and preservatives should be used with caution."
"Most antibacterial soaps and hand-sanitizers contain nasty triclosan, a petrochemical that's devastating to the environment, along with sodium laureth sulfate (likely contaminated with 1,4- dioxane, a known carcinogen), the preservative methylisothiazolinone (this can cause allergies), and fragrances and dyes," according to Renfrew. These two final ingredients are trade secrets, and accordingly, companies are not required to reveal their contents. "Ironic that the chemical and ingredient manufacturers' are protected, isn't it?" adds Renfrew. "The good news: There are great, safe hand soaps and cleaners that do not contain triclosan on the market, though, that actually work."
Dish Soap
What we WERE using at goop:
What we ARE using now:
Dishwasher Detergent
What we WERE using at goop:
What we ARE using now:
All-Purpose Cleaner
What we WERE using at goop:
What we ARE using now: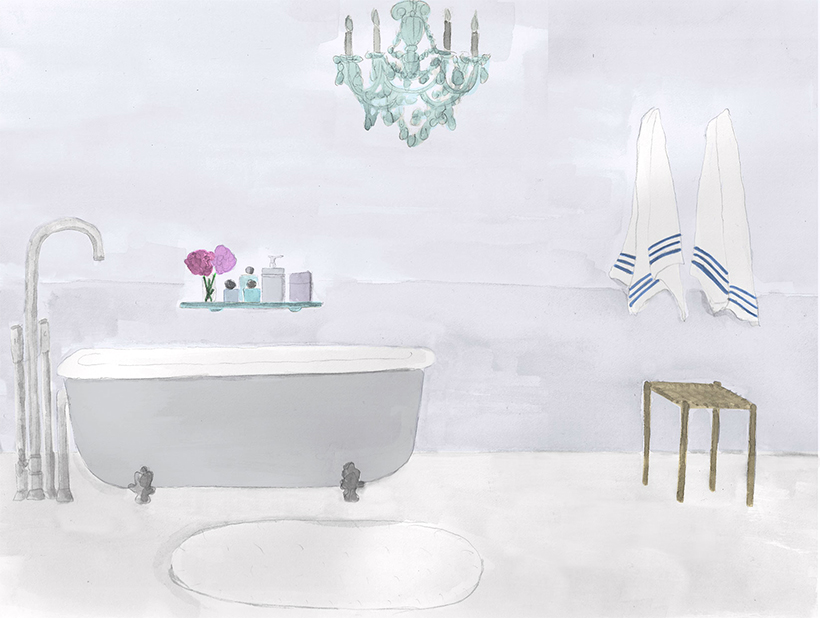 Bathroom
"Fragrance runs rampant in hand soap," Renfrew explains, "along with any number of toxic surfactants and preservatives." And skip the chlorine: "There are many great non-chlorine bleaches out there that are just as effective, and much less toxic! Also, basic vinegar and lemon makes an excellent cleaner, and it's easy on the wallet and the environment."
Hand Soap
What we WERE using at goop:
What we ARE using now: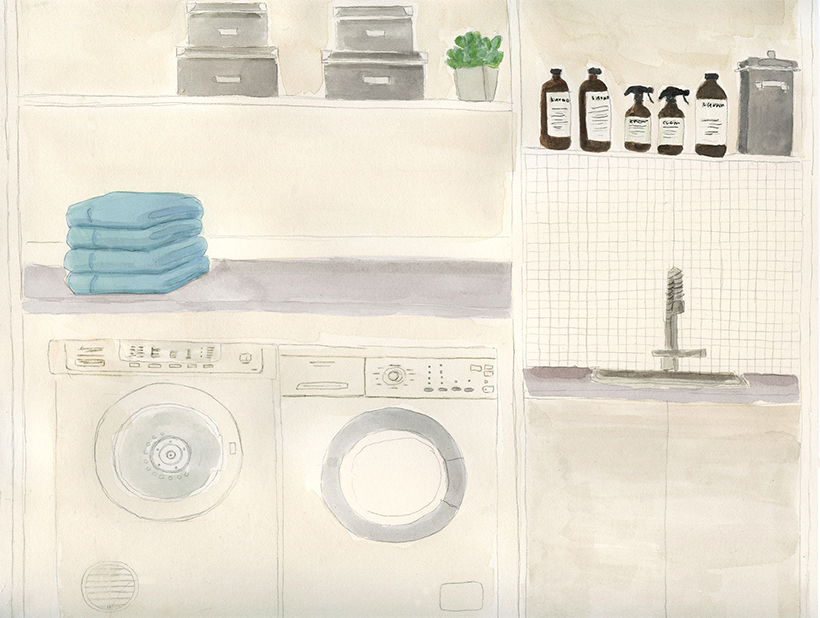 Laundry Room
When it comes to laundry, we're all pretty familiar with the allure of a great scent, but just as with other products, fragrance in laundry detergent can harbor many toxins. "The phthalate load can be intense," Renfrew explains, "since the fragrance in laundry detergent is engineered to cling to clothes. In addition, steer clear of optical brighteners, which are terrible for the environment and can irritate skin." (If you want to be extra-kind to the environment, wash your clothes on the cold cycle.) And sadly, for the dryer sheet loving amongst us, these are particularly toxic: "According to a recent study in Science Daily, analysis revealed 25 VOCs in dryer sheets, including two known carcinogens, acetaldehyde and benzene."
Laundry Detergent
What we WERE using at goop:
What we ARE using now:
Fabric Softener & Dryer Sheets
---
Ready to learn more?
"These excellent books will give anyone a next-level education in the toxins that surround us—and more importantly, what we can do about them!," says Renfrew.
---
The Goop Clean Cleaner Shopping List
Since it's hard to keep everything straight, we made an easy-to-use shopping checklist with all the products we're using now.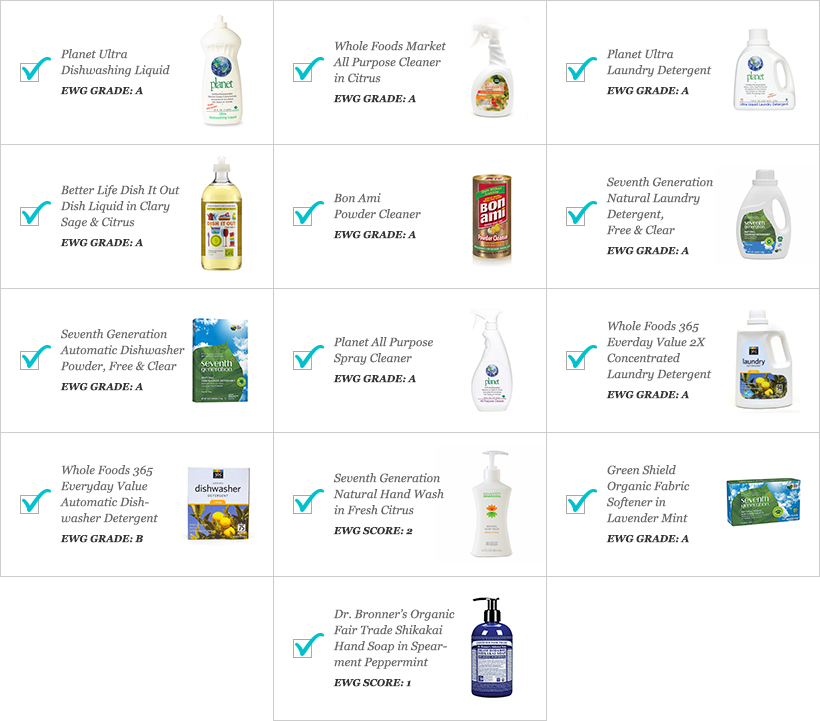 Related: Common Household Toxins