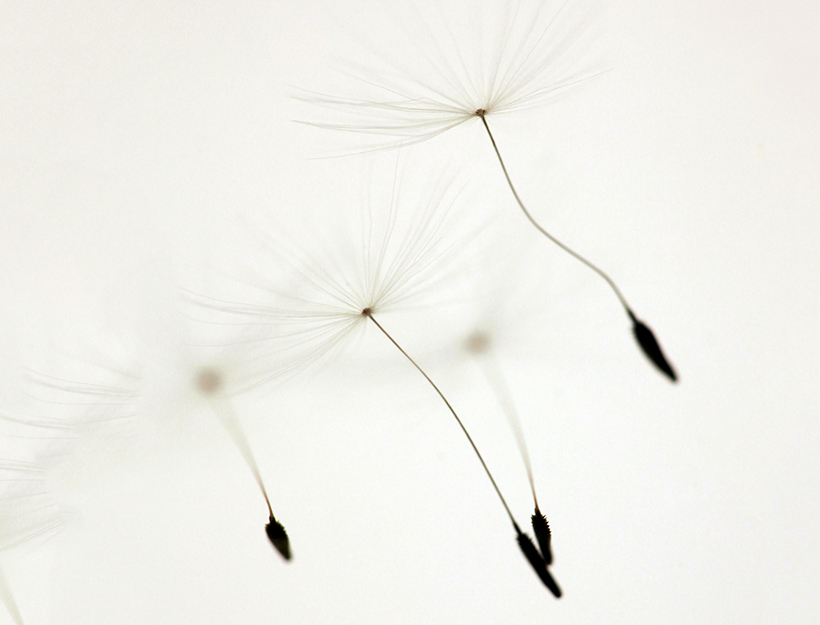 The Allergy Epidemic—and What To Do About It
Even 20 years ago, it was rare to encounter someone with life-threatening allergies—some light hay fever, sure, but nothing like the omnipresence of allergies today. According to Dr. Leo Galland, one of the fathers of functional medicine as we know it, at least one in every three Americans is affected by allergies, including an increasing number of children. In his new book, The Allergy Solution, (which he co-authored with his son Jonathan, J.D., also an expert on integrated health), Dr. Galland explains that not only are the causes often wrapped up in mystery, but the symptoms that we commonly associate with allergies—sneezing, eczema, itchy eyes—are just the beginning, that mood disorders, weight gain, and fatigue can also be attributed to underlying allergens. The book not only details what's going on, but it offers some relief, too, by way of nutritional programs and simple elimination cleanses which will help you figure out what exactly is at play. Dr. Galland explains more below.
A Q&A with Dr. Leo Galland
Q
Why are allergies on rise? And why do you think there are so many more allergic children?
A
Allergies have reached epidemic proportions. They now affect at least a third of all Americans. Children are becoming more allergic for the same reasons their parents are: increasing exposure to toxins like formaldehyde and synthetic fragrances in their homes; depletion of beneficial bacteria through exposure to antibiotics, pesticides, and herbicides in food; and the use of antibacterial soaps, shampoos, and cleaning products. Nutrition has a profound effect on susceptibility to these environmental changes. Fast food, which is high in sugar and unhealthy fats, increases susceptibility. Vegetables, fruits, herbs, spices, nuts, seeds, and tea decrease susceptibility.
Q
What are the most common symptoms of allergies, and are they all evident (i.e. itchy eyes, eczema, and runny noses)?
A
The most obvious symptoms are sneezing, itching, watery eyes, coughing, wheezing, and diarrhea. These are all attempts by your body to remove or exclude things that are irritating or toxic. Just as common is a long list of symptoms that people don't usually recognize as being symptoms of allergies. These result from the systemic inflammation that allergies create: Symptoms like fatigue, weight gain, joint and muscle pain, heartburn, brain fog, and mood disorders.
Q
What's the deal with gluten? Is it the glyphosate? Is it the abundance of protein? Are most people allergic or intolerant, and what's the difference?
A
Glyphosate is a huge problem, not just with wheat but with all foods grown through industrial agriculture. These plants are genetically engineered to resist glyphosate, so they can be sprayed with it. Glyphosate kills the weeds, making it easier to grow and harvest crops with machines and a minimum of human contact. As a result, these plants are contaminated with glyphosate. When you eat them, glyphosate alters the bacteria living in your intestines, killing beneficial microbes and encouraging the growth of bacteria that promote inflammation.
The gluten story is complicated. Gluten is not one substance but a mixture of different proteins. When you digest them, there are potentially toxic substances produced. How you handle them depends on your genes and also the bacteria growing in your gut. Bifidobacteria protect against the toxic effects of gluten, but many people lack Bifidobacteria. Although millions of people in the U.S. are allergic to gluten or other proteins in wheat, millions more are intolerant of the starch found in wheat. This starch is hard to digest and is readily fermented by intestinal bacteria to produce gas and bloating.
Q
What are the other most common (but potentially under-addressed) allergens in diet?
A
The other major dietary allergens are dairy products, corn, soy, yeast, and peanuts. Artificial colors and flavors are also common allergens. Even very healthy foods like eggs, fish, and nuts can provoke allergies.
Q
Does the uptick in toxins in personal care products and cleaning products affect allergies?
A
The increase in toxins in personal care and cleaning products has a major impact on the allergy epidemic. Here's an example: triclosan. It's a synthetic anti-bacterial chemical used in soaps, shampoos, cleaning products, even clothing. When it touches your skin, it's absorbed and travels through your entire body. Half of people tested have triclosan coming out of their noses. Children exposed to triclosan have an increased risk of developing allergies of all types. Although triclosan is intended to kill harmful bacteria, it not only kills good bacteria, it encourages the growth of dangerous Staph bacteria. Staph bacteria produce toxins that cause an imbalance in your immune system, making you more allergic. When lab rats have triclosan applied to their skin, they become allergic to peanuts in their chow; untreated rats do not develop peanut allergies. You should avoid using triclosan in anything. And since it's not always listed on labels, you may need to check for ingredients online.
Q
You talk a lot about how allergies can speed weight gain and inhibit weight loss? Why is this exactly?
A
Allergic reactions release over 200 chemicals into your tissues. Some of these actually make fat cells grow larger. That's the reason why people with asthma or allergies are more likely to gain weight than people without allergies, and why people who use prescription allergy medication are more likely to become overweight than people who don't.
Q
What are the other issues with chronic allergies? Do they create system-wide inflammation and encourage disease? What's the body's response to something that it's allergic to?
A
The body responds to an allergic exposure by generating a systemic inflammatory response that may produce a wide range of symptoms that can mimic other diseases. I've seen that allergies are the underlying problem for many people with diagnoses like fibromyalgia, irritable bowel syndrome, GERD (gastroesophageal reflux disease), migraine, attention deficit disorder, arthritis, and even lupus.
Q
What's the best way to control allergies? Is it through avoidance and medicine (i.e., antihistamines), or are there things that you can do to address the root of the issue?
A
The best way to treat allergies is by dealing with their underlying causes through smart environmental choices and eating the right foods. The main goal of The Allergy Solution is to help people address the root causes of allergy so that their symptoms improve and they actually become less allergic. Drugs merely suppress symptoms and often don't work very well or have side effects. About two-thirds of people with chronic allergies do not get full relief with drugs.
I've seen so many people overcome allergies by removing toxic chemicals from their homes, using fermented foods or probiotics, and eating foods that have anti-allergic effects. Foods with proven ability to fight allergy include green tea and oolong tea, turmeric, parsley, strawberries, broccoli, and broccoli sprouts. Their effects are due to the specific phytonutrients that they contain. Also, nuts and seeds combat allergy because of their high content of anti-inflammatory minerals like magnesium (almonds), selenium (Brazil nuts), or omega-3 fats (chia seeds). (But if you're allergic to any of these nuts, of course, you shouldn't eat them.)