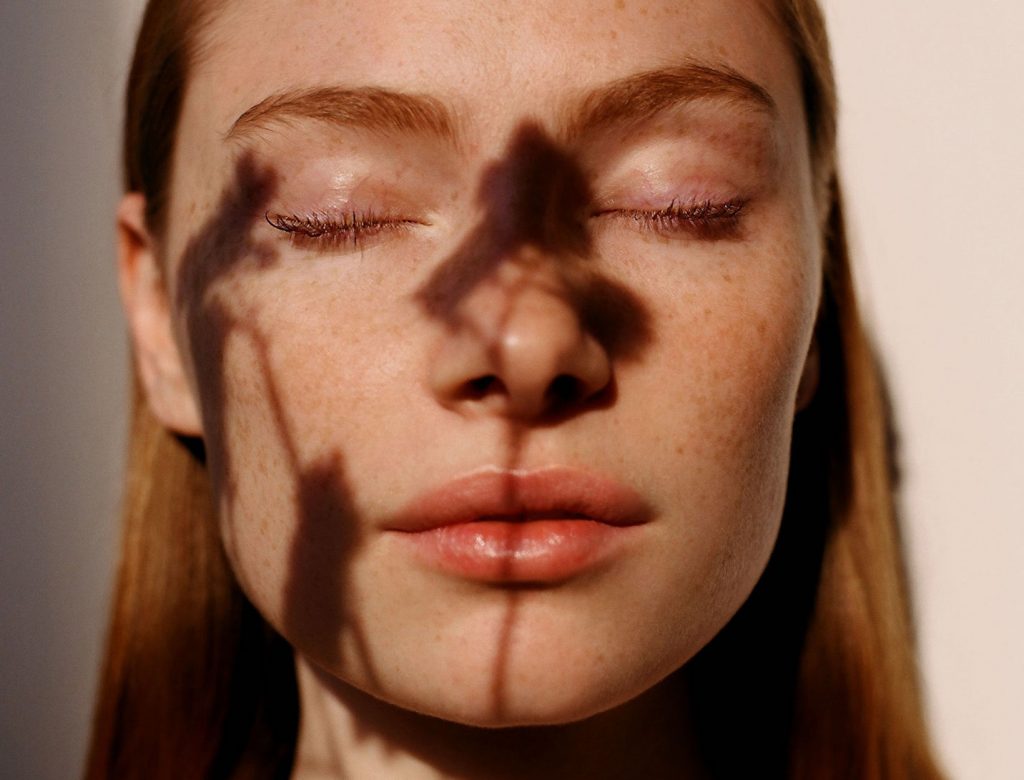 Photo courtesy of Anya Holdstock
Can an Ecuadorian Fern Support Skin Health?
Can an Ecuadorian Fern
Support Skin Health?
Our skin is supposed to be tough—that's its job. But it's not superhuman. Skin is our body's first line of defense against sun, smog, and on and on the list of environmental factors goes. Add stress, smoking (vaping, too), inadequate sleep, or an imperfect diet: All of this can take a toll on skin's ability to protect the body.
Short-term irritations, like peeling and dryness, as well as long-term effects, like wrinkles and sun spots, crop up as signs of environmental damage from free radicals. The first, most vital step, says physician-scientist Emilia Javorsky, MD, MPH, is to minimize damage: Eat a balanced diet, get a full night's sleep, don't smoke, wear sunscreen, and stick to the shade when possible. The second step: Minimize damage in a different way.
Some level of injury to the skin is unavoidable—and proof that you're living life. There will be long days on the beach, sleepless red-eye flights, and things outside of your control, like the air quality of a city. That's why we call in backup: "In order to maintain truly healthy skin, we need more than just a topical approach," says Javorsky. During her seven years as a dermatology researcher, what surprised Javorsky was that most people don't take advantage of good, science-backed strategies for skin health. "Most notably," she says, "ingestibles."
That's why she made one people would want to take. The Base Layer—the first ingestible skin support supplement from Sundaily, where Javorsky is a cofounder and the chief scientific officer—is a daily gummy. It's made with vitamin D3 and polypodium, an antioxidant-containing Ecuadorian fern extract with decades of research behind it.
Not for nothing: It also tastes good. The Base Layer is flavored with organic orange oil, which puts it on the right side of sweet. And it feels good to know that, underneath the sunscreen and the creams and oils and moisturizers, underneath the skin itself, there's something else playing defense.
A Q&A with Emilia
Javorsky, MD, MPH
Q
What's Sundaily all about?
A
Healthy skin from within.
There are countless products on the market today that promise a shortcut to "youthful skin." But we firmly believe that beauty starts with health. Achieving this takes both a strong standard of evidence and significant education. Most people would be shocked by how many of the creams, gels, serums, washes, toners, and cleansers we use lack the fundamental clinical research to support their claims.
Step one is making sure all of our products use ingredients that have been clinically tested—meaning actually tested on humans, with the results published in peer-reviewed academic journals.
Step two is educating consumers on what to require of their products. That is, getting them to ask the right questions: What ingredients are you using? What studies have been done on it? At what dose? What's the source? All of
that matters.
---
Q
Why did you create The Base Layer?
A
In the spirit of prevention and helping our skin fight back against environmental stressors like sun, smog, and stress, we decided to start our ingestible skin journey with a foundational product for skin health: The Base Layer. This gummy helps boost your skin's natural ability to fight back against the free radical damage we encounter living our daily lives. It's about the basics, since that's where most skin concerns stem from. It's focused on a core goal of long-term healthy skin.
---
Q
How did you choose what goes into it?
A
The Base Layer's two active ingredients are Polypodium leucotomos extract (PLE), and vitamin D3. Polypodium sounds fancy, but it's just a really long name for an antioxidant-boosting fern native to Central and South America. Ours is sourced from Ecuador. Polypodium has been used extensively for centuries in traditional medicine for its skin-health and anti-inflammatory benefits, and the first paper on PLE was published in an academic journal more than fifty years ago.
The Base Layer also contains the world's only vegan vitamin D3, a key vitamin for supporting the maintenance of healthy skin and combating environmental stressors. Vitamin D is very difficult to get enough of from diet alone, and it is also the vitamin with the strongest data for supplementation, so it was important to us that it was part of our foundational daily gummy for skin health.
Above all, our ingredients have been rigorously studied over decades and have also been shown to be very well-tolerated over their long history of research and use.
We also go the extra mile with our ingredients, both active and inactive: Whenever possible, they're vegan; non-GMO; gluten-, soy-, and nut-free; made with organic ingredients; and made here in the USA in an FDA-inspected, cGMP facility.
---
Q
Why a gummy?
A
Because they're awesome and tasty! Like all skin-care routines, our products work only if you actually use them. So why not make them fun to use? The Base Layer is flavored with organic orange oil. It's delicious. And something I actually look forward to taking every day.
---
Q
How are you trying to make a larger impact with Sundaily?
A
Sundaily is a pending certified B Corp, which means that we believe that business can and should be a force for good in the world. Under B Corp standards, we balance purpose and profit and are legally required to consider the impact of our decisions on our workers, customers, suppliers, community, and environment.
Additionally, we donate a portion of our revenue to two nonprofit partners: Girls, Inc. and the EWG. Both causes—developing and creating educational opportunities for girls, and environmental, product, and ingredient health—are close to our hearts and those of our community.
---
Q
We're curious: What's your skin routine?
A
When you're deep in skin science, you learn pretty quickly that everything you do is connected to skin health one way or another. Things like sun, sleep, pollution, and other environmental stressors all take their toll. UV light is the number one offender in the environmental stressor category, causing the bulk of preventable skin aging and skin health effects. So I am religious about sunscreen, using a mineral one daily (even living in Boston, even in winter). In terms of other topical products, I'm pretty minimalist. I use a gentle cleanser and a daily moisturizer containing retinol.
And I take full advantage of ingestibles for my skin health. I take The Base Layer every morning, along with an omega-3 capsule and a matcha shot.
To address the other environmental stressors, I meditate daily and, despite an intense workload, am pretty strict about getting my seven to eight hours of sleep. I've always envied people who can survive and thrive on less, but I'm definitely not one of them. I try to eat a primarily plant-based diet and get cardio in three times per week.
---
Emilia Javorsky, MD, MPH, is a cofounder and the chief scientific officer of Sundaily. She earned her master's in health policy and management from Boston University and her MD from the University of Massachusetts. Javorsky did her postdoctoral work as a dermatology researcher at Harvard Medical School, and she was named in the Forbes 30 Under 30 Class of 2017 in Healthcare.
---
This article is for informational purposes only, even if and to the extent that it features the advice of physicians and medical practitioners. This article is not, nor is it intended to be, a substitute for professional medical advice, diagnosis, or treatment and should never be relied upon for specific medical advice. The views expressed in this article are the views of the expert and do not necessarily represent the views of goop.