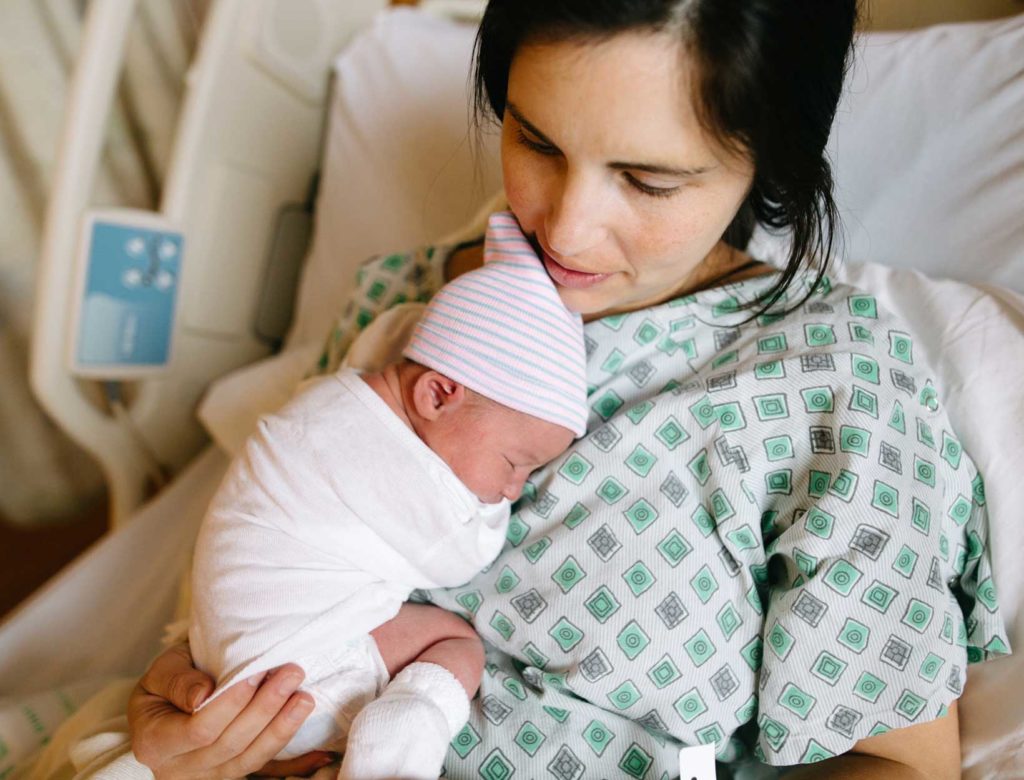 How an Ob-Gyn Is Handling Pregnancy and Birth during COVID-19
Obstetrician-gynecologist Caitlin Fiss, MD, is grateful that the labor and delivery unit at her hospital is an island. In other areas of medicine, doctors are being deployed as intensive care specialists to work against COVID-19 in the ICU. But because there's a finite number of doctors who can deliver babies—and because no baby's going to hold off on being born until this is all over—ob-gyns are being retained to do what they do best.
That said, there are some special considerations when you're delivering babies during a pandemic. Every one of them is about protecting every person in the room: mom, baby, and medical professionals. And that means that the stars might not align for every birth plan. Here's how Fiss is handling the health of her patients and her staff as the pandemic goes on.
A Q&A with Caitlin Fiss, MD
Q
How are you handling care for pregnant patients during COVID-19?
A
There's no data on how pregnant women really will do during COVID-19. We're treating everyone as if they're going to be high risk, just because we know that there are physiological changes that happen with pregnancy that make women more susceptible to diseases like influenza. By extrapolation, we're expecting pregnancy may make them more susceptible to some of the disease associated with coronavirus. So even though we haven't collected enough data about it to make any definitive conclusions, we're expecting every case to be a worst case scenario.
Right now, our office is only seeing our obstetric patients and emergency gynecological issues—and we're individualizing schedules so that visits are handled by telemedicine when possible. We're seeing patients in the office only if we absolutely have to, and we're basing those decisions on where they are in their pregnancy and what their personal risks are during this pregnancy.
---
Q
What are your patients most concerned about right now?
A
People are focused on coming into the hospital and what the labor experience is going to be like.
In our hospital, which is one of New York's major medical centers, our obstetric unit is separate from the rest of the hospital. When patients come in, they're met at the door and both the patient and their partner are tested for COVID. Our hospital doesn't yet have a point-of-care test, where we're able to test people on the spot and know whether they're positive or negative for the virus in five or ten minutes. We don't have the forty-five minute test either. For the tests that we do have, it still takes about eight hours to get back, best case scenario. By the time we have test results, often our patients are well into labor or may have already delivered.
The reason we're doing that test is to make sure we get patients into postpartum units that are designated COVID-positive, COVID-negative, or COVID-unknown. If you're COVID-negative and you come into the hospital, you go to a COVID-negative floor after delivery with your baby and are cared for with other COVID-negative moms. Plus, testing for the patient's and partner's COVID-19 status helps us make recommendations about caring for their newborn during the pandemic.
---
Q
How are hospitals changing the rules around delivery to best protect expecting mothers and their doctors?
A
When we were still under the hospital's mandate not to let any patients' partners in the room—when the virus first hit New York, there was a general "no visitors" rule in the hospital, which included the obstetrics ward—I was very much an advocate for my patients. I wanted partners and mothers and whoever else to be in the room to share the experience and support the patient. Since then, the New York governor overturned the no visitors rule for patients giving birth, allowing them to have a support person in the labor and delivery room. But after being on the labor floor last Saturday, I'm against governor's mandate. Having additional people in the room is adding potential coronavirus exposure to our health care workers as well as our other patients, and it's using up valuable personal protective equipment and coronavirus tests.
"It's not just about getting enough personal protective equipment; it's about getting the right kind."
Right now, we won't know for eight to twelve hours whether our patients' partners are going to have positive or negative test results for COVID-19. And our medical teams don't have the right equipment to protect themselves against those potential exposures. If and when we have the right personal protective equipment—and enough of it—I'll be happy to reconsider. But until we can protect those on the front lines, I don't see how we can put them at additional risk on top of what they incur coming to work every day during this pandemic.
---
Q
How are your patients coping with limitations on loved ones and birth support, like their doula, in the delivery room?
A
People are starting to get it. Slowly, it's settling in that this is something bigger than them and their birthing experience. This is about our whole community. And more often than not, so far, my patients have been worried for my safety and the safety of my team, so there hasn't been a lot of pushback against the new rules. That one person in the room is being considered a luxury, especially since just a week ago they might not even have been allowed to have their partner in the room.
And you know what? Even then, last week, when patients weren't allowed to have their partner in the delivery room and really thought they couldn't do it, so many of them surprised themselves. They started out feeling like there was no way they could do this without their husband in the room. Then they would give birth with just me and two nurses in the room and do absolutely beautifully. It might not have been the birth team that they had envisioned, but listen: Women can get through this. And they are.
---
Q
Is it safe for expecting mothers to change their plans to a home birth?
A
For the same reason you wouldn't have a home birth before COVID-19, don't have a home birth now. Even if you're otherwise healthy and your pregnancy hasn't been complicated. Even though over 90 percent of those births go smoothly, a small percentage don't—and if you're not in a medical center when emergencies happen, the consequences for both moms and babies could affect them for the rest of their lives.
"For the same reason you wouldn't have a home birth before COVID-19, don't have a home birth now."
Realistically, the chance of your contracting the virus in the hospital is actually very low. But the risk of having an unpredictable obstetrical emergency while you're delivering at home and needing to be immediately transferred to the hospital is a possible danger with serious consequences. And, at least in New York, our 911 team is overwhelmed. I don't know how long it would take you to get through to 911, and I don't know how long it would take them to send someone to get you and transfer you to a hospital. And then, you're going into an emergency room, where the risk of contracting COVID may be much higher than it would be in a labor and delivery ward.
---
Q
What's the best way to support safe deliveries during COVID-19?
A
The other day I was doing a delivery, and I was handed the same type of mask I've used every single day for the last twenty-five years. But if you look at what doctors were wearing to protect themselves in Wuhan, they're in full moon suits. It's not just about getting enough personal protective equipment; it's about getting the right kind.
My heart goes out to the young doctors and nurses who are going to work every day and putting their lives on the line to serve those who are sick. They don't get paid a lot. They have no voice to speak to the larger public. Right now, they're going into battle with no gear. Many of them will get sick, and some will die. Nobody's asking for more money or vacation time. All they're asking for is the right equipment to protect themselves and the ability to get tested. So many young medical professionals have been saying that if they knew they had already contracted and survived the virus, they would feel better about being on those front lines.
The best way to make sure labor and delivery is safe is to make sure it's safe for the medical staff to deliver the same level of care they deliver all the time.
---
Caitlin Fiss, MD, is board-certified by the American Board of Obstetrics and Gynecology and is a diplomate of the American College of Obstetricians and Gynecologists. She earned her medical degree from Brown University School of Medicine and completed her residency in obstetrics and gynecology at Mount Sinai Hospital in New York City. She's in private practice in NYC and is a clinical instructor at Mount Sinai Medical Center.
---
This article is for informational purposes only, even if and regardless of whether it features the advice of physicians and medical practitioners. This article is not, nor is it intended to be, a substitute for professional medical advice, diagnosis, or treatment and should never be relied upon for specific medical advice. The views expressed in this article are the views of the expert and do not necessarily represent the views of goop.