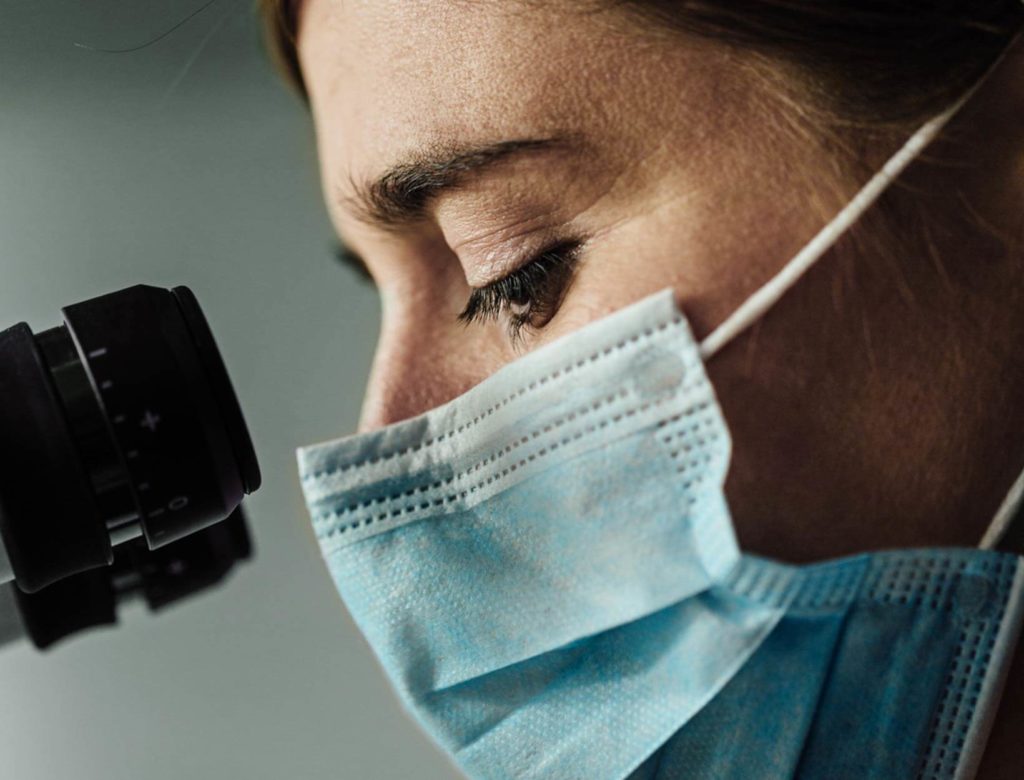 What Scientists are Learning about COVID-19
What Scientists are Learning about COVID-19
With the outbreak of the COVID-19 pandemic, researchers around the globe are racing to better understand and predict how the virus works, how it's spreading, and how we can mount a response to best protect our communities. There's new information coming out every day from countries that have been hit the hardest early on, like China and Italy, while data from South Korea provides a map for public health experts of how the outbreak can be blunted with a proactive response.
Researchers have characterized how the virus spreads (likely from respiratory droplets—see our Q&A with virologist Angela Rasmussen, PhD), how long it lives on surfaces, how long it takes for patients to show symptoms, and how social distancing can reduce the spread of the virus. But what's still to be determined is how the virus originated, why it's so infectious, and how it can most effectively be treated.
We've summarized four of the most important new research findings on COVID-19. For developing news and public health commentary, see our roundup of the public health experts we're following for updates.
Researchers from the National Institute of Allergy and Infectious Diseases evaluated how stable SARS-CoV-2, the virus responsible for the COVID-19 disease outbreak, was on various surfaces. The researchers examined the virus under five environmental conditions: aerosols (airborne droplets) as well as application to plastic, stainless steel, copper, and cardboard. SARS-CoV-2 was viable (able to cause infection) in aerosols after three hours. Seventy-two hours after being applied to plastic and stainless steel surfaces, SARS-CoV-2 was still viable, although the viral load was greatly reduced. SARS-CoV-2 was more stable on plastic and stainless steel than it was on copper or cardboard—after four hours, no viable SARS-CoV-2 was measured on copper, and after twenty-four hours, no viable SARS-CoV-2 was measured on cardboard. The researchers concluded that SARS-CoV-2 was similar to SARS-CoV-1, the SARS virus that caused the 2003 outbreak, on these surfaces, indicating similar types of transmission.
The key takeaway here: The virus responsible for COVID-19 will decay on surfaces over time, remaining on plastic and stainless steel surfaces for up to seventy-two hours, copper for a few hours, and cardboard for about a day. To protect yourself, disinfect high-touch surfaces daily and wash your hands frequently for at least twenty seconds.
---
Using data from 181 reported cases of COVID-19, researchers from Johns Hopkins Bloomberg School of Public Health ran several models to estimate the incubation period (the time between the exposure to infection and the appearance of symptoms) of COVID-19. The majority of the cases studied were either residents of Hubei, the province in China where the first cluster of COVID-19 cases was reported, or patients who had a known travel history to Wuhan, the capital of Hubei province.
The researchers estimated that the median incubation period of COVID-19 was 5.1 days. They also estimated that fewer than 2.5 percent of infected people showed symptoms after two days and that for 97.5 percent of people, symptoms appeared by 11.5 days.
The findings from this study and others have helped inform the public health policies recommending fourteen days of active monitoring for people likely exposed to COVID-19. This study also emphasizes the importance of social distancing because, on average, symptoms take almost a week to appear.
---
Another crucial reason to practice physical distancing: An infected person may not show symptoms at all, according to research.
Researchers from the Graduate School of Medicine at Hokkaido University in Japan used data from Japanese citizens who were evacuated from Wuhan, China, during the initial days of the COVID-19 outbreak. Of the 565 citizens evacuated on February 6, 2020, thirteen tested positive for COVID-19. After thirty days of observation, four of these patients showed no symptoms—meaning an estimated 30.8 percent of evacuated citizens were asymptomatic (showed no symptoms) for COVID-19.
In a separate analysis, another team of Japanese researchers examined data from guests on the Diamond Princess, where a COVID-19 outbreak was reported in early February 2020, to determine how many were asymptomatic. The ship carried 3,711 passengers and crew members, 3,063 of these people were tested for COVID-19, and 634 people tested positive. Of those 634 positive cases, the researchers found that 17.9 percent of the infected cases were asymptomatic.
---
A study from public health researchers at the National University of Singapore used a simulation model to estimate how various social distancing interventions could prevent the spread of COVID-19 in Singapore. The researchers estimated the number of infections across Singapore at different R0 values (an epidemiological measure that reports the average number of people who will be infected by a single person with the virus) as well as different social distancing scenarios (quarantining infected individuals and their family members, closing schools, having employees work from home, or a combination of all three measures).
The researchers estimated that if the R0 value were two (meaning that on average each person with COVID-19 would spread it to two other people) and no social distancing measures were implemented, then 19.3 percent of Singapore's population would develop COVID-19 after eighty days. If infected people and their family members were quarantined, more than 80 percent of those cases could be avoided. If schools were closed, more than 86 percent of those cases could be avoided. If workplaces closed, over 90 percent of those cases could be avoided. And if the country took a combined approach—quarantining, closing schools, and having employees work from home—more than 93 percent of those cases could be avoided.
Thus, this study shows how sweeping social distancing policies—reducing contact with other people and avoiding public places—can reduce the transmission of the COVID-19 virus.
TL;DR: If you can, stay home.
---