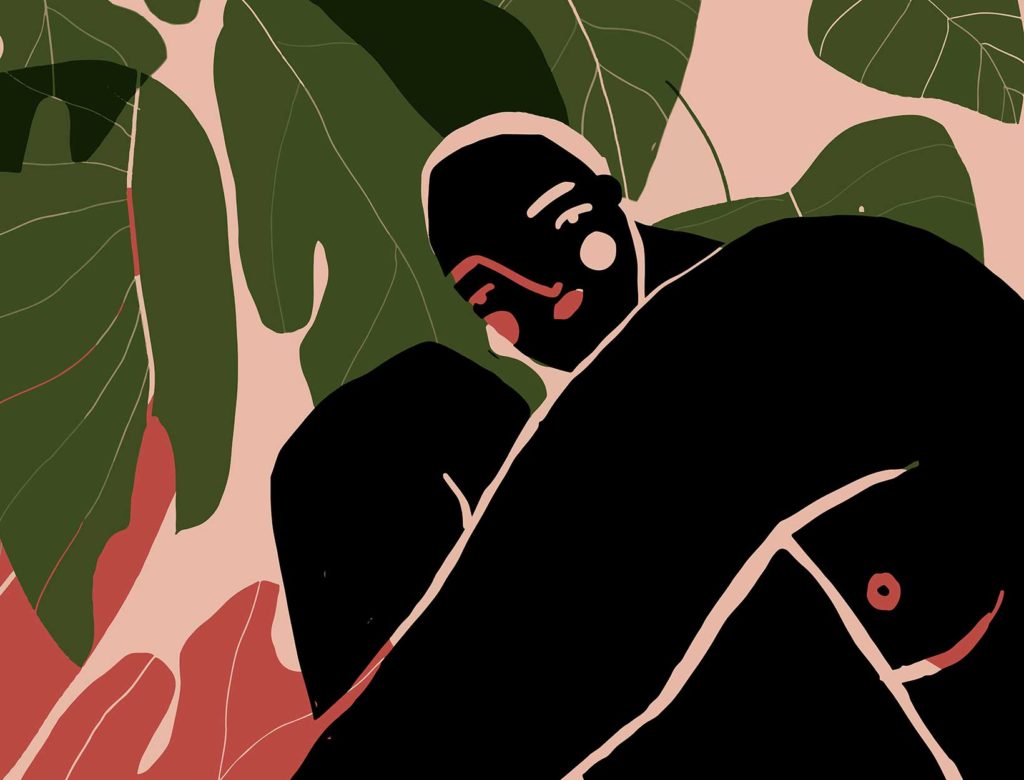 Illustration by Weronika Marianna
How to Manage Stress with Ayurveda
How to Manage Stress with Ayurveda
In partnership with our friends at Youtheory
Ashwagandha is the It girl of herbs, the star performer of our supplement cabinet, the gem of wellness junkies' morning smoothies everywhere. Of course, ashwagandha isn't magic, says Nick Bitz, ND. It's a science-backed, time-tested tool for easing your body's stress response over time.
Bitz has been working with ashwagandha and other adaptogens for years, both in his Ayurveda-driven naturopathic medicine practice and as a product innovator at the wellness brand Youtheory. His job involves demystifying Ayurveda for the uninitiated, as well as deepening the understanding of those who have been into this for a while. We fall more into the latter camp and walked away from our conversation with Bitz with a firmer grasp (and renewed curiosity) about what this plant can do—plus a toolkit of free Ayurvedic stress-management tools.
A Q&A with Nick Bitz, ND
Q
Why is Ayurveda a good guide for managing stress?
A
Stress, as a term, is highly subjective—it really defies definition. If you ask ten people what stress is, you're going to get ten different answers. I look at it this way: Stress is not what happens to you but what happens within you. It's a physiological reaction inside the body in response to some kind of stimulus, whether physical or emotional or environmental. Different healing models define this stress response differently.
Ayurveda is unique because it looks at the energetic properties of the body. Ayurvedic physicians and experts view stress as a disturbance of the nervous system, which is mainly regulated by vata, an invisible wind-air energy that regulates movement inside the body. Some of us naturally have more vata inside us, and others have less. But when we go through a stress response, the amount of vata, or movement, in the body increases. This kinetic energy can be beneficial in the short term, but it wreaks havoc on the body and mind over time. According to Ayurveda, that's stress.
To manage stress, Ayurveda aims to quiet the fluctuations of the body and mind. The goal is to pacify this vata energy. There are a ton of ways that you can quiet the wind of vata: through diet and lifestyle measures, through sleep, through botanicals—all these things that are anti-vata. According to Ayurveda, vata is what drives disease in the long term, so pacifying and quieting vata is a primary consideration for health and longevity.
---
Q
How do you approach stress management from a holistic perspective?
A
Whenever I talk about stress management, I like to touch on something I call the four A's. They are the four ways that you can theoretically manage the effects of stress inside the body: avoid, alter, adapt, and accept.
I've come to believe that adaptation is how we can undercut stress in the most meaningful and most significant way. It's really hard to avoid stress, alter it, or just be like, "Oh, I'm going to accept how stressed out I am and just let it be like that." It's more feasible to find ways to adapt over time so that your response to stress isn't so intense.
---
Q
Why are adaptogens such good tools in a stress-management protocol?
A
Adaptogens are a family of botanicals that have really interesting properties. There are about eight well-researched adaptogens. To be an adaptogen, a substance has to meet three criteria: It has to be nontoxic and non-habit-forming, it has to be balancing in the body, and most importantly, it has to be supportive of the body's ability to resist stressors.
Adaptogens generally work through what we call the HPA axis, which how the hypothalamus, the pituitary gland, and the adrenal glands interact. Over time, adaptogens help modify that interaction so that your body responds appropriately to stress and the stress response doesn't spike too high. Adaptogens also influence the autonomic nervous system, helping promote the parasympathetic (rest-and-digest) response and tone down an occasionally overreactive sympathetic (fight-or-flight) response.
---
Q
Are different adaptogens best suited to different Ayurvedic constitutions? Are there any that work for all types of people?
A
The coolest thing about Ayurveda is that it breaks everything down in terms of energetic qualities—including the body, food, botanicals, and lifestyle techniques. Everything in the known universe can be described as hot or cold, dry or moist, heavy or light, mobile or inert, etc. It's these energetic qualities that determine whether something is healthy for you, based on how it influences your unique body type. If it brings balance to your body, it's healthy. If it creates imbalance, it's unhealthy.
A good starting point for finding your body type is an online questionnaire, but those tend to be rudimentary and somewhat imprecise. The best way to determine your Ayurvedic body type is to get a body type constitution diagnosis from an Ayurvedic practitioner. They can use pulse, face, and tongue diagnosis to tell you precisely what your ratio of vata, pitta, and kapha is. Or, you can simply use the body as a laboratory, trying different herbs to see what works for you.
Following the principles of Ayurveda, you need to match the energetic qualities of your daily activities, diet, and botanicals with what your body type calls for. The basic principle is that like increases like, while opposites balance. For example, the herb rhodiola tends to be extremely stimulating, drying, and cold. So if your body has the opposite qualities—slow, oily, and hot—rhodiola is perfect for you. On the other hand, if you take the herb licorice, you'll notice that it's calming, cooling, and moistening in the body. If you're a person who is overwhelmed, overstimulated, hot, and super dry, licorice may help your body balance out. If you try Panax ginseng and find it too stimulating, too hot, or too fiery, take the cue that it's not right for you. Or you might try schisandra and find it too mild.
That said, of all the adaptogens, I prefer ashwagandha. It's considered the king of all herbs in Ayurveda. What makes ashwagandha special is that it has this dual capacity to calm and energize the body at the same time. It's also strongly anti-vata and reduces the effects of stress. Most people, I've found, have a very positive experience with ashwagandha, and so they continue to take it day after day in the long-term. And that's when you get the benefits. With adaptogens, you don't take just one dose and expect results. It's the daily, continuous dosing over time that provides these stress-adapting effects inside the body.
---
Q
How is ashwagandha traditionally taken, and how have you adapted this process for new users?
A
Traditionally, in India, ashwagandha is consumed as a powder. It's generally taken with dairy—either milk or ghee—and some kind of sweetener, whether that's sugar or honey. You would normally take this milky concoction at night, before you go to sleep. The reason they do that is that the milk and honey works as an anupana: a vehicle that helps drive the herbs into the body with maximum effect. It's not a technique exclusive to ashwagandha; Ayurveda always recommends you take medicines with an anupana, that vehicle.
In America, people often prefer to take pills. It's one less step you have to take. Powders are great if you use them, but I find they become difficult in terms of compliance. Often people will throw them in smoothies or oatmeal for a week, and then, eventually, it becomes burdensome. They push the powder to the back of their cupboard, and then they forget to use it.
So if you think you might be one of those people, pills are the way to go. There are companies that pretreat ashwagandha with milk so that it approximates the traditional Ayurvedic method, but considering that a lot of people avoid dairy these days, a water-extracted ashwagandha is the next best option. You just need to be sure that your ashwagandha includes some kind of anupana. We at Youtheory didn't use a milk extraction for our formula. Instead, we pressed ashwagandha powder into tablets and added a little ginger So we're taking that tradition of an anupana and making it easy for someone who's just getting into these herbs and might not have those preparatory habits baked into their routine.
---
Q
What is the best time of day to take ashwagandha?
A
Botanicals are best taken with food, I find, because that's when your digestive capacity is at its greatest. As a rule, I recommend taking any kind of adaptogens first thing in the morning or at lunchtime. Ashwagandha does have that calming property—in fact, its Latin name is Withania somnifera, which means the sleeping scientist—and some people choose to take it before sleep. But I find that ashwagandha is a little bit too stimulating to take at night. When I take ashwagandha in the morning, it gives me that calm energy throughout the day, and then I sleep well when I go to bed that night.
I also suggest people take ashwagandha with their biggest meal of the day, and that's hopefully going to be lunch, when the sun's at the highest point in the sky and your digestive fire is at its highest point in the body. But it comes down to the person. Whenever is the most convenient for them.
---
Q
How do you figure out your dose?
A
Often, with botanicals, people don't take large enough doses for a long enough period of time. That's the most common mistake I see. Generally, when you're taking ashwagandha powder, you should consider taking one to two grams per day at a minimum. (You can consume upwards of twenty grams a day safely.) When you're using concentrated extracts, you need significantly less. They're often much more potent than the powders—make sure you're reading labels. At Youtheory, we use a branded ashwagandha called KSM-66 that requires only .6 grams (600 milligrams) per day to get a whole host of benefits.
---
Q
What other Ayurvedic stress management tools do you recommend?
A
Earthing: Ayurveda is intimate with five elements: space, air, fire, water, and earth. For reconnecting with that earth element, I love this idea of earthing. It's a very simple, nonpharmaceutical, nonmedicine approach to stress management that has its roots in a back-to-nature movement that was born and popularized in the 1800s. And all it requires is taking off your shoes and socks and walking barefoot on raw earth. It can have a hugely relaxing effect on the body, especially if you're someone who has lost connection with that element.
Physical touch and Abhyanga: I'm also a huge proponent of what I call vitamin T, which is touch. We know that physical contact with your friends and family, as well as therapeutic massage and self-massage, can help lower cortisol levels significantly over time.
Then, hands down, my favorite part of my daily regimen is something called Abhyanga. "Abhyanga" is a Sanskrit word that just means self-massage. It's this technique where you use a body-type-appropriate oil to give yourself a massage every day before you get into the shower. Vata-dominant people would use sesame oil, the pittas would use coconut oil, and for the kaphas almond oil works really nicely. It's very easy: Give yourself a massage, starting at the head and working toward the toes, letting the oil sink into your tissue, and then take a shower or bath to wash off the oils. It's very nourishing to the body.
That brings us to the concept of ojas, the Ayurvedic concept of promoting moisture in the body. It's one of Ayurveda's primary goals. The idea is that nurturing the body's moisture—its water element—is similar to oiling a piece of leather. If you let a piece of leather sit out outside in the sunshine day after day, it is going to dry out, fall apart, and become part of the earth. But if you're oiling that piece of leather every single day, it will hold up over time.
Pranayama and mindfulness practices: Ayurveda is the sister science of yoga, and so they have a lot of overlap in terms of their recommendations for health and well-being. Pranayama is a yogic concept and really just means breath control. I'm a huge fan of any intentional breathing practice, whether that's belly breathing, alternate nostril breathing, or boxed breathing.
Here's a simple boxed-breathing technique: Inhale for a count of four, hold your breath for a count of four, exhale for a count of four, and then hold your breath again for a count of four. You repeat this cycle until everything quiets down.
Of course, there are other mindfulness and meditation practices that can help recalibrate your system and shift you from a sympathetic fight-or-flight response into that more beneficial parasympathetic calm response. If you can promote that parasympathetic response in the body through yoga, meditation, music, whatever it might be, you're going to experience less of an effect from stress inside the body over time.
---
Nick Bitz, ND, is a licensed, board-certified naturopathic doctor who specializes in Ayurveda. He currently serves as the chief scientific officer at Nutrawise and helps develop nutritional products for the Youtheory brand. Bitz completed his undergraduate studies at the University of Denver, where he received a dual degree in human biology and cognitive neuroscience. He went on to earn his medical degree from Bastyr University and completed his medical residency at the Riverwalk Natural Health Clinic in Colorado.

---
This article is for informational purposes only, even if and regardless of whether it features the advice of physicians and medical practitioners. This article is not, nor is it intended to be, a substitute for professional medical advice, diagnosis, or treatment and should never be relied upon for specific medical advice. The views expressed in this article are the views of the expert and do not necessarily represent the views of goop.