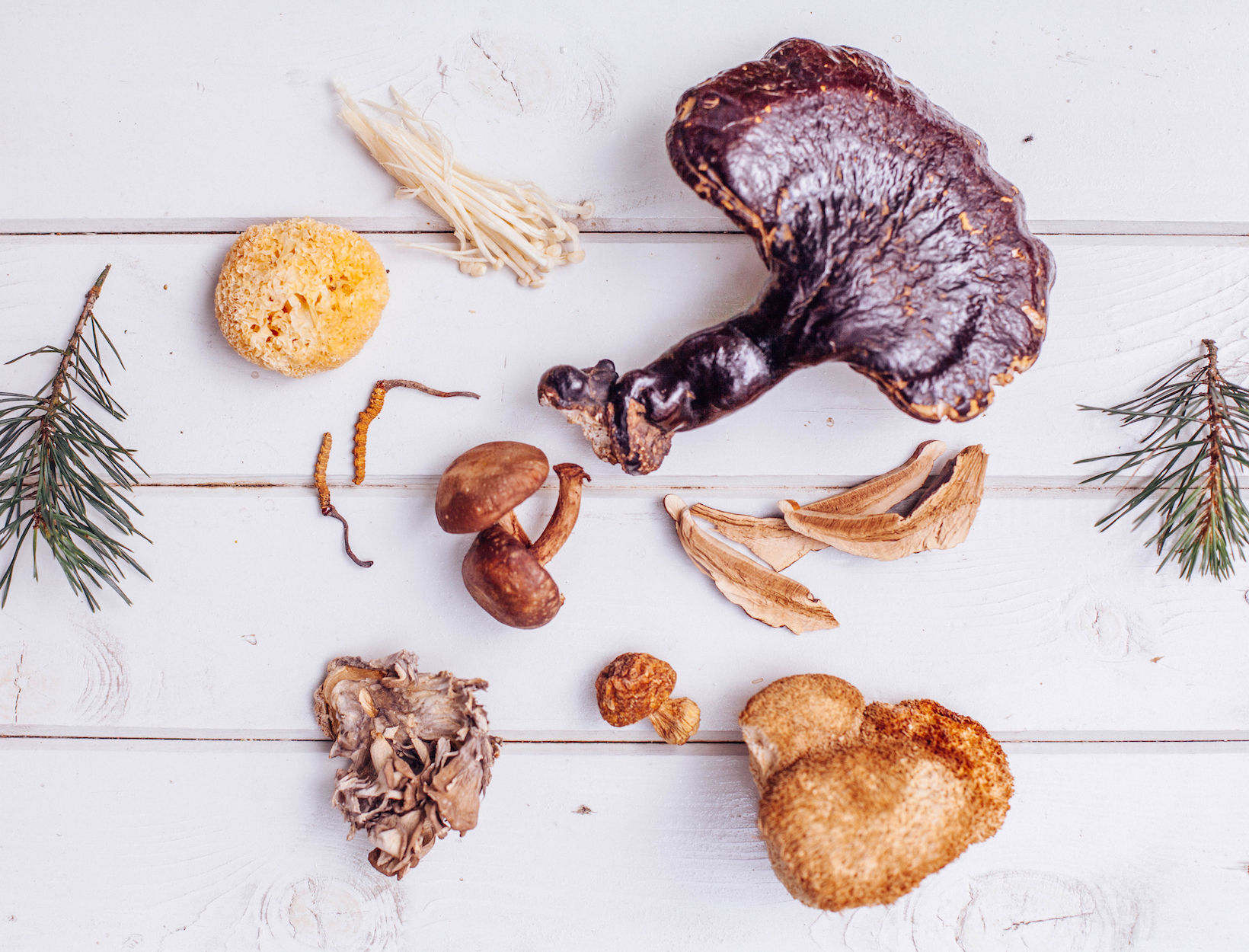 Magic Mushrooms
Photo courtesy of Markus Karjalainen
Magic Mushrooms
Mushroom-powder mania has taken over the goop offices; in particular, four varieties of the superfood. We're mixing them into hot chocolate and protein smoothies, as well as experimenting with the (easy) recipes (mushroom bacon, lattes, cocktails, desserts, and more) in Healing Mushrooms. The cookbook's author, goop contributor Tero Isokauppila, founder and president of Four Sigmatic, which makes many of our favorite mushroom powders (there are great options from Moon Juice and Sun Potion, too), says regularly consuming fungi has health benefits. "I think of it as a workout for the immune system," he says. Here, Isokauppila, who grew up in Finland foraging for mushrooms on his family's since-the-1600s farm takes us through the powers of mushrooms—and how to get them into our diets.
A Q&A with Tero Isokauppila
Q
Which mushrooms should we be taking more of and why?
A
Studies show that functional mushrooms provide nutrients, promote gut health, support environmental well-being, and balance the immune system.
CHAGA
For boosting
immune function
REISHI
For rest and calming
Q
Who should supplement with mushrooms?
A
If you are a human on this planet, you can benefit from mushrooms. They work to promote immunity. People who take mushrooms daily, especially those who mix it up and take a variety of types—seriously benefit, because they may see a change in energy, sleep patterns, their immune system and overall well-being.
Mushrooms are also a source of calorie-free nutrients. They fit well into a keto diet because they don't cause a significant spike in blood sugar.
Mushrooms are incredible for your microbiome. We are hearing a lot about prebiotics and probiotics now; mushrooms can help the gut to create more healthy bacteria.
"If you are a human on this planet, you can benefit from mushrooms."
Q
Is it better to eat the actual mushroom, or is the powder better because of its concentration?
A
A healthy mix of both is ideal. Fresh, whole foods are excellent for us. If you're eating fresh mushrooms, prepare them with heat and lipids to reap the most benefits.
The thing is, most people aren't out foraging on the weekends. That's where elixirs and powders come in. At Four Sigmatic, we make our elixirs with concentrated, pulverized mushrooms. We only use the fruiting bodies.
Q
What's best to combine the powders with?
A
My favorite way to take the powders is with coffee, or to toss them into smoothies made with frozen fruit, spinach, or kale, and a sachet or two of Four Sigmatic cordyceps and lion's mane. In Healing Mushrooms, there are recipes for everything from mushroom bacon and mushroom pancakes to cocktails like Cordysex on the Beach.
Q
What is the easiest recipe in your book?
A
I wrote this cookbook for the average person to be able to make everything inside it, but the easiest recipe besides the teas and coffees is probably the Reishi Chocolate Almonds. Only a few ingredients:
These delicious little morsels–which are stupid easy to whip up–make the perfect afternoon snack or a post-dinner treat.
Tero Isokauppila is the president and founder of Four Sigmatic—a natural superfoods company that produces an impressive range of responsibly sourced mushroom powder supplements. He's also the author of Healing Mushrooms: A Practical and Culinary Guide to Using Mushrooms for Whole Body Health. In his native Finland, Isokauppila grew up on his family's centuries-old farm regularly foraging for mushrooms. He holds a degree in both chemistry and plant-based nutrition from Cornell University and was awarded a Finnish innovation award for discovering that the Japanese matsutake mushroom also grows in Finland. Isokauppila currently lives in California—where he is owner/founder of The Shroom Room in Venice: a café that makes delicious, beautifully crafted, mushroom-based edibles.
The views expressed in this article intend to highlight alternative studies. They are the views of the expert and do not necessarily represent the views of goop. This article is for informational purposes only, even if and to the extent that it features the advice of physicians and medical practitioners. This article is not, nor is it intended to be, a substitute for professional medical advice, diagnosis, or treatment and should never be relied upon for specific medical advice.