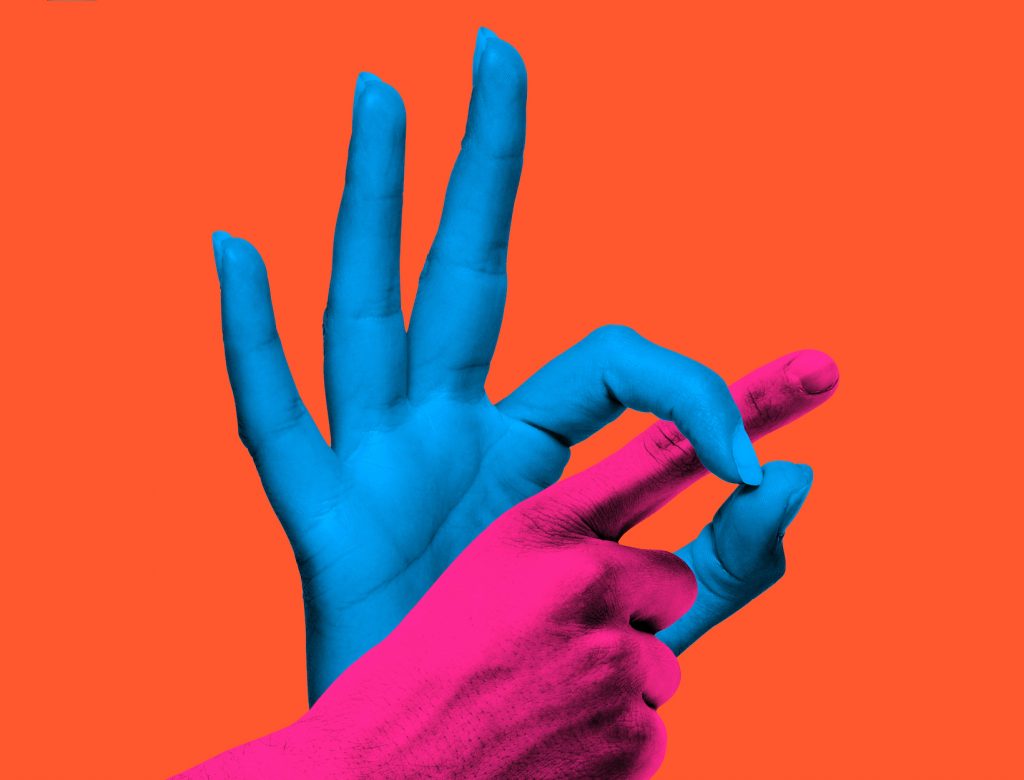 Is Sex Addiction Real?
Sex researchers, clinicians, and the public have different ideas about what constitutes sex addiction—or if there even is such a thing. We are extremely compelled by the perspective of licensed marriage and family therapists and certified sex therapists Douglas Braun-Harvey and Michael Vigorito, who outline their approach to other clinicians in Treating Out of Control Sexual Behavior: Rethinking Sex Addiction. As Braun-Harvey and Vigorito explained to us, they use the term "out of control sexual behavior (OCSB)," as descriptive of someone's subjective experience: "It doesn't mean that they are out of control; feelings are different from behavior." What Braun-Harvey and Vigorito try to determine in their assessment of clients is what underlies the behavior, including any source of internal conflict that might add to the sense of being out of control—and what kind of help clients might need to follow through on the changes they want to make. The duo's larger perspective on what's lacking when it comes to men's sexual health, beyond any debate over sex addiction, is enlightening as well.
(This interview comes straight from the pages of The Sex Issue—for more, read GP's foreword and get your copy.)
A Q&A with Douglas Braun-Harvey and Michael Vigorito
Q
How is sex addiction defined?
A
There is no standard definition of sex addiction—you'll get a different definition depending on the theorist you're working with.
Another way of thinking about it is that we're being asked to define Kleenex (a brand), rather than tissues. When we say "sex addiction," we're really talking about a brand, or a label, a conclusory evaluation about a human behavior—rather than using language that invites us to discuss, and be interested in, what the human behavior is. We should be asking: How do we understand human behavior when people's sexual behavior feels out of their control?
When clients come to us and self-identify as "sex addicts" or describe their behavior as addictive or compulsive, it's our job as clinicians to remain curious about the underlying issues. If a patient goes to a doctor and says, "I have cancer," the doctor won't say, "Now I don't have to go and run all those tests. Let's start treatment."
As clinicians, we want to evaluate the client's sexual behavior concern assessment so we can better understand what's happening with them.
Q
Where did the term "out of control sexual behavior" originate?
A
In 2004, Dr. John Bancroft, the eminent sex researcher from the United Kingdom, published a journal article recommending use of the phrase "out of control sexual behavior (OCSB)" rather than the term "sex addiction" until we had a scientific consensus and understood exactly what we were talking about. He liked the term OCSB because it was not evaluative. It describes what a person is going through, what they feel and experience, rather than being a diagnosis, or inserting diagnostic-sounding labels.
We define OCSB as a sexual health problem in which a person's consensual sexual urges, thoughts, or behaviors feel out of control. We don't say: "Look, you're doing this thing, that must be out of control; you're out of control." We hear the term "sex addiction" or "sexual compulsivity" as a metaphor for someone telling us that there are times when they feel out of control, and they are now asking for help around that issue.
Q
What are out of control sexual behaviors?
A
Let's first exclude what we don't consider OCSB, which differs from other models, particularly sex addiction. The sex addiction model includes nonconsensual, predatory sexual behavior, and sexual harassment. The OCSB model excludes nonconsensual behavior. If somebody is involved in violations of somebody else's body, forced sex—that's an entirely different issue. People engaging in nonconsensual sex should have treatment from experts who specialize in that, so this is one of the first things we screen for.
We screen for other factors as well. We have to make sure the person isn't abusing drugs or alcohol in a way that affects their sexual behavior; isn't living amid extreme violence (e.g., intimate partner violence); and does not have an untreated mental health issue, physical condition, or a medication side effect. We want to make sure these things aren't the explanation for OCSB before starting treatment.
Typically, with men who are saying, "I feel out of control," this is what we see: There's a contradiction between how they act and how they would like to act. For instance, they're not keeping the agreements they have in relationships with their partners. Or they are not keeping agreements with themselves—their sexual behavior contradicts their personal values or what they consider to be appropriate sexual behavior for themselves. There can be exploitative, deceptive behavior in the clients we work with, where they're trying to present, or act, in one way, yet they're behaving in a contradictory way.
"Typically, with men who are saying, 'I feel out of control,' this is what we see: There's a contradiction between how they act and how they would like to act."
Often, their concerns are looking at sexual imagery when they masturbate or extramarital/extrarelational sexual behavior outside the agreements of that relationship. Others are concerned about paying for sex, or repeatedly engaging in high-risk sexual behaviors.
Q
How do you assess a client?
A
The first meeting is a consultation where we want to understand the precipitating event that brought them into therapy. We screen for the vulnerability factors just outlined, and determine if there's another treatment priority (e.g., drug rehabilitation). We want to understand why they are here (aka their motivation)—which should not be just because their spouse or their church sent them—sustained change occurs when the reason for change comes from them.
We recommend a comprehensive assessment; it can be four to eight individual sessions, sometimes more. We conduct a clinical evaluation to examine all the ways their sexual health could be disrupted. (For instance, they may have a secret sexual turn‑on they are afraid to tell their partner and the secret-keeping feels out of control; or they have a really high sex drive and are struggling to manage.) At the end, we review their clinical picture in a way that hopefully isn't a surprise to them, because we've been talking with them, raising their awareness, the whole time. From there, we develop their sexual health plan.
Q
What does treatment entail?
A
For the people we think could benefit from treatment for OCSB, we recommend weekly group therapy, alongside supportive individual therapy (no less than once every six weeks). We might also refer a patient to a psychiatrist, or a couples therapist, and create a community treatment team to address and achieve their sexual health goals.
There are three areas we work on in therapy:
1. How men regulate their behaviors. We teach skills and ways to become better regulators, using a realm of psychology and research on self-regulation and coregulation (how we regulate ourselves through relationships with others) involving the environment, internal systems, the body, and the mind.
2. Relationships and attachment. How do men get close to people? How do they create distance when they need it? Oftentimes, the sexual behavior has been a way to create closeness and distance, without having to create closeness and distance in more functional, direct, and honest ways.
3. Erotic conflict. Almost all standard methods are poor at treating this area. People are conflicted about what arouses them, what excites them, what interests them sexually, what turns them on. Some people, men in particular, are more prone to have what are typically called paraphilias or fetishes, or very fixed turn-ons. Some men have never come to terms with the fact that they have these kinds of turn-ons. They're ashamed of them and handle them in ways that cause hurt and injury. Anytime you are at war with a part of yourself, you're not going to regulate yourself very well. We find that a fairly significant percentage of men who feel out of control with sexual behavior have just not made peace with their erotic nature.
Q
What should you do if you feel your partner has an out of control sex behavior?
A
Don't jump to conclusions and try to self-diagnose the situation. Call a certified sex therapist or a couples therapist with experience addressing sexuality, and go together for an appointment. Have a space where you can talk about this openly with someone who is trained to discuss sexual matters without making assumptions about what's going on. Often what a partner does is call a sex addiction therapist, or somebody who works with spouses of sex addicts, but then you've already determined what the problem is by consulting a "specialist" before going to an expert who is more likely to first look at the bigger picture. (Also, it's important to know that you can become a "certified sex addiction therapist" in the United States and not have to take a single course on sexuality. Someone who is certified to do sex addiction therapy does not need to have the same level of training and knowledge in sexuality as a certified sex therapist.)
Q
Do you find that people often pretend to have a sex addiction?
A
In the storm of betrayal, a client is often still motivated to maintain the relationship, even though their behavior has hurt the person they love. They might feel intense shame and guilt and may label their behavior "sex addiction" as a way to provide a map for understanding what's been happening, or as hope that they can salvage the relationship. It might give them time to seek treatment. There are very expensive inpatient treatment programs for sex addiction around the country, where patients pay $50,000, even $100,000 per program. If people have the money and the wherewithal, they might go to these programs as a way to demonstrate to a partner that they're very remorseful and committed to change. Does that mean they have a sex addiction? Or that they need that level of treatment? Not necessarily.
Q
Is infidelity ever an OCSB?
A
We don't see OCSB as a diagnosis or disorder, and we're not really interested in if there's a sexual disorder. If the person believes they have a problem, we're more interested in determining what kind of change they want to make, and what level of help might be beneficial for them. We help people think of behaviors as having functions. So, what problem was that sexual behavior trying to solve? In therapy, people can begin to understand why they made the choices they made, even though their decisions hurt people. We want to help people who feel out of control come up with better plans to address the problems they're having.
Q
Why do you work only with men?
A
The mental health field doesn't have a good track record when it comes to sorting out distinctions between sexual problems and basic prejudices. If you look back to the 1960s, when the birth control pill came out, there was a concern of women becoming "out of control" sexually. Called nymphomania, this was a real diagnosis, and the belief was that if women didn't have to be afraid of pregnancy, they would have no reason to control themselves sexually.
"Women face many different consequences for not conforming to sexual standards that men don't."
We've encouraged other professionals to develop treatments that could be specifically helpful to women. There are so many biases inherent in the definition of OCSB that you would need a good, gender-informed model for treating women for OCSB (which we haven't seen yet), so that it would not be overly informed by gender bias and stereotypes against women who are not conforming to sexual standards. Women face many different consequences for not conforming to sexual standards that men don't. Also, women aren't coming forward in any kind of the percentages that men are and saying they have out of control sexual behavior.
Q
What do men specifically struggle with as it relates to sexual health?
A
Culturally, how do we teach men to get their sexual needs met? We don't necessarily prepare men to manage the tension between pleasure and safety, or socialize men to be open and honest about what they like sexually or what they find pleasurable in romantic relationships. As a society, we are not very interested in helping men with their sexual health until after someone has been hurt.
Men don't have many places to talk about or understand who they are sexually. Often, they're literally watching sexual entertainment to understand who they are sexually and educate themselves. (Which would be like going to a war movie to learn responsible firearm safety.)
We want to create a space where men can better understand their sexuality, where we can become curious about the binds that they find themselves in sexually, and where we can help them find solutions.
Excerpted from the book The Sex Issue by the editors of goop. Copyright © 2018 by goop, Inc. Reprinted with permission of Grand Central Life & Style. All rights reserved.
Douglas Braun-Harvey, LMFT, CGP, CST, is a sexual health author, trainer, and psychotherapist. In 2013, he cofounded the Harvey Institute, an international education, training, consulting, and supervision service for improving health care through integration of sexual health. Since 1993, he has been developing and implementing a sexual-health-based treatment approach for men with out of control sexual behavior (OCSB). He has earned several distinctions, including the 2013 Carnes Award from the Society for the Advancement of Sexual Health, a 2011 Sexual Intelligence Award, the 2011 President's Award from the National Association of Lesbian and Gay Addiction Professionals, and the 2011 Society for the Scientific Study of Sexuality Western Region Public Service Award for promoting sexual health awareness and providing the intellectual framework for integrating sexology and chemical dependency.
Michael A. Vigorito, LMFT, LCPC, CGP, is a sexual health consultant, author, and psychotherapist. As a consultant, Vigorito trains behavioral health providers to integrate sexual health into their systems of care through routine sexual health screenings, sexual risk reduction counseling, and culturally competent interventions. As a clinician, Vigorito developed, supervised, and conducted therapy in integrative behavioral health programs that worked with substance addiction, mental illness, and HIV/AIDS. In his Washington, D.C., private practice, Vigorito provides individual, couples, and group psychotherapy specializing in sexual health, including out of control sexual experiences, sexual dysfunctions, sex- or drug-linked behaviors, and sexual dissatisfaction.