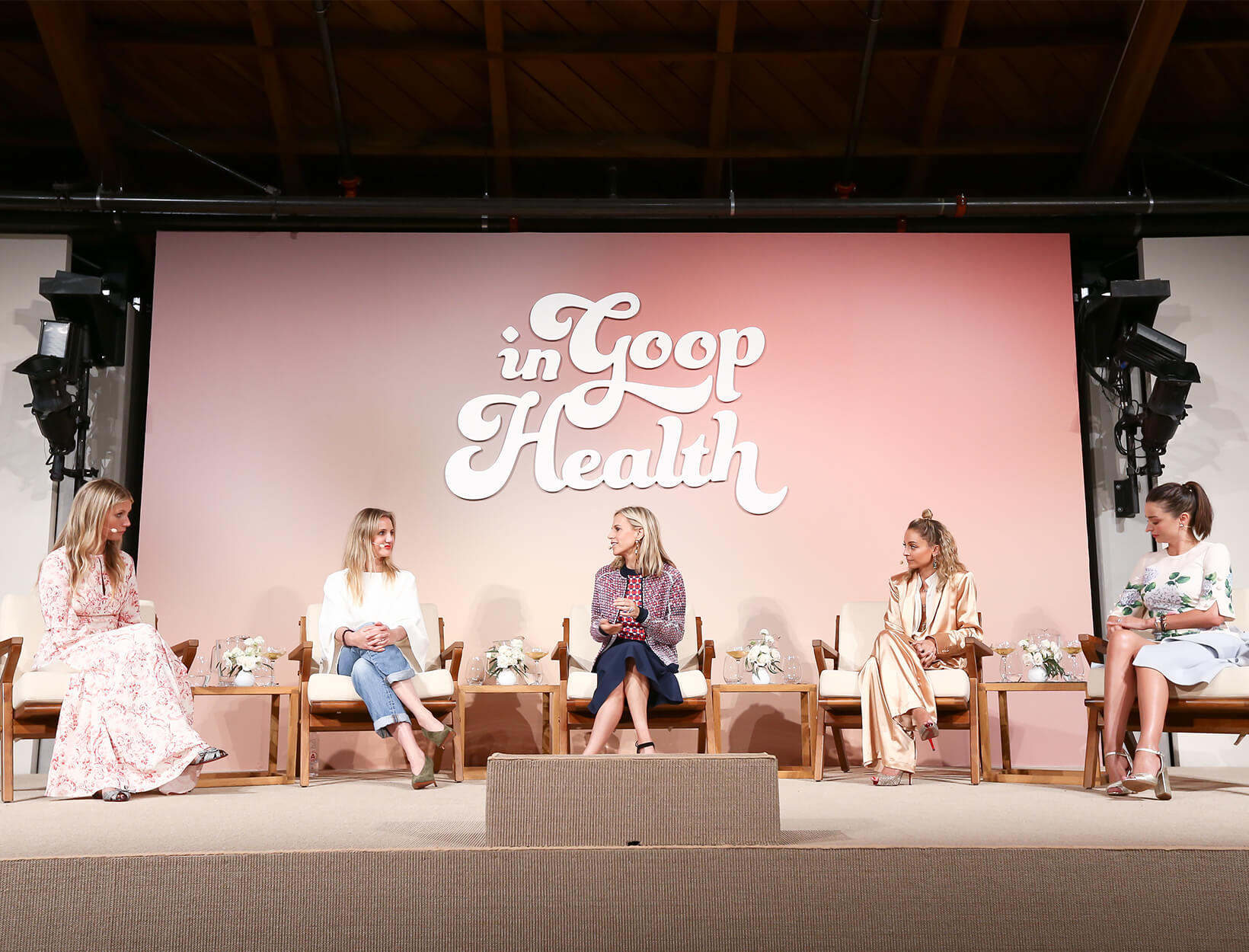 Inside the goop Wellness Universe: Collagen Cocktails, Crystal Readings, Expert Panels & More
On June 10 in LA, for the first time ever, we hosted In goop Health, an all-day wellness summit that brought together some of our most trusted doctors and experts—among them, Dr. Habib Sadeghi, Dr. Alejandro Junger, Esther Perel, Dr. Amy Myers, and Tracy Anderson—plus friends and great minds like designer Tory Burch and writer/director/producer Jenni Konner. There were paradigm-shifting chats, a live demo of a 10-minute facelift (actually), and yes, lots of snacks: The goop hall was home to go-to's like Belcampo's bone broth, Bulletproof Coffee, Moon Juice elixirs, sweetgreen salads, and by CHLOE vegan sweets. In between panels, summit pals got quick polish changes with tenoverten or customized crystal readings by goop shaman Colleen McCann, took breathers at the oxygen bar, or got a hydrating I.V. drip.
Sound bath HQ with NYC-based medita-
tion/sound therapy practitioner Sara Auster.

Colleen McCann works
her crystal magic.

Your aura RN, captured by
Radiant Human.

Taryn Toomey led a custom, no-sweat version
of her signature "The Class."

Dr. Habib Sadeghi in his Cosmic Flow.

Girlboss's Sophia Amoroso
at the re-hydration station
powered by the I.V. Doc.

Working out
the kinks with
Lauren Roxburgh.
(Thanks for out-
fitting our studio,
Manduka!)

Now serving: your morning shot from
Lifehouse Tonics.

No goop editors were harmed in the
making of this AMA.

Bone broth, plus mix-ins,
by Belcampo.

Alexis Smart has a
floral tincture for
whatever ails you.

Some midday TLC
from the FaceLove
massage crew.

Seamus Mullen kicks off the day's first panel, Gut Check, with
Dr. Alejandro Junger, Dr. Amy Myers, and Dr. Steven Gundry.

A moment of zen.

Sweets the goop-y
way: kale cookies +
cream and matcha
coconut push-pops,
served straight from CHLOE's adorable
ice cream cart.

Mani refreshes by
tenoverten, a
leader in the
non-toxic nail care
movement.

Dyson and Glamsquad were on touch-up duty
all day for panelists and guests.

Poke to go.

Matcha for all.

Collagen spiked.

TA IRL.

Bite-sized chia pudding and berries
from Ancolie café.

Bubbles by Bai.

Master of ceremonies.

Chef Seamus Mullen cooked up a family-style
lunch for GP and 150 of the day's guests in
The Collagen Garden.

Lenny Letter's Jenni
Konner (check out
her hilarious
behind-the-scenes
Q&A).

Rosé-me.

The littlest vegan donuts from
Erin McKenna's Bakery.

Our Head of Content, Elise, led The Mother Load panel with Dr. Oscar
Serrallach, Dr. Robin Berman, and Dr. Sherry Sami.

Moon Juice on tap.

Come lunchtime,
sweetgreen really
hit the spot.

Game, set, match.

Kye's take on the breakfast burrito.
(Nori-wrapped, obviously.)

Shopping the
Clean Beauty
Apothecary.

GP with the knockout
women from our sex
panel (i.e. The
Three-Way): Esther
Perel, Jenni Konner,
Nicole Daedone,
Layla Martin.

The live, 10-minute facelift with Dr. Julius Few.

Kitchen essentials in the goop hall.

At your service:
the goop
Pharmacy stocks
supplements,
brain dust, and
(of course)
jade eggs.

Cacao coconut
granola from new
Silver Lake spot,
Botanica.

Cameron Diaz, GP, Tory Burch, Nicole Richie, and Miranda Kerr before
the keynote panel, appropriately named, "Balls in the Air."

Psychotherapist duo Dr. Phil Stutz and
Barry Michels open up their toolkit.

Some summit goers literally
rolled their goody-bag haul
home, courtesy of Tumi.
IN PARTNERSHIP WITH OUR FRIENDS AT…
Tumi, Titos, , Dyson, Tory Sport, Frederique Constant, Bai, Tropicana, Bulletproof Coffee, Lifeway Foods, Hmbldt, Saved Wines, and Vital Proteins.
THANKS TO OUR GIFT BAG CONTRIBUTORS…
Tumi, Tory Sport, Equinox, 23andMe, Audible Originals, Dyson, the Clean Program, The Tools, Coming Alive, Gorjana, Kora, Madewell, Manduka, Pointe Studio, Sustain Natural, Vital Proteins, Cote, Lavido, Jane Inc., Goldfaden MD, Ursa Major, Sandoval, Poppin, Herbivore Botanicals, Matcha Maiden, Skinny & Co., Olio E Osso, Kosas, Aquis, French Girl Organics, Babo Botanicals, Tracy Anderson Method, Herban Essentials, Kesh Beauty, Pure Papaya Care, Floracopeia, Los Pablanos, May Lindstrom Skin, Cocofloss, Schmidt's Naturals, Uma Oils, Sara Auster Sound, Daily Harvest, Hurraw! Balm, Gundry MD, The Longevity Book, The Body Book, and goop Clean Beauty.