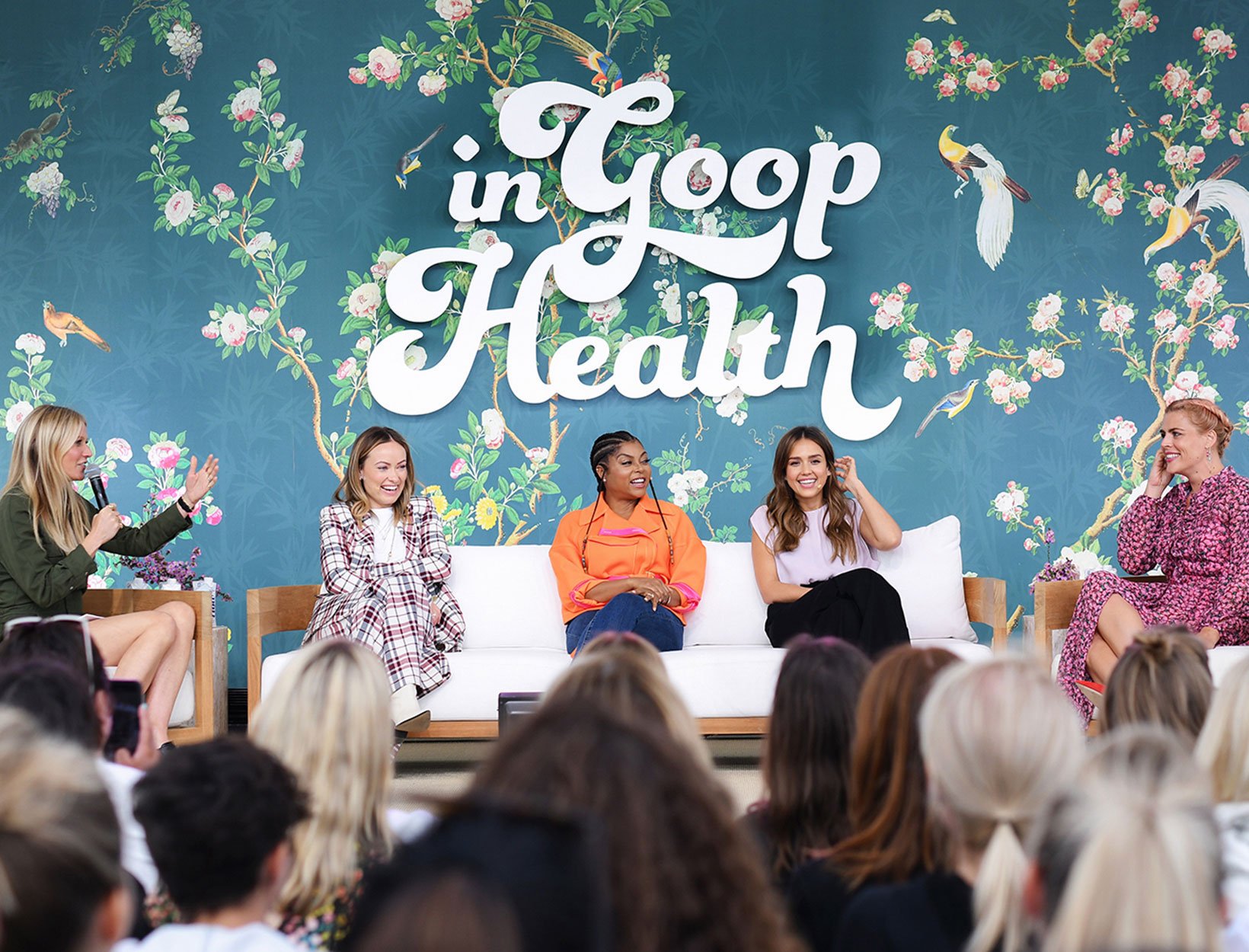 In goop Health Los Angeles: When the Plants Took Over and Elizabeth Gilbert Made Us Cry
In goop Health Los Angeles:
When the Plants Took Over and Elizabeth Gilbert Made Us Cry
There were three big takeaways at our sixth In goop Health, in Los Angeles: Great raw vegan doughnuts is not a contradiction in terms. Plants can compose music. And we will never get tired of dropping our pants for a B12 shot.
Actually, those three takeaways just scratched the surface. In the Chat Room, Elizabeth Gilbert taught us about the link between grief and creativity. We got a tutorial in energetic healing from Lauren Roxburgh and John Amaral. Lynne Twist taught us to rethink the significance of money in our lives. Three Women author Lisa Taddeo talked about reporting on the sex habits of ordinary American women. In the afternoon, Lacy Phillips showed us how to manifest. Our goopfellas Will Cole and Seamus Mullen talked men and wellness with Kevin Smith and Giorgos Testis. We learned about gut and hormonal health from two MDs, Robynne Chutkan and Eva Cwynar. And then Jessica Alba, Taraji P. Henson, Busy Philipps, and Olivia Wilde brought the house down.
Meanwhile, in our studios, practitioners and authors led workshops with smaller groups. There was Cultivating Happiness with Deepika Chopra and Radical Self-Love with Jennifer Freed. There was Journaling for Well-Being with Laura Rubin and Intuitive Prowess with Susan Grau. And—well, click through the photos to see more. It was goopy—real goopy—set against the backdrop of Rolling Greens' plant oasis. Also, there were tears, but in a good way.
Next stop: London. We're bringing GP, Elise, Tracy Anderson, Barry Michels, and Nigma Talib with us. See you there, we hope!
TO OUR PARTNERS—THANK YOU:
AG Hair
,
Aunt Fannie's
,
Casa del Mar
,
Chloé
,
CoolSculpting
,
Flow
,
Ketel One Botanical
,
The Little Market
,
LG
, Lyft,
Nutrafol
,
Purely Elizabeth
,
Regi
,
Rolling Greens Nursery
,
Shutters on the Beach
,
Trial by Woman
,
Tumi
,
Under the Canopy
TO OUR FRIENDS—THANK YOU:
AGENC, Amy and Sarah Blessing, Bloom & Plume, Contemporary Catering, Emma Feil Photography, Eventfarm, Halfmoon USA, Stateside
TO OUR FOOD AND BEVERAGE VENDORS—SEE YOU FOR DINNER ON FRIDAY?
Beaming
,
Bondi Harvest
,
Craig's Vegan Ice Cream
,
Freedom Farms
,
Health-Ade Kombucha
,
Honeydrop
,
The Kitchen for Exploring Foods
,
Kreation Organic
,
Lady & Larder
,
MatchaBar
,
Orsa & Winston
,
OWL Venice
,
Pitfire Pizza
,
Simples Tonics
,
Stumptown Coffee Roasters
,
SunLife Organics
,
Superba
,
Sweetfin
AND TO YOU ALL—CHECK OUT THIS TALENT:
Jessica Alba
,
John Amaral
,
Deepika Chopra
,
Robynne Chutkan
,
Ellie Cobb
,
Erica Chidi Cohen
,
Marcy Cole
,
Will Cole
,
Peter Crone
,
Kasey Crown
,
Eva Cwynar
,
Laura Day
,
Lalah Delia
,
Jennifer Freed
,
April Gargiulo
,
Elizabeth Gilbert
,
Elissa Goodman
,
Susan Grau
,
Theresa Bowen Hatch
,
Taraji P. Henson
,
Julianne Hough
,
Christie Mann
,
Seamus Mullen
,
Joe Patitucci
,
Busy Philipps
,
Lacy Phillips
,
Anna Raimondi
,
Courtney Rowley
,
Lauren Roxburgh
,
Laura Rubin
,
Ambi Sitham
,
Kevin Smith
,
Jakki Smith-Leonardini
,
Lisa Taddeo
,
Giorgos Tsetis
,
Lynne Twist
,
Koya Webb
,
Olivia Wilde
Photographs by Emma Feil