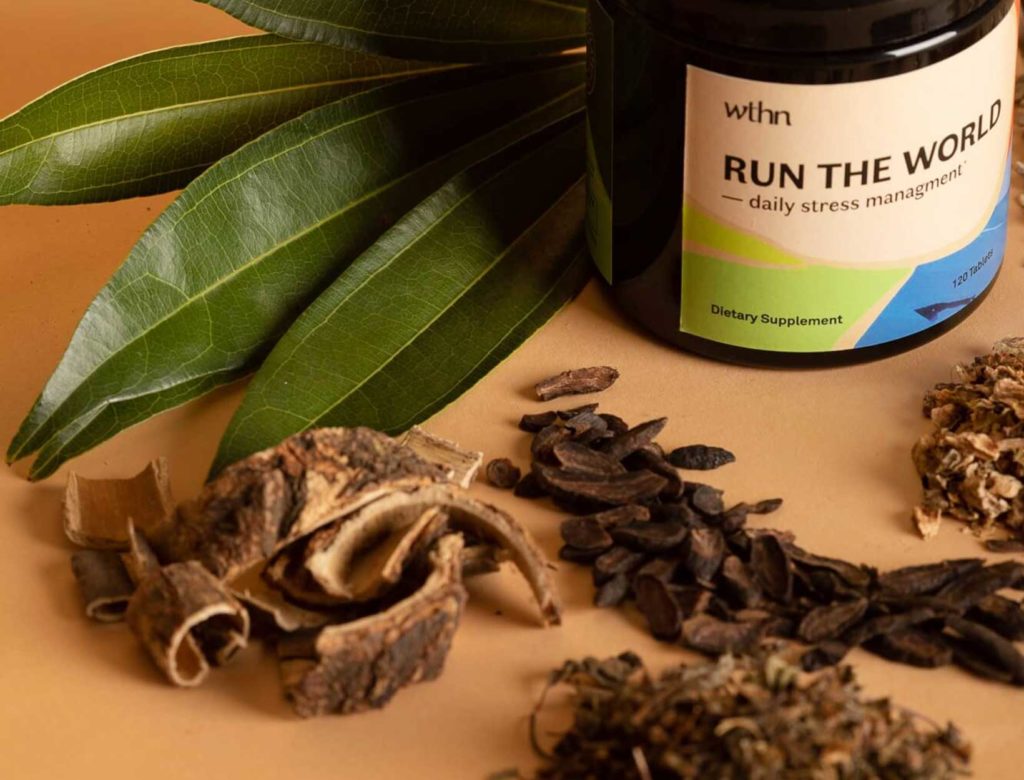 How an Herbalist Handles Stress, Detox, and Overindulgence
We are in an age of being overwhelmed. The good news, says herbalist Shari Auth, is that herbs can help. "We live in a fast-paced world, and that comes at a price," Auth says. "Certain herbs and adaptogens can help your body deal better with stress over time."
At WTHN, her New York City–based wellness brand and acupuncture studio, Auth has created herbal formulas to help people find balance. Our three favorites are blends designed to help with stress management, detox, and the effects of overindulgence. We sat down with Auth to chat about the case for herbs in modern life.
A Q&A with Shari Auth, DACM, LAc, LMT
Q
What's your case for trying herbs, especially for someone who hasn't dipped their toe into that world yet?
A
Plant medicine is one of the original medical systems, and every culture around the world has some version of it. Plants have real effects on us: If you eat this one, you have energy. You eat that one and you go to sleep. That one, you're dead—don't eat that one.
You also likely already take herbs in some capacity. Maybe you drink chamomile tea before bed or peppermint tea after a meal. Those are herbs. Most spices—like turmeric, cumin, and fenugreek—are herbs as well.
You can think of herbs as a whole-foods version of the stuff we might take as medication. They have active components, but they're not a concentrated superpill of that component. So you'll need a larger-looking dose of a whole herb than you would of a manufactured drug—the same way that you have to eat a much larger volume of kale to get what comes in a vitamin tablet.
---
Q
How does WTHN develop herbal formulas?
A
Traditional Chinese medicine (TCM) says that certain herbs are better together, so we start with those established blends. Then I look at what Vedic and Western herbs could offer to this formula. Unlike the societies that developed herbal medicine, we aren't limited to what's in our backyard, so we have the luxury of blending traditions.
It's important to me that all our formulas are organic, made in Good Manufacturing Practice–certified facilities, and tested for microbes and pesticides. Herbs aren't regulated, so we take on that rigorous testing ourselves, and we make sure everything is what we say it is.
---
Q
What are some of your most popular formulas, and what do they do?
A
Run the World is our bestselling formula, which isn't surprising to me at all. We're an acupuncture studio in New York; our clients are often stressed-out professionals. Run the World consists of herbs that, over time, can help you adapt to a lifestyle that may at times feel overwhelming. Our hero herbs here are Chinese herbal classics: bupleurum, mimosa tree bark (nicknamed "happy bark"), tulsi ("the yoga of herbs"), rhodiola, schisandra, and ashwagandha.
Oops I Did It Again is a crowd-pleaser because it can help support you if you've overindulged in some way. Most people balance wellness and fun in an 80-20 way. No judgment, we're here for you! But if you're feeling the pain of too much fun, a pack of these might help. It's based on a TCM formula originally written for occasional indigestion, and we've added fenugreek, ginseng, and milk thistle.
Clean Slate is our blend for overall cleansing and wellness. We ingest toxic substances daily—through the air we breathe, the food we eat, and the products we put on our skin. The liver is constantly working hard to process this stuff. Clean Slate supports the liver and colon for the breakdown and elimination of these toxic substances. What makes a difference here is milk thistle, dandelion root, artichoke leaf, lemongrass leaf, and eclipta.
---
Q
What are the best ways to work herbs into your day?
A
The good news about herbs is that they are plant-based and similar to whole foods, which means they can be taken either with food or on an empty stomach. The main thing to consider is consistency—it's key to seeing the benefits. Because herbs work cumulatively and it may take a couple weeks to feel the effects build up, a daily regimen is best. That's why we've made our herbs in tablet form, so you can just take them with water instead of having to make a smoothie to blend your powdered herbs into. And they come with a travel case so you can take them on the go and avoid missing doses.
Herbs and vitamins play well together, so no worries about mixing them. It's the same for herbs and probiotics. But if you are on prescription medication, it's best to ask your prescribing doctor about adding herbs to your existing routine.
---
Q
What other wellness modalities work well with herbs?
A
We like to use herbs and acupuncture together. That's why our studio offers both. Herbs and acupuncture are synergistic, so using them together augments the benefits of each. They've been used this way for thousands of years in TCM. And if you want to try cupping, that's great, too.
We also love ancient Chinese skin routines like gua sha, jade rolling, and face cupping to boost your skin-care routine from the outside while herbs work from the inside.
Other than that, I recommend that my clients drink lots of water—hydration is important to health in general—and develop a breathing exercise, meditation, or yoga practice to maximize the benefits of whatever herbs they're taking.
---
Shari Auth, DACM, LAc, LMT, is a cofounder and the chief healing officer at WTHN, an acupuncture studio and wellness brand in New York City. Auth has practiced holistic health for more than two decades and integrates a number of modalities into her work, including acupuncture, cupping, herbal medicine, and sound therapy.
---
This article is for informational purposes only, even if and regardless of whether it features the advice of physicians and medical practitioners. This article is not, nor is it intended to be, a substitute for professional medical advice, diagnosis, or treatment and should never be relied upon for specific medical advice. The views expressed in this article are the views of the expert and do not necessarily represent the views of goop.