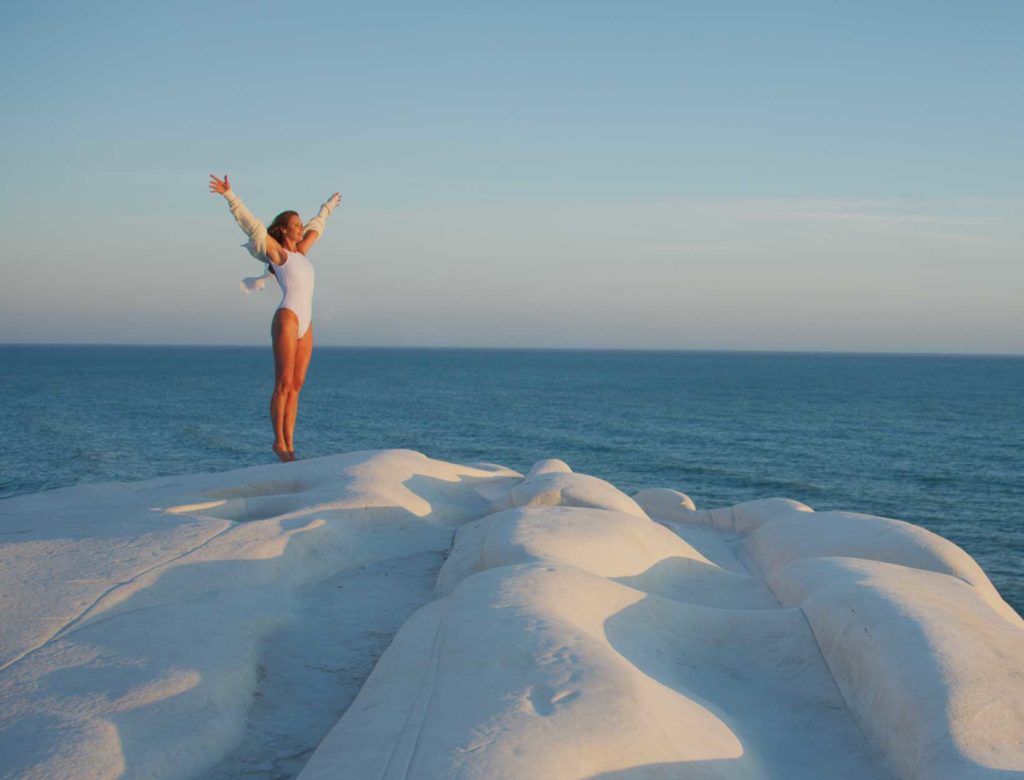 An Elixir for Healthy Hair, Skin, and Nails
An Elixir for Healthy Hair,
Skin, and Nails
In partnership with our friends at WelleCo
We use the word "glow" a lot at goop. (Maybe you've noticed.) But there's really no better way to describe someone with that lit-from-within vibe, someone who moves with purpose and abundant energy and radiant skin.
Elle Macpherson is one of those elusive glowy humans, which is something we saw firsthand when she attended In goop Health earlier this year. Some of that is due to being, well, Elle Macpherson. But as she and her London-based nutritionist, Simoné Laubscher, PhD, will tell you, there was a period of time about six years ago when Macpherson felt she needed some support: for energy, for her gut, and for her skin.
Laubscher's solution eventually became Super Elixir Greens, the staple of Macpherson's company WelleCo. It's a blend of nutrients, greens, probiotics, prebiotics, and herbal powders and extracts to support gut health, as well as healthy hair, skin, and nails.
It tastes pretty good, too. All you have to do: Add water.
A Q&A with Simoné Laubscher, PhD
Q
When did you meet Elle?
A
I'm a naturopath and a nutritionist, so I use food as medicine. I work with a patient's diet along with other complementary therapies to help bring their body's systems into balance. Even just fifteen years ago, I found that with a lot of patients who came into my clinic, where I would begin with them was to try to get them to eat less junk food, eat less sugar, cook more whole foods. But I'd say these days, most new patients are starting from a different baseline, where they're not feeling optimal despite having a cleaned-up diet.
When Elle came to me as patient over six years ago, she was kind of the classic person who comes to see me now. She said, "Look, I'm eating really well; I don't smoke; I don't drink; I eat really clean." And then she emptied about fifteen bottles of supplements on my clinic desk. She said, "Oh my gosh, I don't feel like myself. I'm craving sugar. I'm tired all the time but not sleeping. I feel like I'm looking after myself; I'm taking all these supplements. Why don't I feel well? What's going on with me?"
She was eating really well, but she was also taking a lot of supplements that didn't seem to be helping. In addition to her energy being low, her gut wasn't functioning well, and her skin was dry. So we focused on functional support, looking to the best herbs, vitamins, and minerals to help the body heal itself.
Elle came back a month later, and I'll never forget it: She walked through my door like an eclipse, in tight black leather pants, with her son's baseball cap pushed to one side. I'm like, Now that is Elle Macpherson. It was like this cloud had lifted; her skin was glowing and her aura had changed.
---
Q
How did the Super Elixir come about?
A
When Elle first came to me, I had my lab and I was already formulating my own supplements because I'd just gotten sick of products in the marketplace being synthetic or full of fillers.
The idea for the Super Elixir came from an off-the-cuff statement Elle made when she was leaving our clinic on Holly Street one day. She said, "There are still so many supplements. Can't you just put all of this into one powder, and I can just mix it with water and drink it every day? Do I have to take these capsules?" And I said, "Yeah, I can do that." That was how the Super Elixir was born—it was one of those universe-guided moments.
---
Q
When you were developing the powder, how did you land on which ingredients were the most important to include?
A
After that initial idea with Elle in my clinic, we spent years researching and developing a product that would provide the same benefits to any woman who drank it in the morning. Because the human body is very individual, the way I approached it was: What are the main issues most of my patients come in with? In my clinic, most people come in needing support for their gut and their immune system. They want to have more energy. They find they're craving something sweet.
We all need our diets to do the heavy lifting: Foods with antioxidants, vitamins, and minerals give us the core essential building blocks of the nutrition we need every day. On top of that, it's my job to look at what herbs and plants I can use to support the body's systems.
If you've got only ten grams of a powder to make an impact in someone's life, you have to make sure every ingredient is pulling its weight: You need to then look at what's a team player, and what's not a team player. Which ingredients work in synergy to amplify one another.
I would say to any patient: Supplements are not the solution to everything. But this elixir is a really good daily foundation for an added nutritional boost.
---
Q
What are some of the Super Elixir's hero ingredients, and what do they do for the body?
A
We landed on a combination of forty-five naturally derived ingredients. The powder has a base of greens, and it was really important to me to formulate with both prebiotics and probiotics, which support your microbiome by adding more good bacteria.
Prebiotics are mostly soluble fibers—from fruit, vegetables, beans, nuts, and whole grains—that encourage the growth of good bacteria and fungi in your gut. When you eat prebiotics, the digestive enzymes in your stomach are unable to break them down. That's a good thing: It means the soluble fibers pass through the digestive tract all the way to the large intestine, where they can feed good bacteria and stimulate the growth of healthy gut microbes.
The zinc and copper in the Super Elixir provide immune support, while the copper and biotin support energy levels. Your hair, skin, and nails will get some love from the biotin as well as the zinc. The formula contains herbal support from dandelion, horsetail, turmeric, and mushrooms. And there's some L-glutamine, an amino acid, in there as well.
Each variety is flavored with real fruit: The pineapple-lime Super Elixir contains pineapple and lime; the ginger-lemon Super Elixir contains lemon fruit and gingerroot extract.
---
Q
What do you pay attention to when you're sourcing the ingredients?
A
I remember in London once, I walked up to a health-conscious grocery store. I saw boxes of organic vegetables get delivered, unloaded, and placed on the sidewalk. As I was walking into the store, the truck took off, and this cloud of black diesel smoke went over this box of gorgeous organic veggies. And I just thought, Someone has labored to make these vegetables so perfect and with as few chemicals as possible, and in the eleventh hour, it gets covered in black soot. That image has always stayed with me. I wanted to think of every part of the process with these ingredients, to make sure they are treated gently, they're processed in the right way, and they're bioavailable.
That means we think deeply about where the ingredients we use come from and also about our carbon footprint. We visit our farms; we probably talk to our farmers too much. We make sure that the ingredients aren't ever heated in their transport from the farm to the lab—if you've got an organic plant traveling in a toxic plastic bag in the heat, that's not going to be good.
---
Simoné Laubscher, PhD, is a naturopathic nutritionist who has been treating clients for more than twenty years and has clinics in both the UK and UAE. She is Elle Macpherson's nutritionist and business partner and formulated all of the nutritional products for WelleCo International.
---
This article is for informational purposes only, even if and regardless of whether it features the advice of physicians and medical practitioners. This article is not, nor is it intended to be, a substitute for professional medical advice, diagnosis, or treatment and should never be relied upon for specific medical advice. The views expressed in this article are the views of the expert and do not necessarily represent the views of goop.