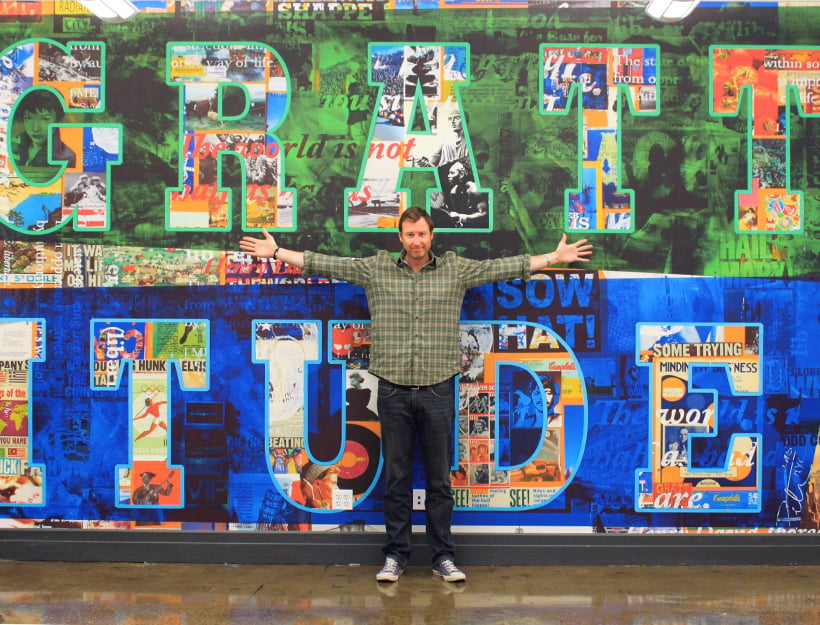 From the Wall at the Palm to Plant-Based—How a Former Frat Boy Learned to Live Well
As is the way with most worthwhile journeys, Jason Wachob's emergence as a health and wellness entrepreneur wasn't exactly a straight line. Wachob, a college basketball player at Columbia, and self-described "happy-go-lucky, heavy-drinking frat boy and successful trader," found himself on the wall of The Palm Restaurant—an honor designated only to the most faithful of patrons—and then found himself broke, injured, and depressed. After a chronic lower back injury left him unable to walk more than a block (and his under-capitalized start-up was crashing along with the markets in 2009), he decided to take up yoga when a back surgeon mentioned in passing that it might help. More scared of going under the knife than trying a little yoga in the privacy of his apartment, the 6'7″ Wachob started practicing a few restorative poses at home every morning—and in airports before taking off. Within six months, the pain had vanished—no surgery required—and Wachob found himself addicted to the promise of a more healthful existence.
This story, and many others, are detailed in Wachob's new book, Wellth: How I Learned to Build a Life, Not a Résumé, which is an easy and great read for anyone who is a reticent convert to living a little better (specifically guys who resist kale). Touching on everything from food and nutrition to fitness, it also details how Wachob built mindbodygreen, which is one of the biggest online players in the health and wellness space. (Fun fact: He works with his wife, Colleen.) We asked him to take us through his daily routine—and give up his favorite spots around the country for eating well on the road.
Morning
7am-ish
I have an alarm clock but rarely use it. I wake up around 7am and the first thing I do is repeatedly say the words, "thank you," silently. I'm a big believer in having a gratitude practice—it's something my mother instilled in me at a young age.
7:01am
Brushing my teeth wakes me up just enough to get ready for the ritual of meditating for 20 minutes before I start my day. I just sit up straight in bed and zen out.
7:22am
Next is breakfast which is usually a protein smoothie I call "Almond Chocolate Thunder." It's comprised of Califia Farms almond milk, almond butter, Xymogen GHI chocolate protein powder, and frozen blackberries. It's delicious. I also take a probiotic from Prescript Assist. And coffee. Lots of coffee. I absolutely LOVE coffee. Right now I'm loving Brooklyn Roasting Company, which is right down the block from where we live and work in Dumbo, Brooklyn. It's organic, local, and delicious. And I love it black. Every once in a while I'll go nuts and make it Bulletproof style and throw in some grass-fed butter, MCT oil, and put in a blender.
7:32am
I read the print edition of the Wall Street Journal. I quickly check work email and the mindbodygreen homepage along with traffic and revenue from our online video classes.
8:44am
I walk to work with my wife, which is just a three-block commute.
Personal-Care Products
Getting Dressed
Work
9am
I work with my wife, Colleen, at mindbodygreen which is amazing and fulfilling as we are both so passionate about wellness. But it can be challenging. Wellness is our life and many of the contributors and class instructors at mindbodygreen are some of our closest friends. Work and play are "one" for us, which is great. But it also means that we sometimes have a hard time turning work "off." We've had to work at that. It's a good problem to have.
Something I'm focused on at the moment at work is culture and communication. We have 33 employees and even though we have our values up on the wall, culture is more than just writing down what you want it to be. It's how you interact with others, it's how you execute on a daily basis. It's also setting up your work environment to reflect your values. We recently moved into a new 10,000-square-foot office and I worked with Dana Claudat, an incredible feng shui designer to create an environment that was a true reflection of who we are. We call our office look, "Bohemian Brooklyn Sanctuary." We have a fridge full of gluten-free beer. We have a meditation room, where I escape to every afternoon for another meditation session. We have art from people in our community. We also have a huge "GRATTITUDE" mural (yes, that's two T's—gratitude is an attitude) that's made of eco-friendly wallpaper from my friend, the artist Peter Tunney. I am a huge believer in having a gratitude practice, it's something I talk a lot about in my book, Wellth. And I love that we have that huge reminder in our office.
12pm
For lunch, I'll drop by Atrium, which is around the corner and get a cooked kale salad with shaved apples, walnuts, onions, and sliced avocadoes. Or, I'll go to Dos Toros Taqueria, which just opened in downtown Brooklyn. It's a 10-minute walk each way so I get some extra steps! I always get a bowl with black beans, chicken, peppers, medium salsa, and double guacamole. I love, love, love guacamole.
1pm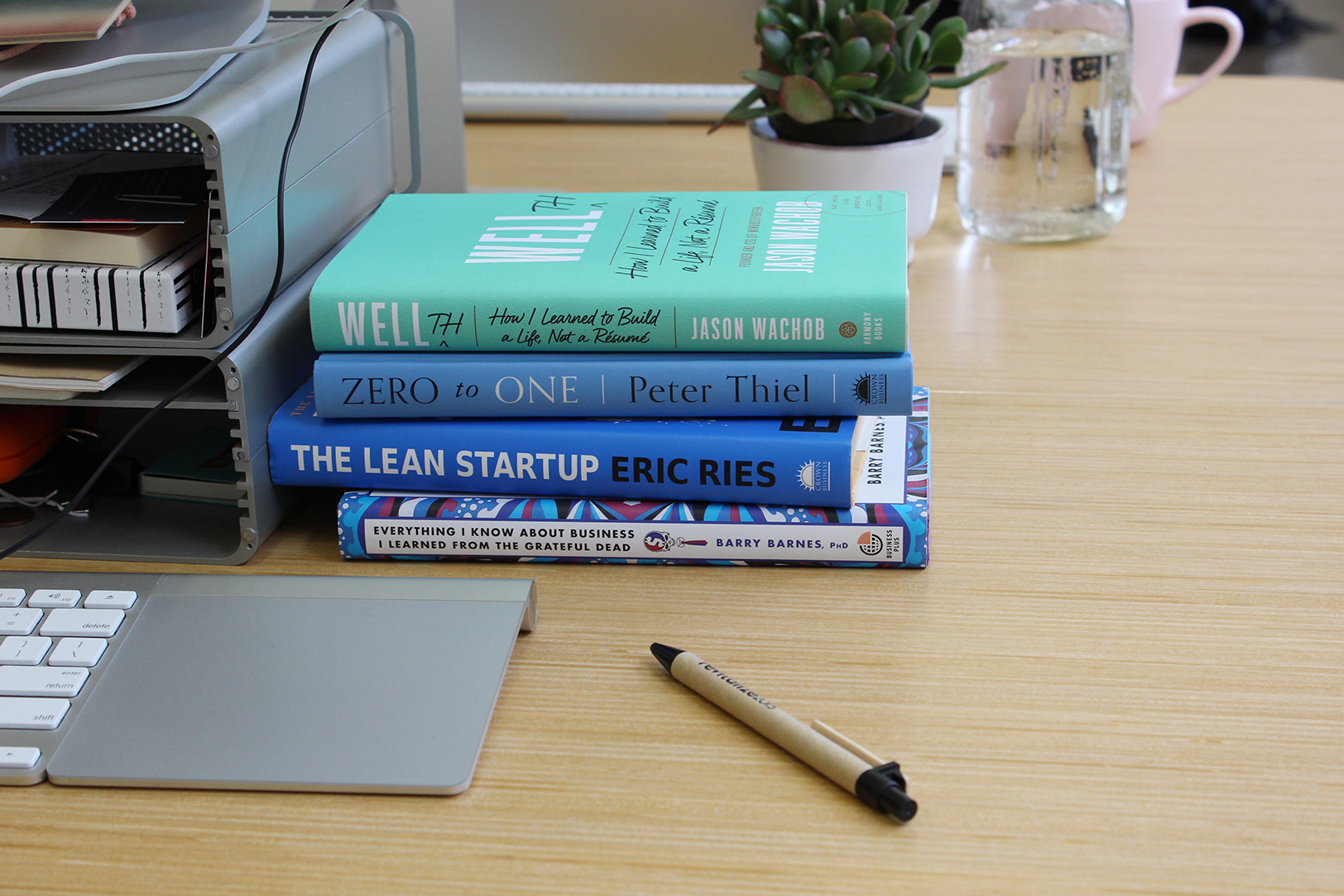 On my desk, I have my own book Wellth, Zero to One by Peter Thiel, The Lean Startup by Eric Ries, and Everything I Know About Business I Learned From The Grateful Dead by Barry Barnes. I used to be a huge Deadhead (I've seen more than 30 shows) and even wrote my personal essay to get into Columbia about the Grateful Dead and how I admired the band and the community they had built (although playing basketball probably helped with my application!). As an entrepreneur, I think they were brilliant. They built such a loyal and incredible community along with a sustainable and purpose-driven business.
1:30pm
Whenever I'm stuck at work, I'll head to Brooklyn Bridge Park which is just around the corner. The park is beautiful and just a 15-minute walk can help clear my head and get the clarity that I often need when making a difficult decision.
2pm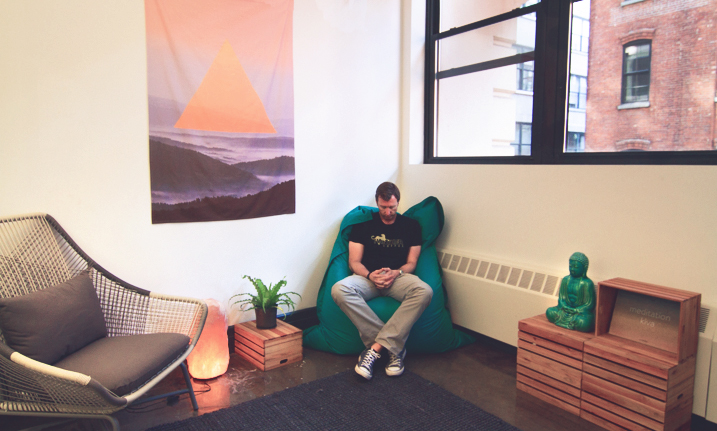 At 2pm, I'll sneak away into our meditation room, set my iPhone meditation timer for 20 minutes, and get my om on again.

I also believe in finding a mind/body practice that works for you—something that's sustainable and a lifestyle. For me, that consists of meditating daily, doing yoga for 15 minutes every Saturday and Sunday, and hitting the gym every Monday night for 20 minutes or so. I've found that this routine works best for me right now, and it's better to do less but be consistent, rather than do more and have no consistency. As Tim Ferriss said in his great book, The 4-Hour Body, "The decent method you follow is better than the perfect method you quit." So find something that you will follow!

I've tried pretty much every holistic treatment out there over the years and the one that I swear by is shiatsu. I now see Sam Berlind every two weeks for shiatsu—he's got the best hands in the business.
7pm
Once or twice a week, I'll sneak in a quick 20-minute weight workout. I use free weights and just do one set per body part until failure.
7:30pm
My wife Colleen is a great cook so if I'm lucky she'll make a yummy dinner. I eat pretty clean. I'm about 80% plant-based, but will also eat fish and meat. I always try to eat wild fish, and antibiotic-free and grass-fed red meat. I try to avoid gluten and sugar, but I'm a big believer in balance so I do enjoy a good doughnut every once in awhile—especially on the weekends. We eat out a lot, too—specifically at the spots below.
Brooklyn
Manhattan
11pm
I wind down at night by turning off all devices and either lighting a candle or some incense. We also keep the bedroom temperature at 65 degrees, and create a complete blackout, which we treat as a sanctuary—no TV, only pictures of family.
Perfect Day Itineraries
Because Jason travels all the time, we asked him for his favorite (generally) healthy spots around the country.
Los Angeles
I spend a lot of time in Los Angeles as the wellness scene is booming.
4334 Sunset Blvd., Silver Lake

This spot in Silver Lake is a must, especially when meeting with our musician friends who seem to all live over there.

507 Rose Ave., Venice | 310.399.2929; 2839 Sunset Blvd., Silver Lake | 213.908.5407


I'm a fan of anything and everything here when it comes to a morning juice. Amanda Chantal Bacon is a dear friend and we love everything she does.

340 S. La Brea Ave., Hancock Park | 323-938-5000

We go to this spot on La Brea to break a sweat.

720 N. Virgil Ave., Silver Lake | 323.284.8147

They have hands-down my favorite breakfast in the world, where they have made savory breakfast "a thing" and amazing jam "a thing."

Manhattan Beach Strand

Walking on the Manhattan Beach Strand with views from Palos Verdes to the Palisades.

3823 W. Sunset Blvd., Silver Lake | 323.663.6885

The salmon bowls at this spot in Silver Lake are great.

100 Terranea Way, Rancho Palos Verdes | 310.265.2836

Located at the Terranea Hotel in Palos Verdes, this is the perfect place to watch the sunset over dinner.

8905 Melrose Ave., West Hollywood | 323.978.2170

They can turn any Mexican food lover into a vegan. It's amazing.

Palos Verdes

We stay with my wife's family in Palos Verdes, where there are wild peacocks roaming and views almost as stunning as Big Sur.

860 S. Sepulveda, El Segundo | 310.469.7725

When it's time to head back to LAX, I'll grab my last meal here in El Segundo. The have a great kale salad.
San Francisco
San Francisco is the city where I met my wife and we lived there for a year together so it has a sweet spot in my heart. I love the blend of old school counterculture combined with the start-up scene, and nature—all at your fingertips.
601 Murray Circle, Sausalito | 415.339.4700

My wife and I love to stay at Cavallo Point, which is right over the Golden Gate Bridge. The hotel is situated in a National Park and our friend, Mike Freed, who is one of the owners is extremely passionate about sustainability. They have the most amazing organic sheets. If I am able to fit in a holistic treatment at the Healing Arts Center, it's a treat. Throw in their Michelin-starred restaurant with a menu that focuses on local and organic ingredients and you're in heaven!

Lyons Street Steps

When I go over the bridge to SF, I love to walk the Lyons Street stairs, which has stunning views of the Bay.

1299 18th St., Potrero Hill | 415.821.7569

The gluten-free pancakes here are a must.

2044 Fillmore St., Pacific Heights | 415.563.5000


I first learned about chakras at this studio on Fillmore Street. They have amazing holistic treatments, and a great curation of products to buy, too.

400 Grove St., Hayes Valley | 415.914.0501

This spot in Hayes Valley has amazing bowls.

1998 Polk St., Russian Hill | 415.660.5573

There are some great grass-fed burger options in San Francisco: Belcampo is phenomenal.

1923 Fillmore St., Lower Pacific Heights | 415.800.7801; plus other locations

This is another go-to for a grass-fed burger. Located on Fillmore Street, it's the perfect option for a great quick bite.

400 Gate 5 Rd., Sausalito| 415.332.3732; plus other locations

We fell in love with Heath Ceramics when they only had a small studio in Sausalito, registered there when we got married, and every time we go back we are inspired by their gorgeous color hues.

I love walking around the Ferry Building and the Embarcadero, which has stunning views of the Bay Bridge.

2889 Mission St., Mission | 415.285.7117

For dinner, I love keeping it casual and La Taqueria is still my favorite place for tacos.

3692 18th St., Mission | 415.626.5600

After dinner, I always get some organic ice cream at Bi-Rite Creamery, and sit in Dolores Park to eat it.
Miami
Living in NYC has us escaping to Miami at least a few times every winter.
2341 Collins Ave., South Beach | 305.604.1000

I love the new 1 Hotel from Barry Sternlicht. He's got one of the best Miami restaurants in there—the new Beachcraft from Tom Colicchio—as well as Aspen's Spring Cafe for juice and treats, AND a Spartan gym!

2901 Collins Ave., South Beach | 786.257.4588

The salmon caesar salad at Jean George's Market at EDITION is one of my all-time favorites.

1506 Collins Ave., South Beach | 305.748.6099

They might have the best tortilla chips with guacomole in the world here. They hand-make the chips. They're mind-blowing.