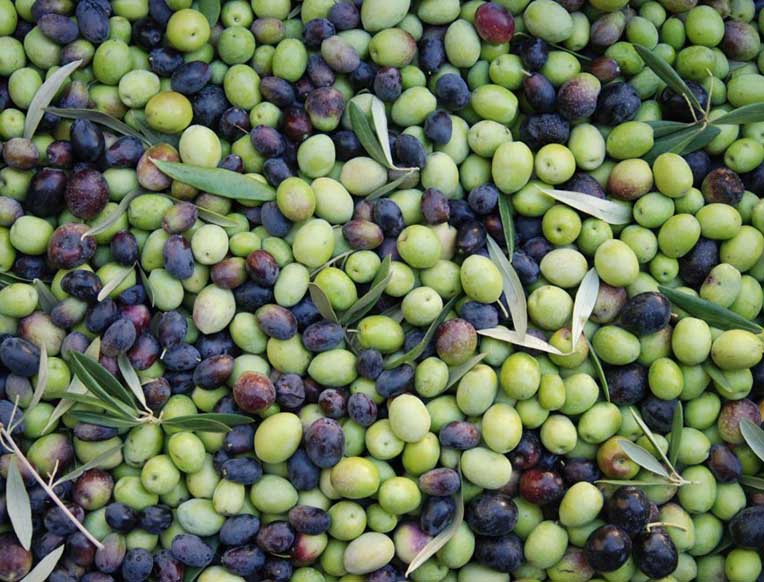 Pain-Fighting Shopping List
Our pain specialist, Vicky Vlachonis, is always telling us about foods that cause system-wide inflammation. We asked her for a grocery store cheat sheet.
In previous contributions to goop, I've talked about the power of anti-inflammatory foods, nature's most potent pain relievers (see The Body Doesn't Lie, Vicky's Pain Toolbox, and The Hangover). While we all plan to make better choices, we sometimes default to filling the cart with old school staples at the market. But anti-inflammatory foods abound on every shelf of the grocery store and bin at the farmer's market—not only do they often taste better, but they can make a big difference to your body. Here are a few pain-free swaps. (For more, get Vicky's book, The Body Doesn't Lie.)
Balsamic Vinegar
Because…
Many brands of balsamic vinegar are actually "condiment balsamic vinegar," which is nothing more than white vinegar with caramel color and extra added sugar—and no beneficial bacteria.
Raw Apple Cider Vinegar
Because…
The fermentation process in raw apple cider vinegar creates beneficial bacteria and enzymes that reduce inflammation. Look for "cold-pressed" brands that have sediment in the bottom. Create an anti-inflammatory daily tonic by adding two tablespoons to eight ounces of water.
Sriracha Sauce
Because…
Tasty though it may be, sriracha contains added sugar and salt, which can cause inflammation and bloating. (If you can't give it up, GP makes a super clean version, Lee's Sriracha.)
Tumeric or Fresh Ginger
Because…
Turmeric and ginger both add a bit of spicy heat while reducing inflammation. Turmeric contains curcumin, an anti-inflammatory agent proven to be as potent as hydrocortisone or ibuprofen. Ginger boasts many antioxidant compounds that reduce muscle pain, inflammation, and swelling.
White sugar
Because…
This prime offender rapidly increases blood glucose and stimulates the release of inflammatory cytokines.
Raw Manuka Honey
Because…
All honey has small amounts of naturally produced hydrogen peroxide, which help fight inflammation-causing bacteria. Manuka honey is even more powerful, believed to fight up to 80 different varieties of bacteria, including antibiotic-resistant MRSA.
White potatoes
Because…
While white potatoes do boast vitamin B6 and potassium, their high glycemic index outweighs the benefits. (Glycemic index is a measure of how quickly a given food raises your blood sugar.)
Sweet potatoes
Because…
Sweet potatoes also have B6 and potassium—along with a dozen other inflammation-lowering vitamins and minerals, including one of the highest concentrations of free-radical-fighting beta-carotene of any food on earth. Steam for two minutes and serve with olive oil (or butter!) to protect beneficial enzymatic reactions and increase absorption of beneficial nutrients.
Strawberries or oranges
Because…
If you suspect strawberries or oranges (or any other common allergen) of triggering a food sensitivity reaction, eliminate that food from your diet for three weeks, then "challenge" your system with reintroduction. If you don't have any reaction, feel free to keep these both on your shopping list. They contain many inflammation-reducing compounds and can help fight pain—if they don't cause problems for you.
Cherries or lemons
Because…
If you do have a reaction, consider "safer," less allergenic substitutions. Tart cherries have a pain-fighting power similar to ibuprofen—eating just 10 a day can cut gout flare-ups by 50 percent. Lemons are among the most concentrated sources of the bioflavonoid quercetin, a powerful antioxidant that helps regulate your body's histamine response, which can reduce inflammation and make allergies more bearable.
Baguette bread
Because…
White baguette bread is among the highest glycemic index foods, setting the bar high at a near-perfect 95.
Whole rye or Ezekiel bread
Because…
At an estimated GI of 35, Ezekiel brand sprouted grain breads have a relatively low glycemic index for processed bread. (Even their sweet raisin bread only has a GI of 43!) Whole rye bread is slightly higher at 58, but is a nice, hearty, nutrient-packed option.
English Breakfast or Earl Grey tea
Because…
Earl Grey tea has added bergamot, which can trigger muscle cramps in sensitive individuals. English Breakfast tea does have anti-inflammatory power, but also has high levels of caffeine. Drinking too much can trigger inflammatory stress hormones, neutralizing the beneficial effect.
Nettle tea
Because… I drink nettle tea all day long! A powerful diuretic, nettle tea is naturally caffeine-free and reduces bloating, blood sugar, blood pressure, and inflammation. Nettle has been used in many cultures for centuries to help reduce general musculoskeletal (joint and muscle) pain, arthritis, and gout.
Roasted/salted peanuts or peanut butter
Because…
As a common allergen, peanuts have the same cautions as oranges or strawberries. Peanuts are also high in omega 6 fatty acids (already in inflammation-raising abundance in our diets) with almost no inflammation-fighting omega 3 fatty acids.
Flax or chia seeds, and almond butter
Because…
Flax and chia seeds are two of the only nuts or seeds that have more omega 3 than omega 6s. Almonds mainly have omega 6s, but they have a greater ratio of monounsaturated fats (as in olive oil or avocados) to polyunsaturated fats (as in vegetable oil) than peanuts.
Cow's milk
Because…
Non-organic milk is horrible, packed with endocrine-disrupting antibiotics and growth hormones as well as inflammatory omega 6s. Even organic milk, with more omega 3s, can trigger some inflammation—especially among the 65 percent of us with lactose intolerance.
Almond milk
Because…
We're often encouraged to drink cow's milk for the calcium, but almond milk has 50 per cent more calcium, plus fiber, magnesium, and healthy fats. When you make your own almond milk, you avoid all the added sugars and emulsifiers that can hide in commercial almond milk.
Cow's cheese
Because…
While easier on the stomach than cow's milk because it has less lactose, cow's cheese has more casein, a protein similar to gluten that can trigger an inflammatory response (especially among those sensitive to gluten).
Goat cheese
Because…
Goat's milk has less lactose, so any product made with goat's milk—cheese, yogurt, etc.—will decrease that effect. The type of casein in goat's milk is less inflammatory than the casein in cow's milk. Goat's milk also has a higher concentration of calcium and protein, and even some vitamin C.
Corn oil
Because…
Corn oil is packed with inflammatory omega 6 fatty acids that stiffen cell walls and clot the blood—bad news.
Extra virgin olive oil
Because…
Extra virgin olive oil (especially cold-pressed Greek oil, such as Gaea) is a great source of omega-9s as well as many types of anti-inflammatory polyphenols that can protect our tissues from oxidative stress and heal our blood vessels on a genetic level.
Oatmeal
Because…
While oats are not naturally a gluten-containing grain (like wheat, barley, and rye), many commercial brands of oatmeal contain gluten.
Quinoa or gluten-free steel cut oats
Because…
Protein-packed quinoa tastes and acts like a grain, but in structure is more closely related to beet root or spinach. Prepare quinoa as a hot breakfast cereal or spoon some over goat's milk yogurt. Or look for a reputable brand for oatmeal, such as Bob's Red Mill Gluten-Free Rolled Oats.