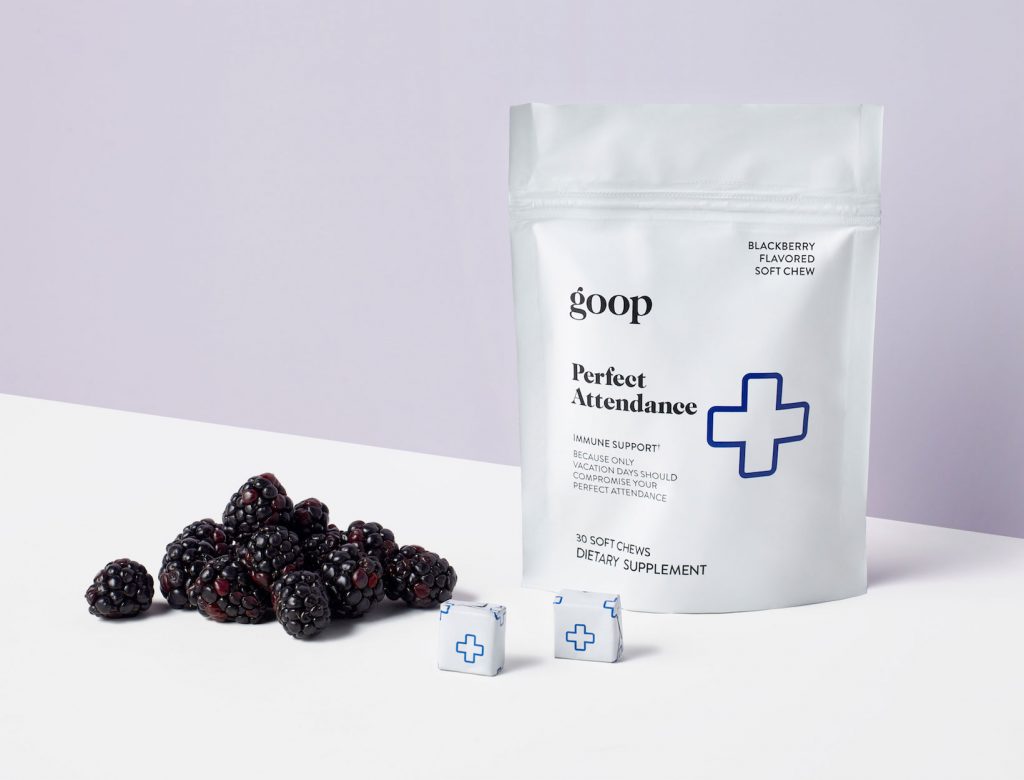 Ask Susan: Elderberry, Fermented Whole Food, and Perfect Attendance
Ask Susan: Elderberry, Fermented
Whole Food, and Perfect Attendance
Over the course of her research and development career, Susan Beck has produced over 300 evidence-based products for the dietary supplement, nutraceutical, functional food/beverage, and cosmeceutical industries. Before joining goop to lead our product development, she spent time working for the largest food company in the world. Susan holds a PhD in nutritional science and a master's degree in traditional Chinese medicine. She's also an acupuncturist and a nutritionist.
Your immune system is always on the clock. That's why, if you're looking for a little extra support, you aim for this: a supplement regimen that works as hard as you do—that you actually want to take. That's why we made Perfect Attendance: a blackberry-flavored chew made with elderberry and a clinically studied form of baker's yeast—yes, you read that right—to back up your body's natural defenses. We asked Susan why she chose these two ingredients for immune support.
A Q&A with Susan Beck, PhD
Q
Why did you want to make Perfect Attendance?
A
We wanted to create an immune-supporting formula for busy, hardworking people to take on the go. And we wanted it to taste good enough that they would look forward to it. So we created Perfect Attendance, a bite-size chew for daily immune system sustenance.
---
Q
What's in it?
A
We have used the best-quality ingredients: In each chew, you'll find organic elderberry extract, a long-standing herbal favorite, as well as EpiCor, a trademarked whole-food fermentate derived through a proprietary process. EpiCor has been clinically studied for its effects on the immune system.
Elderberry fruit has been traditionally used in North America in thick syrups and in food and is considered highly nutritious. EpiCor is created from baker's yeast in a process similar to how we make kombucha and other fermented foods. What's great about EpiCor is that the company that makes it, Embria Health Sciences, has invested resources to clinically study this unique ingredient, and the research has yielded positive results in showing its immune-supportive effects. As a bonus, it also promotes good digestive health by supporting beneficial gut bacteria.
---
Q
What can we expect when we take it?
A
Here's the thing about your immune system: You know it's working best when you notice it least. Same with Perfect Attendance. When taken consistently, it works hard behind the scenes. That means if you're feeling good and normal and healthy, stick with it.
---
These statements have not been evaluated by the FDA. This product is not intended to diagnose, treat, cure, or prevent any disease.