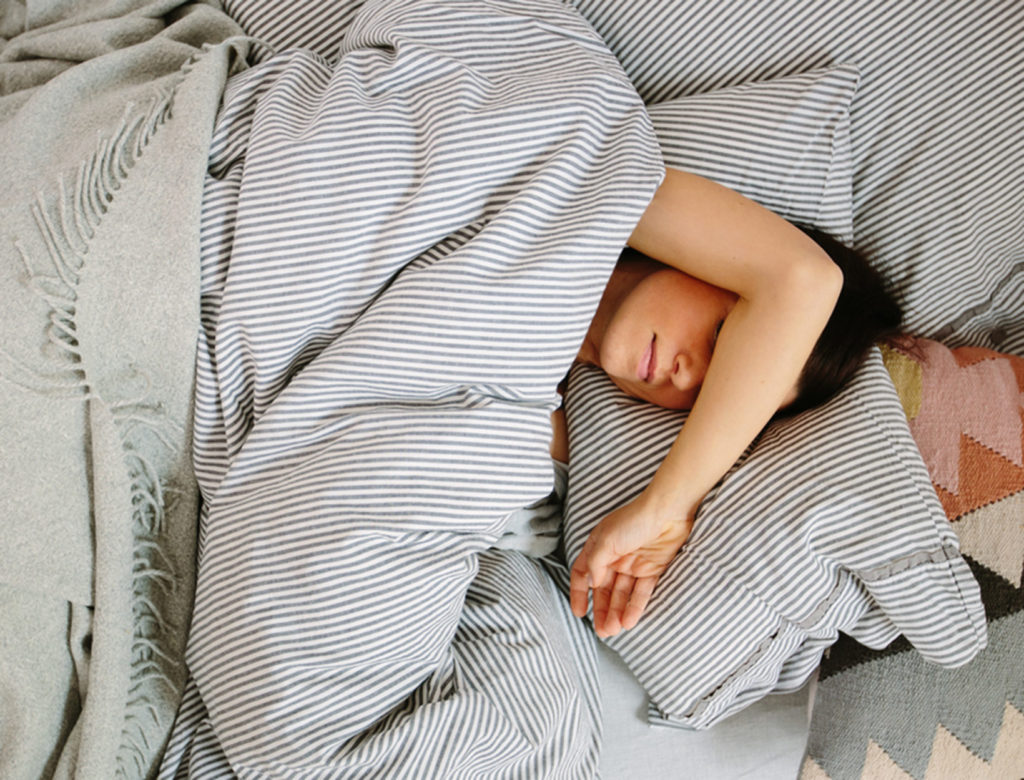 When Menopause Comes Early
When Menopause Comes Early
The transition into menopause can be challenging, regardless of your age. But for 1 percent of women in the US, menopause can begin much earlier than the average age of fifty: It can begin as early as your late thirties. And because early menopause affects only a small portion of the population, it's not commonly discussed, making it even more shocking and confusing for those going through it.
Gynecologist Sherry Ross walks us through the signs, symptoms, and health risks of early menopause—and shares her advice for managing its symptoms and effects early on.
A Q&A with Sherry Ross, MD
Q
What is early menopause? How common is it?
A
Menopause is the natural process through which a woman's ovaries stop producing estrogen, halting fertility and menstruation. The average age of menopause is fifty-one years old. Early menopause happens when this process begins at a younger age than usual. (When menopause begins before the age of forty-five, it is considered early menopause; if the process begins before the age of forty, this is premature menopause. The only difference between the two is the age at which it occurs.) Many haven't heard much about early menopause because it affects only 1 percent of women in the US. In addition to experiencing hormonal symptoms–which are similar to those in menopause at a later age–if a woman has not had her period in over a year, early menopause is a likely cause.
---
Q
How is it diagnosed?
A
Diagnosing early menopause is challenging for the health care provider, and the diagnosis can also be challenging for a young woman to understand. Since only 1 percent of women experience this, it's important for health care providers to pay close attention to a woman's symptoms, take a detailed medical history, and perform the correct blood tests.
If a woman does not have a period for twelve months and has other symptoms of low estrogen, and her blood tests—mainly focused on her levels of follicle-stimulating hormone (FSH) and estrogen—are consistent with menopause before she is forty years old, early or premature menopause should be suspected. Other medical issues, including thyroid dysfunction, autoimmune diseases, and infections, need to be ruled out to make a definitive diagnosis.
Because these women are below the average age of menopause onset, it's best to repeat these blood tests three to six months after a suspected diagnosis and to continue to closely follow up with a menopause specialist.
---
Q
What causes early menopause? Is it genetic?
A
For the majority of women going through early menopause, the cause is unknown. That said, there are a few factors that can increase one's predisposition. These include:
---
Q
Are there any long-term effects?
A
Because your ovaries are no longer producing healthy and viable eggs, once a woman has gone through menopause, she can no longer get pregnant. Not being able to get pregnant naturally after early menopause occurs can be emotionally devastating. While advancements have allowed women to be able to carry a pregnancy at almost any age, the egg would have to come from a donor. Depression and anxiety are more common in women with early menopause as they learn to accept changes, both physically and emotionally, that were unplanned or unexpected.
Heart disease affects one in three women and is the leading cause of death among women throughout the world. Early menopause alone does not cause heart disease, but it amplifies the risk factors that increase one's susceptibility to heart disease. Those risk factors include a high-fat diet, smoking, obesity, diabetes, and high blood pressure, all of which catch up with you later in life. Additionally, estrogen levels—which have a positive effect on your heart prior to early menopause—plummet in menopause. This significant decrease in estrogen does not cause cardiovascular disease, but it may increase the risk. Because of this, women who go through early menopause have a shortened life expectancy mainly due to heart disease.
Osteoporosis—which literally means "porous bone"—is a disease in which bones become brittle and fragile, making them more susceptible to fractures and breaks. Women are five times more likely than men to develop this disease. Bone is live tissue and is constantly being built and broken down. Estrogen, calcium, and vitamin D are part of the building blocks necessary to keep bone tissue healthy and strong. As women lose estrogen in early menopause, the building material of bone is weakened, putting them at risk for osteoporosis. Deficiencies in calcium and vitamin D also contribute to bone vulnerability. Prevention is the best way to avoid weak bones in the first place. Whether you are in your twenties, thirties, or forties, it's important to make sure you have enough daily dietary calcium in your diet to build strong bones and prevent this disease.
On a positive note, women with early menopause have a decreased risk of breast cancer.
---
Q
What can be done to relieve the symptoms? Is it similar to when women go through menopause at a later age?
A
The life-changing symptoms of early menopause and menopause are treated exactly the same way. There are simple lifestyle adjustments younger women can make to support healthy aging and make the hormonal upheaval less disruptive and stressful.
A healthy lifestyle goes a long way at any time in your life, and that's especially true with early menopause. Things like inactivity, an unhealthy diet (fast food!), smoking, and excessive alcohol consumption can all make menopause symptoms worse. You can make simple adjustments now:
• Maintain a diet focused on fresh fruits and vegetables, whole grains, and fish. Limit your intake of alcohol and red meat—similar to the Mediterranean diet. This diet benefits your heart and improves cognitive function. In fact, the Mediterranean diet is associated with the highest life expectancy and lowest rate of heart disease in the world and has been shown to help with early menopausal symptoms. Make sure you are getting enough calcium and vitamin D from your diet to help support bone density changes.

• Remove or decrease fast food and sweets in your diet. This will help limit calorie intake and reduce sodium and fat intake. Limiting your consumption of these types of foods will help reduce blood sugar and cholesterol levels, which helps decrease weight gain, bloating, and water retention, which are all very common in early menopause.

• Exercise. Regular exercise improves metabolism, bone density, bodily pain, mood, breathing, energy, and quality of life. It can help you feel more confident and may help ease the stress of early menopausal symptoms. It strengthens your heart and improves your sleep patterns. Exercise abstinence not only puts you at risk for heart disease, high blood pressure, and other chronic health problems; it leads to weight gain, fatigue, insomnia, and depression, all of which worsen the transition into menopause. Exercising for as little as thirty minutes three days a week can show immediate health benefits. I use a Fitbit, which I love, because some days I can tend to be very sedentary. Keeping track of my steps, aiming for 10,000 a day, makes me more accountable and successful in monitoring my daily activity.

• Incorporate weight-bearing and muscle-strengthening exercises into your routine. Weight-bearing exercises are simply movements in which your feet and legs support your body weight. Low-impact exercise such as fast walking and elliptical and stair-stepping machines build muscle and endurance and also increase bone density. Same with high-impact exercises like running, jogging, jumping rope, and high-intensity aerobics. Strong muscles increase blood flow and send key nutrients to help maintain healthy bones.

• Stop smoking. Smoking increases the risk of heart disease, stroke, lung cancer, and death, and it increases the frequency and severity of hot flashes. A recent study showed women who stopped smoking at least five years before menopause had a significant decrease in the severity and frequency of hot flashes.

• Limit alcohol consumption. Alcohol increases your risk of heart disease, liver disease, high blood pressure, diabetes, and colorectal and breast cancer, and (drum roll please) it worsens hot flashes. By the way, one five-ounce glass of wine is equivalent to one and a half ounces of hard liquor, which may surprise (or depress) you. It's recommended that you consume no more than three to four servings of alcohol a week. Removing alcohol, even if it's just a habit of one or two drinks a few times a week, has immediate effects on blood sugar levels, water retention, blood pressure, weight loss, energy level, emotional stability, sleep changes, and pulse rate.

• Sleep. It's necessary. Aim for at least seven hours a night!
---
Q
What else can help?
A
Herbal alternatives: If diet and lifestyle changes don't help manage the symptoms of early menopause, there are safe alternatives and supplements to turn to. There are many scientific studies showing certain herbs to be helpful in managing the symptoms of menopause. Passionflower extract, L-theanine, chasteberry, royal jelly, ashwagandha, chromium, fenugreek, ginkgo biloba leaf extract, maca root, and CoQ10 are some of the more researched herbs shown to combat menopausal symptoms and improve your life. Although herbs are not FDA-approved as pharmaceutical medications are, well-regulated supplements can be as effective as prescription medication.
Acupuncture: When it comes to hot flashes, acupuncture has had mixed reviews. Some swear that it's helpful, while others report no relief. Since it has relatively no side effects if done correctly, I believe it's worth trying.
Hormone replacement therapy: HRT is recommended when early menopausal symptoms are disruptive and affect a women's quality of life. For low-risk women, HRT can reverse early menopausal symptoms and protect against bone loss and vaginal and bladder problems. It's always about weighing the benefits versus the risks of HRT. It's best to use HRT for the shortest amount of time and at the lowest dose under the guidance of a menopause specialist.
---
---
This article is for informational purposes only, even if and regardless of whether it features the advice of physicians and medical practitioners. This article is not, nor is it intended to be, a substitute for professional medical advice, diagnosis, or treatment and should never be relied upon for specific medical advice. The views expressed in this article are the views of the expert and do not necessarily represent the views of goop.