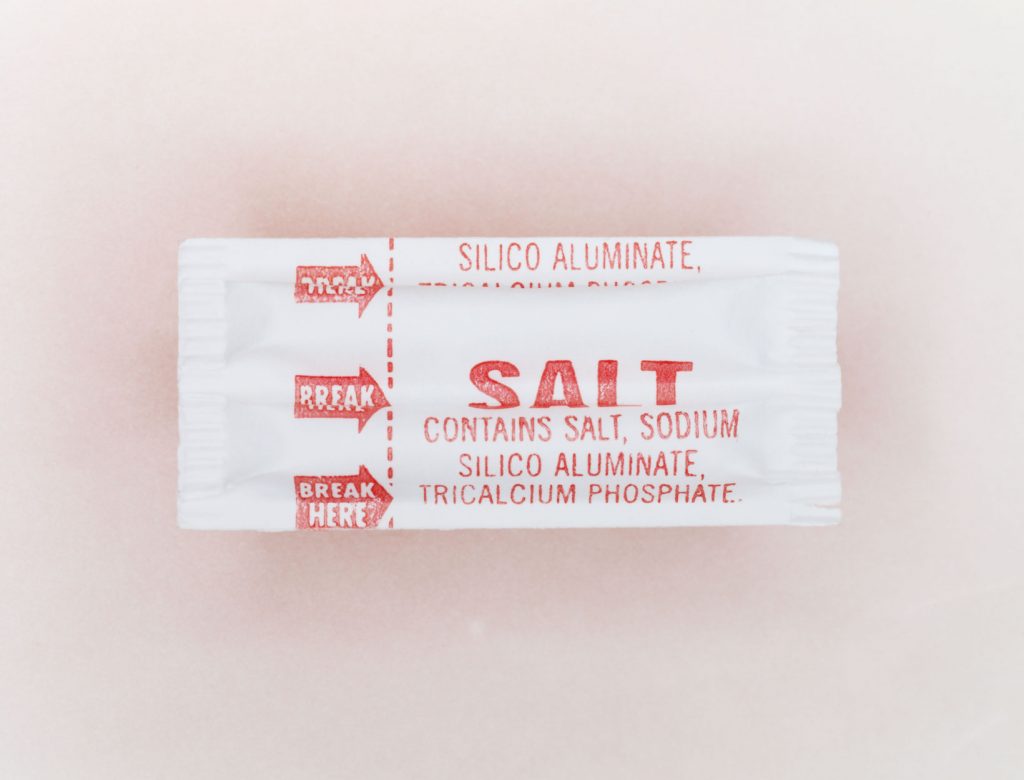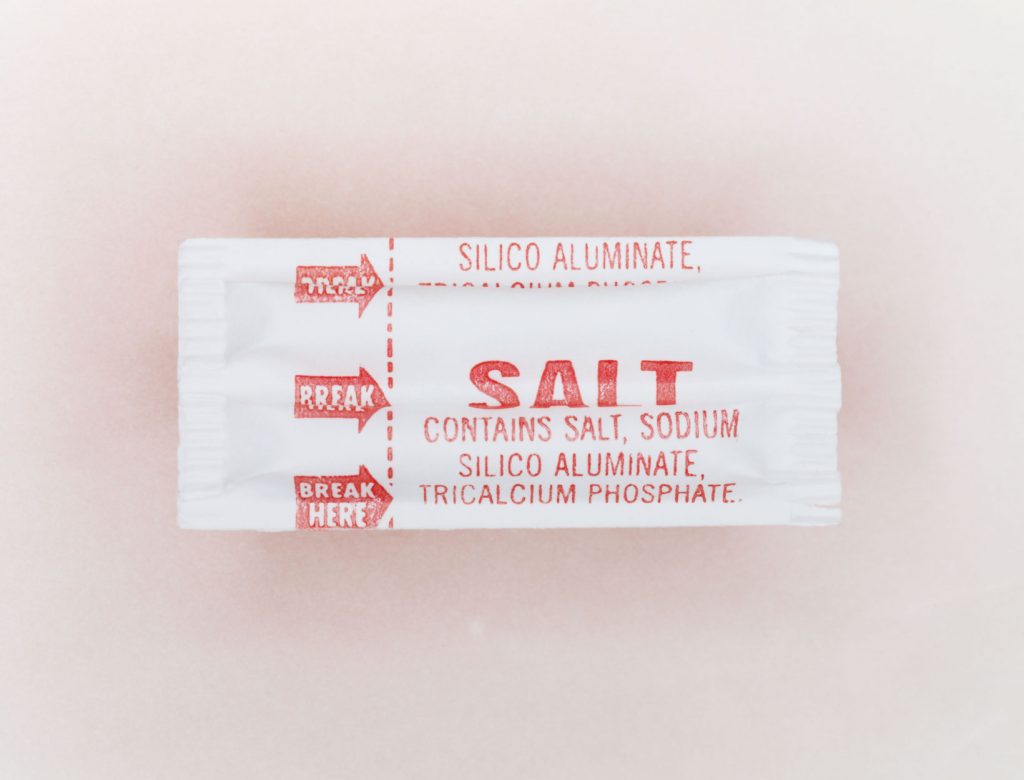 Photo Courtesy of Craig Cutler/Trunk Archive
Don't Blame the Salt Shaker: Hidden Sodium and Our Hypertension Problem
Food manufacturers know that high sodium consumption contributes to hypertension, hypertension contributes to heart disease, and heart disease is the number one cause of death in the United States. But they also know that salt sells—and may even have addictive qualities. And they load it in.
In 1977, manufacturers weren't required to list most basic nutrition information we're familiar with today—including sodium content—on food packaging. This was a clear public health problem: consumers had no chance of making healthy decisions without that information. Bonnie Liebman, then a recent hire at the Center for Science in the Public Interest (CSPI), had a project: petition the United States Food and Drug Administration to require sodium content to be listed on packaged food. Every can, every box, and every bag from the grocery store is the evidence: She won.
For decades since—and now as CSPI's director of nutrition—Liebman has been holding food manufacturers accountable for the population-wide health outcomes of processed food, rallying legislative support for good food policy, and empowering consumers to make informed choices about what they eat. Labeling sodium was just the start of a long battle over salt and human health. Today, most Americans consume nearly double the daily recommended allowance of salt, some manufacturers manipulate health data to protect their profits, and hidden sodium might make frequent dining out a cause for concern.
A Q&A with Bonnie Liebman, MS
Q
Why do America and other industrialized nations have a salt problem?
A
While about 15 percent of the sodium we consume is naturally occurring in food and we add about 10 percent while cooking or at the table, 70 percent of the sodium we consume is added by food companies and by restaurants—and that's the problem. Most of us aren't leaning too heavily on the salt shaker.
---
Q
What are the risks of consuming a lot of salt—and is it possible to consume too little?
A
While experts recommend no more than 2,300 milligrams of sodium per day, the average adult now consumes about 4,000 milligrams a day. About nine out of ten people exceed the recommended level. The primary risk is that consuming more salt raises blood pressure, and high blood pressure increases the risk of heart attack, stroke, and other forms of cardiovascular disease. It's a very serious problem: Close to one in two adults now has high blood pressure.1
Everybody needs a minimal level of salt, but most Americans far exceed that minimum. If you had no salt, you would be in trouble, but that's not likely—unless you were a hunter-gatherer living in the jungle. It's just not an issue.
---
Q
How does big business sway research and regulation around sodium and human health?
A
The Salt Institute—an organization that represents salt manufacturers—has, over the years, fought very hard to convince the public and the government that cutting back on salt not only is unnecessary but would actually be harmful. The institute points to studies that conclude that people who consume very low levels of salt have a high risk of cardiovascular disease, but those studies are often flawed. The problem is that in some cases, people who eat less salt are already ill, so they're eating less food. If you eat less food, you eat less salt, but it's not the low-salt diet that's increasing your risk—it's that you were sick to begin with. That misunderstanding is called reverse causation. Or there could be something else different about people who eat a very low-salt diet that increases their risk of cardiovascular disease or risk of dying.
---
Q
Are some people more sensitive to salt than others, in terms of clinical outcomes?
A
Researchers believe that some people are more sensitive to sodium2 than others, but there's no easy way to tell if you are more salt-sensitive or not, so it doesn't have much practical application. The Salt Institute—remember, which represents the interests of salt manufacturers—says we shouldn't worry about salt because many people aren't sensitive. But that doesn't really matter much if you and I have no way of knowing our level of salt sensitivity.
---
Q
How do you know whether what you're eating is high in sodium?
A
You can't tell how much sodium is in foods by the taste alone. If you told someone going to McDonald's to cut back on salt, they would avoid the French fries—but a large order of fries has less sodium than almost any other food3 on the menu. Other than a yogurt parfait, soft drinks, and a salad (without chicken), everything else on the menu has more sodium. A lot more sodium. The fries, which people typically identify as salty, aren't the problem; it's the large amounts of salt hidden in the burgers, the nuggets, the McMuffins, the chicken and fish sandwiches, the biscuits, and more.
That's the problem: There's a lot of salt in a lot of foods, and many of them don't even taste salty.
---
Q
What's your day-to-day advice for people trying to be mindful of salt consumption?
A
It's worth checking labels to pick lower-sodium versions of foods. Look when you're shopping. Lower-sodium soy sauce, soups and broths, and canned beans and vegetables are easy swaps4 in the grocery store. And some brands of frozen entrées or pizza, packaged rice or other grains, and other prepared foods have more sodium than others.
But in restaurants, it's virtually impossible to avoid excess salt because you don't know how much is in a meal. You could request everything without any sauces, but that could make things bland and boring. And let's face it—most people don't want to do that. (Many chain restaurants do list sodium if they have nutrition information available online or in a brochure.)
There are other ways to help lower your blood pressure. Eating a diet rich in fruits and vegetables, which are high in potassium, can help. Potassium can help counter the effects5 of sodium on blood pressure.
---
Q
How do we put an end to hidden salt and high-sodium foods?
A
Frankly, I would hope that we can take the burden off of the average consumer and instead put it on the food and restaurant industries, where it belongs. It's hard enough for people to look at calories and saturated fat and added sugars when they're shopping or eating out, and to add salt on top of that is quite a burden. It's the food industry and the restaurant industry that are dumping salt into our food to begin with; it should be their responsibility to cut back, not ours. And we've made some progress: The Food and Drug Administration has issued draft voluntary targets for companies to cut back on the salt in their foods. New York City chain restaurants have to put a salt shaker symbol next to foods that are very high in sodium—2,300 milligrams, or basically a day's worth of salt. In June, Philadelphia passed a similar law.
It's about putting pressure on companies to cut back on salt. That's the kind of action we're hoping will influence the food industry.
---
Bonnie Liebman, MS, is the director of nutrition at the Center for Science in the Public Interest. CSPI is a nonprofit consumer-advocacy organization in Washington, D.C., focused on diet and human health. Liebman uses nutritional science to inform regulatory food policy and also writes for CSPI's Nutrition Action Healthletter. Liebman holds an MS in nutritional sciences from Cornell University.
---
The views expressed in this article intend to highlight alternative studies. They are the views of the expert and do not necessarily represent the views of goop. This article is for informational purposes only, even if and to the extent that it features the advice of physicians and medical practitioners. This article is not, nor is it intended to be, a substitute for professional medical advice, diagnosis, or treatment and should never be relied upon for specific medical advice.