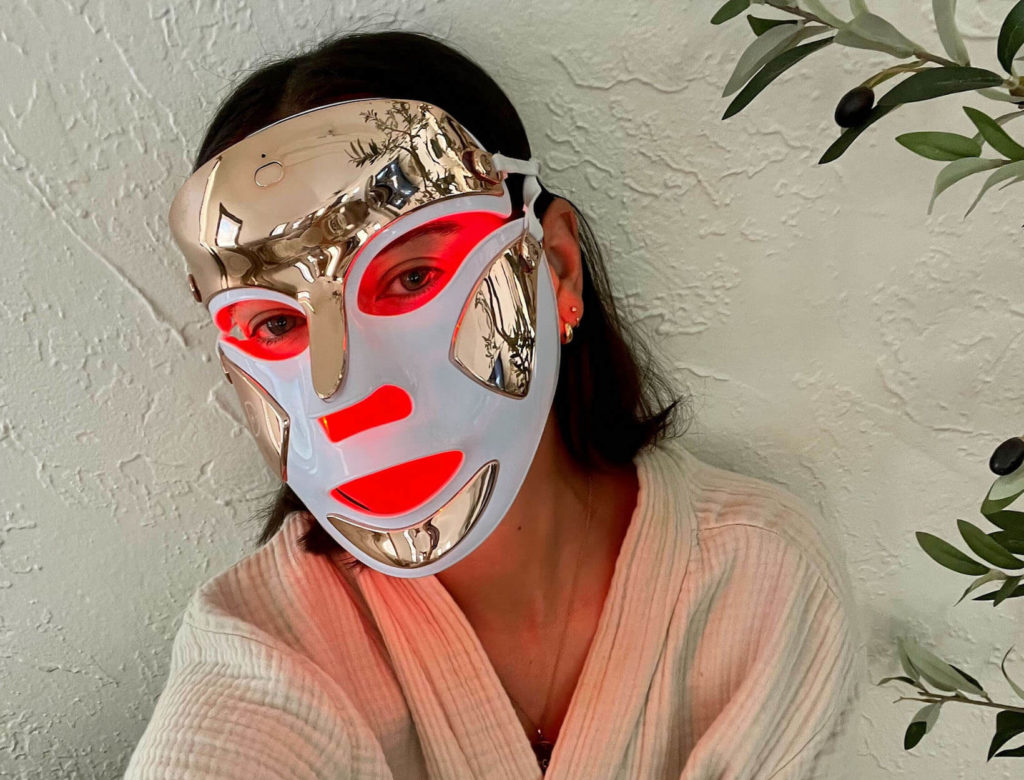 How Do Red Light Devices Work?
How Do Red Light Devices Work?
By Gerda Endemann, PhD
Usually if it sounds too good to be true, it isn't true. So we were skeptical about the wellness and beauty benefits claimed for light, and for red light in particular. But the evidence is mounting that red light is a simple, noninvasive way to stimulate the health and rejuvenation of cells and tissues. And blue light can also be useful.
First, a quick summary of how the different wavelengths of light affect us: The color of light, and whether we can see it, is determined by its wavelength. The shortest wavelength our eyes can see is violet light, and the longest wavelength we can see is red light. In between come blue, green, yellow, and orange light. We don't see
ultraviolet light (with wavelengths that are shorter than violet light) or infrared light
(with wavelengths that are longer than red light).
We know a fair bit about how the UV and infrared wavelengths that we can't see affect our bodies. Infrared light is warming, and we love devices with infrared heat. UV light is used by our skin to produce vitamin D, which is essential for cellular health, immunity, and bones. Of course, excessive UV light burns and damages skin, so doctors recommend using sunscreen and taking a vitamin D supplement as needed.
But it's also turning out that visible red and blue wavelengths of light do more than just look pretty.
How Red Light Promotes Beautiful Skin and More
Clinical research has shown that red light triggers reactions in cells that support skin rejuvenation and boost smoothness, elasticity, and appearance. This is called photorejuvenation. One of the ways that red light appears to work is by supporting the production of collagen and reducing the amount of an enzyme (MMP-1) that breaks down collagen.
Red light can also promote the health of cells and tissues in other ways, including stimulating tissue maintenance and repair, and energy (ATP) production in cells' power plants, the mitochondria.
For the Face

Strap on this soft, flexible, ultramodern mask for a 20-minute red light treatment at home instead of in your dermatologist's office. LEDs in the Red Light Face Mask deliver both red light (630 nanometers) and near-infrared light (880 nanometers) wavelengths without any ultraviolet light. With regular use, the combination of red light and near-infrared light has been shown to promote the appearance of rejuvenated and smoother-looking skin.

HigherDOSE

RED LIGHT FACE MASK

goop, $299

SHOP NOW

The high-tech SpectraLite FaceWare Pro uses both red light and blue light for a dual approach to smooth, rejuvenated skin. While red light stimulates collagen and helps promote elasticity, blue light is designed to target blemishes and prevent breakouts. The mask has three settings and is designed for all skin types, from oily to sensitive.

Dr. Dennis Gross

DRX SPECTRALITE FACEWARE PRO

goop, $435

SHOP NOW
For the Pelvic Floor
For sexual function and pelvic floor tone, the vFit Gold uses red light together with heat and vibration to nurture healthy cells and tissues. Heat stimulates blood flow, bringing oxygen and nutrients for tissue health. Vibration is used to mechanically stress connective tissue, which research suggests may positively impact tissue strength.
Thoughtful design is obvious in every aspect of vFit Gold. The controls are easy to find even when the device is in use (that is, when you can't easily see them). Or you can control the device with an app. Try integrating it into your routine for 10 minutes every other day.
The company that makes vFit sponsored a study in which women used the device for 10 minutes every other day for 24 sessions. Women reported significant improvements in sexual functioning, and objective data demonstrated
improvements in the women's pelvic muscle strength.
For the Body
The BodyPro Cupper combines red light with adjustable intensities of vibration, heat, and suction. The traditional Chinese medicine practice of cupping is used to pull skin and muscles up, in contrast to massage, in which tissue is compressed. Place this on your back, shoulder, or anywhere a massage would feel good, and choose energizing, soothing, or deep mode.
The Gemstone Heat Therapy Mat from HealthyLine combines red light–emitting LEDs with 13 pounds of amethyst, tourmaline, and jade gemstones. Lying on the warm stones is designed to stimulate local circulation and ease muscle tension for relaxation and well-being.
Using Blue Light for a Healthy Sleep-Wake Cycle
There's also research on the benefits of blue light. Blue light–blocking glasses may be desirable in the evening so that your body doesn't think that it's still daytime. Blue light late in the day can mess with your circadian rhythm and sleep cycle. But it's natural to be exposed to sky blue light during the daytime, and daytime blue light benefits include promoting focus, productivity, mood, and comfort. The beautiful BIOS lamp cycles through four programs designed for optimal daytime benefits and a peaceful transition into a good night's sleep. There's more on this subject in our story on light and mood.