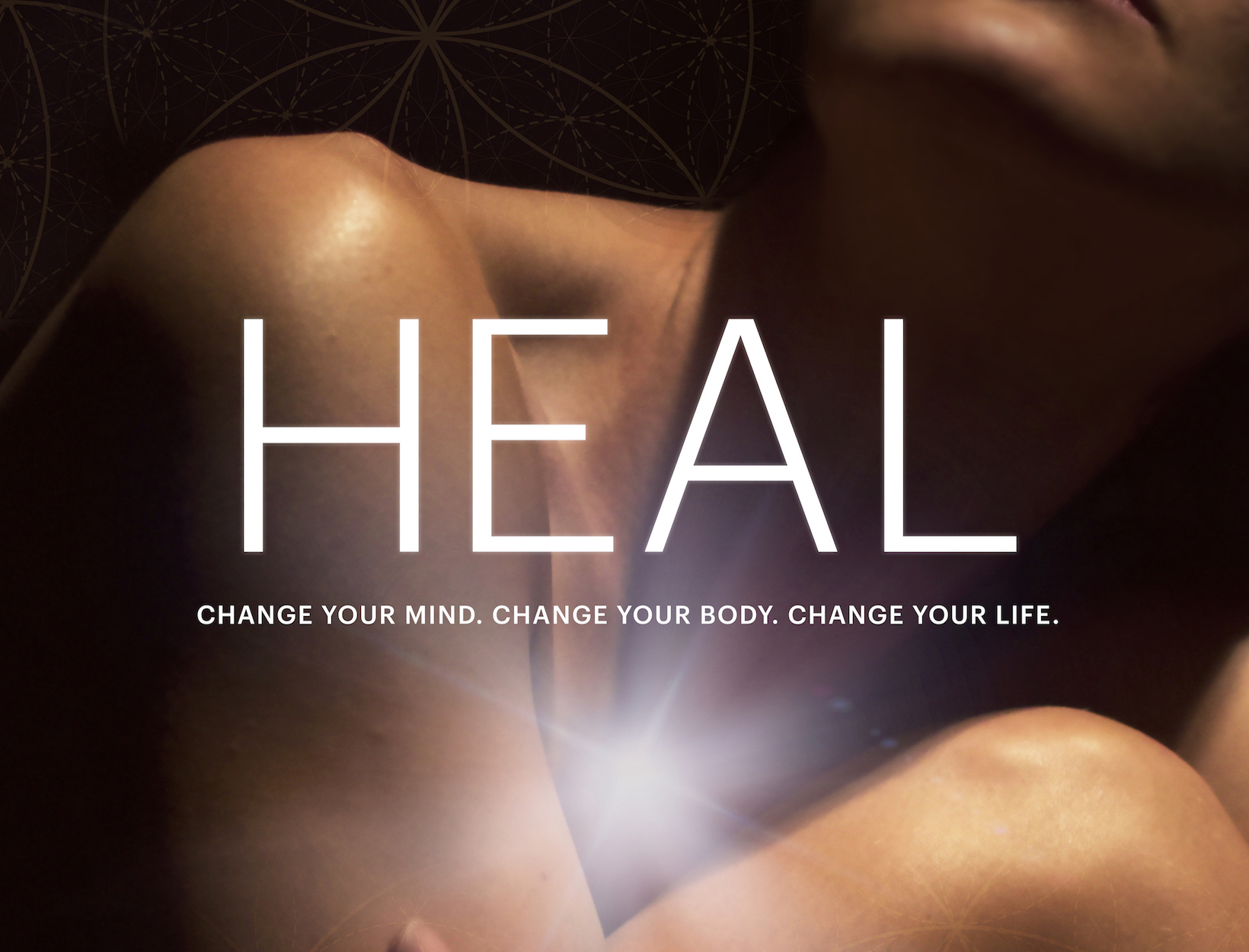 Documentary to Watch: HEAL
HEAL, the new documentary directed, written, and produced by Kelly Noonan Gores, supports the idea that we have more control over our health than we've been previously taught. The film tells the compelling stories of people who have overcome chronic diseases and pain–which are considered to be among most common and preventable of all health problems—by focusing on the power of belief and investing in practices and therapies that support the body's inherent ability to regenerate. "The body is so intelligent and it's designed to heal and repair itself at every moment," says Noonan Gores, who supplemented the anecdotal evidence in the film by weaving in interviews with leading scientists, mind-body experts, and holistic practitioners including Bruce Lipton, Ph.D., Anthony William, and Deepak Chopra. The collective work distills Noonan Gores's fascination with how our mindset, beliefs, and choices–from stress levels to nutrition to environmental factors–can play a role in our health. Here, she talks to us about the inspiration behind the film and what she hopes will be viewers' biggest takeaway.
A Q&A with Kelly Noonan Gores
Q
What was your impetus behind producing HEAL?
A
There wasn't one specific incident that led to me making this film but rather it was a series of moments and events that empowered me over my lifetime. One of my first aha! moments was reading Marianne Williamson's A Return to Love about eighteen years ago. I was in college, in between transferring from UC Berkeley to UCLA, and was experiencing depression for the first time in my life. I thought the rainy Berkeley weather and partying was to blame, but turns out I was having a bit of a crisis of faith. When I read A Return to Love, in which Williamson writes about how love is a potent force in our lives, it resonated so deeply with me that it threw me on this path of self-discovery and spirituality. Later in my twenties I started going to the Agape Spiritual Center where Rev. Michael Beckwith empowered me with his teachings. I started meditating, which completely changed the way I looked at life and dealt with stress. I also took a course at the Institute of Integrative Nutrition and learned that our body tells us what it needs and that we just need to listen–and that what we put in our mouths not only affects our waistlines, but our mental health as well.
During this time I was reading profound books by various experts, one being Bruce Lipton's The Biology of Belief about epigenetics, which made me see how our choices and beliefs have the ability to turn on and off our genes. Then three years ago the final catalyst was reading Dying to Be Me, Anita Moorjani's memoir where tells of her near-death experience while suffering from late-stage cancer that her doctors said was terminal. She went into a coma (or the other realm, as she described it), which was a heavenly state of pure unconditional love–and experienced a moment of total clarity of why she had gotten cancer. She realized that every decision she had made in her life was out of fear. She knew in that moment that if she went back into her body she would heal. She had lemon-sized tumors all over her body, but at the end of three weeks, after coming out of her coma, her cancer had disappeared. That showed me what is truly possible when it comes to healing and recovering from illness or trauma. After learning Anita's story, I thought I have to make this movie. Plus, so many people I knew were getting sick. So, by the time I made the film I had been thinking about it for the past decade.
Q
One of the main theses of the film is the idea that we aren't merely victims of genetics but rather have more control over our health than is often perceived. Can you explain this?
A
What Lipton, a stem-cell biologist, discovered with epigenetics is that the cell's membrane acts as both its protective outer layer and also its brain, taking in all the information from the environment and informing the function of the cell. Therefore, he believes our choices, from what we eat, to what we're exposed to in our environments, to our subconscious beliefs about life, all play a part in the wisdom of our cells and how they respond. Lipton said that we are not victims of our DNA but rather our DNA is a blueprint; and how our genes will be expressed, or not, is based on our choices and our beliefs.
"There's a lot of divisiveness and fear about our health today. So many people are sick, including more and more youth. I want to shine a light of awareness on what is available–and what is possible."
All the experts whom I interviewed in my documentary believe that the majority of our gene expression is based on our lifestyle choices–and that stress-related illness accounts for a vast majority of doctor visits. They believe that almost all forms of disease stem from subconscious beliefs, including stress, and unprocessed emotional wounds, as well as toxins in our food and environment.
Q
How do you hope HEAL will impact viewers?
A
I hope this project gives people hope and empowers them to take control of their health–and find the doctors and healers who will help them do so. There's a lot of divisiveness and fear about our health today. So many people are sick, including more and more youth. I want to shine a light of awareness on what is available–and what is possible. So many people have recovered from every type and stage of cancer, as well as other grave diseases. We can limit ourselves in our thinking, so it's important to focus on the possibility rather than focus on the fear. Our bodies are designed to heal, so we just need to learn how to best support our bodies and our natural healing processes.
I have so much compassion for anyone struggling through illness. I hope this film can be a bridge to help people find their path to healing.
Q
Your interviews cover a wide wellness spectrum, from a medium to a holistic psychologist to a nutritionist: What was your intention in corralling such a mix of experts?
A
I first reach out to those who had affected me, and taught me to listen to my body, and from there I trusted who came across my path. I aligned my purpose with my passion and it just flowed. One person always seemed to lead me to the next, even if someone said no. For example, I contacted Dr. Christiane Northrup who couldn't grant me an interview at the time because she was up in Maine, but she told me if I was heading to New York I had to get in touch with Anthony William, Dr. Kelly Brogan, and Dr. Kelly Turner. These people weren't on my radar at the time, so I was so grateful Christiane led me to these three experts.
"In order to heal, you have to get to the root cause. You can't just silence the symptom in chronic illness."
I tried to create the film in a way that wasn't against any form of medicine, therefore I wanted to include as many mindsets and viewpoints as possible. We have an amazing advanced network of Western doctors in terms of diagnostics and science, so I wanted to show what's available across all modalities. I think Elizabeth, one of my subjects in the film, is such a powerful example of someone who chose both Eastern and Western medicine for her journey. Diagnosed with late-stage cancer, she did conventional treatments with radiation and chemo and supplemented those with deep emotional and spiritual work. This helped her body go through those harsh treatments with less side effects and incredible results.
Q
As you researched and searched for people who were on a healing journey to include, what were some of the ailments people faced?
A
It's crazy how many people I've come across who are facing chronic mystery illnesses, like fibromyalgia, Lyme disease, and chronic fatigue. That's why Anthony William, the Medical Medium in the film, has such a following: So many people are not getting answers from their conventional doctors; so many people are dealing with issues they cannot seem to get any clarity on—or they can't seem to heal. People are searching for answers in this conventional system and they are not there. There are so many non-conventional doctors and healers, people like the Medical Medium who can help people find answers through ancient healing modalities, energy medicine, etc., as well as new technologies. I want people to know there are options out there in the case their Western-trained specialist can't find the root cause. That's a big lesson in the film: In order to heal, you have to get to the root cause. You can't just silence the symptom in chronic illness.
"People are searching for answers in this conventional system and they are not there."
Q
Is there anything you discovered during the making of this documentary that didn't make the final cut?
A
In the process of making this film I learned how much our oral health is connected to every meridian in our body. Poor dental health, including infections resulting from roots canals, have been associated with cancers and other ailments. A lot of the time we aren't aware of these low-grade infections beneath the surface, and they can wear down your immune system, silently wreaking havoc over time.
Q
For anyone looking to explore more on healing, where do you suggest they begin?
A
I suggest they ask questions and seek out integrative, complementary, or naturopathic doctors who look at the body holistically and understand everything is connected—emotionally, spiritually, and physically. Naturopaths are medically trained doctors who are equipped to perform advanced medical tests but choose to treat dis-ease with more natural approaches. If you're happy with your Western doctor, I recommend considering supplementing your healing process with mental, emotional, and spiritual support. Choose doctors and friends that don't add to your fear, but help support your journey towards hope and healing. I also suggest people explore ways nutrition can be beneficial, as well as meditation and stress management. But overall, continue to ask questions and have faith in possibility.
HEAL will be open commercially in Los Angeles at Laemmle's Monica Film Center through November 1 and in NYC at the Village East Cinema through November 2. For more information on screenings throughout the country, click here.
Kelly Noonan Gores began her career in front of the camera, acting and hosting. In 2012 she started Elevative Entertainment and transitioned into writing and producing. She recently produced the 2015 film Tooken, a spoof on the Taken franchise, starred in and executive produced the 2013 feature film Beneath, as well as the award-winning short, Take A Seat. She considers HEAL her greatest passion and life's work.