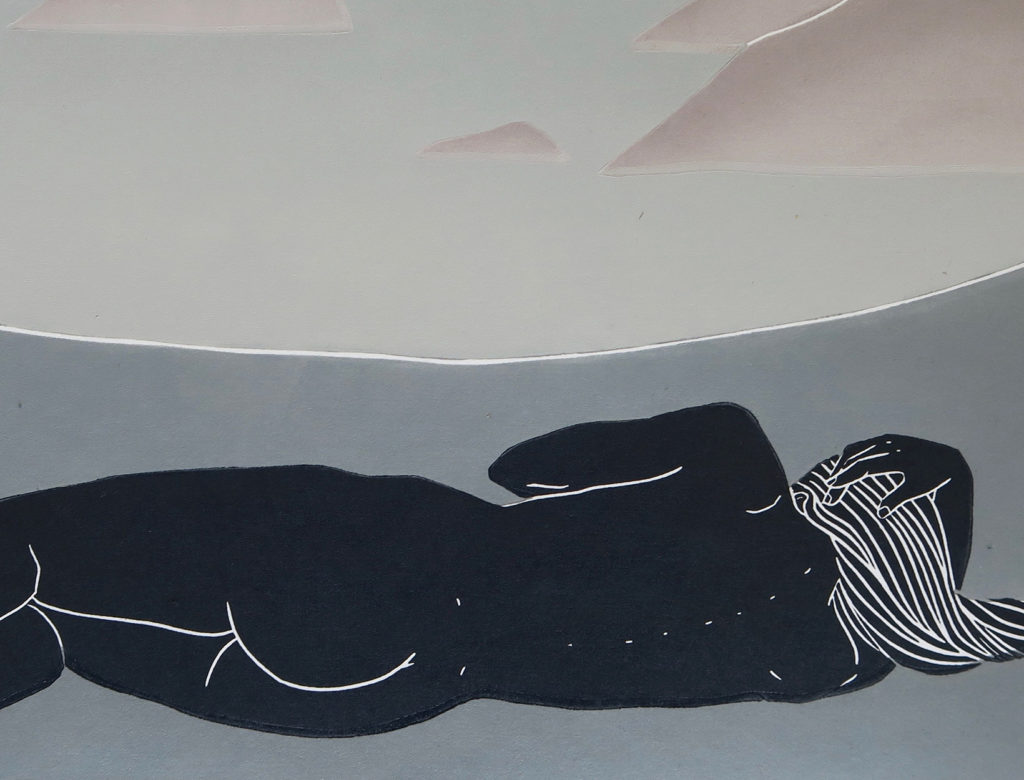 Illustration by Elln Von Wiegand
Using Dialectical Behavioral Therapy to Treat Suicidality and Self-Harm
Using Dialectical Behavioral Therapy to
Treat Suicidality and Self-Harm
For decades, the most effective treatment for people with suicidal and self-harming behaviors has been something called dialectical behavioral therapy. It's a yearlong intensive program, created by psychologist Marsha Linehan, involving several hours a week of individual therapy and group work in mindfulness skills. The goal is not just to keep people from dying by suicide or engaging in self-harm but also to help them find deep-seated meaning and purpose—to keep them alive and well in the long-term.
DBT is, in large part, built on psychological and behavioral research. It's also based on personal experience, which Linehan revealed publicly less than ten years ago: In 1961, at the age of eighteen, she was admitted to a psychiatric hospital. She was there for over two years, and her experience reflects how little we used to know about treating people at risk of suicide and self-harm. Many of the therapies Linehan went through were ineffective. The worst of them were neglectful or harmful, often driving her deeper into what she still can only describe as hell.
Linehan's story moves in fits and bursts: There's a period of time—which includes her stay in that psychiatric hospital—that she has zero recollection of; she had to piece it together by asking loved ones, examining medical notes, and poring over her own journals. But she healed, almost miraculously. She got a PhD in social and experimental psychology. And she developed the therapy that she once needed. Her memoir, Building a Life Worth Living, is shocking and heart-wrenching on one end, triumphant on the other, and an inspiration of hope all the way through.
With the help of her former student Ronda Oswalt Reitz, PhD, Linehan shares a glimpse of her story—as well as what DBT is, where it comes from, and what makes it so effective.
---
Dialectical Behavioral Therapy and
Building a Life Worth Living
I developed dialectical behavior therapy (DBT) for people who suffer unimaginable emotional pain and resort to desperate behaviors in the midst of suffering. The people I most wanted to help were those at very high risk for suicide, and DBT turned out to be extremely successful in helping suicidal people stay alive. But from the beginning, I knew it wasn't enough to simply keep people from dying by suicide while they were in treatment; we had to solve the revolving-door phenomenon we see with chronically suicidal patients. Most clients who undergo DBT have multiple mental health diagnoses, and often they've failed to get better in several other treatment programs before they come to us. Sometimes whole treatment communities have given up on them.
It was vital to create a treatment that helped people find lasting meaning in their lives so they would want to stay alive beyond their time in therapy. That meant I had to help them climb out of emotional hell and learn to skillfully navigate a sometimes very difficult world without resorting to harmful behaviors—all while working toward living a life they would experience as worth living.
THE GENESIS OF DBT
DBT had its true beginnings in 1961, over thirty years before the treatment manual was published. I was eighteen years old and in my senior year of high school when an emotional hell overcame my life. It was an agony that defies words. I was admitted to an inpatient unit in Hartford, Connecticut, with a plan to stay a few weeks. But my symptoms became increasingly severe, and I was not discharged for more than two years. During that time, it seemed to me that the only escape was through pain or death. But while I was in the hospital, I vowed to get myself out of that hell and then to help other people find the way out, too. DBT is the fulfillment of that vow.
During my hospital stay—and in treatments for years after—I recognized that no one knew how to help me. They tried everything they knew to make me better. But in the end, it wasn't the medications, or the electroshock therapy, or the thousands of hours of talk therapy that were my way out. The most healing part of any of these treatments was the genuinely caring relationships I had with many of my providers.
"At the heart of DBT, there's the assumption that people are doing the best they can in any given moment. All behaviors, even self-destructive ones, are seen as having legitimate causes."
While love wasn't enough to cure me, it did influence how I developed DBT. In fact, the central dialectic in DBT arose from my experience of treatment: I wanted to develop a treatment we knew was effective in changing behavior, but it also had to communicate deep valuing and caring to the patient. At the heart of DBT, there's the assumption that people are doing the best they can in any given moment. All behaviors, even self-destructive ones, are seen as having legitimate causes. We don't assume people repeatedly engage in problem behaviors due to a lack of motivation to change or a desire to manipulate others, or because they enjoy crisis or know how to push other people's buttons. We take an inherently nonjudgmental approach to the behavior and the person.
THE SCIENCE
For many years, no one would research or treat individuals with suicidal and self-harming behaviors. Our first challenge was that there was no treatment available and no research being conducted. For our first study, our lab, the University of Washington Behavioral Research and Therapy Clinics, advertised for clients who had engaged in suicidal and self-harming behavior. I called local hospitals and said, "Send me your worst cases. Send me the most suicidal people you have, the most difficult to treat." They were more than happy to do that—and sent me people who had had multiple recent suicide attempts and episodes of self-injury.
Historically, the standard response to suicidal behaviors has been hospital admission, where there was containment but no formal treatment—especially not one proven to reduce recurrence of those behaviors. (To date, there is no research supporting the idea that hospital admission is helpful in preventing loss of life by suicide.)
Once we had recruited clients, we started the unique process of developing DBT. I based my work on a cognitive behavioral model, treating each client on an outpatient basis, reviewing session tapes with a research team, keeping what worked, and getting rid of what didn't.
We noted that other treatments generally focus on solving the emotional pain that gives rise to suicidal and self-harming behavior, although data does not support this approach as an effective way to reduce life-threatening behaviors. Treating depression, for instance, does not seem to reduce risk of suicide. Instead, DBT suicide protocols were developed to focus on suicidal and nonsuicidal self-harming behavior as the problem itself and to directly intervene and teach clients to manage the precursors and reinforcers of this behavior. We used an outcome-measurement approach to make sure we were heading in the right direction. Over time, the treatment took shape. And we're proud to have demonstrated very strong outcomes: We now have a well-tested general treatment, as well as protocols that focus explicitly on suicidal and self-harming thoughts, emotions, and actions.
Over the last several decades, research has shown that DBT also helps people with substance dependence, depression, borderline personality disorder, post-traumatic stress disorder, and eating disorders—and the list continues to grow. We have an exciting new DBT treatment to be used in schools and one in development for cancer patients. While we started with a focus on adult women, we now know the treatment is effective with women and men ranging from early adolescence through older years.
Of course, the treatment isn't yet good enough; clients still die by suicide. We don't want anyone to die by suicide. Researchers continue to refine the treatment in an effort to continue to improve outcomes.
HOW DBT WORKS
A critical part of DBT is evaluating the impact of events and interventions on patients, rather than coming up with a one-size-fits-all treatment—we assess the client's experience instead of relying on assumptions or theories. The fundamental concepts on which DBT is based are behavior therapy, acceptance, and dialectics:
Behavior therapy
The behavior therapy component of DBT relies on time-tested standard principles and strategies of behaviorism. Basically, a problem behavior is identified and assessed by carefully examining what happened before, during, and after a patient performed the behavior. The therapist and client work together to identify points at which an intervention may reduce the probability that the problem behavior will happen again. A strategy or two is chosen, and the client is given an assignment to practice. This continues until the behavior is eliminated.
In DBT, behavior therapy includes skills training, which typically occurs during weekly group sessions. Therapists also teach necessary skills in individual therapy and during coaching calls, drawing upon whatever is needed in that moment to move the client forward.
"Clients learn to balance their emotional and intellectual responses in order to more reliably find something we call 'wise mind': the deepest sense of the truth in any moment."
The first of four skill units taught to new clients is Core Mindfulness. This is the shortest unit, but it is most fundamental to the treatment as a whole; these skills underlie all other elements of DBT. Core Mindfulness consists of seven mindfulness skills that we practice at every group meeting. They are simple, but they require consistent practice to effectively integrate into daily life. Clients learn to balance their emotional and intellectual responses in order to more reliably find something we call "wise mind": the deepest sense of the truth in any moment. Building a life worth living requires making choices from your own deepest sense of truth.
The other skill units focus on finding wise mind and skillful means in specific contexts: in relationships (this unit is called Interpersonal Effectiveness Skills), emotional experiencing (Emotion Regulation), and responses to crisis (Distress Tolerance). Each of these units is offered over six or seven weeks and is repeated twice in the yearlong program. These units were developed with careful study of the skills that clients were lacking as they tried to navigate toward meaning in their turbulent lives, and then by identifying the most effective strategies that already existed in the treatment literature.
Acceptance
In DBT, clients' most unpleasant and difficult-to-treat behaviors are viewed as an expression of a natural but excruciating emotional pain, as well as a desperate attempt to reduce that pain. We accept that the behavior was caused by something important, and we work to identify and solve those causes in a collaborative way. Persisting in the belief that the client is doing the best they can, even in the worst moments, the therapist works to ensure that the next time those worst moments arise, the client will behave in a different way. This deep acceptance of the client results in a powerful relationship that gives the therapist credibility when asking for difficult changes in behavior, such as giving up suicidal or self-harming behaviors, substance abuse, or school avoidance.
Dialectics
As I experimented with the treatments that became DBT, I found that highly emotionally sensitive clients, like the ones I was focused on helping, did not respond well to the change-only emphasis that characterizes most available mental health treatments. Suggestions for change were often met the client saying, "You think I'm the problem?" and then opposition to making change. I also tried using an almost exclusively validating approach—a communication of compassionate understanding of the clients' behavior and pain—and clients said, "Aren't you going to help me?" Ultimately, we found that the greatest success came from balancing these two approaches, moving back and forth as needed in order to advance the client in the direction of their goals and to avoid getting stuck in arguments with clients.
Dialectics refers to the dynamic balance between acceptance and change. Throughout the DBT process, the therapist carefully attends to this balance, promoting behavior change and validating the client's experience as needed to move the client forward at an optimal pace. The client is taught how to apply these dialectical strategies themselves, so they can become independent in reflecting on their own behavior and making changes that help them continue to have a life worth living beyond therapy.
THE WISE MIND AND THE ROLE OF SPIRITUALITY IN HEALING
I was raised Catholic, and spirituality has always been very central in my life. Most of the important turning points in my life—and in the development of DBT—had to do with my relationship with God. The moment in the hospital when I made my vow to find my way out of hell and then go back to help others find their way out, too, had stemmed from a moment of connection to God. Then again, in 1967, I had an experience that I didn't understand and that no one I knew could explain to me: I had entered a chapel to pray alone, in the depths of despair. Suddenly the chapel was filled with light. I was suddenly overflowing with the knowledge that God loves me and that I love myself. That was the first time I had ever had the feeling of loving myself. I was immediately transformed in a way that was visible to everyone who knew me, including my psychiatrist at the time, who discharged me from treatment because he no longer saw a need for it.
"Given the critical role of spirituality to my own path out of hell, it was essential to me to help others access the important parts. But many people are not spiritual, so it needed to be expressed in way that anyone of any faith or of no faith at all could benefit."
It was only when I read the book Mysticism: Its History and Challenges by Bruno Borchert that I realized this is what a mystical experience feels like. Borchert defines the word "mysticism" as "a phenomenon that seems to occur in all religions and cultures…it is the experimental knowledge that, in one way or another, everything is interconnected, that all things have a single source." This definition made many of my most important spiritual experiences make sense.
Given the critical role of spirituality to my own path out of hell, it was essential to me to help others access the important parts. But many people are not spiritual, so it needed to be expressed in way that anyone of any faith or of no faith at all could benefit. Zen was the answer. It is a practice and set of principles that guide the practitioner to enlightenment, which is marked by an experience of unity with all things and a feeling of timelessness. With the help of some of the best spiritual leaders in Zen, Willigis Jager in Germany and Pat Hawk in Arizona, I developed a model that can be used by spiritual and nonspiritual people alike. It grew into a central concept and practice of DBT: the wise mind.
ACCESSING DBT—AND SUPPORTING OTHERS THROUGH IT
As our worldwide rates of suicide climb higher, it is clear that we need more people to be able to access a treatment that gives them skillful means and helps them find a life they experience as worth living. DBT now has a national certification program (DBT-LBC.org), which lists names of providers and programs that have met a high standard in the delivery of DBT. We are working hard to encourage more clinicians to seek this level of quality in treatment and to make it easy for clients to find them.
If you're supporting someone dealing with suicidal thoughts or self-harming behaviors: Do not blame yourself. Know that you are doing the best you can, just as the person you are supporting is doing the best they can. Reducing judgment of yourself and the person you are supporting is a good start.
That said, there are more specific things you can learn to be helpful. If your loved one is in DBT, you might find a book or organization in order to learn more about the treatment and the skills. Good resources for books, videos, family support groups, and other materials to help you learn more about DBT can be found at depts.washington.edu/uwbrtc.
---
Marsha Linehan, PhD, ADPP, is the developer of dialectical behavioral therapy and author of Building a Life Worth Living. Linehan is a professor of psychology and an adjunct professor of psychiatry at the University of Washington. She is also the director of the Behavioral Research and Therapy Clinics, where she conducts research to develop and evaluate treatments for severe and complex mental disorders. She has an ongoing clinical practice and is active in the consultation, supervision, and training of mental health professionals around the world.
Ronda Oswalt Reitz, PhD, is the coordinator for dialectical behavioral therapy services for the Missouri Department of Mental Health and a national trainer-consultant for Behavioral Tech. She is a former Zen student and mentee of Marsha Linehan, PhD.
---
This article is for informational purposes only, even if and regardless of whether it features the advice of physicians and medical practitioners. This article is not, nor is it intended to be, a substitute for professional medical advice, diagnosis, or treatment and should never be relied upon for specific medical advice. The views expressed in this article are the views of the expert and do not necessarily represent the views of goop.