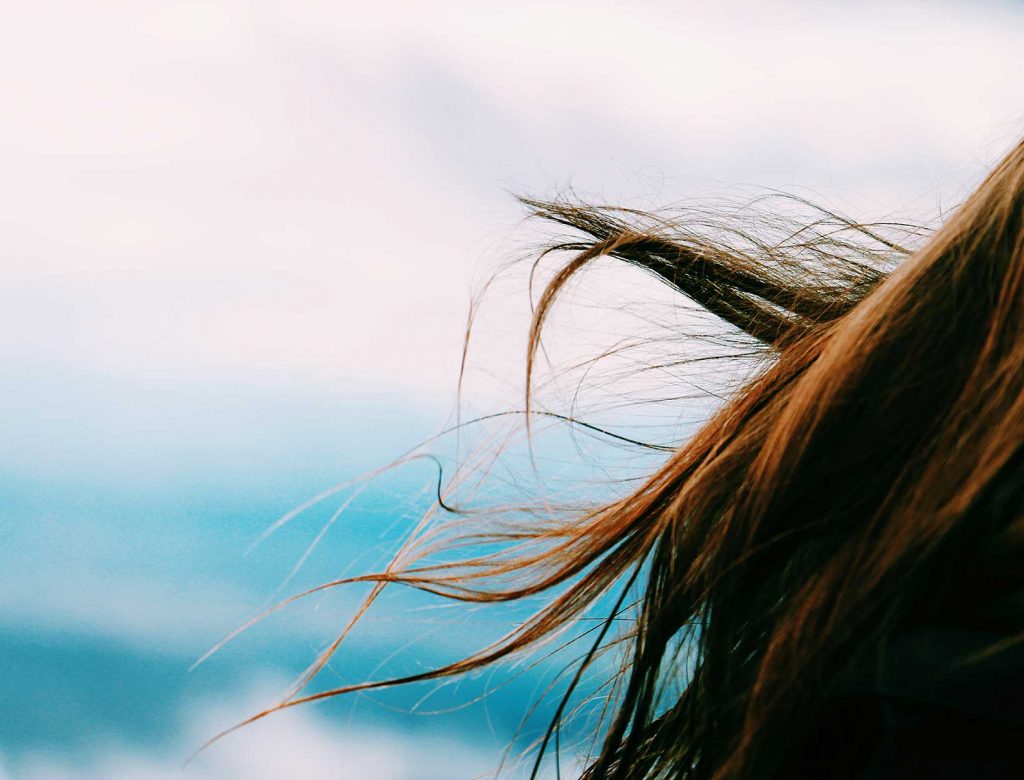 The Link between Chronic Stress and Hair Loss
The Link between
Chronic Stress and Hair Loss
In partnership with our friends at Nutrafol
Sophia Kogan was in medical school when she started losing her hair. The stress of her residency was taking a toll on her, emotionally and physically. She felt ashamed of it, and as a doctor, she started to question why hair loss was something she felt shy about discussing with other doctors. "I thought I had gotten the bad genes from my dad," says Kogan. She felt alone, and she tried to ignore what was happening to her body. But the anxiety she felt from losing her hair kick-started a cycle of stress, which led to more hair loss.
Today, Kogan is a cofounder and the chief medical advisor at Nutrafol, where she studies holistic medicine and leads research on how stress can manifest in our hair. In her search for answers about her own hair loss, Kogan has become an expert on nutrition and botanicals, and her findings have been published in the Journal of Drugs in Dermatology. At Nutrafol, she now leads a team of hair health experts who seek to provide what they call "hair wellness from within." Their line of supplements is meant to address the factors—stress, metabolism, hormones, gut health, and environmental toxins—that may contribute to hair loss (a quiz on the Nutrafol website will give you a recommendation based on these factors).
What's most important for Kogan is tearing down the stigma of hair loss—her mission is to let people know that they don't have to resign themselves to hair loss or hair thinning and that it doesn't have to be a sad, lonesome journey. "Everyone has a unique solution," says Kogan. "And at Nutrafol, we're always available to talk and help support people in every way possible along this process."
A Q&A with Sophia Kogan, MD
Q
What's your personal experience with hair loss?
A
I'm a physician, and it was a hard path for me. I had a rough time during my training with being healthy, maintaining sleep, and keeping up with my diet. I pretty much ate anything that I could find. Through that challenging time in my life, I started to experience health issues. Back then, we didn't really use the term self-care, so I did not have education about nutrition, and I started to lose my hair. I had also experienced hair loss earlier in my life: In my late teens, I had an eating disorder and lost half of my hair. I felt very alone, but as a doctor, it felt like it was a trivial problem and paled in comparison to anything that I was seeing in my patients or what they were coming to me for.
---
Q
How did you come to join Nutrafol?
A
When I met Roland Peralta and Giorgos Tsetis, the other cofounders, they were going through some of the same challenges that I was with hair loss, and they recruited me so that they could understand the science better. Now that I'm in this field, I've found that there's a common theme, especially for women: They don't really feel like this issue is something they can bring to the attention of their doctors. There's this shame around the topic of hair thinning and women, so it became a huge passion project for me because I had the same problem.
---
Q
Hair thinning and loss are common among both men and women. Why do you think there is more shame involved for women who experience it?
A
For women, it's a lonelier process than it is for men because we're never really told that it could happen to us. Men look at their fathers, they look at their grandfathers, and they know that they might lose their hair. We collectively understand that men have that potential. With women, it's taboo to talk about. Even at this age, in my thirties, nobody has told me that I might encounter thinning in my life. I know that I'll age. I know that I'll have wrinkles. I know that my body will change. But as women, we don't talk about hair loss even among other women, so when it happens, it blindsides you.
When I speak to women, I find that a lot of them are suffering and depressed, and they're suffering alone, in silence. It's very slowly shifting and changing, but it's still there. When I was going through it, I would look at myself in the mirror, but I didn't know that I could do anything about it. I didn't want to accept it myself, to even vocalize it. Nor did I think it was important enough to bring up with anyone, because I felt like it was trivial in comparison to the issues that my patients had.
---
Q
As the chief medical advisor at the company, what challenges do you face?
A
I was coming from the Western medical world, but I was not feeling great during my residency, and I knew I was not healthy. The sources that I found that were most helpful to me were actually not the ones I was learning about in school. I always appreciated science, but I started looking into the ancient wisdom of Ayurveda and botanicals.
What I struggled with was how to translate Eastern medicine into clinical terms. Eastern medicine is anecdotal, meaning there is a wealth of accumulated knowledge that's passed on through years of ancient traditions. Western medicine is evidence-based, so in order for someone to believe that something works, they need to have clinical proof. A lot of people believe that supplements are snake oil. I had to prove it to myself first before I could actively talk to other doctors about the benefits of botanicals. To break that skepticism, we had to provide scientific, clinical data that required going deeper into the pathways of botanicals and into their clinical efficacy.
---
Q
Is there a genetic component to hair loss?
A
Yes, but it's multifactorial. Genetics only loads the gun; the environment pulls the trigger. And you can counter the environment actively and proactively. That was something that wasn't common knowledge to doctors in general. Diving deeper into the science gave me a better understanding that hair loss and thinning were not just genetics. To bring that information forth, back to the physicians, was something that was both a challenge and an opportunity.
My hair loss was caused by a combination of factors. I knew that it happened during times of stress. Not every person who has an environmental trigger is going to lose hair. It is a combination of things that include genetics. So just because I'm predisposed, that does not always mean that I will lose hair, and vice versa.
It's also different for men versus women versus men and women who are older. There are always multiple issues at hand, and our published studies show that hair loss links back to inflammation, stress, hormones, and oxidative damage.
---
Q
Did you feel like you were caught in a stress cycle where medical school and losing your hair were both stressors?
A
That's always the case. When I talk to women now, I understand that it's always a cycle. Especially for women, there is such a high level of stress about it. When we talk to women, we hear them say, "I don't want to go outside." Imagine having such a strong feeling about it that you don't want to go outside. That's devastating, and there's a level of depression there. Then it gets challenging because it contributes to more stress. The cortisol levels go up, and that's damaging to the follicle. The digestion goes down. All of these things will impact how hair grows, and as a result, you will have more stress on your health.
We have naturopathic doctors and hair health experts who can help people with the emotional side of hair loss, so that people don't feel alone. This process requires communication, education, and a lot of conversation. Hair loss happens over a really long period of time, and in the same way, improvement also takes time, so commitment and consistency are key.
---
Q
What's your advice for healthy hair?
A
Eat clean, use the support of supplements, and find ways to disconnect and de-stress—those are all vitally important. The follicle is really not separated from our body, so anything that happens internally has to be balanced from a holistic, functional medicine perspective. Balance is one of the greatest things that I could advise.
Diet and nutrition are important, so eating whole foods, organic foods, and enough protein and decreasing sugar. Studies show that people who have insulin-sensitivity issues have more hair loss. Your hormones are shifted when your insulin is spiking up and down, and the hair follicle becomes sensitive as a result of that.
Diet has an impact, and so does making time for self-care and de-stressing. It's so fundamentally important because today's stress is at an all-time high. We are constantly connected, and we're chronically stressed. It's not just a spike; it's underlying stress that we've become used to. Even though we are mentally used to it, our bodies are not. Stress will still manifest in different symptoms, and that includes hair loss, shedding, and poor hair quality.
---
Q
What do you hope to accomplish next at Nutrafol?
A
We're going to continue on this path to destigmatize hair thinning, especially for women at every age, so that people can see that there is hope and they don't feel alone and ashamed about it. We want to make it much more of a positive experience, even though I know it's hard. There's always a positive and a negative way of looking at something, and we want to stay on the positive spectrum, so that we can encourage people to feel optimistic. Education and community are very important for us, so I am looking forward to creating an even more robust network of support. The more you know, the more you grow, and the more you can be proactive.
---
Sophia Kogan, MD, is an integrative hair health expert. She is a cofounder and the chief medical strategist at Nutrafol, where she has coauthored peer-reviewed studies on hair-thinning, hair-loss treatments and botanical medicine. Dr. Kogan received her medical degree from and completed her dermatology fellowship at SUNY Downstate Medical School in Brooklyn, New York.
---
This article is for informational purposes only, even if and regardless of whether it features the advice of physicians and medical practitioners. This article is not, nor is it intended to be, a substitute for professional medical advice, diagnosis, or treatment and should never be relied upon for specific medical advice. The views expressed in this article are the views of the expert and do not necessarily represent the views of goop.