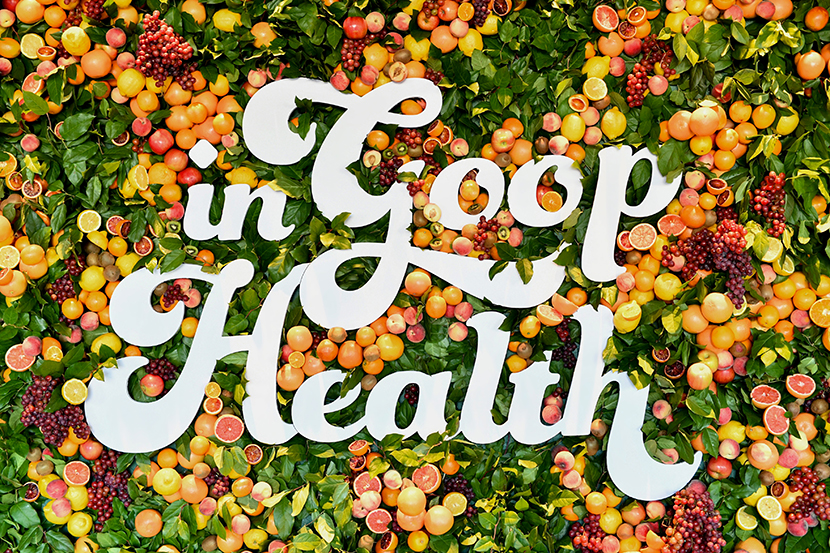 CBD Bath Bombs, B12 Shots,
and a Chat with Meg Ryan
The third installment of In goop Health took us back to where it all began: 3Labs studios in Culver City, LA. Panel moderators—Lake Bell, Mena Suvari, and Cleo Wade, to name a few—went deep with our most trusted advisors, doctors, and CEOs on a range of topics. They talked intuition, plant nutrition, the future of CBD, and a host of fascinating topics. In between words of wisdom, guests divided their time among beauty activations (Shiva Rose facials, on-the-spot custom fragrance blending, clean manicures…) and spiritual tap-ins from some of our most trusted psychics and healers. If energy levels dipped, the food hall came through with mushroom tonics, plant-based popsicles, and activated-charcoal-crust pizza. And if that weren't enough, a B12 shot station was set up on the patio. Just like it began, the day ended on a strong note, with GP in intimate conversation with TV writer and activist Janet Mock and then with actor and director Meg Ryan. By the time it was over, we all felt inspired, satiated, and, most wonderful of all, curious.

(And for the first time, we're bringing to you a full recap of the summit, including GP's take on the day, via the In goop Health Digital Pass.)
Janet Mock x GP.

Sun salutations with yoga master Baron Baptiste at Shutters on the Beach.

Sliding into IGH,
courtesy of Native Shoes

Where it all went down.

goopfellas, here to help.

(goop) glow up.

Mushroom tonics from Four Sigmatic.

The Ketel One Botanical H2O Cart.

Hanging out in
the Lululemon
aerial yoga class.
The Plant Nutrition Q&A, presented by

Bolthouse Farms

Ⓡ Plant Protein Milk (from left to right): nutritionists Keri Glassman and Kelly LeVeque and anchor Mena Suvari.

Lake Bell blazed through the MedMen panel on the future of cannabis.

Lean, mean, green machine.

Erica Chidi Cohen and Dr. Oscar Serrallach signing copies of their books.

Holding court at the Sqirl VIP lunch.

Hypnotic visual mantras with Morgan Yakus.

The inimitable Meg Ryan.

Skin-Cleansing Master Class with Annee de Mamiel.

Face time.

Baby's first wellness summit, thanks to the Munchkin Mama Nook.

Totes.

Nice haul: the VIP giftbag line-up.
SPECIAL THANKS TO OUR PARTNERS…
Ancient Nutrition, Aura Frames, Bolthouse Farms Ⓡ Plant Protein Milk, 3Labs, Casa del Mar, Four Sigmatic, Grove Collaborative, Homepolish, Karma Automotive, Ketel One Botanical, Hastens, LensCrafters, LOLA, lululemon, Lyft, Mark & Graham, MedMen, Moleskin, Munchkin, Native Shoes, PooPourri, Rent the Runway, Shutters on the Beach, Sweet Defeat, Sunlighten, Tru Niagen

SPECIAL THANKS TO OUR VENDORS…
Amor Luz,, Anastasia, Angie Banicki, Angie Godfrey, Annee De Mamiel, Ashley Neese, Bao Foot Spa, Blue Bottle Coffee, Bondi Harvest, Christie Mann, Cote, Deganit Nuur, Dennis Gross, Douglas Little, Facile, Flower Child, Glamsquad, Glamsquad Lip, Health-Ade Kombucha, Herbivore Botanicals, Human Garage, Hydration Room, Josh Seigel, Jules Davis, Kelsey Patel, Kiki Matoba, Kreation, Laura Lynne Jackson, Lynette Hagins, Madame Dry, Martha Soffer, May Lindstrom, Morgan Yakus, Shiva Rose, Skin Robes, Sqirl, Surya Bread Station, Surya Spa, Susan Grau, Suzannah Galland, Suzanne Guillette, Tata Harper, The Now, Up Flying Yoga, We