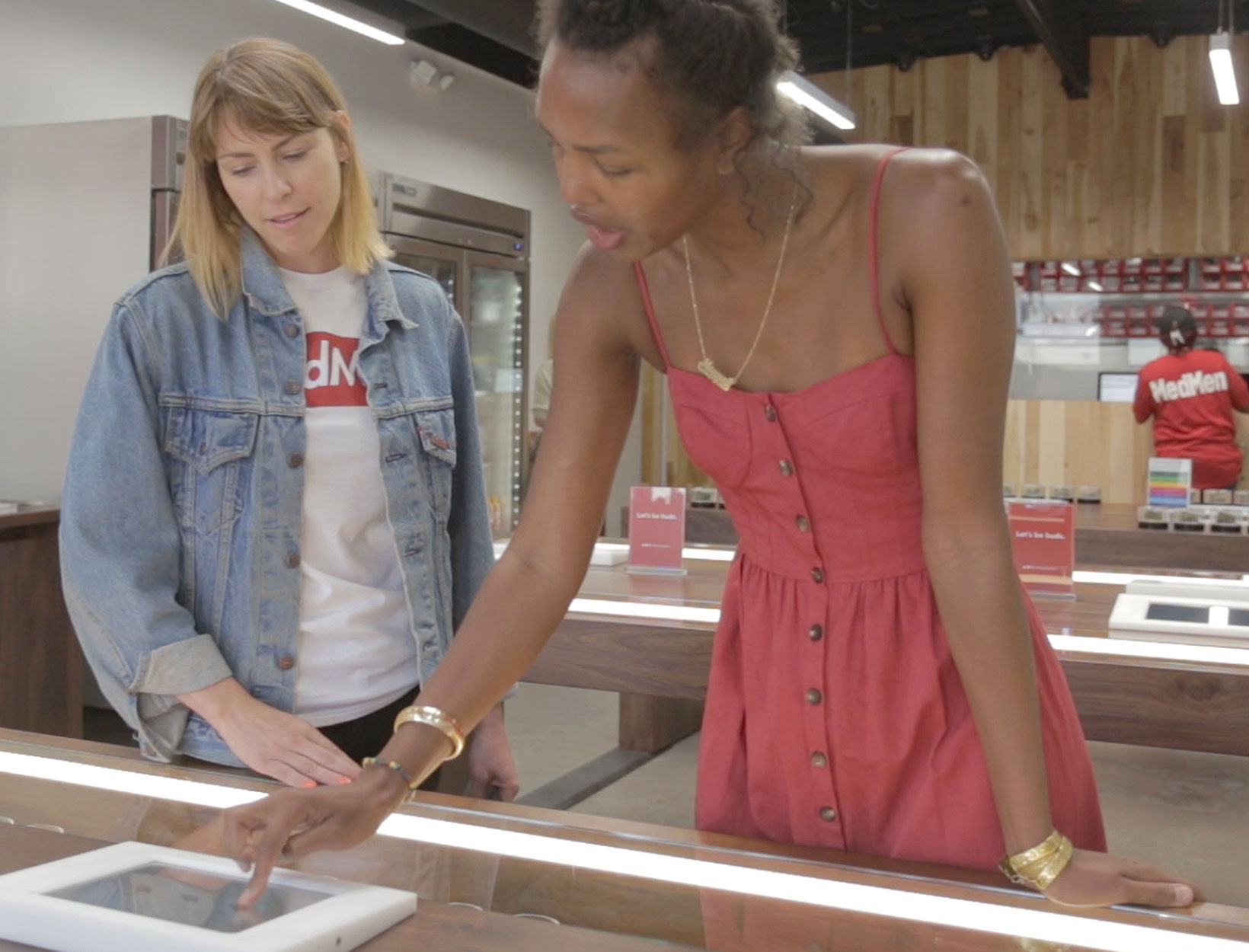 Cannabis-Boutique First-Timer
In partnership with our friends at


I'm expecting bongs with psychedelic swirls, the heavy scent of incense, and Spicoli types in hoodies. But when I walk into MedMen, New York City's new, highly anticipated cannabis store—the first I've ever set foot in—its sleek lighting fixtures, high ceilings, and clean lines surprise me. (The even-newer-but-just-as-highly-anticipated outpost is in Venice, California, but don't rush me. More on that in a minute.) It looks more like a wealthy artist's downtown loft than a head shop. Two men sharply done up in suits greet me at the door; their pleasant vibe makes me think of a concierge at, say, a Four Seasons.
"Welcome, hello!" one trills.
I'm nervous. Many moons ago, I wolfed down nearly an entire batch of weed-infused brownies, putting myself off all things marijuana forever. Or that was the plan. Recently, though, I've gotten interested in creams infused with cannabidiol (CBD) and tetrahydrocannabinol (THC), cannabinoid compounds extracted from the cannabis plant. THC is what gives marijuana its psychoactive abilities—and what makes you high. CBD is not the part of the plant that makes you high (though it can be so deeply relaxing that it might almost seem to), and studies indicate a range of possible therapeutic benefits, from easing anxiety, inflammation, and chronic pain to assuaging migraines and seizures.
"May we see some ID?" the other man asks.
I hand it over. I won't be buying anything today (without a medical marijuana card issued by the New York State Department of Health for a qualifying condition diagnosed by a practitioner registered with the State's Medical Marijuana Program, I can't make purchases), but I'd love a tour, which any New York state resident over the age of 18 is welcome to come in for.
MedMen has been called the "Apple Store of dispensaries," and there is a striking resemblance: A series of long, wide wood tables are the room's centerpieces. There are currently thirteen boutiques across three states—New York, California, and Nevada. Each location oozes the same glossy minimalism, and depending on the state and its legislation, sells either cannabis and/or cannabis-derived products. New York State prohibits "smokable" cannabis, so the store sells only cannabis products: Cannabis suspended in oil and packaged in either vape pens, capsules, or drops.
A week later, I stopped by the store on Abbot Kinney in Venice, where I found this: an incredible range of fancifully named cannabis strains (Lemon Cake, Lavender Moonstone Kush), along with pastilles, sublingual strips (they dissolve on your tongue), dog treats, even a PMS cream, all infused with CBD and/or THC. There are also cannabis teas packaged in gorgeous canisters ("for orgasms!" a sales associate offers brightly as I examine one), plush sore-muscle balms, artisanal chocolates, bath bombs, tinctures in beautiful flasks, and vape pens, including a seductive rose-gold one. One side of the store has a glass-paneled refrigerator that holds a variety of cookies, elixirs, and more chocolates. (By the time you're reading this, there'll also be a little goop section in the Venice store, with cool items we all fell in love with.)
The bestsellers in both stores are the pens, says Will Nixon, my guide to all things MedMen. iPads are scattered on the tables, digitally displaying the store's selection. We cue up the options on the screen.
Slender and sophisticated, the pens look like an accessory one might pull out of a purse at a polo match. They contain doses of either CBD or a blend of CBD and THC.
The pens in New York come in five different varieties, each with different ratios of THC to CBD. Wellness, for instance, is pure CBD. Even though it's solely CBD, "some people still feel a little something because it can make you super, super relaxed," he adds. Harmony, equal parts CBD and THC, is said to promote well-being. Awake has a 20:1 THC to CBD ratio for an uplifting and reportedly euphoric impact. Calm is said to soothe ragged nerves with even more THC to CBD (50:1), and Sleep, billed as a powerful antidote for finicky sleepers, has the highest concentration of THC at 100:1.
"These pens sound pretty powerful," I say.
"They are," Lucci confirms. "Tolerance varies tremendously person to person. We always say start small and then see what dose works for you." (A warning I wish I'd gotten before my brownie fiasco.)
The same caution applies to the THC/CBD capsules, as well as the drops, which all come in the same varieties as the pens. The capsules are meant to be swallowed with water, while the drops you place under your tongue, where there's a salivary gland and through-line to the bloodstream. The preference is personal, though the pens are the most concentrated dose and the fastest to take effect. Since you have to digest the capsules before the cannabinoids can enter the bloodstream, they take the longest.
At the back of the store, another customer, whose crisp blazer and polished bearing loosely suggest a job in finance, stands at a taller wood pharmacy table. "That's where you present your medical marijuana card and pick up what you're buying," Lucci explains, excusing himself to go help the man.
I walk out onto the street and the contrast with the airiness of MedMen is jarring for a second. I don't have a contact high, exactly, but I'm decidedly more mellow than when I walked in. The future of weed is here, and it's sleek, spacious, luxurious, and, above all, calm—not a terrifying brownie in sight.