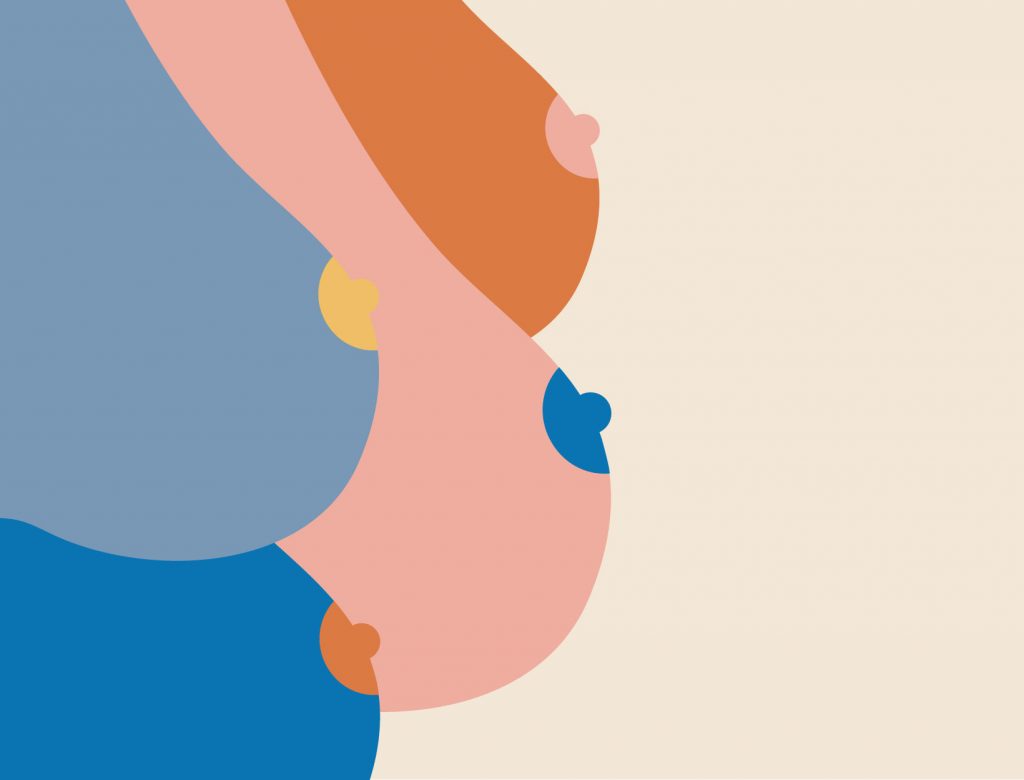 Illustration courtesy of Lauren Mitchell
Does Exercise Impact Cancer Treatment?
As much as we know about the health benefits of exercise, there are some important things we don't know (yet, anyway). This is what interests researcher Kerry Courneya: What happens when someone exercises while undergoing cancer treatment? Does it affect the treatment? The patient's quality of life? Long-term survival and recurrence rates?
Courneya's early research, which has focused on breast cancer, suggests that the answers to these questions will change—and in some cases already have changed—the way we treat cancer and what we do after treatment.
A Q&A with Kerry Courneya, PhD
Q
Exercising while undergoing cancer treatment sounds counterintuitive because many cancer treatments leave people fatigued and with a weakened immune system. Are patients or physicians concerned about exercising?
A
Throughout my studies, many cancer patients and oncologists have expressed concern about the possible safety and negative effects of doing vigorous exercise during difficult cancer treatments. There were concerns that vigorous exercise could exacerbate side effects like fatigue, diarrhea, and lymphedema. There were also concerns that high-intensity exercise might further suppress the immune system and interfere with patients' ability to complete their treatments. We had to address these concerns by starting with relatively easy exercise programs and slowly progressing to more challenging ones.
For example, much of the early research tested walking programs or moderate-intensity cycle ergometer programs (stationary biking). Once these modest exercise programs were shown to be safe and effective, we progressed to more-demanding exercise prescriptions, including high-intensity interval training (HIIT) and even heavy weight training. It is amazing how much exercise some cancer patients are able to do during difficult treatments.
---
Q
What results have you seen with patients who exercised while undergoing cancer treatment? Does the stage of the cancer make a difference?
A
We have seen excellent results from exercise during cancer treatments. As might be expected, we typically see improvements in health-related fitness parameters, such as cardiorespiratory fitness, muscular strength, flexibility, lean body mass, even body fat. But we have also seen improvements in some important treatment side effects, such as fatigue, sleep quality, and depressive symptoms. Perhaps most exciting of all is that we have seen some improvements in actual treatment outcomes. Our group was the first to show that early-stage breast cancer patients who performed a weight training program during chemotherapy were able to complete more of their chemotherapy. This finding has since been replicated in an independent Dutch trial. A higher chemotherapy completion rate is associated with a lower risk of breast cancer recurrence and a lower risk of dying from breast cancer.
We have also shown that cancer patients who exercise during chemotherapy may achieve a better response to their chemotherapy. In our Healthy Exercise for Lymphoma Patients (HELP) trial, we randomly assigned 122 lymphoma patients to twelve weeks of supervised, high-intensity interval exercise or usual care. In the subset of patients receiving chemotherapy, the results showed that 46 percent of lymphoma patients in the exercise group had a complete response to their chemotherapy (meaning all the cancer was gone) compared with only 31 percent in the usual-care group. These data were the first to suggest that exercise during chemotherapy may improve treatment response.
In our Supervised Trial of Aerobic versus Resistance Training (START), we randomly assigned 242 breast cancer patients receiving chemotherapy to usual care, supervised aerobic exercise, or supervised resistance exercise. We then followed up with the patients for eight years. It was found that the rate of disease-free survival (i.e., patients who were still alive with no evidence of disease recurrence) after eight years was 82.7 percent for the exercise groups compared with 75.6 percent for the control group. The START trial provided the first randomized data to suggest that adding exercise to standard chemotherapy may improve longer-term breast cancer outcomes. This finding has since been replicated in an independent Australian trial.
Most of these studies have been in cancer patients with nonmetastatic disease (stages I through III). We don't have as much evidence on the benefits of exercise for patients during treatment for metastatic cancer (stage IV).
---
Q
Why do you think exercise might help a patient respond to treatment better?
A
There are a few explanations. One of the most likely involves the effect of exercise on the tumor microenvironment. Tumors need a good blood supply to grow because this provides oxygen and nutrients to the tumor. Paradoxically, modern cancer treatments also require tumors to have a good blood supply so that chemotherapy drugs can be delivered to all parts of the tumors. Moreover, radiation therapy requires tumors to be well-oxygenated so that the radiation can maximize damage to the cancer cells. Unfortunately, many tumors do not have a well-functioning vasculature. Exercise has been shown in animal studies to improve the vasculature of these tumors (a process called angiogenesis) and also improve blood flow to the tumors, which, theoretically, should improve chemotherapy delivery to the tumors and maximize damage from radiation therapy.
---
Q
Did exercise have an impact on the psychological well-being of the patients you studied? And might that have impacted the overall response?
A
Cancer treatments can take a toll on a patient's mental well-being as well as their physical well-being. It can be emotionally very difficult to get through treatments. Some cancer patients have told us that the psychological benefits of exercise during treatment were just as important to them as the physical benefits. We have seen improvements in depressive symptoms, body image, self-esteem, and what is called posttraumatic growth—taking something positive away from a very difficult situation. Cancer patients have told us that exercise helps them feel normal at a time when nothing is normal about their life. For some cancer patients, exercise gives them inner strength and becomes a metaphor for their fight against cancer.
---
Q
What effect did exercise have on people posttreatment? Could it help prevent cancer recurrences?
A
An exercise program initiated soon after cancer treatment is very important. Although we certainly recommend exercise during treatment, it is not possible for all cancer patients. Some have very severe side effects that make it virtually impossible for them to exercise during treatment. In these cases, we recommend patients wait until after treatment, when most of the side effects have dissipated and they've started to feel better.
The good news is that there are still plenty of benefits to be had by starting an exercise program after treatment. We find there are dramatic and rapid improvements in physical fitness and quality of life for patients who resume exercise soon after treatment. Also, there is some observational data (nonexperimental) to suggest that breast, colorectal, and prostate cancer patients who exercise after their treatment have a lower risk of their disease coming back and a lower risk of dying from cancer and other causes.
---
Q
Why might that be? What are the underlying mechanisms that work to prevent a recurrence of cancer?
A
Once again, there are many possible biological mechanisms. Perhaps the most promising is the role of exercise in stimulating the immune system. Exercise can increase the number and activity of natural killer cells and other immune cells, such as T cells. These cells are responsible for tracking down and killing any remaining cancer cells in the body (called micrometastases) after surgery has removed the tumor. Exercise also has an effect on many different growth factors that can cause cancer cells to grow and divide more quickly. These growth factors include insulin, insulin-like growth factors, estrogen, testosterone, and various inflammatory markers.
---
Q
Do you see more oncologists starting to recommend or accept exercise during treatment?
A
Yes, definitely. There has been a dramatic shift in the attitudes of oncologists toward exercise during and after cancer treatments. Many oncologists now actively encourage their patients to exercise during treatment if possible. If a cancer patient were to ask their oncologist about exercise during treatment now, they would be very likely to receive a positive response. Some oncologists are even conducting their own research studies into the effects of exercise on their patients. And many cancer societies and organizations representing oncologists now have official position statements supporting exercise for cancer patients and encouraging oncologists to actively promote exercise to their patients.
---
Q
Has there been any research into whether habitual exercise lowers one's chances of developing cancer in the first place?
A
Yes, there has been extensive research into the role of exercise in the primary prevention of cancer. In fact, this research has been around much longer than research in cancer patients, and it was part of the impetus for looking at exercise after a cancer diagnosis. In terms of primary prevention, the research shows that exercise can lower the risk of developing postmenopausal breast cancer, colon cancer, and endometrial cancer. Some research also suggests that exercise may lower the risk of other cancers, such as bladder, esophageal, kidney, stomach, and lung.
---
Q
What exercise studies are you working on now?
A
Most of our current studies are squarely focused on the effects of exercise on the so-called cancer outcomes—disease progression, recurrence, death from cancer, and overall survival. For many exercise scientists, oncologists, and cancer patients, this is the most compelling question related to exercise oncology: If I start exercising after my cancer diagnosis, can I really lower the risk of my cancer coming back and improve my chance of survival?
We have two large multinational studies focused on this question. The Colon Health and Life-Long Exercise Change (CHALLENGE) trial is examining the effects of exercise on disease-free survival in 962 colon cancer patients with stage II/III disease who have recently completed chemotherapy. The Intense Exercise for Survival (INTERVAL) trial is examining the effects of high-intensity aerobic and resistance training on overall survival in 866 men with metastatic castrate-resistant prostate cancer. We also have a very large cohort study called the Alberta Moving Beyond Breast Cancer (AMBER) study, which is examining the associations between objectively measured physical activity, health-related fitness, and cancer outcomes in 1,500 newly diagnosed Alberta breast cancer patients.
We are hopeful that these larger studies will provide definitive evidence on whether or not exercise may actually be a treatment for cancer. However, even if exercise does not ultimately improve cancer survival, the benefits to physical health, symptom management, and quality of life are more than sufficient to warrant the promotion of exercise to cancer patients during and after treatment.
---
Kerry Courneya, PhD, is a professor of kinesiology and the Canada Research Chair in Physical Activity and Cancer at the University of Alberta. He is the director of the Behavioral Medicine Laboratory and Fitness Center. He is a study cochair for the CHALLENGE trial, a member of the committee for the INTERVAL trial, and a team coleader for the AMBER study.
---
This article is for informational purposes only, even if and to the extent that it features the advice of physicians and medical practitioners. This article is not, nor is it intended to be, a substitute for professional medical advice, diagnosis, or treatment and should never be relied upon for specific medical advice. The views expressed in this article are the views of the expert and do not necessarily represent the views of goop.