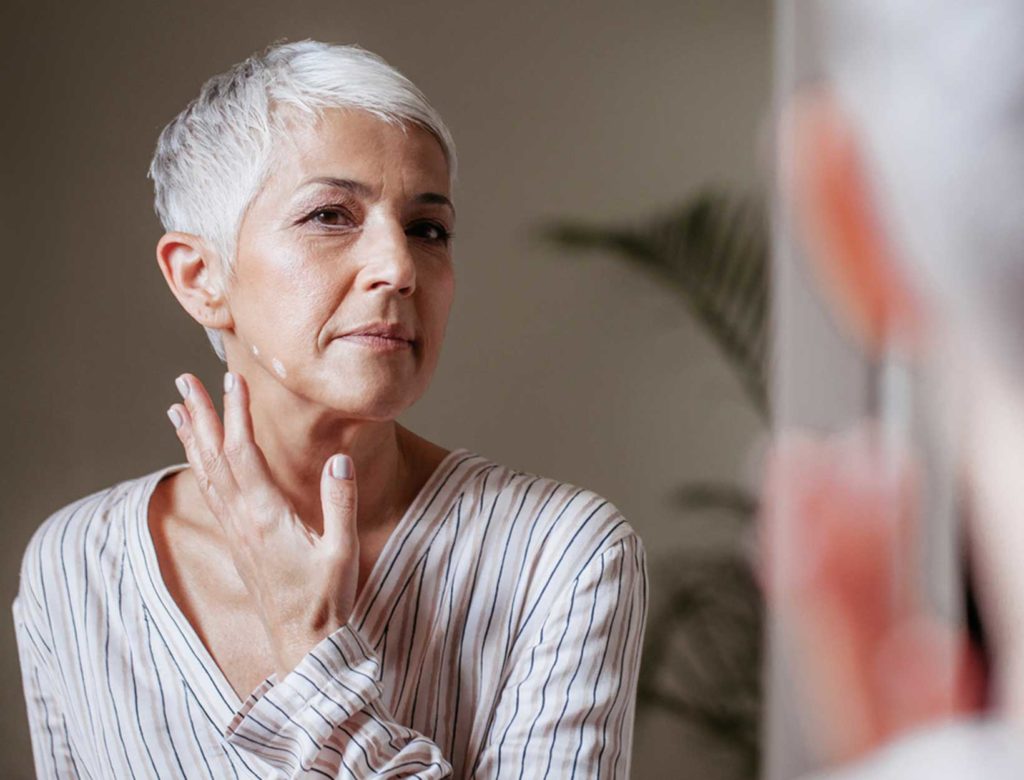 A Plastic Surgeon on Bioidentical Hormone Therapy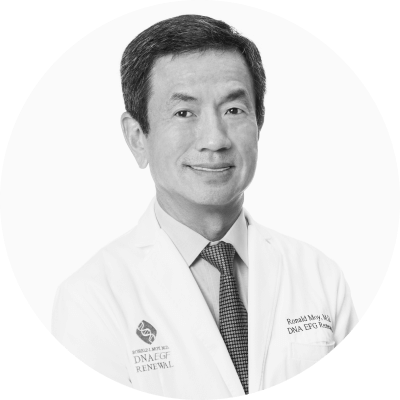 The use of hormone replacement therapy has been controversial since it was reported in 2002 that menopausal women using estrogen plus progesterone developed more heart disease and breast cancer than women not using hormones. This report was based on a study of 8,500 postmenopausal women who were given hormones (conjugated equine estrogen and medroxyprogesterone acetate), which differ slightly from the forms our bodies make: estradiol and progesterone.
We call the forms our bodies make biodentical hormones, and the question remains: Are low doses of bioidentical hormones safe and beneficial? A more recent study reported that low doses of bioidentical estrogen and progesterone appear to be safe and result in improved sleep and sexual function and fewer hot flashes. However, there is still a lot to learn about the best formulations and doses, long-term effects, and factors that affect individual responses to the hormones.
Ronald Moy, MD, a cosmetic and facial plastic surgeon, recommends carefully tailored low doses of bioidentical hormones as part of a comprehensive approach to health and beauty. He explains that bioidentical hormones have not been used as much as synthetic alternatives because they can't be patented and the pharmaceutical industry doesn't profit from them. "Every meeting I go to is sponsored by a pharmaceutical company that wants to market patentable synthetic drugs," he says.
A Q&A with Ronald Moy, MD
Q
What are the benefits of hormone therapy?
A
One reason people choose to be on hormone therapy is how it makes you look. With aging, we start sagging around the eyes and the neck. People start noticing that in their fifties, around when women go through menopause. And for men, testosterone starts going down around the same age. The hormones that really affect the skin are testosterone, estrogen, and DHEA. If they go down, the skin starts sagging. So we combine our cosmetic procedures with the use of bioidentical hormones. Sometimes it could just be one or two of those.
Another reason to use hormone therapy is feeling better. In my experience, a lot of women who are anxious are low in progesterone. These are often the same women who don't sleep well. With a low dose of progesterone at nighttime, all of a sudden, they may sleep well. And a lot of grumpy old men are low in testosterone—you give them testosterone and their mood gets better. They're more positive. We all lose 2 percent of our muscle every year. But if you get on testosterone, you can reverse that. Most men have a decrease in libido, but with testosterone, libido can go back to normal.
---
Q
In a review article of yours from 2019, you showed a correlation between blood estrogen levels and perceived age—can you explain?
A
---
Q
If someone comes to your practice wanting to achieve healthy, beautiful skin, what percentage of the time do you end up using hormone therapy as a part of the treatment?
A
For postmenopausal women or women after the age of fifty, it's a very high percentage. It's not high-dose hormone therapy. We're just trying to get back to normal levels. We look at the blood levels and then we replace those hormones to get back the level they might have had when they were in their forties or thirties. It goes along with all the cosmetic treatments, whether it's tightening or smoothing out skin.
---
Q
What kinds of results do you expect to see when somebody comes into your clinic?
A
The hormones give a modest effect for wrinkled skin. It's not the same as laser resurfacing, but it definitely slows down further wrinkling. Hormone therapy thickens the skin and makes it look younger. But I usually recommend a couple of different treatments.
We also treat low thyroid levels, which cause classic symptoms like weight gain, feeling cold easily, or losing hair at the lateral eyebrows. Hormones go along with all the other beauty and cosmetic treatments. We're not a practice that just does injectables. We're a practice that looks at prevention and overall health. I think a lot of people nowadays are looking for solutions beyond what a traditional doctor does.
---
Q
What are the bioidentical hormones that you use in your practice?
A
They're the exact hormones that our body makes—estradiol, progesterone, DHEA, and testosterone. [Editor's Note: These hormones are manufactured from compounds found in plants.]
If it's a bioidentical hormone and there's no patent, there's no industry behind it because no one can make money. There's a whole industry of people who want you to use patented hormones, which in the case of estrogen will be Premarin, or in the case of thyroid hormone, it would be Synthroid. With bioidentical hormones, if there's no patent, there's no pharmaceutical sales force going out there and telling doctors to use them. Every meeting I go to is sponsored by a pharmaceutical company that wants to market patentable synthetic drugs.
There are lawsuits where the pharmaceutical companies have tried to provide misinformation. They said that generic thyroid hormones were not as reliable as Synthroid. And this was false—they disseminated the wrong information to doctors, and they ended up losing on this issue. Getting the right information is getting harder and harder nowadays.
---
Q
What is the difference between the thyroid hormone you use and Synthroid?
A
The active thyroid hormone in our body is T3, but the one that doctors prescribe most is T4 (levothyroxine). Synthroid is T4. Our body has to convert T4 to T3, and as we get older, we don't do that as well. A number of smaller brands, like NP Thyroid and Armour Thyroid, have T3 that doesn't need conversion. I have many patients on Synthroid who are still having the symptoms of low thyroid. We put them on T3 and they feel better. They have energy; they feel better; they're sleeping better. But the pharmaceutical industry really wants us to use the patented synthetic Synthroid. [Editor's note: All T3 and T4 used clinically—whether synthetic or from animal thyroid glands like NP Thyroid and Armour Thyroid—are bioidentical to human thyroid hormones.]
---
Q
What's the reason that doctors prescribe Synthroid?
A
In one of the lawsuits, it was proven that pharmaceutical sales representatives gave one-sided information. But I think it's also the way we're educated. You know, we learn from the academic endocrinologist who is used to giving Synthroid. We go to meetings that are sponsored by the pharmaceutical industry. NP is a little company with a small salesforce. Our system is based on synthetic products or patentable products.
---
Q
Are there side effects of hormone therapy that people have to worry about?
A
Testosterone can increase your red blood cell count, which is healthy. And that's why sometimes athletes will use it. Some people are afraid that it's going to cause a clot. There's no evidence that increasing your RBCs or increasing your hematocrit increases clots. Any hormone could be used to excess. You could get bleeding from too much estrogen. And some people get headaches.
For the first month, I always give women my cell phone number because little adjustments sometimes need to be made to achieve a balance between estrogen and progesterone.
The art of doing this is finding the right dose.
---
Q
Are there any circumstances that would rule out hormone therapy for women?
A
If somebody is going through treatment for breast cancer, it is ruled out.
---
Ronald Moy, MD, FAAD, is a cosmetic and facial plastic surgeon practicing in Los Angeles at Moy-Fincher-Chipps Facial Plastics & Dermatology. Moy is board-certified by the American Board of Dermatology and the American Board of Facial Cosmetic Surgery. He is a former president of the American Academy of Dermatology, former chief of dermatologic surgery at the David Geffen School of Medicine at UCLA, and former president of Los Angeles County Medical Association, Bay District. Moy has volunteered his dermatologic services at the Venice Family Clinic for the past twenty years.
---
This article is for informational purposes only, even if and regardless of whether it features the advice of physicians and medical practitioners. This article is not, nor is it intended to be, a substitute for professional medical advice, diagnosis, or treatment and should never be relied upon for specific medical advice. The views expressed in this article are the views of the expert and do not necessarily represent the views of goop.