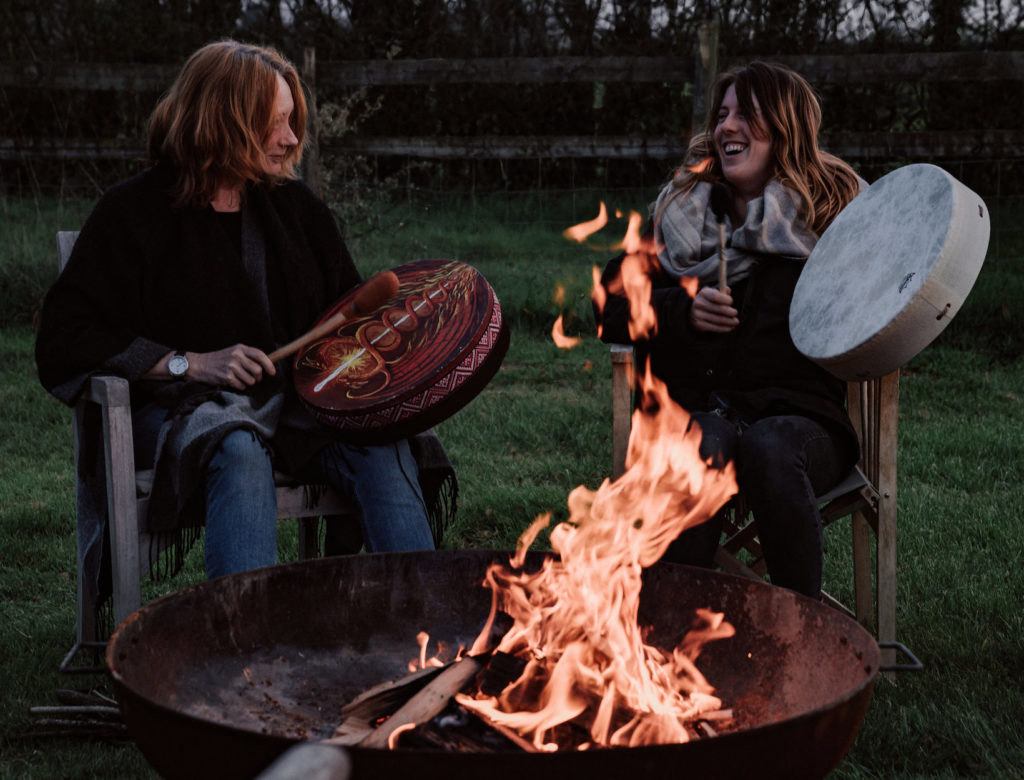 A Program for Working through Stress and Trauma
In her late twenties, in the 1980s, before she became a biodynamic psychotherapist, Fiona Arrigo was in two near-fatal car accidents, one after the other. "That's when the really big life questions came," she says.
Arrigo was in and out of hospitals for two and a half years and became "steeped in self-inquiry," she says, while rediscovering herself and her body. Her journey was uncovering how to physically—and mentally—heal from trauma. She started studying Tibetan medicine, esoteric psychology, and advanced yoga with different teachers and shamans to understand, she says, how we can make friends with emotional and physical pain.
For the past thirty-five years, Arrigo has been running a revered retreat in Somerset, England. The Arrigo Programme brings together her approach for working through trauma and stress, evolving, and liberating our energy. It's where five days can feel like years of therapy. Arrigo describes the program as a "gentle unraveling" of stored tension. It incorporates biodynamic healing, talk therapy, bodywork, acupuncture, breathwork, and ancient philosophy. Most people end the retreat with a sense of stability and a greater connection between the mind and body. And with more emotional resilience to tackle life.
A Q&A with Fiona Arrigo
Q
What is biodynamic psychotherapy?
A
Biodynamic medicine looks at the interrelationship between the brain, heart, and gut. We've discovered that the gut is an intelligence that influences hormones and that gut health is essential to overall well-being. What I've found is that unless you work the body, the mind doesn't heal from trauma and stress. The body has the answers, so you must activate and treat the body memory. The body itself will always try to find homeostasis, even if it's in the most disfigured, contracted way.
Biodynamic psychotherapy uses techniques to help unwind, to help destagnate, to create movement again, and to allow your emotional metabolism to come back into being, which is working through all the unsaid things you weren't allowed to say.
---
Q
How does biodynamic psychotherapy work? How does our body process stress and trauma?
A
The first stage is to have the awareness that stress and trauma get deeply stuck in the body. Human beings have been through a lot, and the only way through, as Peter Levine talks about with trauma work, is to work with the body. Trauma doesn't heal in the mind. There are different levels of trauma, but when it gets stuck, it causes us to freeze, shut down, and collapse. So the first stage is realizing it, and then you start the unraveling process. What we're also doing through biodynamic psychotherapy is building emotional resilience.
I've always seen the body as a matrix of a moving energy field. The ancient Chinese described it as meridians. Indians have used the term "nadis." In the West, it was labeled the quantum field. How I work with it is by deeply understanding the delicacy of that human being. We have to activate the parts that aren't connected. Sometimes it's breath, which is huge, because if we're shocked, our body becomes contracted. So we do that work using biodynamic psychotherapy to trace it back. We look at all the things you haven't said, all the things you need to say, all the unfinished sentences in your life that have caused freeze, fright, flight, and shut down. We reactivate the body's natural flow of energy through a process called psychoperistalsis, by working on the gut so that the vegetative parasympathetic nervous system that goes into shock starts to very gently mobilize again.
---
Q
What sorts of trauma do you help people work through in your program?
A
Some of the things we cover are burnout, loss of connection, depression, addiction, bereavement, and relationship fracturing, but it's for anybody who wants to come. We also work with couples, and we work with families. There are different versions of the work—from one-on-one sessions to group retreats—but the Arrigo Programme, which everything is founded on, is an intensive, five-day experience. For people who really want to dive in, there are longer programs that range from seven to ten, thirty, and forty-five days.
When you come to work with me on the Programme in Somerset, we give you four treatments a day that I curate for you. One part is talk therapy, and the other half is body psychotherapy work. I have about twenty-four experts who work with me, including holistic therapists and experienced bodyworkers. For example, I would curate a precise dance for you to move through. Then, later, it's the right time to give you acupuncture. It's the right time to get you breathing. It's the right time to do family constellations. It's the right time to do Tibetan pulsing. It's choreographed specifically for you to experience and release at exactly the right time, unpacking what is held in your subconscious and, quite often, your own conscious mind. This program is a way to decompress and unwind in a very precise, careful, gentle, tender, and safe way.
---
Q
Can you take us through what happens on a group retreat?
A
The retreats are about building community and are in beautiful, amazing locations. I have retreats every year in Somerset, Spain, and India, and this is where we get people working together. One of the retreats that I'm launching is called Back to Nurture, which is getting people to reconnect with the land. We're going back to our ancestral memory of when we used to weave, make drums, sew, eat, and sing songs as a way to help mental health. That part of our ancestors is still in our body, but we're cut off from those roots because the world is moving so fast. When we return to the land, it gives us connection.
I'm developing another theme of the evolving woman and what it means to be a woman on the earth right now. We don't get well without one another, so the retreats are where women come together to do interesting work. It's building the wisdom that our survival is based on us working together as a tribe or as a community where we practice understanding and prayers of gratitude as a way of life. After the retreats, people go back with sisterhoods and relationships and a knowledge of how we can come together through devastating times. They go home nurtured with hope and inspiration and community and self-understanding. They go home clearer because they've dropped a lot of that stuckness.
---
Q
What's the antidote for someone who feels stuck?
A
We have to refind that balance and refind these inner humilities that allow us to know that we're not meant to have it all. We don't have to have it all. We certainly don't have to be stressed about trying to get it all. The problem in this world is that most of us can't settle and just live. Start by spending time with yourself. Learn to acknowledge yourself deeply in all your places. Build a relationship with yourself, easing the space between doing and being. Spend time nurturing, meditating, and consciously being in nature. You can be in nature for five minutes or five hours, but be conscious when you're in it because nature is the master healer. Drink water and practice gratitude.
Life really loves us, and life is compassionate. We may knock ourselves around, but our program, our DNA, is beautifully built for love and compassion. The journey is to remember that, and it's a big journey of awakening. This is very deep, heartfelt, compassionate, committed work. This is what we're doing. It's work that has a lot of integrity. It's not about quick fixes; it's about self-understanding and what it means to be a twenty-first-century human being. Some people just realize that they need it, and other people crawl through the door. It's life. People have to be held and know they're safe because it's a crazy world.
---
Fiona Arrigo is a biodynamic psychotherapist and an intuitive healer, mentor, and life teacher. She is the founder of the Arrigo Programme, a holistic approach to therapy that combines integrated body treatments with life coaching, psychotherapy, and mentoring.